Inside: Over 25 geography board games (including geography card games) to make learning geography irresistible! Or at the very least easier and a heck of a lot more fun.
I'll start by saying that geography is NOT my best subject. The year I was supposed to learn geography in school is the year we had three different teachers (two of them quit because our class was so bad).
My geography was so bad I barely know East from West – I still need to think long and hard about this one – and Africa is one great, big, mysterious continent to me. That one with all the itty bitty, ever-changing countries!
Just goes to show you that traditional school can leave gaps in your education, too. And I survived.
Only when I started homeschooling did I begin to learn the geography I didn't learn in school.
While we use a variety of methods to learn geography without curriculum, one of my favorite ways to learn (and teach) geography is through educational board games. Games of all kinds, really: board games, geography card games, and educational apps like Stack the States and Stack the Countries.
Related: 25+ History Board Games for Kids
THIS POST PROBABLY CONTAINS AFFILIATE LINKS. AS AN AMAZON ASSOCIATE, I EARN FROM QUALIFYING PURCHASES. YOU CAN READ OUR FULL DISCLOSURE POLICY HERE.
Why Buy Geography Board Games?
Did you know that Americans are particularly bad at geography? We don't know much beyond our own country.
"The Roper poll — conducted on behalf of the National Geographic Society, a scientific and educational NGO — found that 63 percent of young Americans were unable to find Iraq on a map. Seventy-five percent could not find other international hotspots like Israel or Iran." (source)
Ask us where any African country is? I'm sure we wouldn't do any better.
Yet understanding geography is vital to understanding the complexities of things like culture and politics. Our world is more interconnected than ever before, and the decisions one country makes inevitably impacts the rest.
If we want to raise informed (and empathetic) citizens, they need to have a basic knowledge of geography and how it has shaped individual countries and the world as a whole up to this point in time.
Geography also tends to get the leftover time in traditional school, with reading and math obviously getting far more time and dedicated attention. So whether you homeschool or not, these geography board games can be the perfect, fun way to strengthen your child's geography skills (and your own!).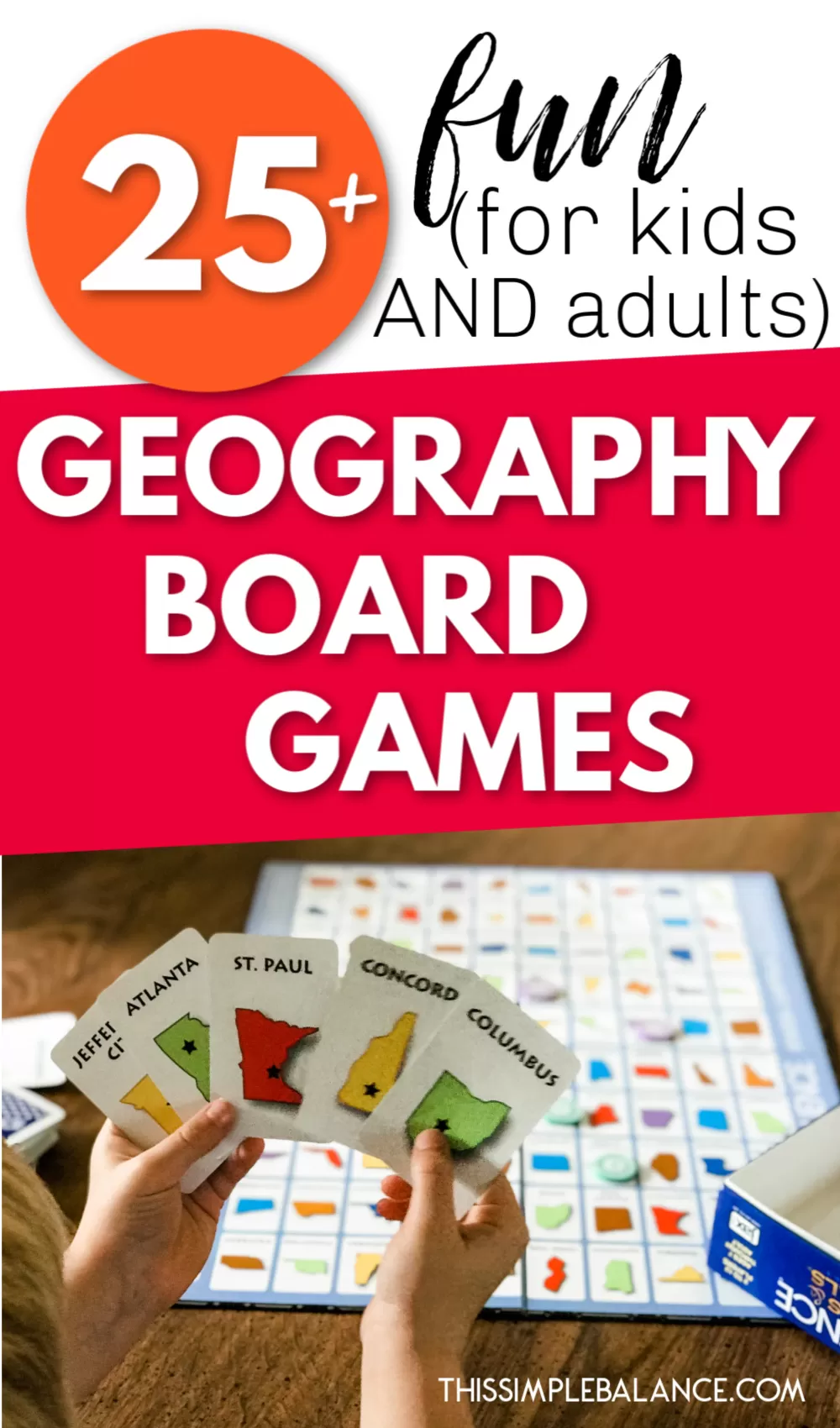 20+ Geography Board Games
A family favorite! Younger players can team up with older players to learn the ropes of this geography board game that requires strategy and quick thinking when someone else places trains where you were planning to go. If you do choose to include younger players, the game will take longer than the average 45-60 minutes play time.
Choose route cards and complete your routes across the United States before everyone else does. Get points for laying tracks, completing routes and longest track.
Recommended for ages 8+, 2-5 players. Ticket to Ride: Europe is a nearly identical version, just a different continent, but Ticket to Ride: France and the Old West., however, is an expansion set for the original game.
Ticket to Ride: Rails and Sails differs from the original version in that there are TWO game boards and play is much more complex. This version is recommended for ages 10-15+.
Ticket to Ride: Nordic Countries only allows for 3 players, instead of the 2-5 in the original board game. Reviews commented that they find this version more of a challenge because there are fewer places to lay tracks and the routes get blocked more easily than the United States or Europe versions.
They continue to create new expansion sets including New York and the United Kingdom.
Travel America by train! A beginner's version of the classic game, players collect train cards, claim routes, and try to connect cities across the country as they race to be the first one to complete six tickets.
Recommended for ages 6+, 2-4 players.
We recently replaced a very old version of Sequence with this States and Capitals version.
The game plays very similarly to the original game, and the colorful board and cards are perfect for learning and/or reinforcing learning the states and capitals.
2-12 players, recommended for ages 7 and up.
Take a trip around the USA with this cross-country geography board game!
Players will learn interesting facts like location, capital cities, and landmarks from postcards about each state as they move along the full-color game board.
2-4 players, ages 8+.
Players learn facts about interesting and exciting places around the world. Includes flag cards that teach the facts about each one and travel cards that help players travel forward or backward on the game board.
Recommended for 2-6 players, ages 7+.
Players will learn the flags and capital cities. This geography board game is full of facts with multi-level questions in every country!
2-5 players, recommend for ages 8+.
Perfect for your wanna-be jetsetter and Shopkins lover! This adorable game includes four Shopkins collectibles.
Players visit vacation spots in Europe, Asia, Australia, and America as they collect souvenirs from each location.
Recommended for ages 5 and up, 2-4 players.
Recommended for ages 8 and up with adjustable levels of difficulty. Player will visit 6 states and answer geography questions to get back to their home state to win the game! Players use hints from the colorful game board for clues.
Best for 2-4 players.
Note: One reviewer did indicate finding one inaccurate fact in the question and answers. No other inaccuracies were mentioned in that review or other reviews.
Players travel the wilderness trail just like Lewis and Clark in this geography board game. Colorful game board, two levels of questions make it great for multiple ages. Covers American history, geography, and culture.
Recommended for Grades 2 and up.
An educational Christmas board game? Yes, please!
Make some fun memories this Christmas with this holiday-themed geography board game. Players will help deliver gifts around the world as they travel the full-color board game on a race to the North Pole.
Reviews were mixed, but it seems overall designed with a younger audience in mind. However, some reviewers played with all adults and loved it, giving it a 5 star rating.
Recommended for ages 5 and up, 2-6 players.
Learn about people, places, customs, cultures, and language with this geography board game!
Recommended for 2-4 players, ages 8 and up.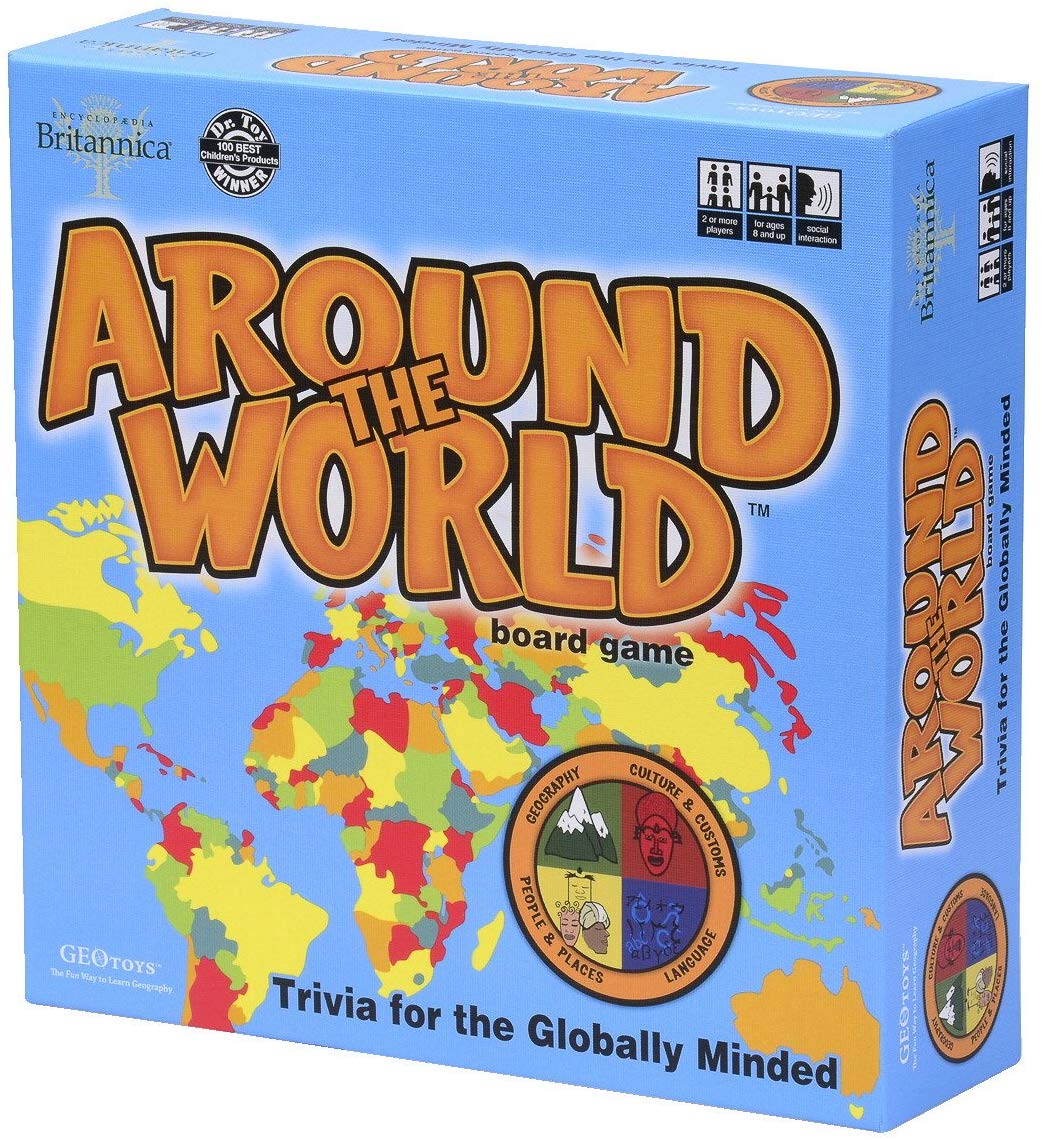 Race your trucks across the USA buying and selling products! This geography board game includes a full-color game board, 50 state cards, and play money and is perfect ages 8 and up.
Who will sell the most from coast-to-coast?
Develop thinking, social, and geography skills with this board game. Recommended for ages 4-12, you can include the little ones. Includes a color 21 X 18 world map!
Players select animals from different countries to return them to their harbor. Players face challenges such as weather, storms, pirates.
Test your knowledge of world cultures as you travel the globe answering interesting questions about people, places, food, culture, and customs.
This geography board game is better for children 10+, 2-6 players. Includes 636 questions and 48 cultural scenarios!
Players act as builders who construct famous world monuments such as The Capitol in Washington, the cathedral Notre Dame in Paris, the St. Peters basilica in Rome or the mausoleum Taj Mahal in Agra.
This is perfect for hands-on learning! This is a 3-D building game.
Recommended for ages 8+.
With over 1,080 questions players will learn about history and geography of the United States.
Includes a game board, and 360 question cards.
This geography-themed board game features 22 popular US national parks. Includes artwork from over 60 National parks!
Players will match animals with their natural habit and park. 60-minute playtime, recommended for ages 8+.
Colorful real-life images make up the deck of playing cards. Great for teaching states, landmarks, and well-known tourist attractions.
This set includes the American History Expansion deck which includes an additional 156 cards and a wide colorful game board. Recommended for ages 6+.
This is a classic "race to the finish" board game is perfect for the whole family. Adjustable levels of difficulty make it easy for younger ones to play and learn!
Players will learn interesting facts about countries, capital cities, flags, and famous landmarks. Bright and impressive game board.
Who could use a vacation?
Players plan their dream USA trip with this geography board game. Using state and transportation cards, players will create a connecting 10-day vacation across the USA!
Recommended for 2-4 players, 20-30-minute playtime. There's also an option for a 5-day game, which takes less time for short attention spans and younger kids. Includes 50 colorful state cards and USA map.
Make it a collection with 10 Days in Europe and 10 Days in Africa.
7 Geography Card Games
Another family favorite, this is a fast-paced geography card game where players learn interesting facts about the 50 states.
A full-color paperback book includes 4 US maps.
Players use clues to travel to 44 famous landmarks around the world. Full color 5 X 5 grid cards can be adjustable to varying levels of difficulty.
Like any bingo, the game is usually more fun the more players you have. Recommended ages 8+.
This card game will teach players about flags, capitals, and locations. Perfect for taking on-the-go! All 194 countries represented.
Reviews are nearly all 5-stars! You can't go wrong with this one!
An exciting card game of questions that will teach players fun facts from famous cities around the world.
Recommended for ages 8 and up.
71 cards, a sand timer, and 1 die. The perfect ingredients to a fun and fast-paced geography card game. Test your knowledge of famous landmarks, culture, and geography.
Created by a 6-year-old during an extended hospital stay, the game is designed to help kids learn continents, countries, and flags in a fun way.
Who can collect the most countries? Easy to learn and great for kids 7 and up.
The game includes an additional set of cards for more advanced players.
This geography card game comes with thirty game cards that offer a mix of multiple choice and true/false questions. There are also easy versus hard levels to keep it challenging as you make progress and remember more of the answers.
2 or more players, ages 8 and up.
Do you have a geography board game or card game you love? Share in the comments!
Read Next: 30+ Science Board Games (organized by age level)