Inside: Wondering what to get kids for Christmas? These are quality gift ideas from a minimalist mom of 5 who knows what presents will actually last.
Christmas is coming! Unfortunately, Target and Walmart and all the rest remind us of this fact earlier and earlier every year.
I don't know about you, but when I see LEGO advent calendars in the toy aisle on October 1st, I want to stop and throw up right there.
It makes we want to forgo thinking about what to get kids for Christmas until at least Thanksgiving in protest!
But that probably isn't the wise thing to do…holiday shopping in December is pure insanity.
Whether we like it or not, Christmas is shoved in our faces everywhere we go, and that means it's time to suck it up and join the ranks of people who have gift ideas on the brain.
Related: The Best Minimalist Toys for Hours of Happy Play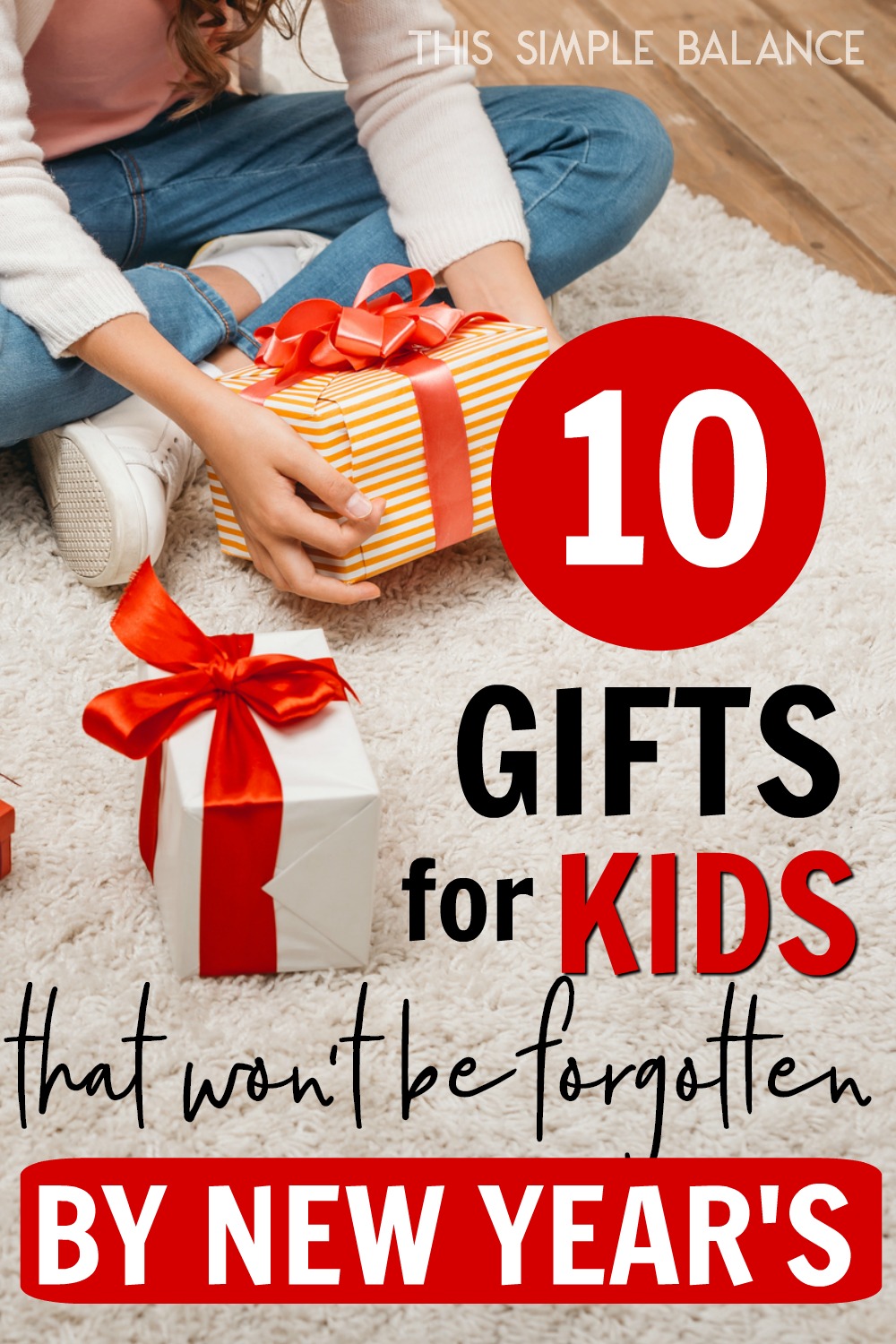 What to Get Kids for Christmas (that will last)
THIS POST PROBABLY CONTAINS AFFILIATE LINKS. AS AN AMAZON ASSOCIATE, I EARN FROM QUALIFYING PURCHASES. YOU CAN READ OUR FULL DISCLOSURE POLICY HERE.
As a minimalist with kids, I want to make sure that the Christmas presents we get for our kids are quality.
Their Christmas gifts need to be ones that are well-made, worth the investment, that can withstand all the hard knocks that four kids under eight can dish out.
I'd rather see my kids get fewer, quality gifts as opposed to dozens of presents each, which to be honest can be extremely overwhelming for young children (and let's be real – for me, too).
So if you have kids in your life and are wondering what to get them for Christmas, I'm sharing the top ten presents our kids have received over the years – the ones that have stood the test of time, that are still played with, loved and cherished, and that have survived every round of decluttering!
These are Christmas gifts the kids in your life will love for days and months beyond Christmas morning.
Related: 7 Rules for Decluttering Toys for Quick & Easy Decisions
The Best Gifts for Kids 8 and Under
1. Magnatiles
This unique building toy was extremely last Christmas and for good reason. My kids spend hours playing with these, building amazing creations that are only conceivable with magnets.
We ended up purchasing a second set shortly after Christmas because one 100 piece set was not enough for three kids to play well with – it simply didn't have enough unique pieces for everyone.
All the expansion sets look amazing! They are definitely on our gift list this year.
2. Museum/Zoo/Aquarium Passes
Annual passes to museums and zoos and aquariums don't have all the fanfare for little kids that physical gifts have.
But I'm betting you can come up with a creative and fun way to give this gift.
Wrap a small stuffed lion for the zoo, a penguin for the aquarium, or a magnifying glass for a museum of science. This gift will last all year long!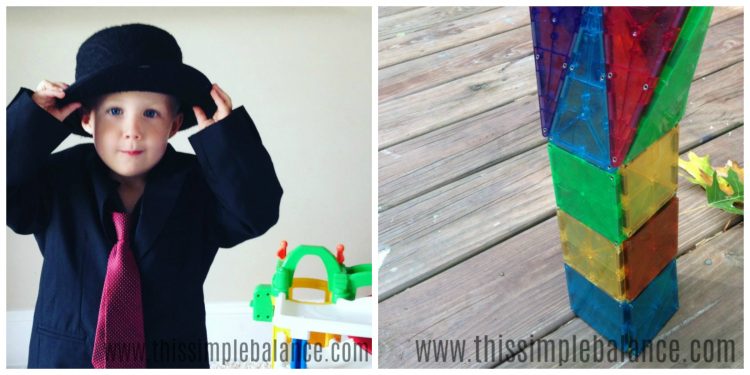 3. Versatile Dress-Up
Next to building toys, dress-up clothes and accessories are the best toys for fostering imaginative play…if you do it right.
The more creative a child can be with a dress-up piece, the better.
The full-on Spiderman costume may look adorable, but when a child wears it, all he can be is Spiderman: nothing else.
The best gifts are malleable to the child's imagination.
Favorites in our collection that have survived every round of decluttering are:
hats of all kinds
accessories like gloves and swords
A recent addition to our collection are play silks. I did not go with the originals because reviewers mentioned them snagging and being ruined quickly.
I chose these chiffon ones, instead, and I've been impressed so far with their durability and how well the kids play with them.
4. Ride-on Toys
Anything that gets kids moving is a fantastic gift! Our first child learned to ride a bike with training wheels – the old-fashioned way.
With our second child, we tried the Strider bike (we still have this one) because we heard so many amazing reviews about how quickly kids transitioned to a regular bike (no training wheels required).
All the hype was true – Strider bikes really do work. Razor scooters are also an amazing way for kids to learn balance before transitioning to a bike.
You don't really need the fancy ones. We still have the originals, and they work just fine.
Bonus: they also tend to be on super sale during the holidays.
5. Books
Kids 8 and under are just beginning to show interest in chapter books, though there are a few ahead of the curve.
What better way to get them to fall in love with books than with beautifully illustrated versions of the originals, like these beautifully illustrated Harry Potters?
Or what about graphic novels? My boys ages 5-7 in particular LOVE graphic novels like this series.
And all of my kid still love Piggie & Gerald books. The hard cover ones are worth investing in – they last so much longer!
6. LEGO© DUPLO Blocks
I think I might love LEGO Duplo blocks more than my kids do. I want to get ALL the sets – my husband literally needs to pull me away from the shelves, lest I splurge on the latest set.
But what better time to splurge on a new set than Christmas?!
These are perfect for kids of all ages, especially since they are safer if you have multiple kids with a wide age range.
My eight-year-old will still play with these for hours. Everyone else joins in – right down to the one-year-old.
If you're debating between sets, start with a classic box like this one and build a collection from there.
Related: 27 Minimalist Gifts for Kids (Not Just Experiences)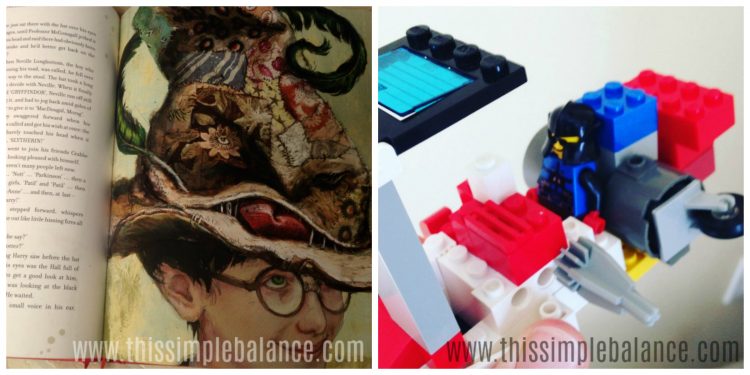 7. LEGO© Bricks
When your kids are ready for the smaller pieces, LEGOs are still one of the most timeless toys ever.
We inherited a huge collection from my brother last year, and the older kids play with them every single day (all but the one-year-old).
Creative boxes like THIS one are the best for developing creativity, but you can add to the mix with unique collections from Etsy.
Don't forget to include some LEGO people and/or platforms in your gift-giving, too!
8. Toy Cars
Matchbox cars, cars that zoom on their own when you drag them backward, big construction vehicles – these classic toys are still some of the best for inspiring imaginative play.
My kids have played with them just as cars, or transformed them in their imaginations into talking characters that act like little people.
These also make great stocking stuffers!
If I could go back, I would have invested in 2-3 of these bigger vehicles because so many people have recommended them.
9. Balls & Frisbees
Here's another toy that will never go out of style. Any way that we can get kids playing outdoors and moving their bodies is worth the investment.
Don't forget to show them the ropes for whatever sport you choose!
All of our kids love frisbees. They do better with the ring types like THESE as they are easier to throw and to catch.
10. Art Supplies
Picasso said, "Every child is an artist. The challenge is staying an artist once they grow up."
Encourage your child to stay an artist with a basket of new art supplies.
For your littlest ones, laying out and taping down a long strip of white butcher paper on the kitchen table gave them practice without me having to stress about them writing on the table itself.
The older kids absolutely love watercolors lately. We invested in quality watercolor paper and these watercolor paints. One of my kids will paint for hours!
Related: Perfect Drawing Gifts for Sketch Artists (Ideas for Every Budget)
For Christmas Gifts Kids Will Love for Years, Stick to Classics
Our oldest is now 12-years-old, and let me tell you the things that we've kept through all five kids.
Magna-Tiles
LEGO
Marble Runs
Pretend Play Figures (wooden rainbow people and Little People)
Dress-up
All of the things on this list are quality gifts that any parent will appreciate – even minimalist ones like me.
If you want to see what we purchased in years past, I'm writing a post each year. Check out our Minimalist Christmas Gifts for Kids – What We Actually Bought.
Happy shopping!
Read Next: The Best Gifts for Older Parents Who Have Everything (Or Seem Too)