Inside: How in the world do you decide on gifts for older parents who have everything? At least from the outside looking in. We'll offer some general guidelines, and of course, plenty of gift ideas for Christmas, birthdays and beyond.
This is a guest post by Brandi from Chicken Scratch Diaries.
When it comes to choosing gifts for our children, it's a pretty straightforward task.
They need stuff. They want stuff. Your child might even be creating an Amazon wish list for you at this very moment.
Your parents on the other hand…that's a different story.
As our parents age, they tend to become increasingly self-sufficient and "need" less material things in their lives. However, we as their kids still want them to know they're loved and appreciated, right?
It pains us to show up empty-handed to a birthday gathering. And somehow just a card alone feels lacking, considering the sacrifice they made in nurturing us all these years.
(Because, now we know what that's like.)
Enter the conundrum: what to buy older parents who have everything (or seem to)?
It's time to get creative.
Related: 40+ Gifts for Minimalist Moms That Won't Cause Anxiety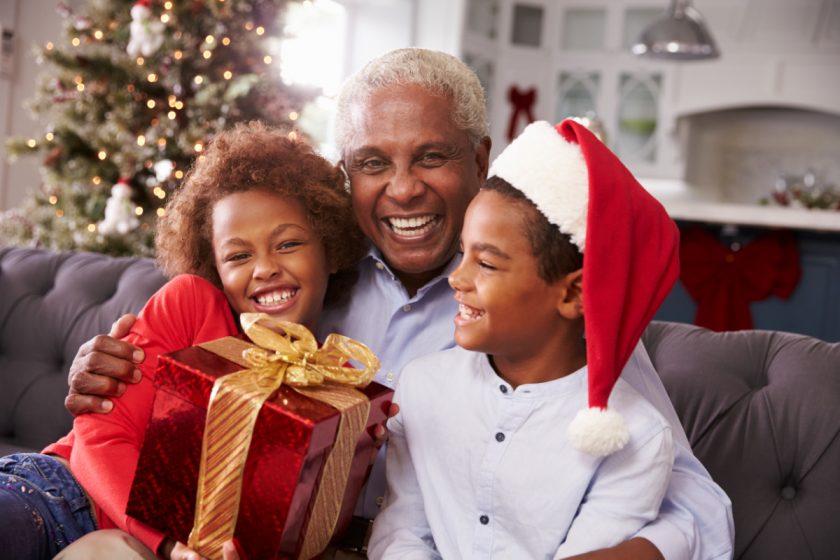 General Gift-Giving Tips for Older Parents
This post probably contains affiliate links, which means I may earn a commission if you make a purchase through those links. As an Amazon Associate, I earn from qualifying purchases. You can find our full disclosure HERE.
First, I think we have to shift our thinking a little when it comes to selecting gifts for our parents.
If your parents are anything like mine, they highly value:
Things they can use (practical everyday items)
Things that allow them to spend more time with their family
Things that aren't complicated, take up a lot of space or need a lot of maintenance (like fancy coffee machines or overly-smart devices)
At this point in their lives, our parents pretty much have the things they want or need. Or, they simply aren't as interested in gifts that contribute to clutter.
Many older parents have also begun to downsize their homes and possessions. They prioritize the simple things in life over the latest and greatest shiny "thing" that might appeal to younger generations.
So, what exactly are good gifts for older parents? We've made a list that we think appeals to a variety of personalities and interests. Take a look!
You Might Also Like: Practical Minimalist Gifts for Him (Perfect for Men Who Hate Clutter)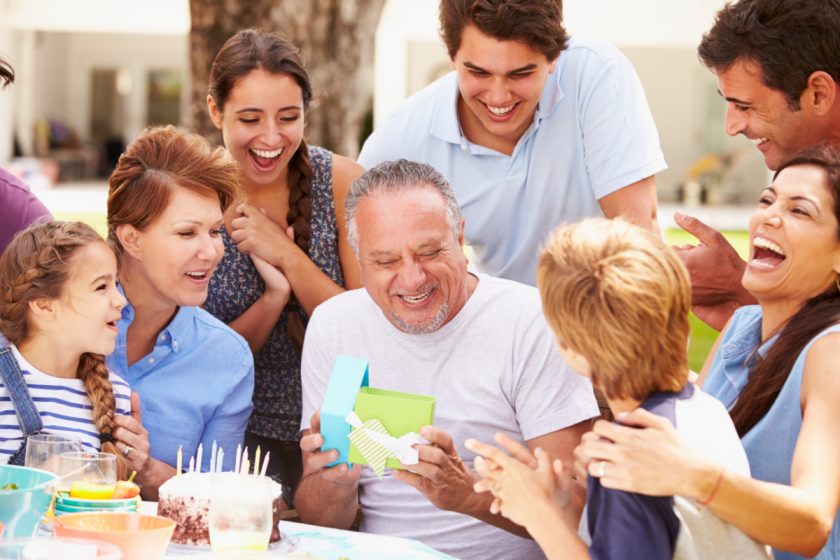 The Best Gifts for Older Parents Who Have Everything
This list is loosely arranged by category, to help you sort through those gift ideas that would be the best fit for your parent(s).
I'll cover gifts in…
Kitchen and Food
Bed and Bath
Apparel
Entertainment
General Household
Travel
Gardening
Miscellaneous
Now onto the gift ideas for older parents who don't need anything…but you still want to (or feel like you have to) buy for.
You Might Also Like: 30 Experience Gifts for Moms (Because She Doesn't Need One More Mug)
Featured Gift: Have your heart set on a truly clutter-free gift? Help your parents tell and preserve their memories and stories – something older generations love to do! – with My Life in a Book. See #32 for more details.
1. Meal Kit /Grocery Subscriptions
When your elderly parents are empty nesters, they sometimes have a hard time transitioning to cooking for just two. Meal kits can be a fun way to learn new recipes, and there tends to be less waste with the pre-portioned ingredients.
Try:
Homechef – they have meal kits as well as oven-ready meals that require no prep work.
GoodRanchers – you can subscribe your parents to this meat delivery service, or just make a one-time purchase. All meat is sourced in the U.S. and it's one of the more affordable meat delivery options. "The Cowboy" box is perfect for the grill-obsessed dad in your life.
HungryRoot – This one is great for single parents (my mom loves it); they offer tons of healthy options especially for those with food allergies or sensitivities.
Related: Minimalist Gifts for Her – 39+ Ideas for Women Who Hate Clutter
2. Ninja Foodi 5-in-1 Grill
My dad has THIS Ninja indoor grill, and it's really the only small kitchen appliance he owns besides a coffee pot.
It allows him to cook just a chicken breast or a steak or two at a time (or a few more) without heating up the whole kitchen. Plus, this model has several more functions they can try out if they're an ambitious foodie.
3. Anti Fatigue Mat
For tired legs, these fatigue mats are a lifesaver while doing dishes or working in the kitchen, and the best part is, they stay put.
Another idea would be for use in a shop/garage floor, if your dad is into carpentry or mechanics and stands a long time on concrete.
4. Pineapple Corer (& Slicer)
Unlike many kitchen tools, this new pineapple gadget is just one of those novel things that is actually super useful, according to my mom (and The Minimal Mom on Youtube! – a minimalist, really).
It makes cutting fresh pineapples a snap.
5. Swedish Dishcloths
These dishcloths are super absorbent and have many uses: washing, drying, even window-cleaning – and take up less space than a pile of cotton dishcloths.
6. Spoon Rest
This might be one of the most underrated kitchen tools! Pretty, simple, and SO useful for keeping counters clean while cooking, every kitchen needs a spoon rest.
So if your older parents don't have one, this would make a great gift.
7. Memory Foam Mattress Topper
Mattress toppers like THIS one can breathe new life into an older mattress.
It's a great idea to try before splurging on a new mattress (and I know many parents hate to fork out money on this type of purchase).
8. Waffle Weave Blanket
This soft and lightweight blanket is menopause-approved. 😉
It has just the right amount of weight and warmth to add between a sheet and comforter, but it's very breathable unlike the popular fleece blankets.
9. Reading Light
If your mom or dad likes to read at night, having a small reading light can be less intrusive than a bedside lamp (if their partner likes their sleep, that is).
10. Crocs
Classic crocs can be the perfect casual shoe for men and women alike – easy to slip on when they're stepping out to the mailbox or watering plants.
These shoes might not look the best, but everyone needs a comfortable, easy slip-on for quick, random trips outside the house.
11. Sorel Slippers
Sorel has the best, high-quality slippers I've found for both women and men.
They're made for both indoors or outdoors. So theoretically, they could walk the dog or wear them around the house in total comfort. Although, come to think of it, maybe get the crocs for outdoor trips?
(Do they already have slippers they love? Get them some cozy socks, instead.)
12. Lightweight Robe
Bamboo is very breathable and incredibly soft, so it makes a great choice for a lightweight robe for mom. (My grandma also lives in hers.)
This popular waffle-weave is a good option for dads.
13. Record Player
My mom bought THIS nostalgic turntable for herself last year, and it's one of her favorite purchases.
This particular record player also plays CDs, cassette tapes and the radio. If they're more tech-savvy, they can use the bluetooth function to stream music as well.
14. Show Tickets
Depending on where your parents live, they may be excited to take in a show now and then- from plays, to concerts, comedy acts, ballet, etc.
You might even inspire a new pastime if this is something they've never really explored before.
15. Recreation/Sports Gift Certificate
Think bowling, dancing, mini golf, baseball tickets.
Get parents out of the house, and help them reconnect with each other at the same time. Double win.
16. Furnace Filter Subscription
I actually ordered this furnace filter on Amazon subscribe & save for my mom this year.
Allergies were wreaking havoc on her health, and I suspected her two large, indoor dogs meant more frequent furnace filter changes were needed.
She was excited with this purchase that shows up at her doorstep every other month without even having to think about it.
17. Digital Picture Frame
They want to see photos of their grandkids, but what modern parent has time to print out the good ones? Now you don't have to!
Get them a digital picture frame that allows you to upload digital photos and then plays them in slideshow form. Grandparents absolutely love it.
And if they don't have grandkids, they can upload their own photos, and enjoy them without needing to print them.
18. Fire Pit
I like the efficiency and simplicity of the Solo Stove.
If your parents enjoy an evening by the (outdoor) fire, this gift could really impress and double as an "experience gift". Don't forget the smores stuff!
19. Roomba
Another gift my mom loves. She works full time, and thanks for the Roomba, she can come home to clean floors.
It's especially great for capturing pet hair. But keep in mind, it works best on hardwood or linoleum floors.
20. Clock with Indoor/Outdoor Temperature Readings
See the time, date, humidity and current temperature at a glance, inside and outside. This clock can be hung on the wall or used on a nightstand with the alarm clock function.
(This may be more suited to older parents who really hate technology and looking up info on their phone.)
21. Professional Carpet Cleaning
There is nothing like having your carpets cleaned by the pros!
Take this chore off their hands and let a carpet cleaning company do the dirty work.
22. Seed Catalog Gift Certificate
This was a purchase for my in-laws last Christmas. It allowed them to shop from a new seed company they had wanted to try, but I didn't have the task of trying to guess what seeds to buy.
Include the seed catalog for easy browsing and ordering by phone.
(Research where to buy seeds online or ask your parents where they like to shop first.)
23. Kneeling Pad for Weeding
Kneeling can be really difficult as you get older. So save those knees!
Whether they have a big veggie garden or just some landscaping that needs a little maintenance, a quality kneeling pad makes a practical gift for older parents.
24. Utility Apron
An apron is a handy way to store trowel, seeds, scissors, plant tags and more while working in the garden.
It can also help keep clothes cleaner, so they can skip the wash one more time and last longer.
25. Gas Cards
Gas cards are about as practical as you can get.
They're especially useful if they have an RV or camper and like to travel a lot. It's a nice way to say: come visit us!
26. Car Wash Gift Cards
My mom specifically requested this recently.
(I know, I know. This whole list was inspired by my own older parents.)
It's something she needs but hates to spend money on herself. Anything that fits those qualifications can make a great gift!
Speaking of…
27. Oil Change Gift Certificate
It's so exciting, right? But oil changes are a part of life that some of us (raising hand) tend to neglect.
For older single/widowed parents, it could be especially thoughtful as a reminder to keep up regular maintenance on their vehicle.
28. Outdoor Rug
These outdoor carpets are designed to use outside the RV, but they can also great for home patios.
They're easy to fold up and store, and the large size makes for a clean seating/dining area wherever they happen to be.
29. AirBnB Gift Card
Help them go on their next adventure!
Buy your parents a certificate to choose where they want to go, and help them make the reservation if needed.
30. National Parks Gift Certificate
Buy the America the Beautiful National Parks annual pass or lifetime senior pass and encourage their love for the outdoors.
Better yet, take them on a trip along with your family!
31. House Plant
Can you really have too many house plants? They clean your indoor air and add SO much to a room without being clutter!
My favorite, easy to care for plant is the Jade Pothos. It's beautiful and very low maintenance.
I purchased THIS one from Etsy, and it was so beautiful! Grab a pot or basket to include with the gift.
32. My Life In a Book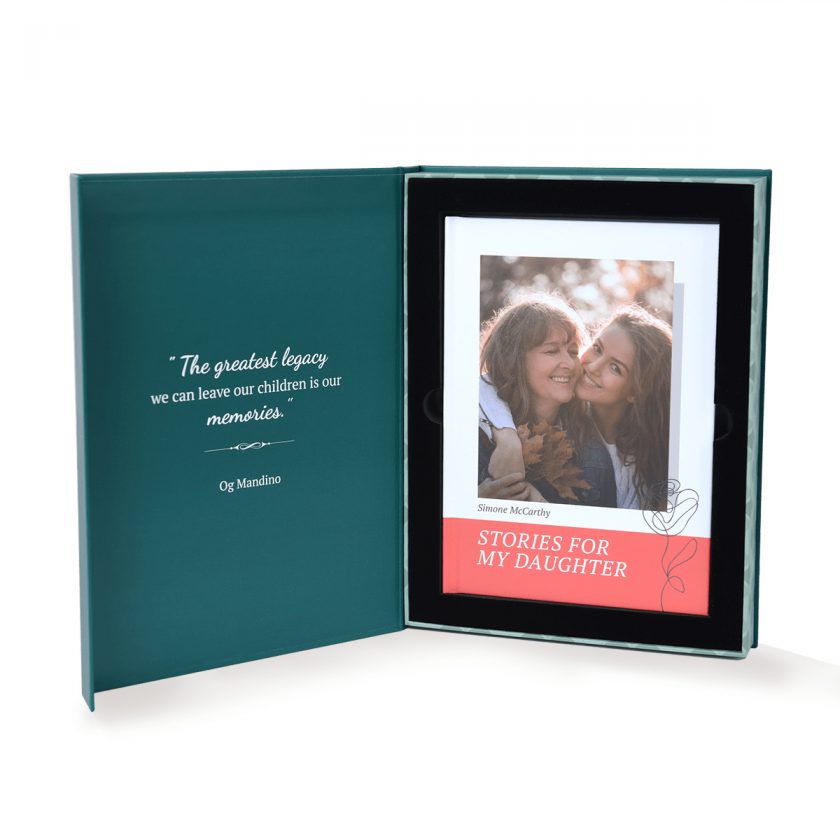 So many older parents are practically begging to share their life stories. They want to remember AND have someone else they love appreciate all those little details.
That's where My Life in a Book comes in.
My Life in a Book will send your parent(s) one question a week for an entire year. They reply with their stories, and photos, too, if they have them.
At the end of the year, they get a beautifully formatted book filled with all of their responses and photos. They get to reread them, and you get to keep that book when they're gone.
It's a win-win! Check out all Life in a Book has to offer HERE.
You Might Also Like: 60 Clutter-Free Gifts for Minimalists – Organized by Interest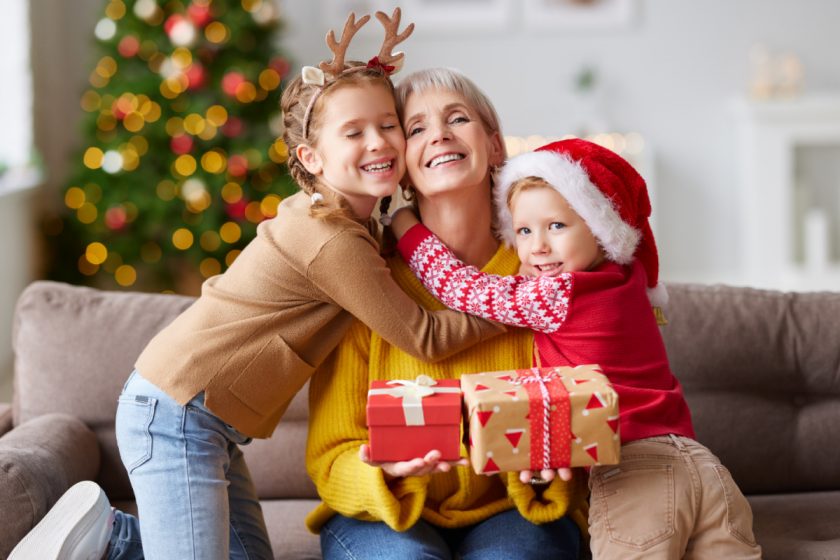 Practical, Thoughtful Gifts for Elderly Parents Made Easy
When the next birthday or holiday comes up, we hope these gifts for older parents who have everything will inspire you with some fresh ideas.
As I mentioned, many of these are gifts our parents own and still use and mention often. And for picky or minimalist-leaning parents, well, that's a rare accomplishment.
Show your parents some love and choose a gift that brings them joy, and not stress.
One last tip: listen to their struggles and think of gifts that might solve their problem or meet a need in their life. Even the most simple solutions can turn into an incredibly thoughtful present — no Amazon wish list required.
Read Next: The Best Gifts for Work from Home Moms (that are genuinely useful)