Inside: When you're looking for gift ideas for a work from home mom, it can be hard to pinpoint what she'll love and actually use. That's why we've come up with over twenty choices that are guaranteed winners, at least according to a work at home mom of four.
This is a guest post by Brandi from Chicken Scratch Diaries.
Most of us, as moms, are known for graciousness in accepting just about any gift we receive.
We wear the macaroni necklaces with pride (er, at least for a day or two). We accept scented candles like trophies. Few of us would ever turn down chocolate.
But when you're choosing a gift for a mom who is juggling a job at home plus all the regular mom duties? You might want to look past the homemade crafts, sweet as they might be, to something a little more relevant to her very real challenges.
Here's another hint: As a work at home mom myself, I have a hard time keeping up with housework, so I prefer to keep "stuff" minimal.
I think this is a pretty universal problem for moms who are home all day. We like clear surfaces and we like to relax at the end of the day, NOT dust trinkets and find a place for one.more.thing.
You Might Also Like: 40+ Gifts for Minimalist Moms (practical & clutter-free)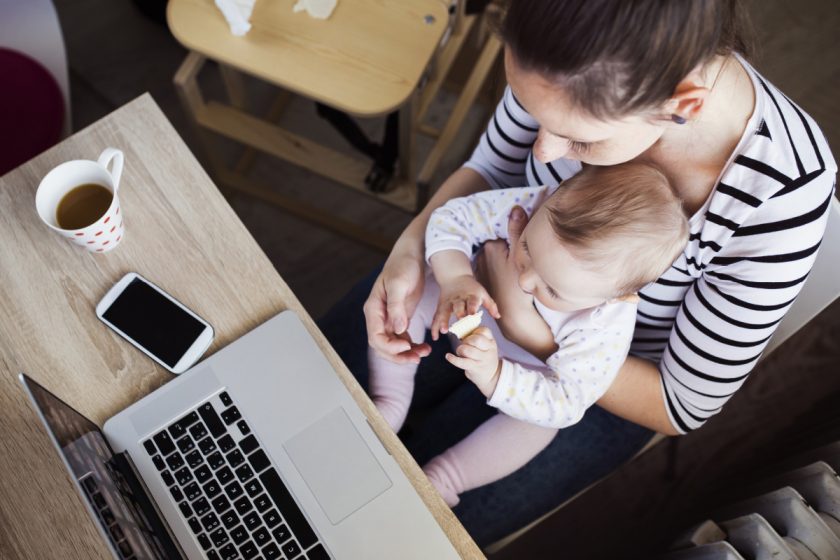 20+ Practical Gifts for Work from Home Moms
This post probably contains affiliate links, which means I may earn a commission if you make a purchase through those links. As an Amazon Associate, I earn from qualifying purchases. You can find our full disclosure HERE.
With all this in mind, we've come up with some items that are truly thoughtful choices for really any practical mom, but especially for the boss moms rocking it from the home office.
Related: How to Transition to a Minimalist Christmas With Kids
1. Ember Smart Mug
This mug has been on my wish list forever. Temperature-controlled smart mugs keep coffee just-right, and eliminate the need for 8 trips to the microwave every morning!
For a much more budget-friendly option, this 14 oz. Yeti insulated mug keeps hot drinks hot for a long time. Plus, they have SO many colors to choose from. It's not a smart mug, but it's the next best thing.
2. Comfy Leggings
To make a serious impression, go for Lululemon leggings. They are known for their stellar quality, comfort and fit.
For a more budget conscious option, take a look at THIS knockoff version on Amazon with over 47,000 positive reviews.
3. Wall Clock
A clock with a clean, simple design blends with nearly any decor – and THIS particular one doesn't make noise either! Very helpful for staying on task.
(There are definitely enough distractions at home.)
4. Robot Vacuum
Naturally, any hard-working mom would love a gift certificate for house cleaning, but we all know that doesn't help you beyond the week or two you have it.
A robot vacuum cleaner? It's every mom's (working or not) dream: the house cleaning gift that keeps on giving.
The Roomba still seems to be the most popular choice, but the Shark IQ model also gets good reviews with a more friendly price tag.
Keep in mind that robot vacuums will always work best on hard-wood floors or tile. If the mom you're buying for has a home with mostly carpet, this might not be the best gift.
5. Essentialism (by Greg McKeown)
Essentialism is a great read for work-at-home moms who want to stop spinning their wheels and start doing what matters (and only that). The gift of more time is about the best gift work from home moms could receive.
Really any book that helps moms juggling all the things maximize their time and productivity can make a great gift!
Atomic Habits is another awesome book for work at home moms. Creating good habits is crucial to surviving the chaos that is working from home with kids.
6. Noise-Cancelling Headphones
Headphones are a must-have for concentration, especially if you have kids home all day, most days (hello, working from home and homeschooling at the same time).
A quality over-the-ear headset like THIS one that also allows for wireless bluetooth calls or listening to music while working? Priceless.
7. Clothing Box Subscription
A clothing subscription box is an excellent gift idea for any mom because every mom I know has next to no time to shop.
There are several out there these days, but I've had an overall good experience with Stitch Fix overall.
No matter what box you choose, the key is giving really detailed explanations about the types of clothes you want – and even more important, what you don't want.
They have a great selection of casual office wear (especially tops!), plus comfier casual clothes.
8. Meal Kit Subscription
Everyone has to eat, and a meal kit makes it that much easier for mom to get dinner on the table. It's truly hard to switch from work mode to dinner mode some evenings!
A Few Favorites:
Every Plate – We've loved the meals we have tried from EveryPlate. I recommend it for smaller families (or families with littles.)
Hungry Root – This kit offers lots of healthy and allergy-friendly options, including gluten-free, dairy-free, etc.
What a Crock Meals to Go – This is a new meal kit option designed for the slow cooker. I especially love this idea for busy work from home moms!
P.S. If the mom in your life loves slow cooker meals, upgrade her slow cooker to a programmable one! It could be a game-changer. Speaking of making cooking easier…
9. Instant Pot
While I haven't tried the Instant Pot yet, so many moms swear by it! There is definitely a learning curve, so gauge whether or not this is a good gift by her patience level and/or cooking skills.
For a while, these were so popular it was actually a challenge to find recipes that were NOT for the instant pot.
10. Houseplant
When you're stuck inside a lot of the day, a nice houseplant is a welcome addition to the home office.
Try a snake plant (we've had good luck with THIS brand) for an easy to care for plant that also cleans the air.
Succulents in general require very little water and are an easy favorite.
Related: The Best Gifts for Older Parents Who Have Everything (Or Seem To)
11. Bullet Journal
Having a way to organize your random ideas, goals and lists is essential. No matter how many traditional planners I try, I always come back to the flexibility of the bullet journal.
Bullet journals are perfect for this purpose, and you can never have too many.
12. Fine Point Pens
This pack, in my opinion, is a perfect work from home mom gift because my pens seem to disappear into thin air (hello, dear children).
The smooth, fine point is the ideal companion to the bullet journal.
13. Ergonomic Desk Chair
We bought this desk chair recently (to replace a really rickety old one), and it's been a worthwhile investment.
When you're sitting for long periods of time, a good quality chair makes a huge difference.
14. Coffee Subscription
A great idea to go with one of the mugs at the top of this gift list! I personally love the South Central whole bean blend from Wanderoast (a small, family-owned business.)
A coffee pod variety pack could also be a great choice if she has a Keurig.
15. Apple Watch SE
I rarely wear jewelry and wasn't sure if I'd care to have a smart watch. However, after receiving THIS one as a Mother's Day gift, I can highly recommend it.
The 40mm size is just right for me and not obnoxiously big. The fitness app reminds me to stand every hour and tracks my steps (plus a lot more).
And I can leave my phone in the other room to reduce distractions, while seeing messages and responding to calls on my wrist as they come in.
16. Oversized sherpa throw
Go for the twin size of this blanket– it's perfect for chilly days!
Our family fights over this one, but I love keeping it over the back of my desk chair to keep me comfy on late-night work projects. And trust me – many a work at home mom is working late at night or early in the morning.
17. Picture Display Ledge
I have THIS one in my office, and what I love is I can switch out family photos and decor easily, without having to re-hang frames.
If wall space is more limited, take a look at THIS smaller ledge.
18. Leather Laptop Bag
Most of my mom friends (including myself) adore a good leather bag that will last for years.
This large tote is big enough to hold a laptop for taking work on the go.
19. Under The Desk Exercise Machine
An under-desk exercise machine helps work-from-home moms stay active, even when stuck at the keyboard.
I love the DeskCycle because it takes up a small amount of space under a desk but makes it easy to keep moving. If she has a standing desk, this walking treadmill could be the perfect companion.
Fitting in exercise and work at the same time? Yes, please!
20. Spotify Premium Subscription
Since CDs became a thing of the past (remember those?), ad-free listening is pretty much nonexistent without some type of paid streaming service.
This makes a Spotify premium subscription a great gift for work from home moms. When I want to concentrate, I like to pick an instrumental station for background music.
21. Pretty Filing Cabinet
Another wish list item of mine: a wooden lateral filing cabinet that doubles as a nice piece of furniture. It can store tons of files but blends into a home office setting much better.
THIS one is another modern option with great reviews.
Limited space? Try a sleek option that can fit on a shelf.
22. Spa Gift Certificate
It might be on every mom gift list ever. But I can attest for moms who work and mom all day: nothing is better than a trip alone to the massage therapist.
(Actually, alone anywhere is lovely. But add a massage and it's heaven.)
A pedicure is also something I will rarely spend on myself, but it's a much appreciated gift!
Related: 30 Experience Gifts for Moms (Because She Doesn't Need One More Mug)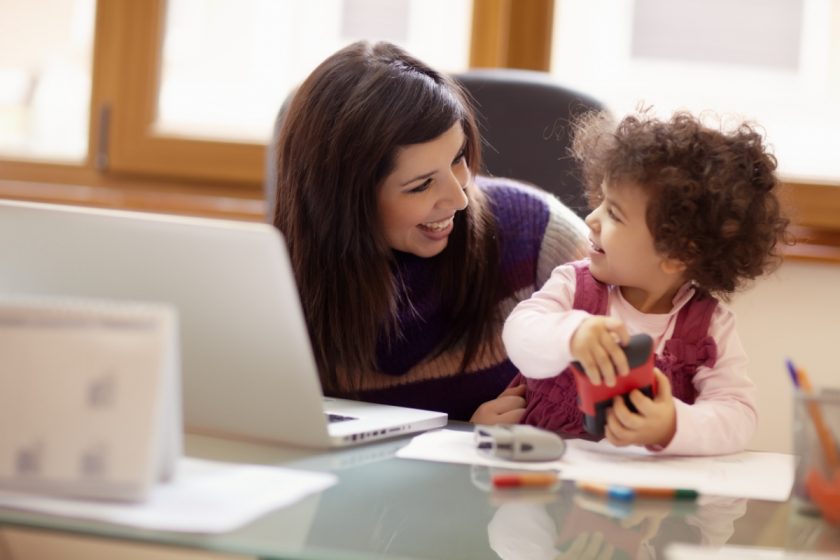 Bonus: Gifts to Keep Kids Busy While Mom Works
Especially if mom is short on baby-sitting options (as many of us were during 2020 and 2021), pair something from the list above with one of the options on this list to keep little ones busy during work hours.
Paint by Sticker Books
We discovered this paint by sticker book last year and it really does entertain my 6-year-old for a long time.
THIS outer space book is a fun one, too.
Trace and Lace Set
We love Melissa and Doug classic toys, including the trace and lace activity sets.
For younger kids and toddlers, it's not only a great "keep busy" item but it can strengthen motor skills too.
Amazon Fire Tablet
Much cheaper than an iPad, The Fire tablet has stellar parental controls and the Amazon Kids+ subscription is worth every penny.
I like that I can set up a profile with only the apps and other content (games, kindle and audio books) that I choose. You can completely block the web browser, and also set time parameters from your phone.
It's a lifesaver with my younger kids on days when I need to squeeze in some dedicated work time but don't want to give them free rein on a laptop or TV.
Magnetic Tiles
We've had a few sets of Magna-tiles for years now, and they still are a favorite weekly (if not daily) activity in our house.
(P.S. The originals are way better than the knock-off brands.)
Classic Lego Set
You can never have too many legos, and they never go out of style.
A basic set like this one can provide hours of creative play – and valuable productive time for mom.
Baby Swing
If mom has a tiny baby, swings can buy her so much time! Most of the time, these amazing inventions keep baby content for long periods of time.
(Editor's Note: The best ones can swing side to side OR front to back. I personally loved THIS one – my fifth baby practically lived in this one half the day, every day.)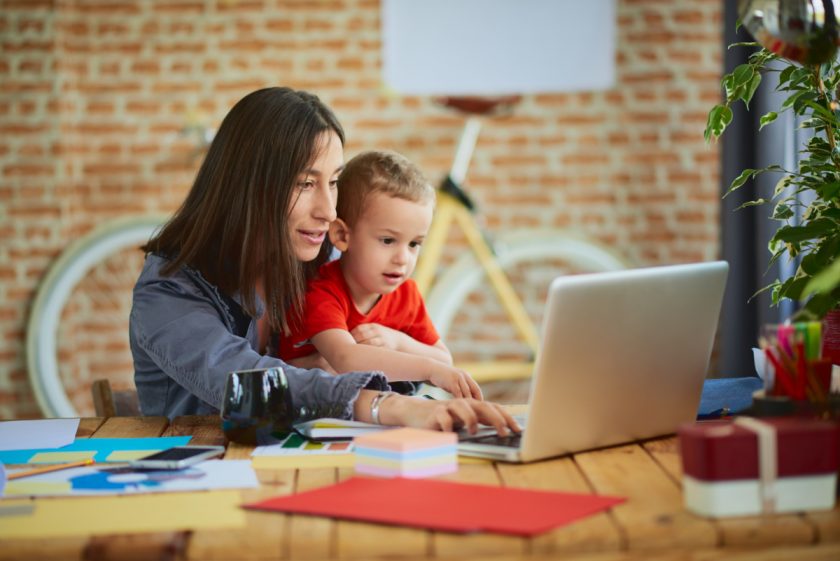 Useful Gifts for Work at Home Moms Make The Best Gifts
When in doubt, consider a gift that helps mom to maximize her time and focus on her work. She doesn't want more unwanted gifts she'll need to declutter later (or politely return).
Even offering a free babysitting session can be a tremendous way to lighten the load and help her plow through a big project all at once! Breaking projects into multiple time slots can be a pain and not as efficient.
What she really wants is more time to spend with her kids, and to be as productive as possible with the limited work time she has available.
Working at home is never easy, but it is the answer to many families' needs today. The gift ideas on this list can help you to recognize her hard work – in a very intentional and thoughtful way.
Read Next: The Best Minimalist Toys for Hours of Happy Play