Inside: You know you have way too many cleaning products, but how do you know what to get rid of? I pared down my collection to less than ten minimalist cleaning supplies I use to clean my entire house week after week. I also offer alternatives to my personal favorites.
When I first discovered minimalism, my house was chock full of alllll the cleaning products.
The cabinet underneath my kitchen sink was a mess. Don't get me started on the cabinets under the bathroom sinks.
I had a separate product for each individual task, and my cleaning supplies desperately needed decluttering.
I have tried SO many products over the years, I probably can't name them all.
For a while, I didn't care about what was in my cleaning products. Then I decided I did, in fact, care and swung the other way, going with all natural, more eco-friendly options.
Recently, I settled on a solid mix of both because honestly, with the insanity that is the world lately, a few chemicals are the least of my worries. I've got bigger things on my mind.
My goal was to find the least number of products that would get all the cleaning jobs done quickly, and that I actually enjoyed using.
Now my collection of minimalist cleaning supplies includes a pretty small collection of items.
You Might Also Like: A Flexible Minimalist Cleaning Routine (Just the Essentials)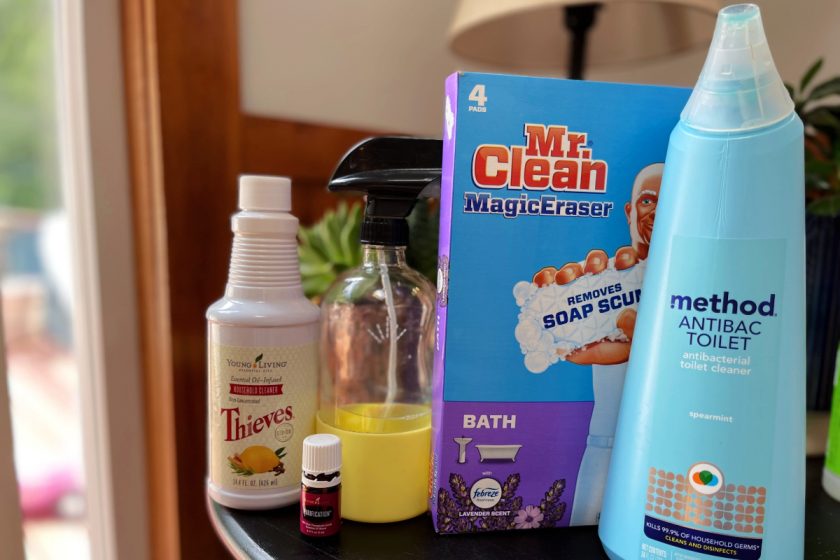 Minimalist Cleaning Supplies: The Fewest Products You Need to Clean Your Entire House
This post probably contains affiliate links, which means I may earn a commission if you make a purchase through those links. As an Amazon Associate, I earn from qualifying purchases. You can find our full disclosure HERE.
Since we're talking about cleaning, I have to share that I absolutely adore Grove Collaborative's cleaning caddies to keep cleaning supplies together for under bathroom sinks. They're unnecessary, but I love them.
I also purchase all my glass spray bottles for cleaning from Grove Collaborate. They occasionally need new spray nozzles, which I get from Amazon.
I mention Grove Collaborative A LOT in this article. If you want to try it out, you can get $10 off when you place your first order.
Now that we got that out of the way, here's what I landed on for my minimalist cleaning supplies. My collection includes…
You Might Also Like: The Pros and Cons of Minimalism, According to a Minimalist
1. Thieves Cleaner Concentrate
Several friends recommended Thieves over the years, and three years ago, I finally took the plunge and signed up for Young Living.
The diffuser and oils have been fun and a great substitute for candles most of the time, but the cleaner is the real reason I signed up. I generally go through two bottles a year, which almost always fulfills my $50 per year spend requirement as a member.
This is my go-to cleaner for:
any horizontal surface
toilet surfaces
hardwood & bathroom floors
the stove
windows & mirrors
For general purpose kitchen cleaning, I pour one capful into a glass spray bottle and dilute with warm water. You could dilute further for windows and mirrors, but I just use the same bottles.
For bathrooms, I generally use two capfuls with a few drops of purification oil to one glass spray bottle of water.
For stovetops, I pour 1-2 capfuls straight onto the surface, undiluted. I spread it out with an old toothbrush and let it sit for a while.
Alternatives: My husband doesn't care for the smell of Thieves. You might not either, or you might not want to join Young Living. If that's the case, check out Branch Basics or this DIY lemon vinegar cleaner.
Related: How to Stop Obsessing Over a Clean House
2. Method Toilet Bowl Cleaner
While you can use Thieves cleaner for toilet bowls, the spearmint scent of Method toilet bowl cleaner makes me so happy.
I was getting mine from Grove Collaborative, but you can get it much cheaper from Target or Amazon. In fact, I just subscribed to get six bottles every four months via subscribe and save for our three bathrooms.
I use it with Grove's toilet bowl brush because I love the container and the fact that you can detach the brush head and replace it with a new one.
(If you want to try Grove Collaborative, you can get $10 off when you place your first order.)
Alternatives: You could skip a separate toilet bowl cleaner altogether and use a more concentrated version of your all purpose cleaner instead.
3. Magic Erasers
Any mom with young children knows you need to have Magic Erasers on hand for any Sharpie accidents. But I only recently discovered their power in the bathroom.
I was trying to replace my regular Magic Erasers, but could only find the bath version. So on a whim, I decided to try one on a tub I hadn't cleaned in a bit.
It worked WONDERS. The tub was squeaky clean in record time.
I was so impressed that I decided to replace my bathroom baking soda (I used it as an abrasive sprinkled on before spraying with Thieves) with Magic Erasers permanently. I love pretty much anything that saves me time.
I plan on using the kitchen ones when I've let the stovetop go a little too long, and Thieves isn't able to totally remove all the grime.
The original Magic Erasers are considered non-toxic, despite the rumors circulating the internet.
Alternatives: Baking soda does a decent job as a natural, abrasive, deodorizing option that you can use together with your multi-purpose cleaner. You just need to make sure to rinse the tub or sink thoroughly after use, or it leaves behind an unpleasant residue.
4. Microfiber Cloths
A while back, I got really into going paperless. It saved us some money and helped me feel like we were contributing to reducing waste as a family.
Since then, I've realized that a lot of big companies that could be doing a whole lot more to help the environment aren't doing their part. So who feels responsible? Everyday people like you and me.
Microfiber cloths are still great, and we do still use them, primarily in the kitchen. But…on to honest confessions.
You Might Also Like: Minimalist Kitchen Essentials – Just the Basics, According to a Minimalist
5. Paper Towels
Some cleaning tasks are gross. Bathrooms in particular are rather disgusting.
Combine that nastiness with having too much laundry these days, and those wet, dirty cloths end up sitting in the hamper for more than a few days. A + B = Mold.
One too many discoveries of mold on dirty, waiting to be washed microfiber cloths prompted me to consider different options.
I was going to try out various forms of cleaning wipes for bathrooms, but really, paper towels plus multi-purpose cleaner are just the same thing. So I started using paper towels for bathrooms (I get them in bulk from Costco).
I even give myself grace in the kitchen sometimes, for the nastier messes. I'm trying to find the balance.
Related: Ridiculously Easy Ways to Reduce Waste at Home (for families)
6. Quality Vacuum & Broom
Having a vacuum that is an absolute workhorse is so crucial! Knowing how to troubleshoot it is probably even more important.
The best vacuum will, on occasion, make some not so awesome noises, or it will stop working effectively. You'll be tempted to give up on it and buy a new one.
Don't do it!
Look up the problem on google or Youtube and figure it out – that's saved us from buying a new vacuum SO many times over the past several years.
We love our Shark vacuum, and it's held up relatively well for over five years now.
(I'm considering adding a handheld dustbuster to my collection of supplies for bathrooms because with two floors and two smallish bathrooms in our home, the vacuum can be a pain to lug around and squeeze into a bathroom.)
7. Mop with Reusable Pad
Your mop will largely depend on your floors. We primarily use the mop in our kitchen with hardwood floors.
I spray cleaner first, then mop; think of it as a DIY Swiffer. In the bathrooms, I usually skip the mop altogether, and use cleaner with microfiber cloths or paper towels, instead.
I purchased my reusable mop pad from Grove Collaborative, but here is an alternative.
8. Dish Soap
I use the Bubble Up Dish Brush from Grove Collaborative and Scotch Brite scrubbing dish cloths to hand wash the dishes that can't go into the dishwasher.
While it gets bad numbers on all the crunchy apps, I still absolutely adore Mrs. Meyer's dish soap, which I get monthly from Grove Collaborative.
I love trying their seasonal scents, although my everyday staple scents are:
Alternatives: I'm sure you could replace this with any number of "natural" dish soaps. Young Living has Thieves dish soap, and you could also probably use diluted Dr. Bronner's Castille Soap.
Related: 15 Ways to Make Washing Dishes Easier (and maybe even fun!)
9. Dishwasher Pods
For the dishwasher, I use Mrs. Meyer's Lemon Verbena dishwasher tablets (the basil left a very strong scent/residue on the dishes – I recommend this specific scent).
I looked into non-toxic alternatives and came up short with a lot of bad reviews. If you have something you love, I'd love to check it out! Drop me a comment.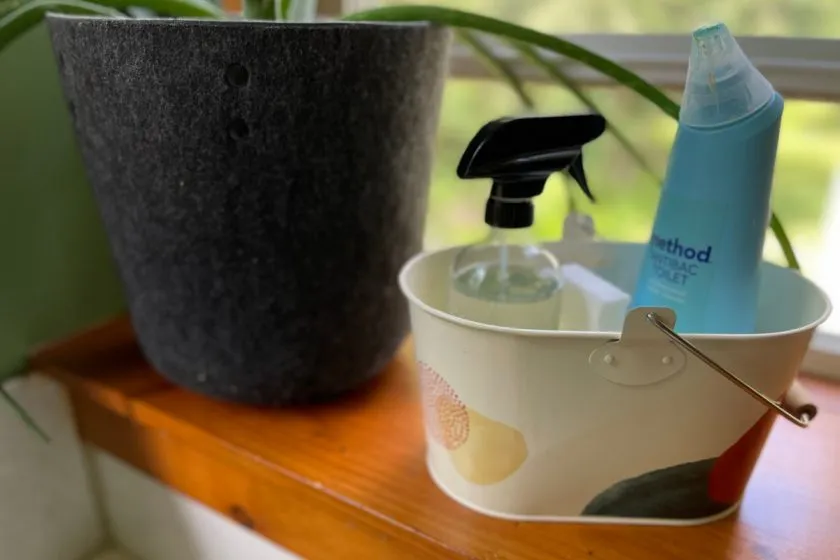 But Don't Minimalists Use Non-Toxic, Zero Waste Cleaning Products?
I do know many minimalists who use non-toxic products, made from kitchen staples like vinegar and baking soda or they invest in something like Branch Basics or Thieves.
But not all minimalists.
I can't stand the smell of vinegar, and the scents from the products I've chosen make me happy.
How you feel about your cleaning supplies matters, especially if cleaning (not tidying) is big part of your daily routine, and it is a big part of mine with seven people home all day, every day. If certain products make you happy, keep them.
I'm sharing what works for me and for our family. Decide what matters most to you about your cleaning products, and let your core values guide you.
At the end of day, making intentional choices about what you bring into your home is what minimalism is all about.
Read Next: Minimalist Living Tips – Advice from a 5 Year Minimalist