Inside: Looking for homeschool mom gifts that are practical and on point? Find the perfect thing with 45 gift ideas that are sure to put a smile on her face the second she opens it!
Buying gifts for the homeschool mom in your life can be tricky. There's so many different kinds of homeschool moms!
(See: the brilliant Disney princesses as homeschool moms meme currently making the rounds on Facebook.)
You've got the free-spirited unschooling moms 🙋‍♀️. The Charlotte Masony, nature-loving homeschool moms.
There's the world-schooling homeschool moms and the Montessori homeschool moms (nothing but wooden toys, thank you very much).
I could keep going. You get the point: we're all different.
But having homeschooled for almost a decade now, I think almost everything on this list of practical gifts for homeschool moms would be on point for most of us.
Except maybe the Montessori-related toys?
But come to think of it, I'm not a Montessori homeschool mom, and even I would get excited about a Montessori gift to stash in our homeschool room (and I'm a minimalist!).
Oh, and the laminator I probably wouldn't find much use for. But some homeschool moms want to laminate all the things, so maybe I'm the minority?
You Might Also Like: Minimalist Gifts for Her – 39+ Ideas for Women Who Hate Clutter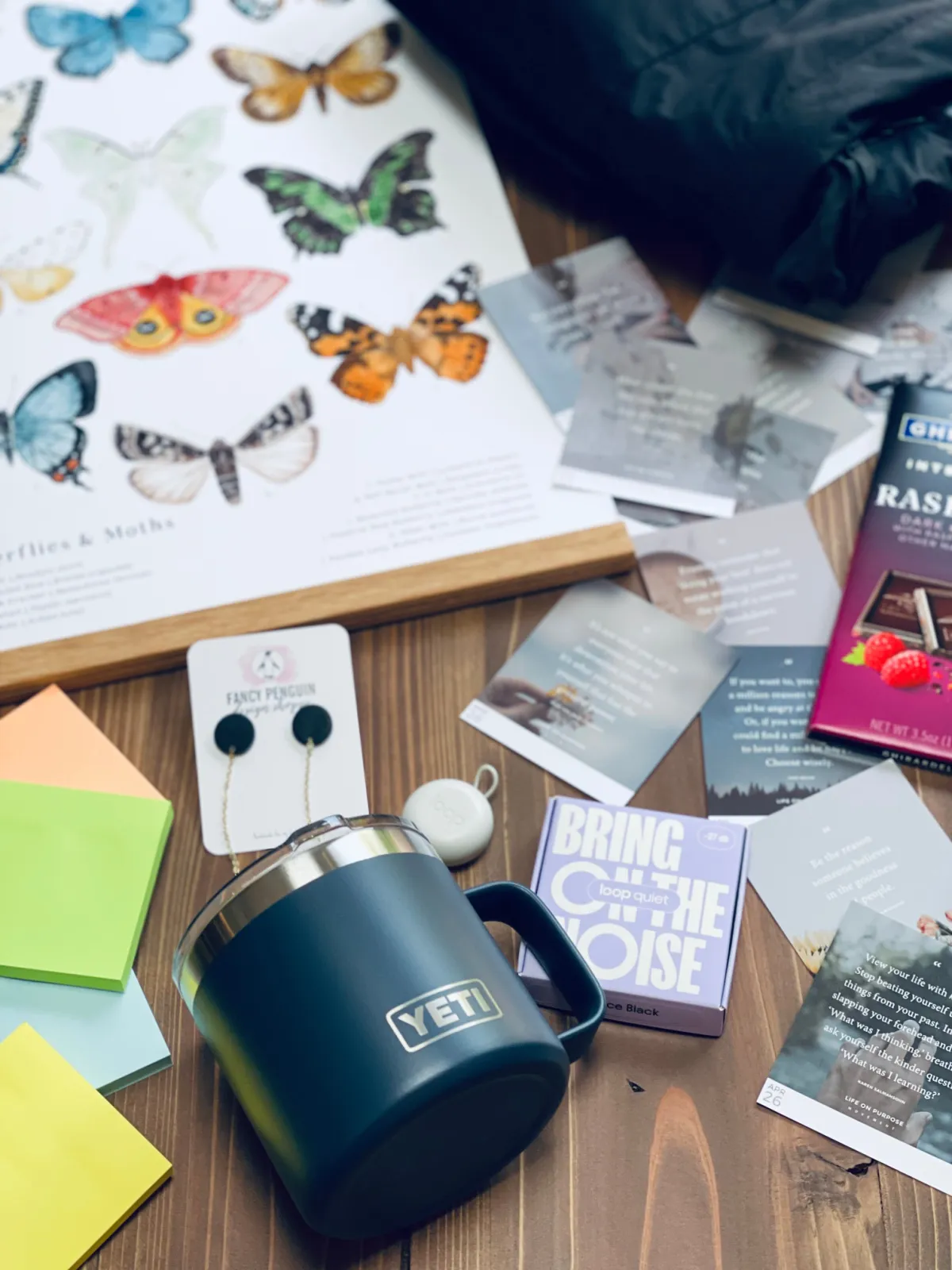 The Best Homeschool Mom Gifts (Except Coffee: That's a Given)
This post probably contains affiliate links, which means I may earn a commission if you make a purchase through those links. As an Amazon Associate, I earn from qualifying purchases. You can find our full disclosure HERE.
I hope you find something on this list of homeschool mom gifts that puts a huge smile on mom's face for Christmas, her birthday or Mother's Day.
Happy shopping!
1. Yeti Mug
There are entire memes dedicated to homeschool moms looking for their morning coffee only to find it cold and sad somewhere.
Will your coffee still get cold eventually in a Yeti mug? Yes. Will it take a lot longer to get cold? Also, yes.
If you're up for the price tag on a whole other league of "keep your coffee steaming hot" devices, try the Ember mug.
Related: The Best Gifts for Work at Home Moms (that are genuinely useful)
2. Winter Hygge Survival Kit
Maybe it's my imagination? But it seems 100 times harder for homeschool moms to get through the winter (in climates with snow and cold) without getting super depressed and quitting.
Give her a winter survival kit, including:
Twinkle Lights (we love THESE)
Candles
Diffuser & Essential Oils
Starbucks Hot Chocolate
Cozy Throw Blanket
Quality Chocolate
There's not much that twinkle lights, a candle and a good cup of hot chocolate can't fix.
3. 1Thrive Command Center
When we bought our first house, I knew I wanted to create a family command center.
During the pandemic, we didn't use it much (because activities were NOT happening). But now that we are adding more activities to our days/weeks, our 1Thrive command center (we have The Susan) keeps us all on the same page.
I keep all of my homeschool paperwork here, weekly dinner lists, random "don't forget to do this" notes and bills on the bulletin board. Highly recommend!
4. Snow Pants
Getting snow pants two winters ago was a game-changer for me wanting to spend time outside in the snow with my kids (or in any cold weather, really).
I'm kind of a wimp when it comes to cold, and snow pants keep me so warm, I often will take off my top layer.
Now that I have them, I am far more willing to say, "Yes," to the child who's begging me to play in the snow with them.
5. Quality Rain Boots
Going with the "try to enjoy being out in all kinds of weather theme", gift her a pair of high quality rain boots to help her enjoy puddle stomping and nature walks a little bit more.
Personally, I love my tall Crocs rain boots. Or you could splurge and give her a pair of THESE popular rain boots.
6. Tote Bag Organizer
Homeschool moms are usually toting more than their fair share of stuff around. From books and curriculum, snacks and water bottles, plus her own stuff.
Tote bags are lovely, but without an organizer, they're kind of annoying. Get her an insert for her tote bag to help her keep all.the.things organized.
(If you're really feeling generous, get her a new leather tote bag, too.)
7. Backpack
Tote bags are great…except when you're a Charlotte Masony, nature walking, hiking, museum-going kind of homeschool mom.
For those outings? You need a sturdy backpack. Replace hers if needed, or give her her very first one.
8. Barnes & Nobles Gift Card
This one should be pretty self-explanatory.
I don't know a single homeschool mom who would pass up a visit to Barnes & Nobles. Whether it's to buy books for herself, her kids or to explore the board games, workbooks and puzzles section, this gift is an easy option.
(Plus, she can get a teacher's discount. Tell her in case she doesn't know.)
9. Inspirational Homeschool Book
Instead of a bookstore gift card, why not give her an inspirational homeschool book, instead?
Kara Anderson's More Than Enough, Sarah MacKenzie's Teaching From Rest (faith-based) or one of Julie Bogart's A Gracious Space Volumes are the perfect "yes, you can do this" books homeschool moms need to keep going.
10. Authenticity Calendar
I adore these recyclable quotes – one for each day of the year – created by Erica Layne of The Life on Purpose Movement.
They aren't specific to homeschooling necessarily, but they are definitely uplifting and affirming. On the days I feel like quitting homeschooling, these little quotes often given me the boost I need to keep going.
Related: 40 Gifts for Minimalist Moms That Won't Cause Anxiety
11. Water Bottle
Confession: I consume way too much coffee and not enough water (I'm not quite Lorelai Gilmore, but it's not good). I'm pretty sure other homeschool moms can say the same.
Give her a really nice water bottle to help her stay hydrated! Because everything feels worse when you haven't drunk enough water.
12. Babysitting
If someone gave me two hours of babysitting for Mother's Day, Christmas or my birthday, I'd be thrilled. In fact, that's what I request every single year.
Homeschool moms get fewer breaks than their public school peers. Babysitting can give her a much-needed break.
Even better? Give her a whole night away!
13. Printer
I don't know how I coped without a printer before we purchased one five years ago.
We use it frequently now, for coloring pages and to copy papers and to scan things. I use it to print the homeschool paperwork I need to submit every year.
Trust me: while homeschool moms might not need need printers, they could probably use one. We have an HP printer and instant ink ($5 or so a month for auto-delivery as needed).
14. Amazon Prime Membership
If she doesn't already have Amazon Prime, my goodness, get the woman a membership STAT!
I know Amazon is going to take over the world, and I should care about it….but having things delivered to your door is a necessity in some areas.
Not needing to stop by three different stores for everything we need, AND being able to order one thing I forgot and have it show up the next day? Priceless.
15. Collapsible Folding Wagon
Collapsible folding wagons are fantastic for transporting allll the library books to and from the house.
Sometimes a tote bag just doesn't cut it, especially if you're a homeschooling family!
It's also great for packing up all your gear for a homeschool day out at the park or field trip. Because sometimes the kids can help carry things…and other times they really, really can't.
16. Rolling Metal Cart
These adorable carts are super popular in the homeschool world! Stock them with books, homeschool supplies, art supplies – just about anything.
They can roll from room to room and be tucked in a closet out of sight when needed.
17. Loop Ear Plugs
Especially if you're shopping for a homeschool mom with more than a few kids, noise is bound to be a problem at one point or another.
While you could get her big and bulky noise-canceling headphones, Loop earbuds are so much classier, especially if you get earrings to hold them.
If you get her the earrings, too, she can take the earbuds out and in as needed.
18. Stitch Fix Gift Card
Homeschool moms do NOT have time to shop for their own clothes. Because who wants to try on clothes with kids in the background whining to go home already? Not this homeschool mom.
Having clothes picked out and delivered to your home for you to try on, letting you send back what you don't love, is AMAZING.
Especially if mom hasn't had a wardrobe refresh in a while, give her a Stitch Fix gift card. Even if she only finds a 1-2 pieces she loves in her "fix", it'll be worth it.
19. Instacart Plus Membership
Sometimes, grocery shopping with your homeschool crew is delightful. Other times? Not so much.
Get her an annual membership to Instacart+ for free grocery delivery on orders of $35 or more.
20. Laminator
As an unschooling mom, I honestly don't understand what all the laminator fuss is about, but they seem to make some homeschooling moms around the country jump up in down with giddy delight, soooo……
If the homeschool mom in your life loves all the curriculum and posters and flash cards, a laminator just might make her day, and they're surprisingly affordable!
21. House Cleaning Session
Homeschooling is tough on homes. We love, love love being home all the time, but this many people being home this much means the house is constantly dirty.
Give her a house-cleaning session to take the load off for a week or two.
Related: 30 Experience Gifts for Moms (She Doesn't Need Another Mug)
22. Leggings or Joggers
I was anti-leggings and joggers for a LONG time. Then the pandemic hit, and I gave in.
What I realized is that I actually prefer not-so-tight joggers to leggings, and once I discovered THIS pair, there was no going back to jeans every day.
Give her a pair of her go-to comfy pants!
23. Anker Speaker
We use this speaker primarily for music in our house, but I know other homeschool families who use them for audiobooks and podcasts, too.
We've owned it for several years, and it's still going strong!
24. Post-It Notes
I don't know about every other homeschool mom, but I absolutely adore post-it notes.
They're amazing for making short daily to-do lists. And for reminding kids to do stuff. And for…well, so many other things.
This would make a great stocking stuffer or small "I just wanted to get you something nice" kind of gift. Pair it with these pens to make it complete.
25. Costco Membership
Since we started shopping at Costco, my homeschool mom life has gotten infinitely easier!
We love their freezer section and prepared food offerings. Plus, who can say no to those $5 rotisserie chickens?
Make feeding people easier with a membership.
Related: 25 Easy Costco Dinner Ideas (Almost No Prep!)
26. Restaurant Gift Card
Sometimes, dinner just isn't going to happen. Whether it's a bad homeschool day, or you are running around to activities, something's gotta give.
Eating out can be expensive, and with homeschool moms constantly trying to save money, they might hesitate to give themselves a break, making a gift card to the family's favorite restaurant and great gift!
27. Subscription Meal Kit
Maybe she loves to cook and try new meals, but actually meal planning and shopping for the ingredients is tough.
Enter: subscription meal kits.
There are several to choose from, but our favorite from all the ones we've tried is Every Plate (simple, not super gourmet, easy and affordable).
28. Snack Tray
Speaking of feeding people, homeschool children are like hobbits: they eat allll the time.
The solution? Anticipate the food needs and create a snack smorgasboard.
Give her a serving tray with room for all the easy snacks: fruit, cheese, crackers, salami, carrots and dip, etc.
29. Toaster Oven/Air Fryer
We use this toaster oven/air fryer every single day for things like nuggets, egg rolls, and fries. We reheat leftover pizza in it, too.
Having easy foods you can throw into the air fryer is a key part of me keeping everything together as a homeschooling, work-at-home mom of five.
Plus, eating those things at home saves a ton of money (again, thank you Costco)!
30. Sneakers
While homeschool moms do spend a lot of time at home, they can also be on the go. From co-ops to nature walks to library runs, she probably needs quality footwear for being out and about frequently.
Depending on her personality and homeschool lifestyle, pick a sneaker to suit her unique self.
Maybe that's running shoes. Maybe it's cute, but reliable Converse pull-ons. You know the mom: you decide.
31. Slippers
Even if you're on the go a ton, you're still home a lot of the time. I LIVE in my slippers when I'm home from October to April.
My personal favorite are Kyrgies slides. They keep my feet super warm all winter long!
Pair it with Bombas socks, and she'll be in comfy, cozy heaven.
32. Audible or Scribd Membership
Audiobooks can be amazing for homeschool moms. Whether they use it for their own reading (while washing dishes or cleaning) OR to read-aloud for them to their kiddos, I know it will be put to good use!
Try Audible if she likes listening to books over again, and go with Sribd if she just wants to borrow books once.
(Note: if you want even more audiobooks, search for libraries that allow you to buy year-long memberships – it's a thing!)
33. Container Store Gift Card
Homeschool families are often home all day, every day, and that can quickly lead to clutter and organization overwhelm.
Give her a gift card to the Container Store, and let her decide what items she needs most to tame the homeschooling house craziness.
Whether that's magazine holders for organizing homeschool paperwork, curriculum and book, bins for organizing all the coats and gear in the mudroom, or baskets for the out-of-control toys in the playroom.
34. Bookshelf
Most homeschool moms looooove physical books. They want an inspiring and comprehensive home library.
Which means she's probably always secretly (or not so secretly) wanting just one.more.bookshelf.
And even better, she probably already has 2-3 she loves, so just buy one more of whatever she already has!
35. Car Detailing
Some homeschool moms spend all their time in the car, especially during the teen years.
Travel + food + kids + car + sweaty sports gear = gross.
Give her a basic car detailing – or a deep clean, if you're feeling generous. She'll love it!
36. Car Organizer
All that time in the car will have her wishing for SOMETHING to keep all the things organized.
Give her a car organizer to keep a few activities for the little kids, snacks, water bottles, gum and tissues.
37. Homeschool Mom T-Shirt
Sometimes, you just want a t-shirt like this one that screams, "I'm a homeschool mom," to the world.
From the hilarious to the serious, there are t-shirts for every kind of homeschool mom. Plus, they can help you find other homeschool moms easily.
(I can hear the conversation now: "You homeschool? I do, too!")
38. Etsy Gift Card (or Poster)
Homeschool wall decor is kind of addictive.
Twig and Moth – a popular Etsy shop – creates the most beautiful posters and digital printable art. We just got THIS butterfly one!
Help her decorate her homeschool room (or the house as a whole?) with beautiful, educational wall art.
P.S. If you give a poster, make sure to include a poster frame to go with it!
39. Pegboard
Pegboards can be fantastic for organizing all the homeschool art supplies and keeping them available for kids to play with, if that's your kind of homeschooling.
They can be a beautiful addition to the homeschool room. And there's so many fun little shelves you can add for plants and things.
40. Wall Map or Globe
Give me alllll the wall maps and globes. Globes are just so beautiful, and I've found I want one on every floor of the house because one just isn't enough!
You can try to find a decent globe on Amazon, but thrift stores or eBay are probably better sources for more beautiful, unique and antiquey globes.
Wall maps you can find through any major retailer.
41. Montessori-Related Gift
Does the homeschool mom in your life love all things Montessori? Give her all the wooden things.
For cheaper ideas, THESE Montessori-style tracing boards look awesome. Or, THESE beautiful balancing rocks would be great, too.
42. Amazon Gift Card
Let her choose her own adventure with a generic Amazon gift card.
If she's looking for homeschool supplies beyond books, Amazon is probably the best bet. Or maybe she just has something non-homeschool related she's been wanting, but hesitating to splurge on.
43. Curriculum Gift Card
Unless she's an unschooling homeschool mom, every other homeschool mom I know adores curriculum.
Give her a gift card to her favorite curriculum company and let her shop guilt-free!
44. Magazine Subscription
Maybe she loves Wild & Free magazine – give her a year round subscription.
Or maybe she's always wanting educational magazines to strew around the house. You could get an annual subscription to National Geographic Kids or Time Kids.
45. Sweet Stash Basket
I briefly mentioned quality chocolate in the "winter hygge kit", but seriously, every homeschool mom needs a stash of her favorites sweets.
Maybe she adores Skittles and Sour Patch Kids, or maybe she loves Milky Way Darks or Snickers.
My sister homeschooled for years, and she always had a basket on top of the fridge for bad homeschool days…or just, ya know, everyday homeschooling life.
A nice basket full of sweet goodies would make the perfect homeschool mom gift!
46. House Plant
Last, but not least, house plants just make people happy! Ok, most people.
Homeschool moms are home all day. House plants are green and help purify indoor air.
Choose a low maintenance plant like a philodendron or pothos. Just about anyone can keep those babies alive!
Don't forget a nice pot to go with it.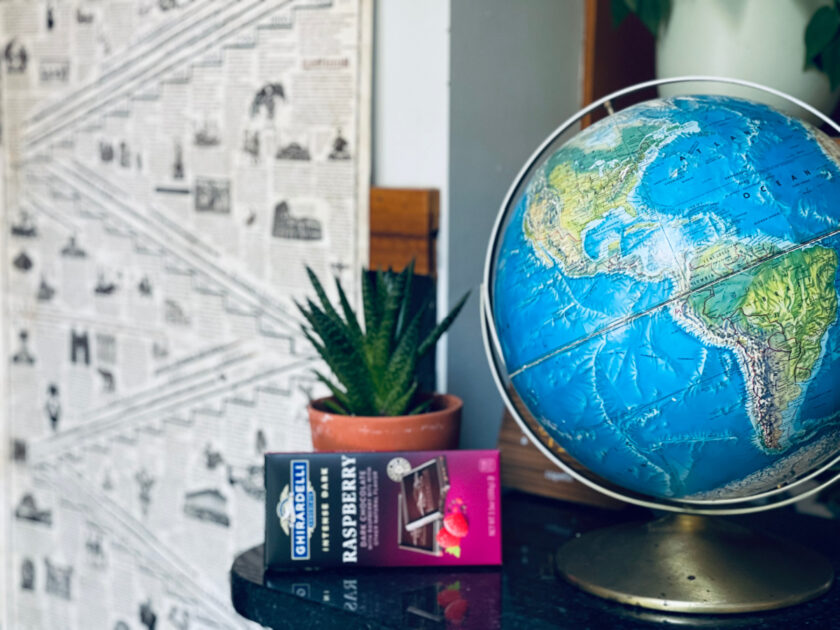 If She Has a Wish List, Start There. Otherwise, Enjoy Choosing a Gift for the Homeschool Mom in Your Life!
I feel like I give this advice on every gift guide I write, but minimalist that I am, I'll keep right on beating this drum.
If the homeschool mom in your life went to the trouble to make a gift wish list – either a physical list OR an Amazon wish list – get her something off the list.
Is it kind of boring? Sure. Will she love it any less than a surprise gift? Nope. I'm betting she might love it more.
So pay attention to any hints she's dropped through the year, or look at her list.
Otherwise, enjoy giving a surprise gift, and choose something you think she'll love from this guide. Don't forget to include the gift receipt!
P.S. Ok, ok, I know I said "besides coffee", but coffee and/or a coffee shop gift card (preferably with a drive-thru) can't hurt!
Are you a homeschool mom? What gifts would you love to receive? Share in the comments!
Read Next: Small Gift Ideas for Kids That Aren't Junk ($20 or Less)