Inside: Looking for small gift ideas for kids? We've got you covered! Choose from over 30 gifts that are all high quality, clutter-free presents for $20 or less.
Browsing frugal gift guides is like a fun walk down memory lane, isn't it? Back when you could actually get something decent for $10.
Deep sigh. The good old days.
Fast forward to our current dystopian reality with every rising prices, and it seems like $20 is the new $10. Make.it.stop.
With prices going up, up, up and no end in sight, buying gifts might look a bit different this year.
But the good news is that you can still get decent, clutter-free gifts for kids 10 and under for $20 or less.
So if your gift budget for all the things – Christmas, birthdays, holidays in general – is a bit smaller this year (or it's not stretching as far as it usually does), don't let that get you down!
Related: 30+ Minimalist Stocking Stuffers for Everyone on Your List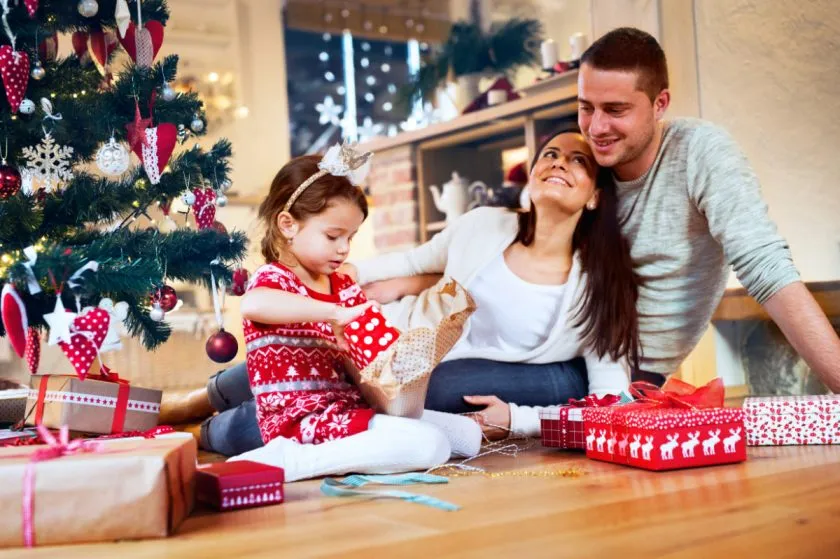 30+ Small Gift Ideas for Kids (Ages 3-9)
This post probably contains affiliate links, which means I may earn a commission if you make a purchase through those links. As an Amazon Associate, I earn from qualifying purchases. You can find our full disclosure HERE.
Listed in no particular order, these small gift ideas for kids offer a variety of great options for ages 9 and under.
Not everything on the list will be suitable for all ages, but hopefully these ideas help you find a fun gift for less than $20. I used what my own kids enjoy as a guide (I currently have kids ages 13, 11, 9, 7 and 3).
For the record, I'm also a minimalist mom. Anything on this list is something I've bought in the past or would buy for my own kids in the future.
Are they all clutter-free? Well that depends on your definition of clutter, I suppose, but they are in my book.
On to the list!
Related: The Best Minimalist Toys for Hours of Happy Play
1. Aaron's Thinking Putty
Playing with thinking putty is irresistible! Even for adults.
I'll highlight some favorites (there are just so many varieties):
Jumbled Jungle (Find It Game)
You can buy full-sized ones, or get the mini set and split it up between siblings.
One Caveat: This can get stuck to carpet and upholstery, and it doesn't come out easily.
2. Book Light
Reading books in the car, while camping or at night in a shared room? A book light makes a great gift for a book worm!
Plus, THIS one (which gets great reviews) is cheap enough to pair with a book for a more complete gift for around $20.
3. Face Painting Markers
My kids are begging to get face paint again. After my last oil-based disaster purchase, I've been a little wary of getting another kit.
Enter: Face Paint Markers.
These look easy to use for adults and kids. Very little mess, and cheap! Win-win.
4. Hair Ties
What girl doesn't need more hair ties? Those things go missing like socks in the laundry.
THIS kind can also double as bracelets. Genius!
5. Nail Polish
Give a pretty pink, non-toxic nail polish (especially good for nail biters!).
You could get a whole kit for a similar price, but 10 polishes for less than $20 is a bit suspicious in my book. Use your judgment.
6. Nail Stickers
Already have nail polish, but want to add even more fun?
THESE nail stickers are super cute and should last a long, long time.
7. Playdough
You can't go wrong with playdough! This 12-pack is full of beautiful winter colors.
Prefer homemade? Gift the ingredients, instead, with THIS recipe attached:
If you go the homemade route, don't forget to include a tupperware to store the playdough in for long-lasting fun!
You could also give simple playdough tools, as well.
8. Green Toys Vehicle
These high quality vehicles are super sturdy and eco-friendly. Apparently they are also dishwasher safe – yay for easy post-playdate germ clean-up.
Choose from several types of vehicles (this tractor looks awesome!). They make a great gift for kids ages 2-6!
Related: 27 Minimalist Gifts for 1-Year-Olds (Minimalist Mom Approved)
9. Exercise Ball
We have an exercise ball in our playroom, and my kids use it constantly.
They bounce around all.day.long. Highly recommend!
10. Rubix Cube
My son bought a Rubix cube on a whim a few years ago at a Children's Museum gift shop.
Steer clear of the original clunky version, and get THIS speed cube instead for a similar price.
You can find several tutorials on Youtube to learn basic algorithms, if they get frustrated after trying to solve it on their own.
11. Acrylic Paint Markers
We bought acrylic paint markers for Christmas a couple years ago, and my kids loved painting rocks with them.
You could use them to paint rocks, glass, pumpkins, ornaments. So many options!
You Might Also Like: Minimalist Christmas Gifts for Kids – What We Actually Bought in 2021
12. A Book
Books make fantastic gifts for kids of all ages. Which type of book you choose will obviously depend on their interests.
For an all around favorite, my older kids (ages 3-13) adore Dav Pilkey's Dog Man series and Cat Kid Comic Club series.
13. Doll Clothes
Does the child you're shopping for already have a doll or Barbies? Gift a new outfit for more dress-up fun.
You could also shop on eBay or Offerup as well for bigger second-hand clothing lots and potentially more savings.
14. Card or Dice Game
Card/dice games are inexpensive alternatives to their super pricey board game cousins. All the fun for less.
They tend to take less time to play, too, which can be great for younger attention spans.
Some favorites to choose from:
15. Puzzle
Another great activity for long winters and rainy days, puzzles come in all shapes and sizes.
The best puzzles for kids in my opinion are Usborne's 300 piece puzzles. They are super sturdy and hold up to regular use. We have them all, and my oldest does them over and over again.
Educational + fun = win.
16. Magnetic Poetry
Is the child you're buying for into writing and/or poetry? Magnetic poetry kits can be great for the fridge (if you are cool with fridge clutter) or a magnetic white board.
Through our various read-alouds last year, we came across a lot of haiku. THIS haiku magnetic poetry kit looks so fun!
17. Origami Paper
Origami can be such a fun way to pass the time, and you can even string those creations together for fun room decor.
But a word of advice? Give just the origami paper – skip the books.
Youtube is full of much better tutorials. Some things are best explained in 3D.
18. Mini Hot Glue Gun
Shopping for a kid who loves crafting? A mini hot glue gun is a fun, safer alternative to regular sized glue guns.
(If you want to up the fun factor, gift this with a pack of colored glitter glue sticks. My kids used to build towers and sculptures with just the hot glue!)
19. Frozen Yogurt Gift Card
What kid do you know that doesn't like frozen yogurt shops? Frozen yogurt of your choice plus yummy toppings? It's an easy win.
Even if you're giving in the winter – kids don't care. Bring on the fro yo!
20. Lantern
Kids love mini lights! Twinkle lights, flash lights, lanterns.
THIS lantern can be brought into a fort, light up the treehouse outside, or just sit beside their bed at night to make shadow puppets with.
21. Mini Lego Set
You can typically find sets for $6-9. Give one or two, if you like.
If you're debating between sets, a vehicle like in THIS set can be played with long after it's built.
22. Cats Cradle Book
Anyone else remember playing cats cradle as a kid? Just me?
I spent hours after receiving a book and string this THIS one for Christmas one year. Particularly great for long car trips or screen-free days.
23. Mini Sketchbooks
Give two 5.5 x 8.5 inch quality paper sketchbooks for much less than $20. This size is also perfectly portable and can easily fit in kid-sized backpacks.
You could even pair it with the next gift idea and probably still stay within budget, as long as you shop the sales.
Related: Perfect Drawing Gifts for Sketch Artists – Ideas for Every Budget
24. Markers
You can't go wrong with markers, but which marker you choose will vary based on age.
Shopping for a 5-year-old? Pick up a big set of washable Crayola markers.
Shopping for a 9-year-old? Give Crayola super fine tip markers, instead.
(Skip the coloring books. Paper is amazing! And you can print coloring pages for free.)
25. iTunes Gift Card
Let them choose their fun. A movie, songs, or games from the app store.
You can often find these discounted at Costco or BJ's in packs of 3-5.
26. Headphones
Are these more for your kid or for you? Who knows, but I still think they make a fantastic gift.
We have two pairs of THESE, and they've held up to lots of the usual child wear and tear. Plus, they come in several fun colors.
27. Twinkle Lights
Once again, kids love all things lights! Use them to decorate their headboard, wall, or dresser.
THESE star lights have appeal year-round, not just at Christmastime.
28. Leap Frog 2 in 1
This toy kept my then 2-year-old occupied for hours. It ended up being dropped one too many times on hard tile floors, so the screen stopped displaying fully.
She loved it so much (persistent asking for the past several months) that we ordered a replacement for Christmas this year!
Beyond the electronic features of the toy itself, kids just love to play pretend and "work" on their laptop next to mom or dad.
29. Bug Catching Kit
Have a little scientist/bug-lover? Give them a bug-catching kit!
An affordable, great gift for an outdoorsy, nature-loving kid that gets great reviews.
Related: The Best Science Gifts for 10-Year-Olds – 70+ Ideas
30. Wooden Toy Camera
I know, I know, wooden toys, so "minimalist" and quaint. But these are perfect for the 5 and under group.
After that, they probably will look at it like, what the heck did you give me?
31. Stethoscope
We've had several cheap plastic versions of stethoscopes over the years. They're frustrating for children to use as they don't sit flat against the child's chest or stay in their ears very well.
Why not get an inexpensive version of the real deal, instead? A perfect addition to any pretend play or dress-up collection.
32. Assorted Dress-Up
Last, but not least, for a super affordable option, head to your local thrift store and pick out several fun accessories for a dress-up collection.
My sister did this one year for my kids, and it was a hit.
Think hats, scarves, bags, and shoes. Not so much actual clothing, unless you find thrifted Halloween costumes, then go for those!
33. LCD Writing Tablet
We love these little tablets! They are so portable and handy – great for the car or around the house when you don't want tons of paper floating around.
We love it so much we're replacing a broken one (it broke it an unusual way). Cheap and awesome.
34. Mini Individual Waffle Maker
My mom gave us one of these for Christmas a few years ago, and it's been a hit! Now we do "Waffle Sunday" once a week.
I purchased a Belgian waffle-maker once it became a thing, but guess what? We're back to the mini waffle-maker now because the waffles from the bigger machine get cold too fast.
Give one in their favorite color OR a seasonal one, like the heart-shaped one!
35. Kid Binoculars
I just purchased a new pair of these for my younger two kids because they were so beloved by my older three! Our old pair broke or lost years ago.
They are just as loved by these two this time around as they were by my older kiddos.
The neck strap is connected with snaps that easily can be undone if needed.
36. Felt Crown
You know those cheap plastic crowns that hurt kids' heads and break the second you accidentally step on them?
Say NO to those, and yes to THIS super affordable and beautiful felt crown for dress-up, Halloween, or any other occasion where a crown would add more sparkle.
We ordered this for our daughter last month, and I am super impressed!
It's comfortable, durable, and I *think* it's hand-made. Plus, it supports a mom-owned small business – you can't do better than that.
You Might Also Like: 10 Timeless Christmas Gifts for Kids 8 and Under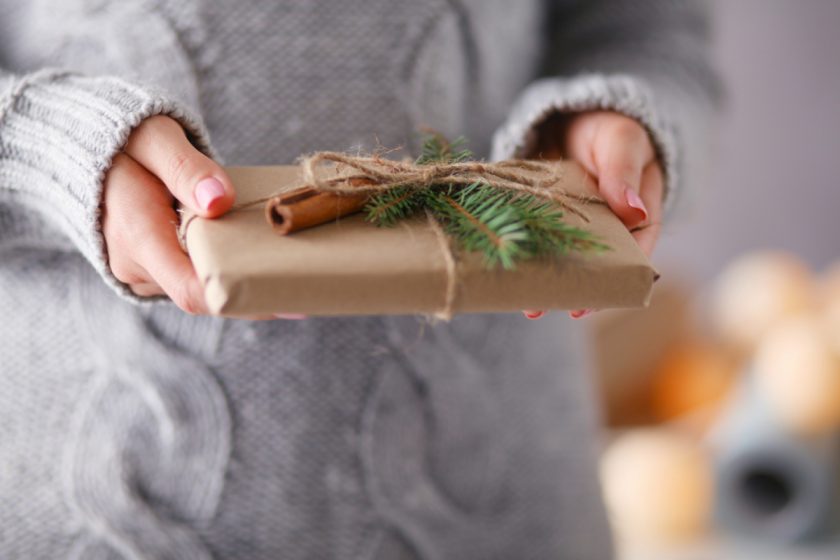 Stick to Inexpensive, Small Gifts As Long As You Can
Remember Little House on the Prairie? They were pretty happy with penny candy, an orange, and maybe a hand knit scarf or hat?
Fast forward to today, and it feels like there is more and more pressure to up the ante with gift-giving. Thank you, social media.
As kids get older, the price tag on their wants does go up. Hello, tween years.
So my advice? Stick with inexpensive gifts as long as you can! Especially when they're more obsessed with unwrapping presents than what's actually in the gifts.
Read Next: How to Set a Realistic Christmas Budget (7 Things You're Forgetting to Include)