Inside: If you're a parent secretly thinking, "I hate Christmas," you're not alone! Here are my best coping tips for getting through the holiday season. And for everyone wondering how anyone could possibly hate Christmas? A bit of explanation.
My husband came home from Costco a month ago ranting about Christmas decorations already being up. But then the hypocrite (sorry, dearest, it's true) started in on all.the.gift.ideas.
In September.
He's the king of fun around here. Nerf guns! An amazing idea!
I quickly mentioned that we decluttered the nerf guns a few weeks ago because the kids never used them. And the two days a year they did, the play lasted less than 20 minutes.
(Plus, those darts were my arch-nemesis, lurking under and behind all the things.)
Undeterred, he raved about the other kind of Nerf Gun – the ones with the balls, not darts. Because those will make some kind of magical difference?
And I started to feel that old familiar ache in my belly. Warning bells started going off in my brain.
My breathing sped up. My heart beat quickened. I'm sure my face was flushed, too.
He was still rambling on and on, listing all the gifts I knew would be my nemesis in less than a week. The gifts I (not him) would have to figure out what to do with when the kids tired of them.
But he didn't pick up on the anxiety that surely was written all over me.
Until finally, an almost primal wail came tumbling out of mouth, "I haaaate Christmas!"
I clapped my hands over my mouth in horror. The truth was far from pretty.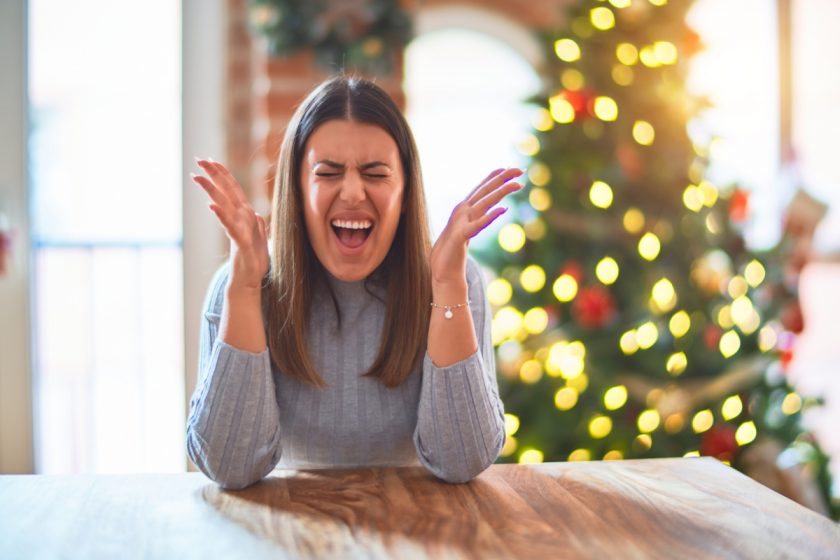 Why Do I Hate Christmas? Here Are My Top 3 Reasons
This post probably contains affiliate links, which means I may earn a commission if you make a purchase through those links. As an Amazon Associate, I earn from qualifying purchases. You can find our full disclosure HERE.
That kind of honesty I typically save for my therapist. And now my husband, apparently.
(And alright, alright, hate is such a strong word. Maybe I just dread Christmas? Or maybe I am a Christmas hater. Either way, it is NOT the most wonderful time of the year in my world.)
But I thought I'd cast the truth out into the great wide internet world this Christmas because I know there are other parents out there like me, just trying to survive the holiday season.
And the guilt you feel dreading the very holiday your kids adore and look forward to all year? That's parental guilt to the max.
We don't want our kids to hate Christmas – we want them to love it.
You know, like maybe we used to before we had kids?
So far, my dread hasn't seemed to quench their joy. Hopefully that trend continues.
If you're here because you're wondering how on earth anyone could possibly hate Christmas, here are three reasons that hopefully give some insight.
(I know the "I hate Christmas" parents will nod along in agreement.)
The Gifts
Let's get it all out in the open, shall we? The gifts are about 90% of why I hate Christmas.
(Do I have gift guides on this website? Yes, yes I do. Because not everyone hates Christmas, and I feel it's my duty to offer up thoughtful minimalist gift guides. For if you must buy gifts, for the LOVE, buy minimalist ones!)
I have anxiety, o.k.? Clutter in my house increases my anxiety beyond tolerable levels.
I don't mind a few gifts per kid. It's when that number moves beyond a few and it's things they don't particularly want to need that I get aggravated.
Our house is currently manageable. And yes, my kids have toys – mostly minimalist toys, but we do have a growing stuffed animal collection with five kids in the house.
Since moving to a rural location (we spent 17 years living in cities), getting rid of stuff we no longer want or need is ten times more difficult!
I work from home and homeschool, manage our home, and five kids, and the finances… It's a lot.
I can handle things like birthdays where only a couple genuinely useful or long-wanted new things trickle in.
But Christmas brings in a FLOOD of new things, and I know I'm not the only mom who finds that influx overwhelming (thank you, TikTok, where it's become o.k. to talk about it).
I also can't always control the gift-giving, if you know what I'm sayin'. I'm learning to let go.
Speaking of…
Conflict
I hate hate HATE conflict. (Can I add another "hate"?) I want the holidays to feel fuzzy and warm and cheerful.
The reality? They're jam packed with uncomfortable conversations and tense interactions.
It's negotiating Christmas traditions with my husband. We had very different traditions growing up, as in he put the Christmas tree up on Christmas Eve and mine went up the day after Thanksgiving.
Deciding what day we were going to celebrate Christmas was even a sticking point for a while as we had three "due near Christmas day" babies.
(Hmmm, maybe being VERY pregnant for three Christmases has something to do with my anti-Christmas sentiments?)
Then there's sifting through my husband's gift idea lists, doing my best not to stomp on his love of all things fun while also pointing out what I think the kids will actually use/love.
This one is getting better over the years, but it's a tricky dance for sure.
It's figuring out which family we're seeing for some of the holidays, and who will be disappointed. It's doing my darndest to be clear with grandparents what gifts kids need, want and will actually use.
And then in the past couple of years, it's navigating the religious side of Christmas in the midst of faith deconstruction. Yippee!
Conflict, or anticipating potential conflict, is exhausting.
Related: When Parents Disagree on the Gifts – 5 Tips for Negotiating (and Letting Go)
Pressure
You know what I really want to do at Christmastime? Drink peppermint hot chocolate and cozy up to the table with a 1000 piece Christmas puzzle.
I want to watch Christmas movies with my older kids.
I want to drive to watch Christmas lights without worrying about a little kid screaming and overwhelming the sibling with sensory issues (and let's be real: my sensory issues) in our "just big enough" van.
But that's not Christmas with toddlers.
I have five kids – 13 down to 3.
Every year without fail for the past several years, I've been pulled away from participating in traditions I might actually enjoy in order to care for babies or toddlers or preschoolers.
Then there's making sure other traditions happen at all for the older kiddos.
This one should thankfully get a little better as my youngest gets older.
Bonus: Christmas Starts Earlier and Earlier
Last year, my husband wanted to buy an advent calendar for the kids. It was sold out by DECEMBER FIRST, y'all.
What the crazy?!
It used to be December 1. Now it's November 1 – or even October (we ordered gifts early last year because: supply chain issues).
Maybe also, as someone who earns a full-time income online, the publishing calendar for Christmas-related content has to start in, like, July. September is too late for this year, folks.
It's just too.damn.early. Especially for Christmas haters.
I said what I said.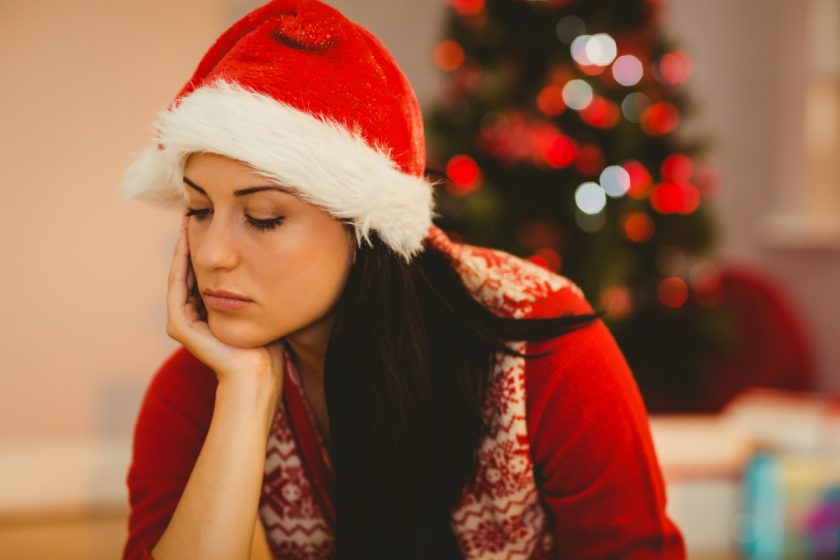 5 Tried and True Coping Methods for Christmas-Haters
If you're a fellow Grinchy, anti-Christmas parent, solidarity, friend. I see you. I get you.
We're gonna get through Christmas together!
Here are the ways I've managed to survive the holidays the past few years, with moments of happiness even.
I give you: my coping mechanisms.
1. Be honest, and set boundaries when necessary.
At the end of the day, the only person you can truly control is yourself, right? But you can at least be open with loved ones about how you feel about Christmas.
Does a truckload of gifts send you over the edge? Tell the grandparents that.
Does it make you anxious not knowing if your spouse is going to jump the gun and let your kids open an extra present the week before Christmas? Tell them that.
Do you hate going to a certain side of the family's Christmas dinner? Take a year off (or two).
Avoiding conflict usually involves having uncomfortable boundary conversations in advance.
It sucks, I know. But getting it all out there can make Christmas so much easier.
Tell extended family or grandparents how many gifts per kid you can handle. Tell them what you will do if they decide to go over that limit (e.g. X number of presents will be donated still wrapped to charity).
Figure out in October what you're doing – or not doing – for the holidays, and tell family early.
Again, you can only control yourself. Do as much as you can, and then decide how you'll deal with it if things don't go as planned.
Related: What To Do With Unwanted Gifts – A Thoughtful Guide
2. Decide in advance.
This applies to all.the.things.
Set a Christmas budget in October. Or better yet, in January of that year so you can set up a sinking fund you can contribute to monthly.
Negotiate a set pattern for family Christmas visits if you can. Alternate who you eat Christmas dinner with or spend Christmas Eve with.
We don't do Christmas morning with family anymore – ever. It's just us and the kids, which helps a lot.
Decide when you'll set up the tree every year, or whether or not you'll open a gift on Christmas Eve.
Deciding in advance reduces anxiety and conflict.
3. Declutter in November.
Let the kids know that Christmas is coming, and you need to make room for new toys and things. This should up the decluttering enthusiasm a notch if it's lacking.
Sort through toys and wardrobes to make way for the new.
Early November usually works best because it gives you time to donate or re-home any unwanted items (the relief doesn't come until those things are GONE – trust me).
Some decluttering experts recommend right after Christmas, as kids are more likely to part with things they don't use anymore, anyway, but were unwilling to give away before they saw all the shiny new gifts.
For me, that would never work.
Anticipating all the new with all the old still in house? That's a hard no.
Related: 7 Rules for Decluttering Toys (for Quick and Easy Decisions)
4. Simplify all the things.
If you can simplify something, DO IT.
Buy the Pillsbury cookie dough and pre-made frosting for decorating Christmas sugar cookies.
Order gifts online (even the stocking stuffers) in early December.
Christmas dinner is a ham that cooks in a crockpot, with easy Rhodes dinner rolls (they're delicious) and one more side. Dessert is a cake from Costco.
Keep the Christmas decorations to a single bin, and make the rest natural or recyclable items like Poinsettias, pine branches, or popcorn/cranberry garland.
And maybe skip traditions that no longer serve you and the kids aren't even asking about? You have permission to let go of traditions that no longer serve you.
Related: Simple Christmas Traditions That Will Keep Your Sanity Intact (mostly)
5. Try to focus on what you do like about Christmas (or at least don't hate?).
There are things about Christmas that I do enjoy…but maybe most of them are more "wintery" or hygge things? You tell me.
Twinkle lights, hot chocolate trays (with THESE treats that we only get at Christmastime) and cozy blankets.
Certain Christmas music. Not the kids' Christmas songs station on Pandora, thank you very much.
Maybe this year, fires in the fireplace. Off to call the chimney sweep…
Christmas movies that aren't traditional Christmas movies, like The Family Stone and While You Were Sleeping.
Whatever your thing is that keeps you mildly tolerating Christmas? Try to keep your focus there.
Whatever it takes to get you to the deep breath that is December 26. Okay, maybe January 1st because that's when the mess is (mostly) cleaned up.
January Will Be Here Soon Enough, Anti-Christmas Friend
I adore January. Well, the second week of January since we have several birthdays sandwiched right around Christmas day.
It's when we get to the ho-hum of everyday life. Back to the simple routines that make me happy.
My January house cleaned up and reset, free of holiday extras. The gifts have a designated home.
I can breathe again without all the Christmas stress.
In the meantime, I'm trying to be like Elsa and let it go as much as possible. But January will be here soon enough, friend.
Hang in there, Christmas haters!
Read Next: How to Transition to a Minimalist Christmas with Kids