Inside: Searching for a gift for someone who loves to draw? Surprise them for their birthday or Christmas with one of these drawing gifts – inspired by my teen artist who loves drawing (and only drawing).
A few weeks ago, I asked my daughter if she wanted to meet up with a potential new friend at one of those little paint and sip type shops.
"Nope. I don't really like painting. I only like drawing."
Really? Really?! I thought you loved art?!
"Just drawing, mom."
After watching her draw daily for four years, it's become clear that our newly 13-year-old wants to focus on this specific branch of art for the long haul.
So naturally, we've searched for birthday or Christmas gifts specific to drawing.
But all the "gifts for artists" or "gifts for kids who love art" posts were filled with general art gifts, like watercolors or pastels. A few drawing gifts maybe, but I need more than a few, people!
That's when I knew people (including me!) needed a great big list of gift ideas specifically for drawing.
General art gift lists weren't going to cut it.
You Might Also Like: Minimalist Gifts for Him – Ideas for Guys Who Hate Clutter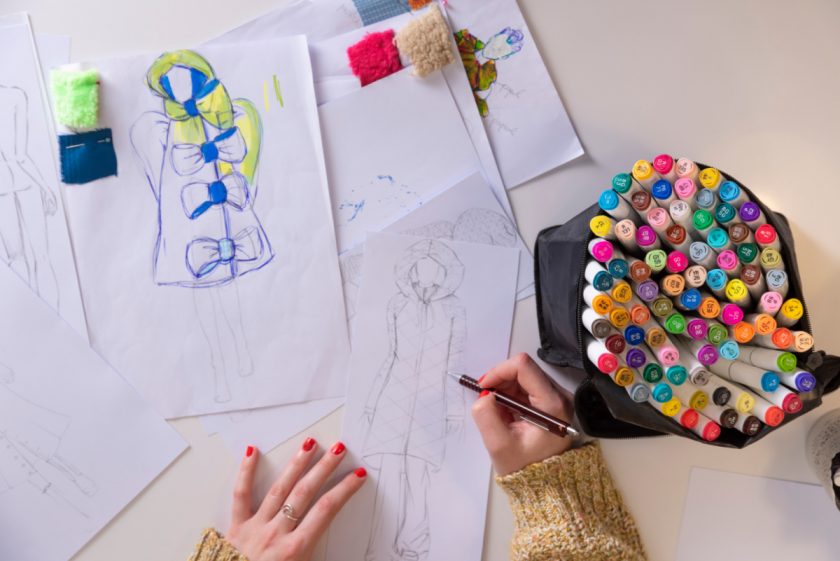 30 Drawing Gifts for Sketch Artists
This post probably contains affiliate links, which means I may earn a commission if you make a purchase through those links. As an Amazon Associate, I earn from qualifying purchases. You can find our full disclosure HERE.
This post is comprised of gifts we've already purchased for our daughter and ideas we have for gifts down the road.
As we come up with more ideas, I'll add them to the end of this list. But for now, the gifts are grouped loosely by type of drawing tool:
Pencils
Pens/Markers
Sketchbooks
Organizers
Digital Art Tools
Drawing Books
I know you'll discover the perfect gift for the artist in your life who loves to draw!
You Might Also Like: The Best Minimalist Toys for Hours of Happy Play
1. Mechanical Pencils
My husband – a civil engineer – recently purchased THESE mechanical pencils for field work.
When he came home, my daughter started borrowing them for drawing, and now they're her favorites.
2. Extra Lead
If you're going to give mechanical pencils, don't forget to give extra lead, too.
3. Shading Pencil Set
We've purchased THIS set of shading pencils in the past, and they were great for shading and sketching. The online art school we were using at the time recommended them.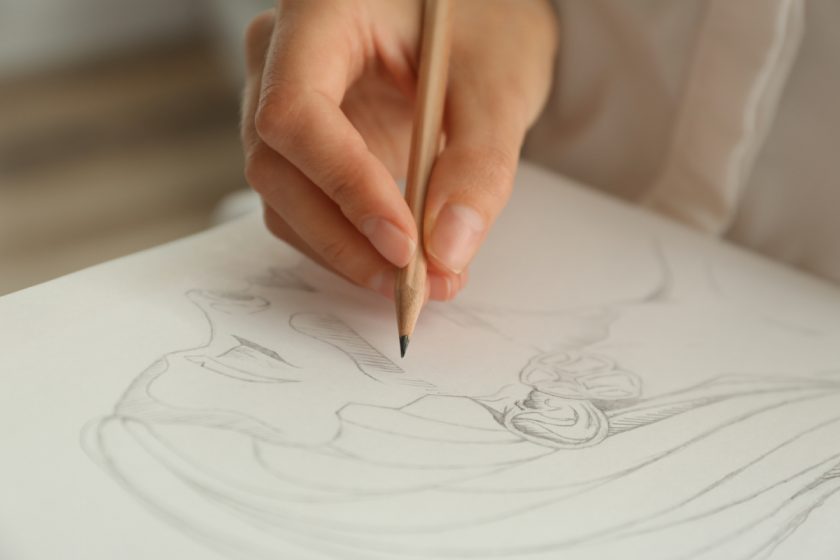 4. Ticonderoga Pencils
If you want regular pencils, Ticonderoga is the only way to go.
Other brands, quite frankly, suck (if you know, you know).
5. Electric Pencil Sharpener
You can't have good old-fashioned pencils without an electric pencil sharpener.
THIS one has been going strong in our house for five years now. Highly recommend!
6. Pencil Eraser Caps
The annoying thing about pencils is when your favorite one runs out of eraser!
Get a pack of artist-grade eraser caps to tuck into a stocking or give with pencils and a sketchbook.
Related: 30 Minimalist Stocking Stuffers (for a Clutter-Free Christmas)
7. Kneaded Eraser
For a while, THIS kneaded eraser was all my daughter talked about.
She wanted one for ages…but we haven't bought one yet because apparently they're ridiculously cheap in store at Michael's (we live in the boonies)? Also going on our Christmas gift list for this year.
8. Micron Pens
These micron pens are perfect for outlining drawings or doing pen drawings.
If the artist in your life is new to micron pens, give them THIS pack, which comes with a variety of sizes. But if they already have a favorite size, of course give them a new pack of just those pens.
9. Basic Pens
Sometimes, you just want a high quality, basic pen. THIS pack gets great reviews!
10. White Gel Pens
My daughter uses white gel pens for highlighting, correcting pen mistakes, and outlining her characters.
I'm sure there are several other uses for them, which you can explore further in THIS video.
11. Caliart Markers
We gave our daughter THESE markers last year for Christmas. She's enjoyed them for the past year, but was ready for the next step up for coloring her drawings.
Her biggest complaint is that they bleed. However, she prefers regular printer paper and non-artist sketchbooks, so that could be part of the problem? I'm not sure.
Related: Minimalist Christmas Gifts for Kids – What We Actually Bought in 2021
12. Ohuhu Markers
This is what we are giving our soon-to-be 13-year-old for her birthday. She is "graduating" from the Caliart markers listed above, which were good starter markers (a step-up from Crayola for a more serious sketch artist).
All of her favorite Youtubers recommend Ohuhu markers as "the best alternative to pricey Copic markers."
Speaking of the pricey Copics…
13. Copic Markers
Copic markers are the cream of the crop markers…and they're priced that way. YIIIIKES.
The good thing about these is that you can replace specific markers when they run out, as opposed to Ohuhu markers where you can't (yet).
If you wanted to gift some Copics, but can't handle the price tag for bigger sets, maybe try including something like THIS skin color set? Much easier on the bank account.
Still, I would only gift these to someone who has shown a serious interest in drawing and art. Even my daughter who has pursued drawing for years is a bit afraid to be gifted Copic markers.
"It's too much, mom. I'm scared I'd ruin them!" Take that declaration however you like.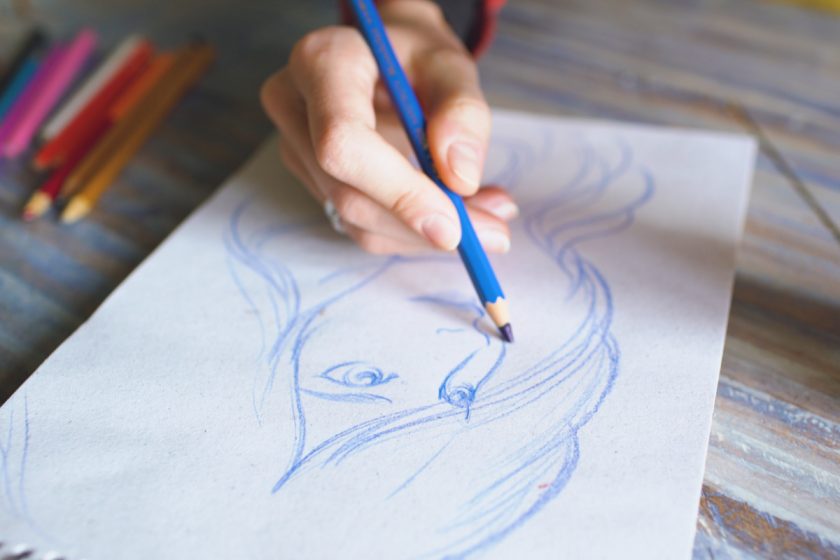 14. Quality Colored Pencils
While my daughter isn't a huge fan of colored pencils, I know some people who draw adore them!
Some of her art Youtubers actually use colored pencils as their primary pencil for drawing. Who knew?
THIS brand is recommended over and over as the best value for the quality. They come in a beautiful tin, stacked three trays deep.
Related: 10 Timeless Gifts for Kids 8 And Under (Parents Will Love Them)
15. Drawing Tools Desk Organizer
Speaking of all the markers, as their collection grows, having a place to contain all of that drawing awesomeness is essential!
THIS organizer sits on the desktop and comes with an additional drawer, while THIS asthetic organizer can be hung on the wall above the desk and only holds markers/pens.
Take your pick depending on desk/wall space.
The latter could be perfect if they don't tend to use a desk to sketch and want to hang the organizer by their bed or chair for non-desk drawing.
16. Carrying Case for Pens/Markers
THIS beautiful carrying case as over 200 slots for pens, markers or pencils. It comes in several colors and patterns, including narwhals!
Complete with a handle for carrying from place to place, this could make a great gift for someone who loves to draw and loves to keep things organized and portable.
17. Medium Notebook
I recently gave my daughter a notebook similar to THESE lined ones, and for whatever reason, she prefers it to traditional drawing sketchbooks.
I've offered to buy her a new sketchbook with thicker paper. But most sketchbooks tend to be on the larger side, and all that space feels overwhelming I think (her drawings tend to be on the small side).
These are very portable at 5.7 x 8.3 inches.
(You could also check out graph paper notebooks if you think it would be helpful. Some artists might appreciate the grid lines for reference.)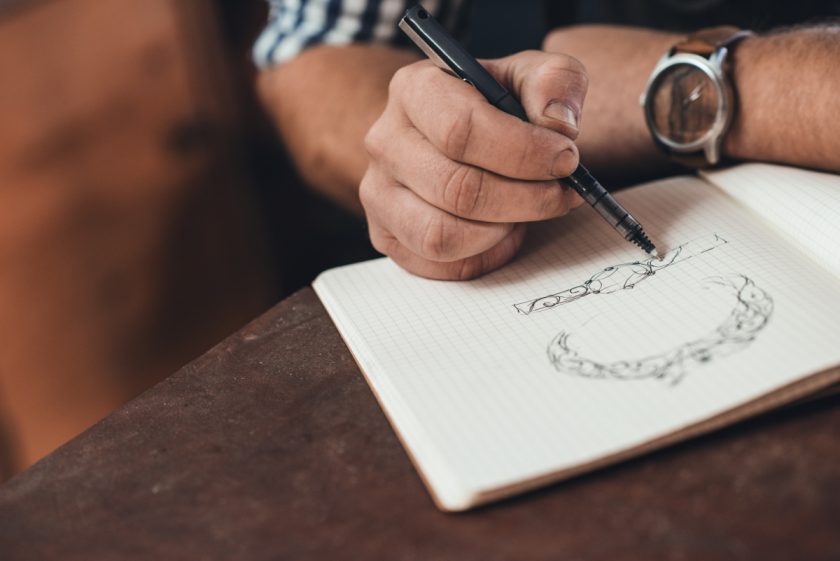 18. Small Sketchbook
If you want sketchbooks that are supposedly "better" for traditional drawing, THESE Arteza sketchbooks are the same size as the lined ones above but are more traditional sketchbooks with 68-lb drawing paper.
Related: Small Gift Ideas for Kids That Aren't Junk ($20 or Less)
19. Large Sketchbook
For artists who like to spend a lot of time on large drawings, large sketchbooks are amazing. So.much.room.
We've purchased THIS 9 x 12 in. sketchbook twice now and have been pleased with it!
20. Lightbox
We bought THIS light box recently for our artist. She loves tracing over old drawings to improve them.
You can also use it to create flip books. Actually, getting a flip book kit with a mini light box inspired this purchase!
21. Easel
For a while, my daughter was into drawing upright or at an angle (supposedly it helps?).
We bought her a desktop easel similar to THIS one, which she used for a long time.
22. iPad
In the past year, my daughter has gotten into digital art. Apparently now there are artists who specialize in just digital drawing, which I find fascinating.
Maybe other digital sketch artists use iPad alternatives? We only have experience with using iPads for digital art.
My daughter has found the 10.2 inch iPad to be a good size for her drawing and editing needs. I can't imagine going smaller than that for digital drawing.
You likely don't need the latest and greatest model – a year or two older model will work just as well. Going beyond a year or two older, however, will mean your iPad may stop working sooner.
Choose wisely!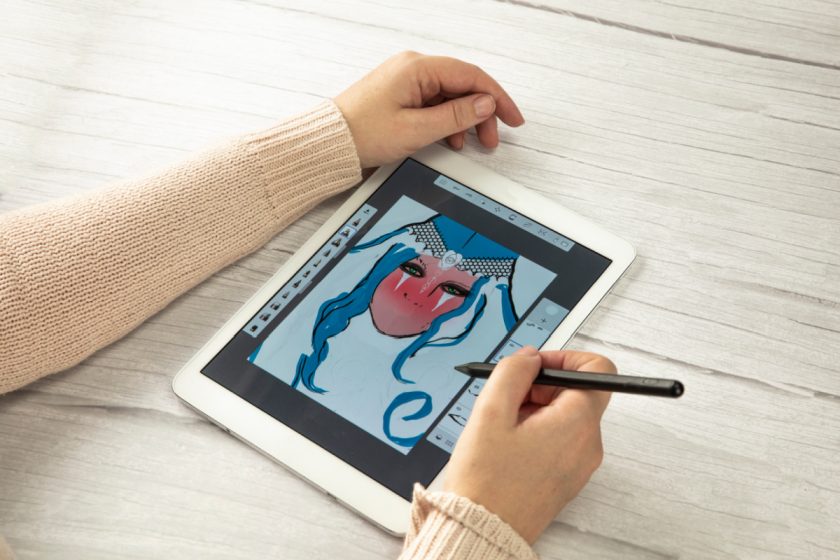 23. Stylus Pen for iPad
Not everyone wants to or can shell out over $100 for an Apple Pencil. THIS stylus pen copycat gets pretty great reviews, and for a fraction of the price, it is probably worth trying.
There are some complaints about it turning off frequently during sessions, but overall, most reviewers seem happy with it (especially the price tag).
24. Apple Pencil
Want the "real deal"? We have had an apple pencil for over a year now and can only say good things about it. With just 15 seconds of charging (you plug it into the iPad), you get 30 minutes of draw time, which is pretty good.
We did try an off-brand model, and after a few months of use, it kept disconnecting. After that, it stopped connecting altogether.
If you're unsure whether the artist in your life will continue in digital art, you could start the stylus listed above. Then, if it continues to get a lot of use, you could replace it with an apple pencil.
25. Procreate
Every digital artist needs an app or program where they can create their art. Procreate is what we currently have, and my daughter loves.
She is teaching herself how to use it through various Youtube tutorials. I've watched her draw, and it's pretty amazing all the things you can do in this program.
(Sketchbook and Art Rage appear to be less expensive alternatives to Procreate, but I can't speak to whether or not they are any good.)
26. Drawing Glove
This is what my daughter wants to Christmas! A drawing glove let's the artist rest their hand on the screen while they draw, giving them more control.
You can get black or white ones HERE on Amazon. Or try shopping Etsy, instead: THESE gloves are truly a work of art.
27. How to Draw Everything
This book could be just what your sketch artist needs to step out of their comfort zone to try new things. Maybe they usually draw people, but haven't branched out into animals yet?
We still have a few "how to draw" books on our shelves. While my daughter doesn't use them anymore, she used them frequently when she was younger.
How to Draw Everything offers a variety of step-by-step guides on everything from plants to animals to people.
28. How to Draw People
Maybe the artist in your life is struggling to draw people? That's completely normal: people are probably the most difficult thing to draw (and feel good about the results).
If that's the case, give them a book specifically devoted to learning how to sketch people, from shading, to clothing folds, to facial features. How to Draw People has it all!
29. How to Draw Adorable
Maybe cartoon figures are more your artist's jam?
Snag this brand new book my husband discovered on Tiktok: How to Draw Adorable.
Sketch artist Carlianne Tipsey offers guidance on how to draw just about anything cute! From angry cartoon faces to adorable house plants, this book will help you learn how to draw, well, "adorable".
30. The Art Of Disney/Pixar Books
This series of books would be perfect for sketch interests interested in animation. The art in the books is beautiful and detailed, plus you can learn a ton about the making of whichever movie you choose.
Choose one the artist in your life will love! They have:
Just to name a few! They seem to have one for every Disney/Pixar movie from the past decade.
We will probably purchase The Art of Tangled for our daughter at some point in the future. She is interested in digital art and animation, and she adores Disney/Pixar and Rapunzel.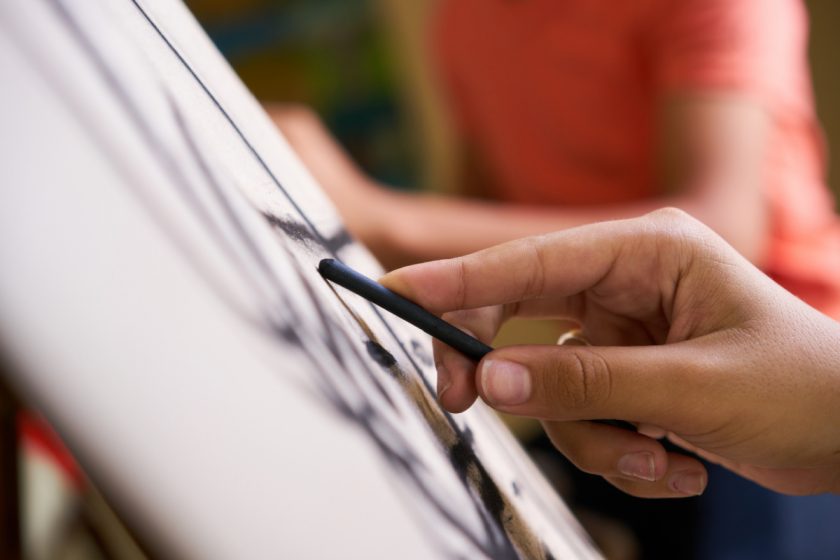 When In Doubt, Ask The Artist
If you have looked at everything on this list, and you still aren't sure what to buy as a gift, here's a crazy idea, I know:
Ask the artist.
I'm a minimalist; minimalist gifts make me happy. Clutter makes me anxious and sucks my energy.
And can we all agree that returning unwanted gifts is a major energy and time suck in a crazy, busy world? Yes?
So if you want to get it right the first time: ask. If you want to make it more of a surprise, try asking for a wish list far in advance. Or if you're buying for a grandchild, ask the parents for a wish list.
Maybe it takes the joy out of gift-giving for the you, the gift-giver. If so, I'm sorry.
But I can tell you for certain that the artist in your life will adore you for giving them a drawing gift that's been on their wish list for months.
So when in doubt, ask. It's a good idea: promise.
Read Next: 40+ Gifts for Minimalist Moms That Won't Cause Anxiety