Inside: Wondering what minimalist parents get their kids for Christmas? While every minimalist family is different, I'm sharing what we bought our kids for Christmas this year -2021. Hopefully you can find some inspiration for your own simpler, minimalist Christmas!
My husband heard on Tik-Tok that Christmas gift buying this year is going to be an absolute nightmare.
Between supply chain issues, labor shortages and shipping speed, the likelihood that gifts would arrive before the big day was unlikely.
So we bought gifts early. Like the first half of October early.
And because my husband is like a little kid and loves threatening (I mean, teasing) early Christmas every week until the day, I'm promptly driving gifts to my in-laws as they arrive to save Christmas…and our marriage.
All our Christmas shopping is done except stockings (and wrapping of course), which feels extremely strange to me.
Do you shop early for Christmas every year? Tell me – does it always feel this weird?
Related: How to Transition to a Minimalist Christmas with Kids (& not feel like the Grinch)
15 Minimalist Christmas Gifts for Kids (2021)
THIS POST PROBABLY CONTAINS AFFILIATE LINKS. AS AN AMAZON ASSOCIATE, I EARN FROM QUALIFYING PURCHASES. YOU CAN READ OUR FULL DISCLOSURE POLICY HERE.
Update: I have gone through the list and declared a "verdict" for each gift based on our experience this past year, with a recommendation to buy it or skip it. I hope this helps make your Christmas shopping easier! 2022's gift list is now up HERE.
As a minimalist, Christmas typically gives me all kinds of anxiety (do I hate Christmas? I think yes). The thought of more coming into my house? All at once?
Not so fun for me.
That's why I let my husband do most of the list-making and the shopping.
Thank goodness, my husband has finally gotten fully on board with the whole less is more idea. It took a good five years, but he's finally seen enough Christmas gifts be forgotten after a week to choose our gifts carefully (I only vetoed one gift idea this year!).
We tend to buy mostly group gifts for our five kids, with one set of grandparents buying individual gifts we suggest (I listed those here), and the other doing her own thing because it brings her joy.
Siblings swap names and give one gift to one sibling.
If it's helpful to know, we typically set an all around Christmas budget of $600 for everyone – five kids, two adults – including stockings. And for reference, our kids right now are 12, 9, 8, 5 and 2.
On to the gifts!
Related: A Realistic Christmas Budget – 7 Things People Typically Forget to Include
A quick note on minimalism: it doesn't mean you want to own nothing or have no furniture or color or joy in your life.

Minimalism simply means you want to live an intentional life and only bring into your home the things that will truly add value to your life because whatever you bring in, you manage with the hours of your life.

As you'll see from this list, board games, pretend play and personal hobbies are all valuable to us. But everyone is different – so you do you!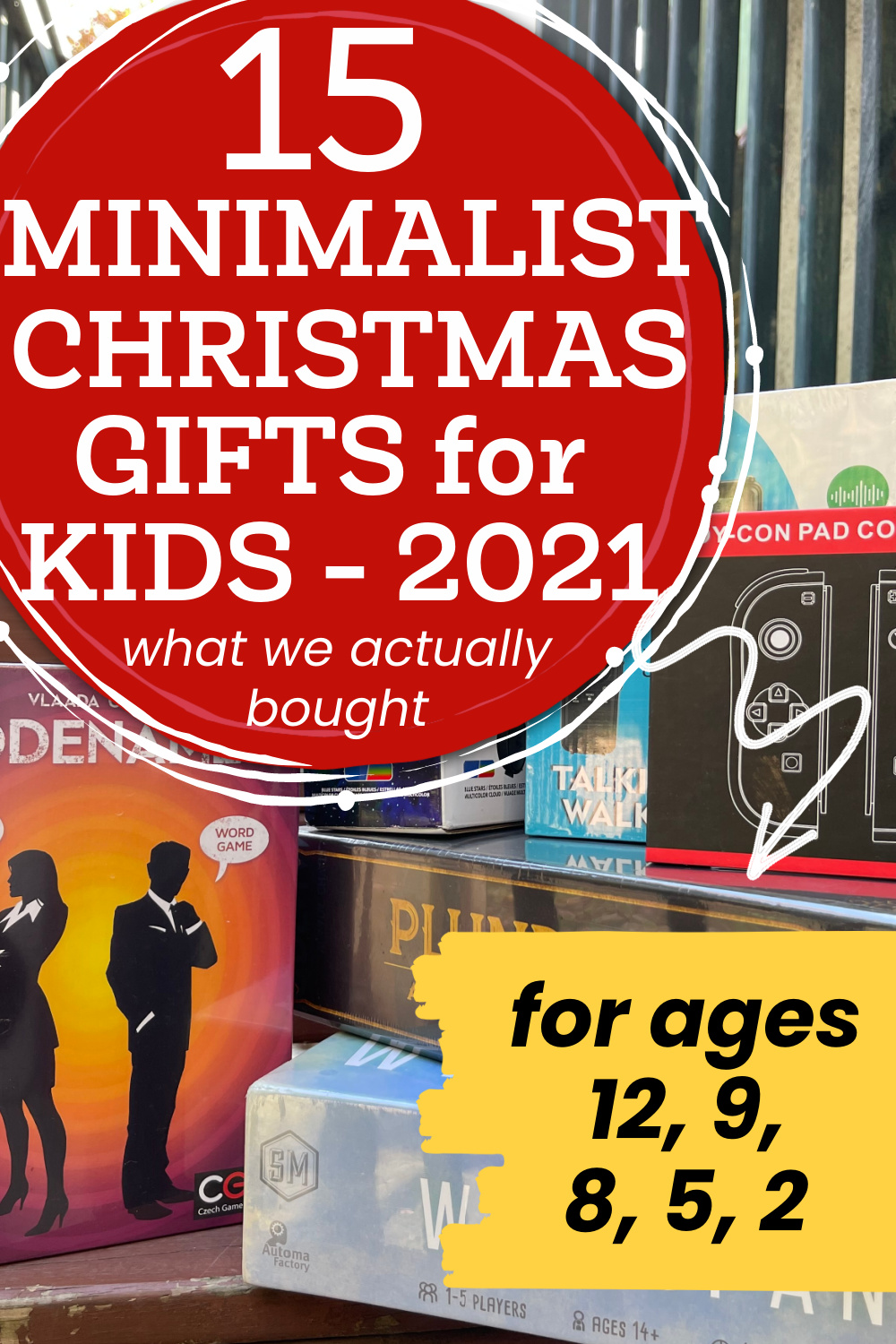 1. Plunder: A Pirate's Life
The Verdict? I prefer to play with two players, especially since some of my kids can't handle their ships being sunk just yet. The age recommendation of 10 and up should be followed if you are playing with more than two players.
Everyone's a pirate in the newly popular board game "Plunder". Arming your ships, fighting rivals, and conquering islands are what you need to do to win.
They claim it's easy to learn…that's what they all say, but I'll come back to let you know if that's true. Two to six players can play, with the age recommendation being 10 years and up.
2. Recorders
The Verdict? I definitely regret this one. They haven't inspired any serious musical interest. They are loud and challenging for people with noise sensitivities. Don't do it!
We might regret this one, but the Kalimba (another musical instrument) from last year's Christmas was surprisingly popular, especially with the younger kids.
We decided to get two recorders (THESE ones) to share between the five kids. We'll see how that goes!
3. Small World
The Verdict? We love this game! Highly recommend!
Another strategy board game for 2-5 players, ages 8 and up, Small World is similar to Settlers of Cataan, except the focus is more on world domination and eliminating other players than on getting points.
We love all things fantasy and board games, so a game filled with dwarves, elves, wizards and giants seemed like a great choice for our family!
4. Wingspan
The Verdict? This is my new favorite game, and I try to convince everyone to play with me any chance I get. It does have a lot of moving parts, but my almost 9-year-old can handle it as long as we are moving him along. Highly recommend!
And we have…yet another board game! Are you getting the theme of this Christmas yet?
Wingspan has been recommended consistently all around by everyone from young adult friends to homeschool families.
The goal of this strategy board game is to attract the best birds to your aviary. Draw from a deck of 170 different birds, lay eggs, feed your birds and build a thriving aviary.
The age recommendations – ages 14 and up – might make this a stretch for our kids currently, but we're hoping they are overestimating how complex it is. We'll see. The game is designed for 1-5 players.
Related: The Best Educational Board Games – Our Absolute Favorites!
5. Adult Walkie-Talkies, Set of 4
The Verdict? These were a great investment! Highly recommend if you want "better than kids" walkie-talkies.
Our two youngest kids – currently ages 5 and 2 – fell in love with walkie talkies while at a cousin's home.
Having not so awesome experiences with toy walkie talkies in the past, we decided to go with THIS set of 4 adult walkie talkies.
6. 7 Wonders Duel
The Verdict? My husband and I have enjoyed playing this two player game, mostly with our 13-year-old. It is definitely complex, so keep that in mind.
Board game number four, 7 Wonders is a shorter, two-player version of the original 7 Wonders strategy game.
We love games of all kinds, but sometimes not enough people want to play the games that require 3 or more players. And to be honest, sometimes playing with everyone can be overwhelming for two introverted parents.
Plus, playing time is typically 30-minutes! I'm all about having a stash of "quick to play" card and board games on hand for when you just can't commit to a two-hour game.
Technically for ages 10 and up.
7. Code Names
The Verdict? This is a new family favorite. Easy to learn and quick to play. Definitely recommend!
Code Names is another game I've heard recommended over and over again (shout out to my game-loving homeschool friend Mary!).
I won't pretend to fully understand it yet. All I know is it's a super affordable word game where two teams take turns trying to identify the secret agents on the opposing teams, and it involves exchanging single one-word answers to determine the code names.
Hoping it's a hit!
You Might Also Like: Small Gifts for Kids that Aren't Junk ($20 or Less!)
8. Reversible Stuffed Animal
The Verdict? This was a very cute stuffed animal, and my 6-year-old still loves it.
We recently realized that one of kids doesn't have a stuffed animal of his own. He sort of adopted older siblings' cast-offs, which is kind of sad.
The plight of a fourth child maybe? Or a child born in my early days of extreme minimalism? Or a child born just before our big move where we were forced to get rid of half our stuff in about 30 minutes?
Whatever the reason, we decided to remedy that this Christmas and get him THIS reversible stuffed animal, which my husband says are all the rage.
He might not get Toy Story level attached, but hey, at least we can say we gave him a chance to if he wants to.
9. Alcohol-Based Markers
The Verdict? These were a great step up from her original markers. This year, for her birthday we are getting her an Ohuhu set, which are comparable to the extremely pricey, professional artist grade markers.
My oldest is our resident artist for the most part.
She has asked for Prismacolor markers multiple times, so my husband dug through tons of reviews to find an affordable alternative to the pricey name brand. He ended up chosing THIS set of 100 markers.
10. Mandalorian Playing Cards
The Verdict? We bought these too far ahead, and ended up exchanging them for Rubix cubes (his new hobby).
Our almost 10-year-old is very into magic tricks. He spends most of his days learning new card tricks and following new card decks being released. He's even designed his own deck.
These theory11 Mandalorian playing cards were on his wish list for his growing card collection.
11. Medieval Playing Cards
The Verdict? See above. Same issue.
Another unique deck for the card collector enthusiast!
While these medieval playing cards weren't on his wish list, they looked pretty awesome to card-clueless parents. Hopefully he likes them!
12. Joy Con Controllers (Off-Brand)
The Verdict? These break relatively quickly. We even replaced this set mid year with the same ones, and the majority are gone now. Invest in the real Joy Cons, instead (I updated the image and links accordingly).
Our almost 8-year-old spends a lot of time playing the Nintendo Switch. His favorite games are Game Builder Garage, where you can learn how to code your own video games (similar to MIT's Scratch) and a Star Wars game.
Our Joy Con controllers have broken down after a couple years for us, so we ordered THESE controllers to replace the ones that are glitchy.
We are trying yet another non-name brand version, as the $40 a controller price is a bit ridiculous.
13. BlissLights Sky Lite 2.0
The Verdict? This is a hit with all the kids, but particularly our 3-year-old adores it. She goes to sleep with these lights on every night. Highly recommend!
A few years ago, we gave our kids THIS disco ball for Christmas, and it was a huge hit! They would play music and dance for a long time together. Unfortunately, it finally broke a couple months ago.
This sky lite upgrade/replacement will likely be used in our playroom basement, or traded back and forth between kids' rooms.
14. Sensory Swing
The Verdict? Buy it! This gets used on the daily in our house, regardless of the weather. They love it!
For the most part, our kids love winter. They actually go outside MORE in the winter than in the summer, which is part of why we moved back north.
Still, winter is LONG. So part of that plan to prepare for winter is to make sure our basement is outfitted for bouncing off the walls kids.
We got THIS sensory swing to give them another fun way to stay active indoors this winter.
Related: 35 Indoor Activities for Kids – When You Have to Stay Home
15. Thanes & Kosmos Chem 1000 (v. 2)
The Verdict? It was too old for my chemistry lover, and the older kids weren't impressed. We saved it for the future, but maybe skip this one as a Christmas gift.
We have tried a variety of different at home science experiment kits. Everything from Kiwi Crates to a Magic School Bus Monthly Subscription to Little Passports Science.
My husband dug through all the reviews and came up with THIS top-rated chemistry kit as the next one we need to try. If it's a hit, there is a 2000 version we will invest in when they finish all of these experiments.
16. Pajama Onesies
This was a last minute purchase, inspired by a hand-me-down lion costume/onesie.
Overall, it was a great idea! We bought one for each of the boys. They wore them almost every day for a month or two, especially on the coldest days.
THIS one is the only one I'd buy again. It's super cozy and warm.
I would size UP. From all the wear and tear, some of the seams were starting to separate towards the end of winter. Sizing up would solve this I think.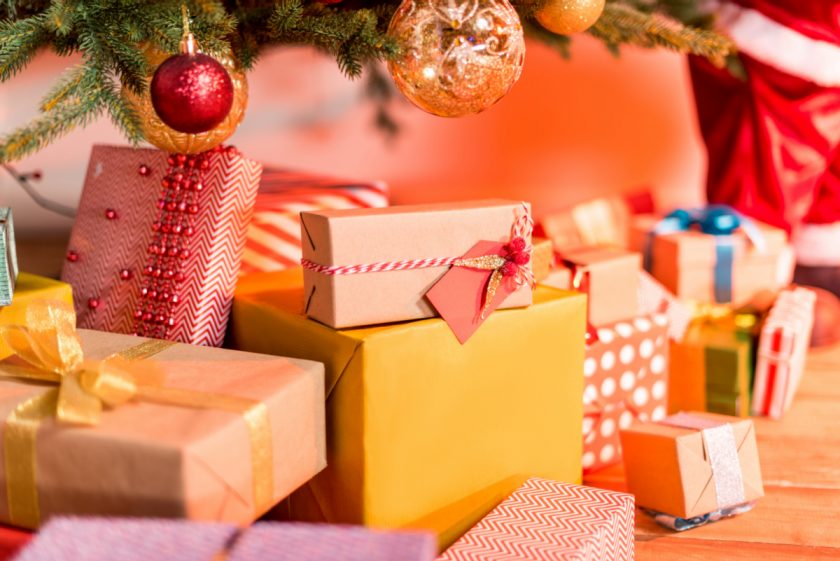 So Yes, Minimalist Families Do Buy Christmas Gifts for Their Kids
So if you're wondering what minimalist families buy for Christmas, hopefully this assures you that yes, we do. I hope you enjoyed this little glimpse into one minimalist family's buying life.
We think of board games as way less expensive experience gifts that keep on giving. And we are not opposed to buying things…as long as it's something we think they will truly love and value.
We are so very over buying toys that will be forgotten in a week or two. We've seen it happen too many times to count.
I'll be sure to update you on how these gifts go over and which ones were the top gifts.
Here's to a very merry minimalist Christmas!
Related: The Best Minimalist Toys for Hours of Happy Play
What are YOU buying your kids for Christmas? Let me know in the comments!