Inside: Gather ideas and inspiration from our 2021-2022 relaxed homeschooling plans and resources for 6th grade, 4th grade, and 2nd grade. As we participate in sports for the first time, we are officially embracing tidal homeschooling, and our homeschool days continue to be influenced by unschooling ideas and principles.
If you've been around for a while, you know that I usually share the curriculum and/or resources I'm planning on using for the upcoming school year.
This year, I didn't. I considered it…but then I realized that had I written such a post in May or June, it wouldn't have been very authentic.
Why? Because I'm planning seasonally this year. As I was reflecting on this the other day, I realized because we have entered the world of sports, we are embracing "tidal homeschooling" this year, along with a whole lot of self-direction education (a.k.a. unschooling).
When you follow and support your child's interests and embrace the philosophy that all of life is learning, homeschooling year-round is a given. Because you never really stop and you never really start, except according to the state, I suppose, where we count days "in school".
Related: The Flexible Homeschool Planner – Designed Specifically for Relaxed Homeschoolers
We still hold onto our basic rhythm of reading aloud daily, but this summer and fall season has been about spending as much time as possible outside, soaking up the sun, the pool, the lake, the woods, the soccer fields.
I continue to support them in their individual interests (included in post), and of course, there's the daily conversations about everything from science to religion to politics.
But I "strew" a whole lot less in summer and fall, or perhaps it just looks different? I invite them to the park, nature outings planned by local homeschool groups, and on walks in the woods.
But the end of soccer season is in sight and winter is coming, so I thought it was an ideal time to share more concrete plans for the remainder of our school year.
You Might Also Like: 20+ Brilliant Homeschooling Tips I Wish I'd Had When I Started
A Little Background On Relaxed Homeschooling
If you're new here, I wanted to share a brief explanation of what exactly relaxed homeschooling means. It's not a term used very often in the homeschool world.
First, I believe that children are hard-wired to learn, that they are intrinsically motivated to learn all the time.
I also believe that learning never stops; it's a life-long process. It can't be confined to times or places or textbooks. Learning is meant to be life, and life is meant to be learning.
Relaxed homeschooling trusts children and trusts the process, that over time, they will learn all that they need to know.
You might be thinking that this sounds an awful lot like unschooling, and perhaps we are unschooling. However, the unschooling label feels…constricting to me.
There are a good number of purists in the unschooling community that say, "Well, if you are truly unschooling, you, the parent, can't do XYZ because then it's not the child fully having control of their learning."
When walking a non-mainstream path like unschooling, I completely understand the need to safeguard it. And I will always be learning from and connecting with the unschooling community.
But because I value the freedom to present my children with opportunities and choices to learn things I think might be valuable or even necessary, I continue to use the relaxed homeschooling label.
When I do present my children with a learning opportunity, they have the complete freedom to decline participation, and there is no obligation to pretend interest. Because after all, whatever is forced OR irrelevant to them at the moment will most likely not be retained anyway.
My ultimate homeschool goals are that 1) they know how to learn, and 2) they know themselves inside and out.
Related: Relaxed Homeschooling v. Unschooling – What's the Difference?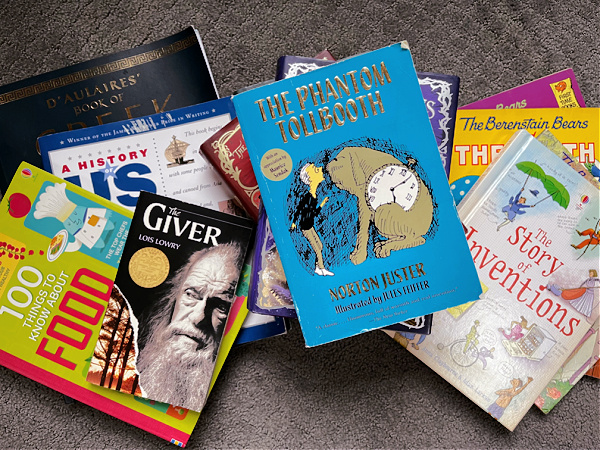 Homeschool Plans & Resources for Grades 6, 4, and 2
THIS POST PROBABLY CONTAINS AFFILIATE LINKS. AS AN AMAZON ASSOCIATE, I EARN FROM QUALIFYING PURCHASES. YOU CAN READ OUR FULL DISCLOSURE POLICY HERE.
Here's what we've been doing and where I see us going the rest of this year.
I do still hold these plans loosely as you never know how interests and needs will change from month to month. And these "plans" are more invitations…they always have the freedom to decline.
Homeschool Park Meet-Ups & Outings
We recently joined a local park meet-up with a mix of homeschoolers and non-homeschoolers.
I really want to invest in local relationships this year to try to actually build consistent relationships after a year of not seeing very many people. Moving long-distance mid-2020 definitely had its challenges.
We are also part of a local Wild & Free group and occasionally join up for nature walks and other outings.
Read-Alouds
I read aloud almost daily to my 12-year-old and my almost 8-year-old. I eagerly anticipate the day when my youngest two are old enough to start read-alouds together.
We've been finishing up The Trials of Apollo Series by Rick Riordan. I'm still trying to talk my oldest into Riordan's Norse mythology series, which she currently has a strong resistance to for whatever reason.
I want to read The Phantom Tollbooth next (I've always adored this childhood book!). This will be a reread for my oldest, and new for my 8-year-old.
After that, I plan on trying The Mysterious Benedict Society. This is a series I know that neither one is likely to start on their own. But I've heard it recommended so many times that now I'm curious.
I'm also considering The Giver…but I may reread it first as age appropriateness is a concern.
Beyond those choices, I will likely take a look at Brave Writer's Arrow book choices to draw inspiration from, as my own favorite books are petering out.
My 9-year-old can't focus very well with audiobooks or read-alouds, so he reads at night on his own. He is currently making his way through The Diary of a Wimpy Kid series.
I'll never stop preaching the benefits of reading aloud! We touch on all kinds of subjects every single day.
Related: Unschooling Language Arts – A Guide for the Elementary Years
Art Classes
Spring Watercolor Whimsies was one of my favorite art classes from Masterpiece Society. They just released a fall edition that we're excited to try!
I'm also interested in another new course in this homeschool art membership called Monsterpiece Society, which puts a fun, Halloween spin on classics like the "The Scream" and "The Mona Lisa".
(FYI – for Masterpiece Society art classes, we typically just use this 9×12 multimedia paper instead of canvases to save money and space!)
If you end up trying a class and love it, Masterpiece Society Membership is $35 a month (or less if you pay for a full year). You can get on the waitlist for when it opens in January. Head HERE and scroll to the bottom of add your e-mail to the waitlist.
I also randomly bought an acrylics class from this creator (not an affiliate link) I'll come back to update this post with a report on whether or not it's any good.
I'll be doing these courses with my older kids – ages 12 and almost 10. While I'd love my 8-year-old to join us, he has been reluctant up to this point to join in formal art classes as he prefers to craft his own creations from cardboard and hot glue.
Educational Board Games
As the cold weather sends us indoors, we will (little kids permitting) be diving back into board games of all kinds.
I'm hoping to be able to dedicate time to each child, and groups of them, to play games that not necessarily everyone wants to play, but certain kids enjoy.
For example, my oldest loves Scrabble and word games, but the boys aren't quite at her level.
We bought six new board games for Christmas so late December/January/February, I imagine will be spent learning how to play them.
I'm also excited to dive back into crossword and logic puzzles with whoever wants to participate with me. Typically, my 12-year-old and I enjoy these.
Related: The Best Educational Board Games – Our Favorites We Play All The Time
Documentaries/Movies
Our favorite show to watch on Curiosity Stream is Innovation Nation. We'll pick this back up.
I've also bookmarked a show called "American Icons", which has 9 different 10 minute episodes about people like FDR, Walt Disney and Abraham Lincoln.
We also are going to try US Crash Course in US History with 2/3 older kids (ages 12 and 8), and possibly my 10 year old will be lured in by all of us watching together.
You can snag a Curiosity Stream membership HERE. A super cheap resource for older kiddos – 8ish and up?
We also have been enjoying a documentary series called Brainchild on Netflix. Both Disney+ and Netflix have fantastic resources.
We will be resuming a weekly Friday movie night, and I am excited to fit in some historical fiction movies that I love, along with classics that expose them to what life was like during the movie's historical time period. (Can you tell I adore history?!)
Science Kits
Winter is also the season of science kits in our family!
We typically get a couple Kiwi Crates per kid – there's one by Mark Rober my kids want to do. I'm also looking into kits from Home Science Tools. Have you tried them?
FYI, we did the Fire Kiwi Crate last year and it was hands-down the best crate we've gotten yet.
Another Christmas gift this year is a Science kit my husband picked out, so we'll start that in the New Year.
I was planning to get a zoo membership, but thankfully, we went to a beach in Wildwood, New Jersey a few weeks ago for vacation, and there just happened to be a FREE (donation only) zoo there.
It had all the animals I wanted to see at the Philadelphia zoo, but we didn't need to spring for the $275 a year membership – or drive intense distances regularly. We plan on doing this every year during our annual beach trip.
Poetry Teatime
We have moved poetry teatime to Monday afternoons, which was a great decision for consistency.
I am far more inclined to want to bake on Mondays for whatever reason, and poetry teatime is happening much more regularly once we stopped doing it on Fridays (grocery day).
We typically read The Yesteryear Gazette and poetry. Our favorite poetry books are Roald Dahl's poetry and I'm Not So Good at Rhyming.
Individual Interests by Grade Level
Here's what each child has pursued this year already and is currently interested in.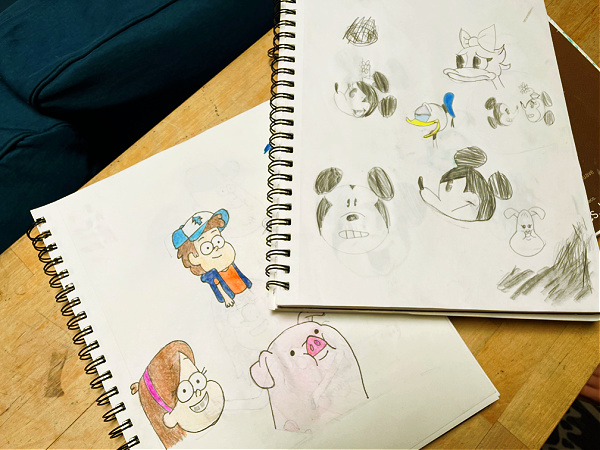 Sixth Grader
My sixth grader is in between passionate deep dives* at the time of this writing. She'll have short bursts of interests like starting a family newspaper that released four editions, but they don't last long.
I'm not worried. At this age, kids are grappling with big life changes like puberty (and this year, the effects of a worldwide pandemic), and in my mind, space needs to be made to deal with those things.
Connection and mental health are my priorities – always.
She currently spends the majority of her time listening to audiobooks, drawing, building with LEGO, and watching shows and documentaries on how movies are made.
Occasionally she'll have projects come up like writing down down all of her favorite recipes and practicing cooking them. She is working on things like decluttering her room and establishing valuable lifelong habits like daily exercise.
She dabbles in learning to play the piano through a program called Simply Piano. She also plans to get the books to finish Awana, which primarily involves Bible verse memorization and recitation.
She also loves word games like Boggle and Logic Puzzles.
What she most looks forward to is being old enough (14) to volunteer at the local library shelving and organizing books.
*"Deep Dives" are when someone becomes extremely interested in one particular subject, to the point where it becomes all-consuming. Children will become passionate about a topic and want to learn everything they can until their curiosity is satisfied.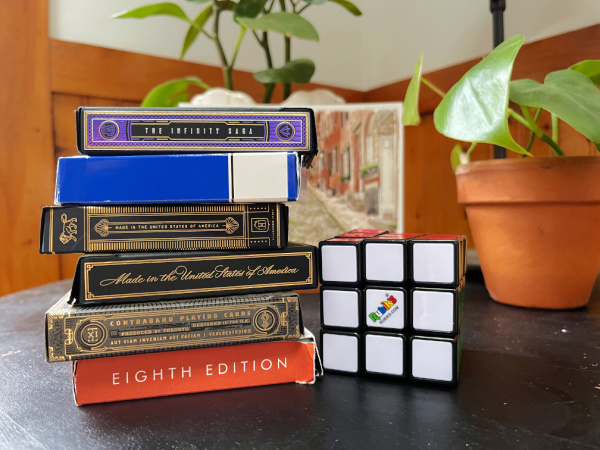 Fourth Grader
My fourth grader takes deep dives all the time. Last year, his biggest interest was space and all things astrology. He literally binge-watched every documentary Curiosity Stream had to offer on the topic.
This summer, he got interested in cards and card tricks. For the past four months, he spends most of his time watching Youtube videos on how to do card tricks and rest of the time practicing.
He collects card decks and even designed his own deck of cards. Designing his own deck involved sourcing a standard set of cards and learning how to use the photo editing programs to edit the cards.
He recently started practicing Rubix cube again, learning and memorizing different algorithms to get a faster finishing time. He dabbled in guitar this year using an app called Simply Guitar.
He also loves math and science. He spends a lot of time watching Youtube channels like Physics Girl, Veritasium, and Mark Rober.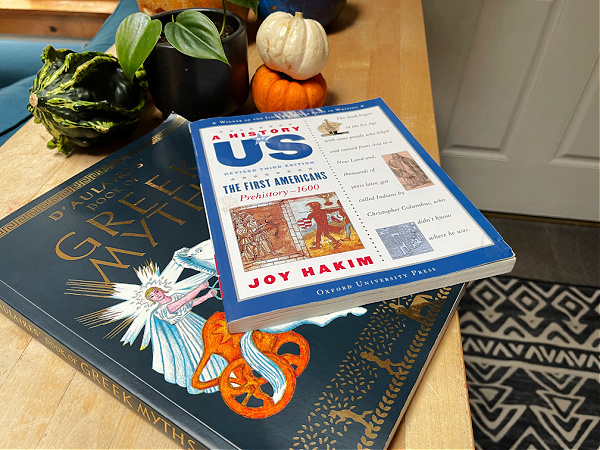 Second Grader
My second grader spends a lot of his time listening to audiobooks and playing the Nintendo Switch. He particularly enjoys a video coding game called Game Builder Garage, but he does play other games as well.
He loves history and Greek mythology.
We finished Story of the World early this year and have moved onto A History of US by Joy Hakim (it will probably take us 2-3 years to work our way through the entire series!). We are simultaneously reading D'Aulaires' Book of Greek Myths.
Later this year, we are going to read Usborne's Illustrated Norse Myths.
He recently started learning Spanish using Duolingo. We are considering purchasing the pro version so that he can continue to learn at the same rate (the free version limits you after a certain number of mistakes).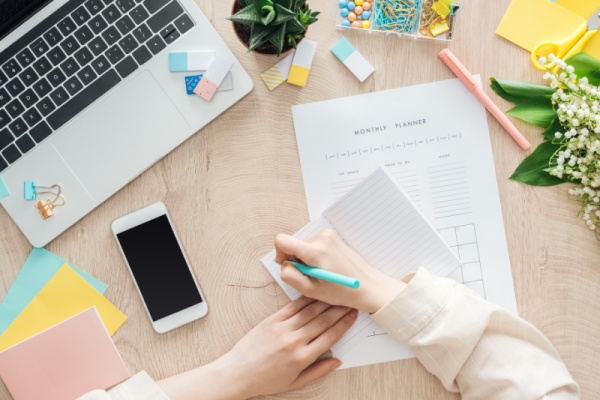 Make Homeschool Plans, But Hold Them Loosely
With all of these ideas and plans, I continue to hold them loosely.
You can plan all you want, but our kids are not static beings. Neither are adults or the world we live in. Interests come and go, and I can never anticipate how long a "deep dive" will last.
The past two years has shown me that we aren't guaranteed tomorrow, and the future changes too rapidly to possibly know what kids will need five years from now.
Ten years ago, we could never have imagined having a tiny computer in our pockets 24/7, working from home, doing telehealth visits…but that's where we are.
Beyond literacy, socio-emotional health, and life skills like cooking, cleaning, managing money and good habits, we cannot possibly know what our children will need to know as adults.
So I will continue to make space for my kids to learn what interests them and brings them joy today. I will stay connected to them, support them and be a resource for them.
And I will trust that they will learn what they need to know for their unique lives in an unknown future.
You Might Also Like: How to Homeschool Fifth Grade – Plans & Resources for 2020-2021