Inside: Get inspiration and ideas for how to homeschool 5th grade, with resources for every subject. Hear about our new daily rhythm that makes homeschooling multiple grades together ridiculously simple!
This post is long overdue, but since I've been preoccupied with our drawn-out mortgage process (it took 3 months!), sharing our homeschool plans for the year had to wait.
This year, I'll be homeschooling a fifth grader, a third grader, and a first grader. We also have a 4-year-old and 1-year-old (known affectionately as "Double Trouble") along for the ride.
I'm one year away from middle school, y'all. That's CRAZY.
While I don't see us making crazy shifts to more structure until high school, I am definitely savoring the days where relaxed homeschooling and simple routines are more than enough, the days where play and adventures in the woods are still very much a central part of our homeschool days.
On to our relaxed homeschool plans for the 2020-2021 school year!
Please Note: If you're new here, I am a relaxed homeschooler. You can read more about relaxed homeschooling HERE. If that's not your style, I'd still welcome you to gather ideas for books and educational games you can use to supplement your more traditional curriculum choices.
Our Super Simple Homeschool Rhythm (for homeschooling multiples)
THIS POST PROBABLY CONTAINS AFFILIATE LINKS. AS AN AMAZON ASSOCIATE, I EARN FROM QUALIFYING PURCHASES. YOU CAN READ OUR FULL DISCLOSURE POLICY HERE.
I took me a lot of trial and error and learning from other relaxed homeschoolers to come up with this homeschool routine.
Monday through Thursday, our homeschool rhythm is the same. Barring sickness, vacations or random mental health days for me, we will follow this routine:
We start this routine around 10:30 or 11 a.m. and finish time varies depending on personal projects.
In the mornings, I get up around 7:30 a.m. with the toddler and follow my own morning routine. When I return from a daily walk, I make breakfast for whoever is up at the time, take a shower and try to squeeze in a little bit of work.
The older kids wake up and do three things before they can do any screens:
Morning Job (take out trash, empty dishwasher, etc.)
Time with Jesus
Eat Breakfast
They are mostly good about sticking to this, but sometimes they mix it up, especially since there are sometimes younger siblings watching a show.
Are There Screen Limits in Your Homeschool Day? Nope.
Speaking of screens, you might be wondering if there are screen limits during our homeschool day. I'm happy to say that there are NOT. Other than no screens until morning routine is done and screens off around 8:30 or 9:00 p.m., we don't restrict screens during the day anymore.
You might be saying, are you CRAZY?!
Since our mortgage process dragged out so long, we took an extended summer break this year, and it was the push I needed to give no screen limits a try, enough time for them to finish binging and enough distraction for me to let go of control and not freak out.
And the "no screen limits" experiment? It was a success.
They now naturally weave in and out of play, art, and other activities with screens in between. They don't sit in front of the T.V. all day (they did at first because, wouldn't you?) when we aren't doing our regular rhythms.
And best of all? I don't waste my energy regulating screens.
It's pretty amazing.
I'll eventually write a post about the reasoning behind it and what you should know before you try it.
Related: The Case for Unlimited Screen Time from a Recovering Control Freak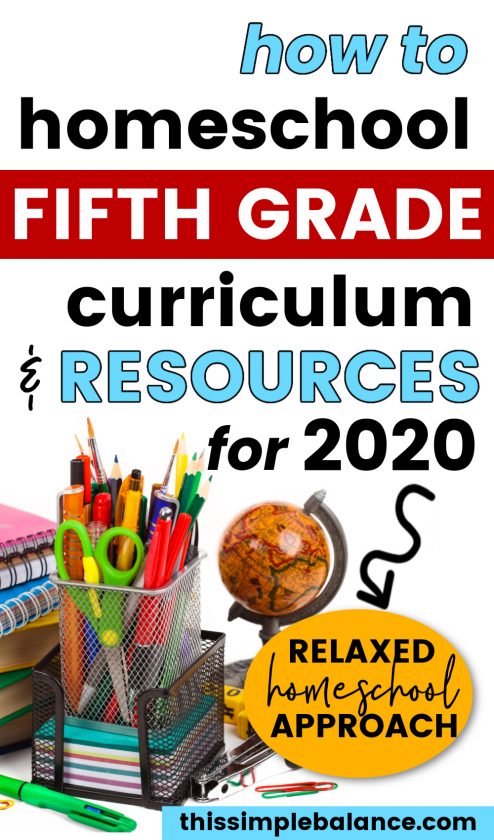 How to Homeschool 5th Grade: Resources by Subject
Keep in mind that when I say these are our plans for homeschooling fifth grade this year, what I plan for the oldest I often use with all three older kids together.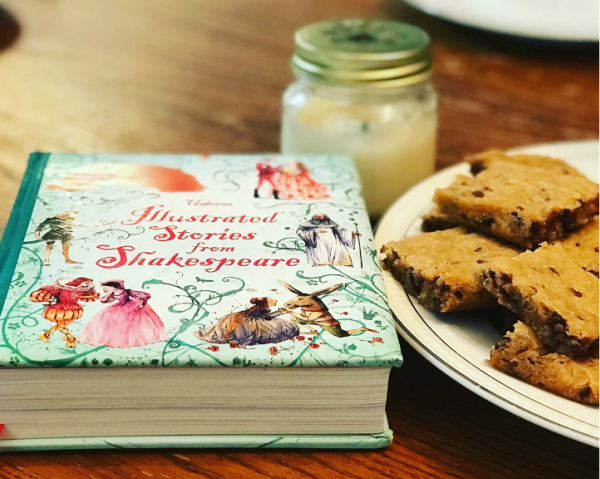 5th Grade Language Arts
I don't assign or require reading, writing, spelling, grammar or vocabulary.
Instead, I read aloud. I read aloud, and I read aloud some more. Everything else in language arts stems from that.
Reading aloud daily with my oldest cultivated in her a genuine love for reading. She still listens to audiobooks every day on top of our read-alouds.
But lest you think reading aloud always produces kids who love reading, my second-born doesn't love reading nearly as much as his siblings.
He does enjoy picture books and reads graphic novels on his own. But reading just isn't his thing, and that's o.k. Part of it, I think is that he is more of a visual learner than an audio learner, and tracking with read-alouds is difficult for him.
He will listen in during our read-alouds when he is doing something else – playing Minecraft or creating something with his hands.
Back to homeschooling fifth grade…
First off, you need to know that as a relaxed homeschooler – borderline unschooler – we don't do book reports, narration, spelling lists, vocabulary tests, essay assignments, or anything else…"schoolish".
Reading aloud is at the core of everything I do. Everything else comes naturally out of that and living life together in a language-rich environment.
You Might Also Like: Unschooling Language Arts – a Guide for the Elementary Years
Fifth Grade Read-Alouds
My plan for language arts is first to read-aloud chapter books, and discuss as topics for discussion come up. I know for sure we will be reading:
The Lost Hero
The Giver
Frindle
Wonder
Where the Red Fern Grows
The Lemonade War
Related: Best 20 Read Aloud Chapter Books According to Homeschoolers
Writing for 5th Grade
In addition to reading aloud, my fifth grader continues to express interest in writing her own short stories. During project time, I will serve as her scribe and write down her stories as she dictates them.
I loosely follow Brave Writer principles for coaching writing. What makes Brave Writer different than most homeschool writing programs is that they focus on the writer having something to say BEFORE teaching/perfecting the technical nuts and bolts of writing (e.g. grammar).
You can read my full Brave Writer Review HERE.
She is also working on her typing and has set a goal to be able to easily type her own stories by the end of the year.
We purchased THIS typing program for the second time (we lost it once before to a dead computer). I'm not sure it's better than any free typing program you can get on the internet, but hey, all the kids love it, so if it's not broke?
Poetry Teatime
Of course, we will have our weekly poetry teatime, which will include poetry AND additional readings this year.
Our favorite poetry books are:
If You Were a Chocolate Mustache
We haven't been very impressed with several other poetry books than many families seem to love, like Shel Silverstein's work for instance.
Maybe we only like funny poetry?
And a friend recently dropped this revelation on me – poetry teatime doesn't need to be just for poetry. So we will also be reading:
Understanding Money
Inspirational Picture Book Biographies
Beyond Reading and Writing
That's it for language arts at this point, although we will definitely be including some language arts board games in our weeks. Our personal favorites are:
I used to worry that I wasn't doing enough for language arts. Now? I can see that a relaxed homeschooling approach is really working (for her siblings, too).
Her spelling is massively improved from a few short years ago, when I was afraid she would never be able to spell. She was a truly horrible speller back then, but seemingly overnight she caught up all on her own.
She turned out to be just fine.
Vocabulary is the same way. She picks up new words from conversation with adults and from her books. When she can't pick up the meaning of a word from the context, she asks for a definition.
She tries out new words that delight her in everyday conversation, just because she wants to know how to use them correctly – because using new words with fresh new meanings and nuances can be FUN.
She writes for her own reasons, and for now, that is enough. Probably in the future, she will need to learn how to write an essay, but that's not for a long time, and as one unschooler described it, it was "simple enough".
Maybe these things don't sound that revolutionary or exciting, but the fact that they are happening without school or rigid, structured, intense "school-at-home" homeschooling? I love it, and I'm still fascinated by it.
Turns out all that reading aloud, list-making, story-writing, conversation and reading for her own needs, passions and pleasure was all she really needed to flourish in her native language.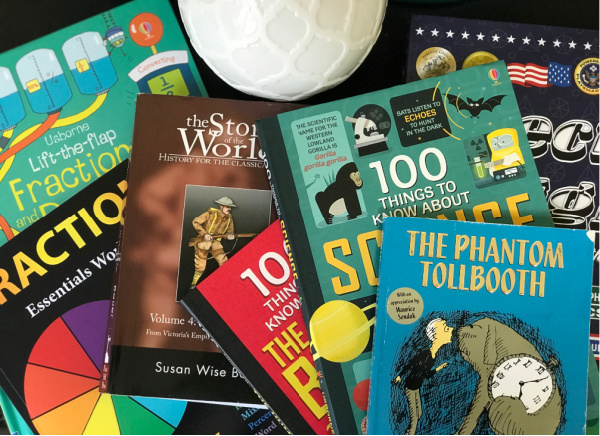 5th Grade Math: Fractions & Decimals
Oh math, the subject everyone seems to worry about most. Ironic given the fact that a high percentage of kids will not need any higher level math whatsoever for their professions.
My fifth grader has a fascination with order of operations problems and occasionally requests those types of problems.
She used to genuinely enjoy math.
But then her younger brother came along and started beating her to the answers, apparently making her think she wasn't good at math at all (I just found out this year).
That thought – "I'm not good at math" – turned into her claiming she disliked math and didn't want to do it anymore.
So we backed off last year, doing math as it came up in life (and it does).
This year, however, her engineer dad requested that we at least get up to speed with fractions and decimals, so that she has options in middle school to take pre-algebra and geometry.
Related: The Most Overlooked Step in Homeschool Planning (are you guilty?)
My original plan was to go with Math U See again, but then I saw the price tag.
I also remembered that it's entirely built around manipulatives I no longer had. So I was look at about $100 or more just to teach fractions and decimals.
Nope. I have a hundred other ways I'd rather spend $100 for our homeschool.
So I found THIS workbook on Amazon, instead, and we will be working through it during project time. I anticipate being able to finish it in a couple of months.
We also are working on getting faster at multiplication. I love the multiplication machine from Lakeshore and highly recommend getting this set of all four – addition, subtraction, multiplication and division. We will be adding the subtraction and division ones to our collection this year.
Finally, we will be adding several math board games to our collection this year.
We started with Mystic Market, which could be considered an economics game of sorts – you definitely need mental math to play.
The following math board games are on my list to purchase this year:
We also purchased Election Night, which is apparently a math game, too!
Any favorite math board games we should consider? Share in the comments!
History/Geography/Social Studies
We are working our way through our final Story of the World book – 1850's to Modern Day History.
Story of the World is one of my favorite homeschool resources, and I wholeheartedly recommend it especially for families trying to homeschool multiple children using the same resources.
I also love this Usborne Historical Timelines book to accompany it.
Once the library opens up again, I will be looking for more inspirational picture book biographies to read during poetry teatime on Fridays. I'm working on compiling a list of our favorites from the dozens we read last year.
Should we finish Story of the World this year, I plan on reading aloud An Indigenous People's American History. I want to read this BEFORE we do further American History studies.
Also, since this is of course an election year in the United States, I purchased the educational board game Election Night (math, history, civics, geography, social studies all in one!).
I plan on purchasing the following history board games this year:
Ticket to the Ride Europe
Professor Noggins' Ancient Civilizations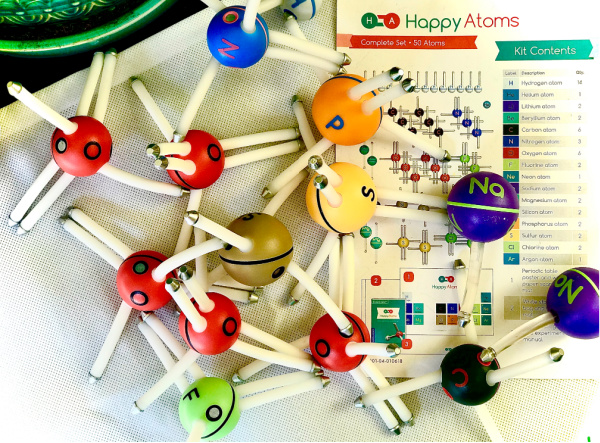 Science
I have a very laid-back approach to science (we are pretty much unschooling science) that involves a lot of technology and a lot of strewing (a.k.a. finding resources you think will interest your kids and giving it to them with no agenda – they can take it or leave it).
2020, however, has given me a lot to think about where science is concerned.
What do I want my kids to know about science? How do I want them to regard scientists and scientific data?
What do they need to know about science in order to read and process scientific data and studies found online or elsewhere?
Do they know how to sift through studies or the news and come to their own conclusions?
I also plan on (slowly) reading through this book in order to decide how to teach evolution and creation in the context of faith.
For the record, I do believe that God created the world, and that he created people. In my opinion it takes just as much faith to believe that there was NOT a creator. HOW God did it all though? That's where the questions start for me.
Here's what we're doing this year for fifth grade science while I think about all of those other big questions.
Chemistry & Molecules
I purchased THIS Happy Atoms molecule building set and have been thrilled with the purchase so far! It's very hands-on, with an iOS app that goes along with it.
If you decide to purchase Happy Atoms, keep in mind that the app is integral to using the set. So having an up-to-date phone or other tablet is necessary to get the full benefits.
Educational Science Shows
We continue to pay $5 a month for a PBS Kids subscription via Amazon Prime. I still think it's 100% worth paying for.
There are 18 seasons of Wild Kratts available, and my kids continue to be walking fountains of animal facts. They know WAY more about animals than I do and are constantly coming up after each episode to tell me all the cool facts they learned from Wild Kratts.
Sign up for an Amazon Prime PBS Kids Subscription trial HERE.
Side Note: This is informal narration at work – you don't need to use stilted and formal narration or reports! You can read more about what happened when I ditched Charlotte Mason Narration HERE.
We also love Magic School Bus and Magic School Bus Rides again on Netflix. I know there is a LOT more to explore on Netflix as far as documentaries and educational shows go, so I will be making time to do that this year as well.
Documentaries
Curiosity Stream is a streaming service like Netflix, but all documentaries.
I admit – we've had Curiosity Stream all year and used it very little. BUT I'm determined to change that this year.
I realized that if I want us to maximize this resource, I need to make time to watch things TOGETHER. I am making time to sift through the database of documentaries and see which ones actually keep my kids' attention.
I'll report back on our favorites!
Curiosity Stream is ridiculously cheap to try. Sign up HERE to check it out!
Kiwi Crates
I can't handle the mess of Kiwi Crates all the time, so I will likely limit this to every other month. But I plan on getting each of the older kids a crate of their own when we do use this for science.
Did you know that you can purchase Crates individually? Get $10 off your first purchase HERE.
3D Pen / Printing
Whether or not you consider this science or art is debatable, but it is definitely a STEM type activity.
All three kids were using a glue gun to design and create things just like you would with a 3D printer, although my second-born is the one who enjoys it the most.
So we decided before investing in a 3D printer, we would invest in THIS 3D pen first to see if the interest continued. Our experience thus far has been a bit challenging.
There is definitely a huge learning curve versus a glue gun, but I'm looking forward to seeing what they create this year!
5th Grade Art
My 5th grader still shows a strong interest in art.
We used to have a membership to Masterpiece Society, but we didn't use it often at all. We completely forgot about it.
This year, I plan on purchasing individual courses and making sure we complete them before moving on to the next one.
Masterpiece Society owner and teacher Alicia has made multiple improvements this year, adding instructors with different expertise to vary the course offerings.
You can try a course – painting an Impressionist-style Bluebird – for free HERE.
Favorite Art Resources:
Watercolor Paper
Acrylic Pens
Sharpies
Colored Pencils
We also have THIS watercolor book on our art resources "to buy" list for this year.
Note: Sometimes homeschool memberships or subscriptions seem like a good idea, especially since they are pitched as "saving you money". When you purchase individual courses as you go, you are much more likely to complete them and will have a more accurate idea of how many you go through in a year to determine if the membership is worth it in the future.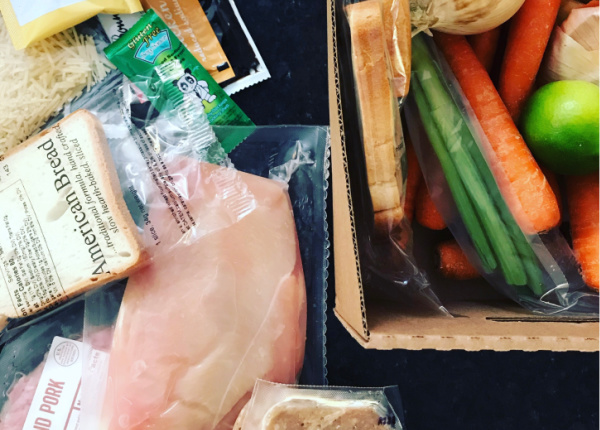 Cooking
One of my goals for my kids is that they can cook their own food. A friend introduced me to Every Plate a few months ago. I didn't expect to love it, but I totally do!
One unexpected benefit of signing up is that my daughter LOVES how each recipe comes with a recipe card with step-by-step directions. She asked to cook one meal a week, and it's become an easy way for her to learn various cooking techniques without me having to prep anything.
Plus the meals are really tasty, and they reduce my need to meal prep during the week. As a busy work at home, homeschooling mom, this is flipping FANTASTIC.
Eventually, I hope to be totally hands-off one meal a week.
That is, if she can get over touching raw meat….
Additional Plans for My Third and First Grader
Beyond what's listed above for homeschooling 5th grade, I will mainly be working on reading with my third and first grader.
For my third grader, we will be reading books he enjoys, mostly graphic novels.
He continues to be a whole language learner. There are definitely cons to whole language learning, since he resists decoding words and sounding them out. In contrast, his sister learned to read via phonics, and she became a fluent reader much more quickly.
But he continues to add words to his bank of memorized words, and once he knows a word, he knows it for life it seems.
This also makes for a very odd mix of words he knows and doesn't know. What strikes me as an "easy" word or a "hard" word doesn't seem to matter much at all. He might not know an "easy" word, but knows SO many "hard" words.
My first grader is still working his way with me through the I Can Read It! Book series, which is working just as well this time as it did the first.
Related: The Best Homeschool Reading Curriculum for a Reluctant Reader
Final Thoughts on Homeschooling 5th Grade
Whew! If you've made it this far, I'm impressed. I had no idea it would take this long to describe all the resources we are using this year!
I am so looking forward to this year. I finally feel fully confident in our relaxed homeschool/borderline unschooling approach. It took an absolutely horrible year personally last year to get me this place, and I do attribute the difficulty to the confidence I feel now.
Why? I realized how much my kids learn all the time without me doing a single thing other than being with them and creating a rich environment.
That horrible year forced me to relinquish control and let them pursue their own interests at their own paces.
And they flourished.
Here's to a year of creating a rich homeschool environment, a simple homeschool routine and giving them plenty of room to keep on flourishing.
Homeschooling doesn't need to be that hard.
Your kids were made to learn. If you back off and give them room to rediscover their natural drive to learn, they'll show you. Promise.
Want to SEE what natural learning looks like? I did, too. Follow me on Instagram at Simplify Your Homeschool to see what lifestyle learning looks like for us!
Read Next: Minimalist Homeschooling – Hope for the Overwhelmed Mom