Inside: Over 20 language arts board games to add to your educational board game collection! Use these board games to have fun AND learn/ improve language arts skills – everything from spelling, to vocabulary, to story structure and more.
Educational board games are a high priority in our homeschool. They come in second only to reading aloud.
If I did nothing else in a day except read aloud and played a board game with my kids, I'd consider our homeschool day a success. Yes, really.
Homeschooling doesn't need to take the entire day, at least formal homeschool activities, anyway.
But that's another conversation altogether, so I digress.
If English is your native language, SO much of language arts can be learned through reading great books, having rich conversations, and writing things that actually have a purpose to the writer – to-do lists, short stories, letters.
Essentially anything but a mandatory classic book report.
In my five years of homeschooling, I've come to the conclusion that all you really you need for language arts proficiency is a language-rich environment.
That environment also needs to be free of the pressure that schools put on kids to acquire certain skills before they're developmentally ready (like say, forcing ALL 5-year-olds to learn how to read??).
Most children will naturally want to acquire skills like reading and writing. Why? Because they see those things are valuable skills to the adults in their lives.
Language arts board games can help facilitate and accelerate what native speakers growing up in language-rich environments already do naturally.
Plus, they're just plain FUN – as learning should be if at all possible, especially during the elementary years.
So add a few of these board games to your wish list to start infusing your homeschool days with gameschooling, language arts fun!
Click HERE for the rest of our educational board game posts!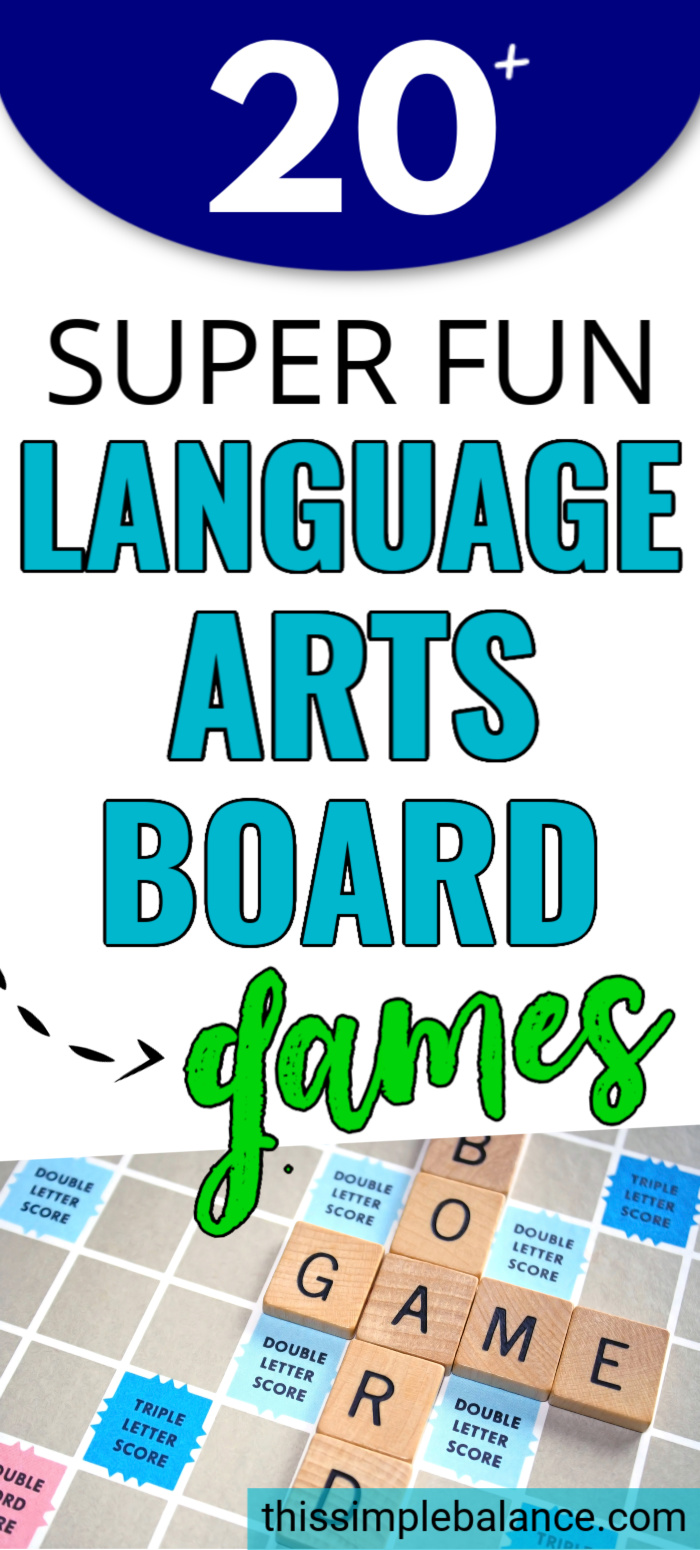 20+ Language Arts Board Games
THIS POST PROBABLY CONTAINS AFFILIATE LINKS. AS AN AMAZON ASSOCIATE, I EARN FROM QUALIFYING PURCHASES. YOU CAN READ OUR FULL DISCLOSURE POLICY HERE.
Our personal favorites from this list so far are Catch Phrase, Taboo and Scrabble.
Breaking News and Cooking Up Sentences are both on my wish list.
Side Note: Some of these language arts board games were designed with English Language Learners in mind. While I haven't tested all of them personally, I imagine they work just as well for native English speakers.
1. Mad Libs – The Game
A classic favorite made into a larger game the whole family can play together.
Laughter and learning combine with this retro way of learning parts of speech!
2. Dabble
Be the first player to spell five words using 20 tiles and you WIN! This a fast-paced spelling game for the whole family. This language arts board game is like speed Scrabble. More tiles, less time!
Recommended for ages 8+.
3. Word on the Street
Help build vocabulary and spelling skills, creative thinking, and teamwork with this fast-paced game of word building.
Recommended for ages 10+, 2-8 players.
4. Turnspell Word Game
The rotating board keeps the letter ever-changing creating an attention-grabbing word-building game.
Think Scrabble with a fast-paced twist. You can even steal letter tiles from opponents.
5. Blurt!
Players listen to definitions and race to respond with the correct word answer in this language arts board game.
Another fast-paced family favorite that helps build vocabulary, spelling, reading, and writing without your players even realizing.
Race against the timer to create a list of words that start with the letter on the rolled die.
7. AfterWORDs
This is a fast-paced vocabulary-building game. Players must name a word that matches a certain category AND begins with the letter in play.
Designed for 2-4 players.
A fast-paced and fun family game that teaches new words and vocabulary without players even realizing it.
Get your teammate to say the word on the card WITHOUT you saying the 5 corresponding listed "taboo" words.
9. Catch Phrase
This is language arts game is fast and ridiculously easy to play – you can also play without keeping score. It introduces 5,000 words and phrases, although you may run into younger players not knowing some of the terms or pop culture references.
Teammates guess the word or phrase that appears on the screen by describing it any way possible (unlike Taboo, where you can't say certain words). It's like Hot Potato with words!
If you can read, you can play. And even if you can't, you easily be a permanent "guesser".
This game is a must-have for any homeschool family!
10. Storycubes
A creative story-building game that offers endless possibilities.
Players roll cubes and let the pictures on the dice speak for themselves. Inspire a love of writing, and work on proper story structure at the same time!
11. Boggle
Boggle is a classic! Shake the letter cubes and settle them in their spots before taking the cover off and trying to find as many words as you can until the sand hits the bottom of the one minute timer.
As long as the letters are connected in order – even diagonally – you can make a word. You can just do it for fun, or you can keep score.
Words with more letters get more points! If you get the same words are someone else, you both cross those off your list.
Related: Unschooling Spelling Works – How Kids Learn to Spell Without School
12. Scrabble OR Bananagrams
Another classic, Scrabble is the most fun for kids who already have a decent number of words they know how to spell.
You could get Scrabble Jr. for younger kiddos, or even Bananagrams if you want to race to build your own crossword off the board.
13. Slam Ships Sight Word Game
Learning Resources never fails to deliver amazing, fun games that are perfect for learning whatever skill the game is targeting.
We love their math games, so I was excited to find language arts games, too!
Slam Ships helps kids improve sight word recognition. The reader calls out the sight word, and the first kid to "slam" the round disk with the correct word wins that disk.
The kid with the most words at the end wins.
14. Don't Say It!
Each card includes a base word and four words that your team member cannot use to describe the base word.
This game is very similar to Taboo, but geared towards a younger audience.
15. Cooking Up Sentences
From trusted educational board game gurus Learning Resources, this language arts board game teaches grammar, parts of speech, and sentence structure with a fun cooking theme.
Self-checking for independent play.
16. Breaking News!
Teaches spelling, punctuation, and grammar for players ages 7 and up.
Players edit breaking news headlines while practicing the skill of proof-reading.
17. Squik
Improve vocabulary and encourage reading through forming words with tiles. Players can rearrange, swap, and even steal tiles from opponents.
18. Grasping Grammar
This language arts board game is recommended for grades 4 and up and teaches parts of speech, nouns, and interjections. It helps players identify all eight parts of speech.
The single Amazon review suggests that the original directions are unclear, but once the reviewer made up his own directions, the game was great.
19. Grammar Wise
Players will learn and identify parts of speech by laying a series of connecting tiles, matching a word with the part of speech.
Although this language arts board game appears to be designed with English Language Learners in mind, it can be equally beneficial for native speakers learning English grammar rules.
20. Chunks
The game is filled with beginning word sound tiles and ending sound tiles. Combine them to make the most words.
Parents of struggling readers have declared this a "godsend" that really increased their child's reading fluency and improved their spelling skills.
21. Super Why! ABC Letter Game
Based on the PBS Kids Show Super Why, this language arts board game teaches early reading and spelling development.
The game introduces rhyming and early phonics. Appropriate for ages 3 and up.
22. Sight Words Pizza
Players will learn Dolch and Fry sight words while they create a yummy pizza on their game board. Build vocabulary with 120 sight word ingredients (90 basic sight words and 30 advanced).
Designed for beginning or growing readers.
Do you have a favorite language arts board game? Share in the comments!
Read Next: 20+ Math Board Games for Kids