Inside: Searching for a list of useful, minimalist stocking stuffers? You've come to the right place! Fill your stockings with items from this growing ideas list, so you can enjoy your Christmas stockings without all the cheap crap and clutter.
Halloween is over, and the Christmas count-down is on. At least now Christmas décor has a semi-legitimate reason for being out and about at every major retailer.
There are really no excuses for bringing it out before the end of October. For SHAME, people.
Even though we still have Thanksgiving to go, Christmas shopping and preparations are on the brain, at least for those of us who want to stay sane during the holidays.
And the Christmas shopping that often gets pushed off until the last minute is always the stocking stuffers.
Why not change that this year? Get a head start with this list of 30+ minimalist stocking stuffers!
Order them now, and stash them for the big day.
Related: 40+ Gifts for Minimalist Moms That Won't Cause Anxiety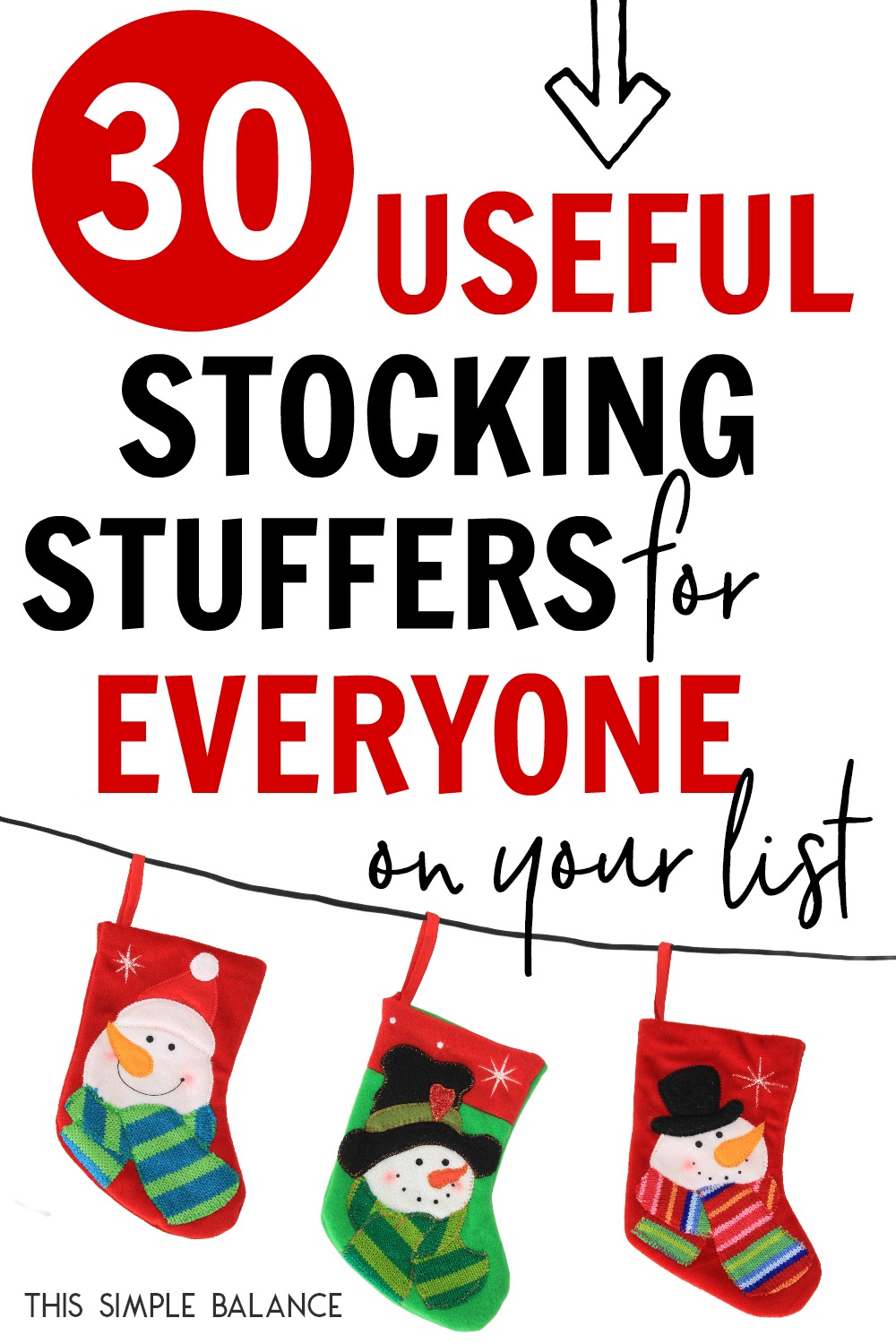 Minimalist Stocking Stuffers for a Clutter-free Christmas
This post probably contains affiliate links, which means I may earn a commission if you make a purchase through those links. As an Amazon Associate, I earn from qualifying purchases. You can find our full disclosure HERE.
But first, as a minimalist, why keep doing stockings in the first place?
Honestly, I considered ditching stockings in the past year or so just because they seemed to be a magnet for random clutter AND so much extra spending that isn't really in your Christmas budget.
Stocking spending can seriously get carried away. Before you know it, each stocking can cost upwards of $50!
And more stuff on Christmas – just, why? When you become a minimalist, you ask "why" a lot more frequently than you did before.
BUT, after a lot of thought about what I wanted our simple Christmas to look like, I finally came around and decided to keep stockings as part of our Christmas traditions.
We have a fairly simple Christmas to begin with, and stockings is one of the few traditions we have on Christmas day.
Also, as the years go on, and my husband is getting more on board with minimalism (he's a work in progress), we are buying fewer and fewer physical presents for our kids – less toys for sure.
Stockings filled with useful (and yummy) items are a great way to add to Christmas morning. Plus, it buys parents more time to sleep in, depending on how Christmas morning rolls in your family.
Another reason I decided to keep stockings was the conclusion that they don't need to be filled with clutter if you don't want them to be.
You're in charge of what goes in them: so, skip the cheap stocking stuffers that will be broken by New Year's.
Choose useful stocking stuffers instead.
For readers with young children, one bonus tip I picked up recently from another blogger that I will be starting this year is to wrap EVERYTHING: every present, and every little thing that goes into a stocking.
If you bought gum in bulk, take each of the packs out of the original wrapping and wrap every single one.
Because really, for kids, their favorite part of Christmas morning is the excitement of unwrapping things – that element of surprise, not knowing what the package holds.
And when stocking stuffers can get in on the wrapping action? More fun with the same amount (or less) stuff.
Related:
Caution: Useful Stockings Stuffers Can Still Be Clutter
When choosing useful stocking stuffers, you want to make sure that they aren't going to contribute to the clutter in your house.
There's a reason January is when decluttering and organization posts are so popular. If you're not careful, Christmas takes clutter to a whole new level.
Useful stocking stuffers can be consumable: items that need to be replaced every 3-6 months because the items wear out or are misplaced by little people (or the mom who is losing her mind trying to keep track of her own stuff and all the little people's).
Gloves, for example, always seem to go missing around our house. We are constantly left with only one glove in a pair, so gloves are a perfect stocking stuffer in our family.
They might be considered clutter in yours, however, if you have more than enough pairs already and have remarkable kids who never ever lose a single glove. If that's you – tell me your secrets!
Useful stocking stuffers can also be smaller, inexpensive items that you know the recipient needs and wants – like a book light or book darts for the book-lover in your life.
Other items that make great stocking stuffers are things many people hate spending money on themselves, but they do truly need, like batteries or umbrellas.
Finally, I'd encourage you to put the same careful thought into stocking stuffers as you do into gifts. Useful items can easily become clutter if the recipient already has them.
Related: Simple Christmas Traditions to Celebrate the Season (and take the pressure off the gifts)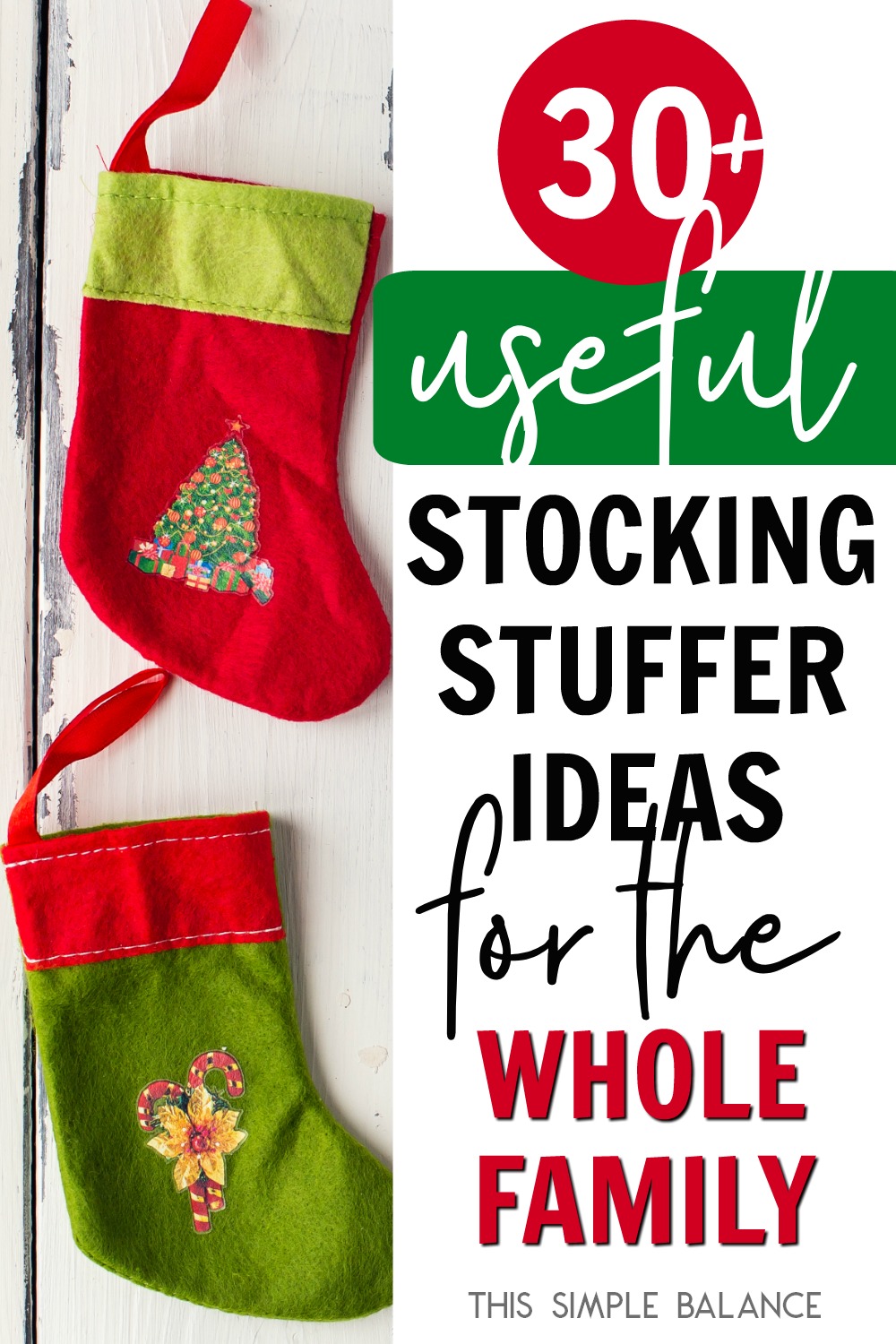 30+ Minimalist Stocking Stuffers for the Whole Family
(Amazon Prime is a serious life-saver for this homeschooling, work-from-home mom of soon-to-be five. Get a 30-day free trial HERE and thank me later!).
You Might Also Like: 45 Practical Gifts for Homeschool Moms (Besides Coffee)
1. Toothbrushes
Our kids get new toothbrushes twice a year at their dentist appointments, and once a year in their stockings. We save the special electric ones for stocking stuffers and buy fun themed ones like this one that generally last 3-6 months until the next dental cleaning.
Maybe when our kids are older, we'll spring for higher quality ones with replacement heads, like this one.
2. Character Band-aids
These are ones little kids LOVE, but you NEVER buy because they're so dang expensive!
Make it a special stocking stuffer tradition.
3. Hair Brush
Hair brushes that are cleaned regularly can last a long time, but even a carefully maintained brush can lose its bristles with heavy use.
If you have a child with a sensitive head and fine hair, try the W.E.T. brush! It's been a life-saver, and since we started using it, hair brushing sessions are quicker with a lot less screaming.
4. Lip Balm
Lip balm is another thing that tends to go missing during the winter. Regardless, I love having a few back-ups, especially for those times when kids get a hold of one (buh-bye chapstick).
These Burt's Bees ones are my personal favorites, but guys seem to prefer plain old ChapStick.
Rosebud salve is another great choice for women, and then there are classic LipSmackers for girls – so fun!
5. Movie Tickets or a Gift Card to the Movies
Actually going to see a movie in the theaters is a rare and special treat at our house, so when we do go, we like to make it a extra special with popcorn, candy and drinks.
Check your local area for discount theaters for an even better deal!
For the booklover in your life, bookmarks and bookdarts are a useful and thoughtful stocking stuffer.
If you haven't heard of bookdarts, be sure to check them out. You can insert them on the exact last line you read, which is pretty sweet if you have a few different books going and have trouble remembering where you left off.
7. Puzzle Books
Word searches, maze books, sudoku, crosswords.
So many fun options to choose from!
If you're looking for something unique, these logic puzzle books are a fun and challenging alternative to the typical puzzle books you'll find in stores.
New York Times mini crosswords are another great choice. Compared to the massive Sunday versions, you can actually finish these – so much more satisfying.
8. New Water Bottles/Sippy Cups
We love our Camelbak eddy Kid's water bottles! For adults, these ones are the perfect size for taking to work or the gym.
In the market for sippy cups that don't leak? This brand is the only one we've found in ten years that is legitimately leak-proof.
9. Magazines
I love magazines because they are affordable and easy to recycle. I can pass them on to friends or doctor's offices when I'm finished with them.
Especially for kids, magazines are often educational, and some, like National Geographic Kids, can be saved for future kids.
Some ideas for kids: Highlights, National Geographic Kids, or Ranger Rick.
Adults: Real Simple, Parents, HGTV, People. Choose based on interests!
Some of the holiday prices on magazines are FANTASTIC. Be sure to check the prices on Amazon, as you can get a great deal for a one year subscription!
If you decide to go this route, keep in mind that the first edition won't arrive until 6-10 weeks after subscribing.
If you want the physical magazine for the stocking, be sure to also pick up a copy from your local store to stuff the stocking with, including a note of the subscription gift.
10. Dish Towels
Dish towels don't last forever in our house. With kids, they seem to take more of a beating than before, since they are constantly used to wipe up spills of all kinds.
THESE ones from Amazon are super absorbent and should last a long time.
11. Dollar Shave Club Subscription
My husband and I both have Dollar Shave Club razors. We use and love the second tier option, and we have replacement blades delivered every other month.
It's ridiculously cheap to try Dollar Shave Club, and they send you the razor WITH replacement blades.
One less thing to remember to buy.
Get a $5 credit for your first month HERE.
12. Kid's Bath Soap
Any parent can attest that kid's bath soap goes fast, y'all, whether from actual use or a child dumping it all out the one second you aren't looking.
We don't use bubble bath all the time, but bubble bath (natural ones like this one should be safer for kid's skin) can be a fun stocking stuffer when you don't buy it frequently.
13. Headphones
These are constantly being misplaced or worn out in our house.
We've tried a few different varieties, from inexpensive ones on Amazon to Apple's headphones, and honestly? One didn't necessarily last that much longer than the other.
You can go for the cheap ones, or spring for a pricier version that might last longer than a year.
14. Seasonal Dish Soap/Hand Soap
Mrs. Meyer's seasonal scents are a fun addition to any woman's stocking.
I also love this Castille soap, which I dilute to make foaming hand soap for our bathrooms. It's much gentler on the skin during cold and flu season when everyone is washing their hands much more frequently.
We switched last winter after Dial and other brands left our hands constantly red and chapped.
After switching to the Castille soap (we love this scent), we haven't had a problem since!
15. Post-its
Post-its are a fun item for the organization lover OR kids who are never allowed to use the organization lover's stockpile.
I use them for reminders and lists, but my kids love to make flip books using them.
Because I rarely let them touch my stash (and they can be expensive when you go through them like water), they are a fun treat as a stocking stuffer.
16. Gel Pens/Sharpies/Quality Pens
These sharpies in fun colors are sure to be a hit, or grab a few of quality pens for a pens that last longer and write better.
Shopping for a tween girl? Try these gel pens, instead.
17. Hair Ties
Another item that I constantly ask, "Where on earth do all the hair ties go?"
These colorful hair ties are perfect for young girls, or I love these neutral ones.
Related: Small Gifts for Kids That Aren't Junk ($20 or Less!)
18. Oven Mitts
Replace an old, stained pair of cloth oven mitts with new ones, or upgrade the current pair with these silicone ones that are sure to last a lot longer.
19. Batteries
Although more and more items are being made with rechargeable batteries, we do still need regular batteries for a lot of devices at this point.
Whether it be for flashlights, noisemakers for travel, and yes, kids' toys, we need all the batteries.
Get a pack of AA and/or AAA. Better yet, if you are giving a gift that requires batteries, pick the size that fits your gift.
20. Straws
My kids still love and use straws for things like smoothies and other special drinks.
I also use disposable straws in my Starbucks water cup (my toddler bit my washable one, and even with a straw cleaner, the things that can get stuck inside just make me shudder).
If unlike me, you aren't afraid of reusing non-disposable straws, these silicone ones get great reviews. Or replace the straws in venti Starbucks tumblers HERE.
Want to stick with disposable? With the recent plastic straw banning craze, and to save the environment of course, try these adorable paper straws instead of plastic for a fun and useful stocking stuffer.
21. Small Umbrella
Here's another item people generally put off buying because well, umbrellas are just no fun to spend money on (at least, in my opinion).
And yet, we all want one during winter downpours when we absolutely MUST leave the house.
Slip a small and colorful one into their stocking, so they're prepared!
22. iTunes Gift Card
With more and more people going digital with everything to avoid clutter and discs being destroyed – from music, to movies, to audiobooks – iTunes gift cards will always be a useful and appreciated gift.
Pick them up from Costco or BJ's and get a discount.
23. Stamps
Despite the increase in e-mail and text messaging, snail mail is still a thing.
I mean, Hallmark is still in business, and honestly, who doesn't like to receive a handwritten note in the mail to balance all the bills and junk mail? I know I do!
24. Hand Lotion
Winter is the season for hand lotion, in some parts of the world, at least! I find the most useful size to be one that can easily fit into a purse or bag.
On-the-go, out in the cold, is when people typically need it most but don't have it on them.
THIS one is a favorite: smells yummy and works great.
25. Gloves
Like single socks, single gloves can be SO frustrating.
Seriously, where do all the socks and gloves go?! It's a mystery.
Whether you have kids or not, an extra pair of gloves can be a real life-saver on a freezing cold winter day when all you have left are singles.
26. Art Supplies
Art supplies are typically consumable, and Christmas is such a fun time to get new supplies! Markers, colored pencils pastels, and watercolors are a huge hit at our house.
Kwikstix, dot art, and origami paper are a few more fun and unique, useful stock stuffers, depending on the ages and interests of the recipients.
27. Gift Cards to a Favorite Restaurant
If you're buying for kids, $5 is plenty!
As I'm updating this post for 2022 inflation, I'm realizing…yeah, you need $10 at least these days, even for kids. It sucks – I know.
Increase the amount to $20 for adults and teens.
28. Bubbles
Bubbles are useful in my book because for 2 and 3-year-olds? Bubble entertainment for days!
Try pairing it with a bubble machine as a Christmas gift. Just make sure to not let little ones move the bubble machine from place to place, or the batteries get ruined from leaking bubble mix.
29. Tea or coffee
Who doesn't have a tea or coffee-lover in their lives?!
Stuff those stockings with some specialty tea or a quality bag of coffee for an always-appreciated gift.
30. Tile GPS Key Finder
My keys are constantly missing! From my own absent-mindedness to kids using them and leaving them in couch cushions, I frequently wish I had the GPS I have for my phone (this iPhone feature is a life-saver for parents!), for my keys as well.
Enter: Tile – the GPS tracker for your keys.
Any parent will appreciate this for their keys, but you can use it on anything really. You just need to find a way to attach it.
Only heads up: some people have said that it does drain your phone battery quickly because it keeps the app open at all times.
31. Multi-Plier Tool
This was, by far, my husband's favorite useful gift of all time. It was a groom's gift, but it can definitely work as a useful stocking stuffer.
Guys are way more difficult to shop for in general, so any other ideas are welcome!
This is the one my husband received this one more than ten years ago as a groom's gift, and it's still going strong, He uses it at least once a week, and it's his go-to tool (as a non-tool guy).
(OK, with the current price, maybe this is a gift, not a stocking stuffer. But still.)
Related: Practical Minimalist Gifts for Him (Husbands, Dads, Brothers)
32. Socks
Even as a minimalist, I firmly believe you cannot have enough socks. I go through so many!
If you're willing to spend a bit more, Bombas socks are truly fantastic. I love their mission, and how they donate a pair of socks to homeschool shelters for every pair bought.
But they are definitely pricey.
So if it's too much, these Saucony ones are also amazing. I steal my husband's all.the.time.
Your turn: what are your best ideas for minimalist stocking stuffers? Share in the comments!
Read Next: How to Transition to a Minimalist Christmas with Kids (& Not Be The Grinch)