Inside: Looking for minimalist gifts for him? Check out this list of over thirty minimalist gifts for men who hate clutter – for dads, boyfriends, or any other significant guy in your life. Perfect for Christmas, Father's Day, or birthdays!
Maybe I'm imagining it, but I'm pretty sure a loud lament can be heard all around the world during any holiday that dictates buying a gift for a man.
Father's Day. Guys' birthdays. Christmas – men are the ones we put off buying for because they can be SO hard to shop for!
And then, there are the minimalist men. Oi.
As a minimalist myself, I know we are a hard bunch to buy for in general, especially if you love giving gifts. But minimalist dads, brothers, husbands, and sons? That's next level difficult. They stump even the most hard-core, seasoned gift-givers.
That's why I came up with this list of gift ideas specifically for minimalist guys.
I hope it helps take a little bit of the angst out of the gift-giving season for someone who loves a minimalist guy.
Related: 60 Clutter-Free Gift Ideas for Minimalists, According to Interest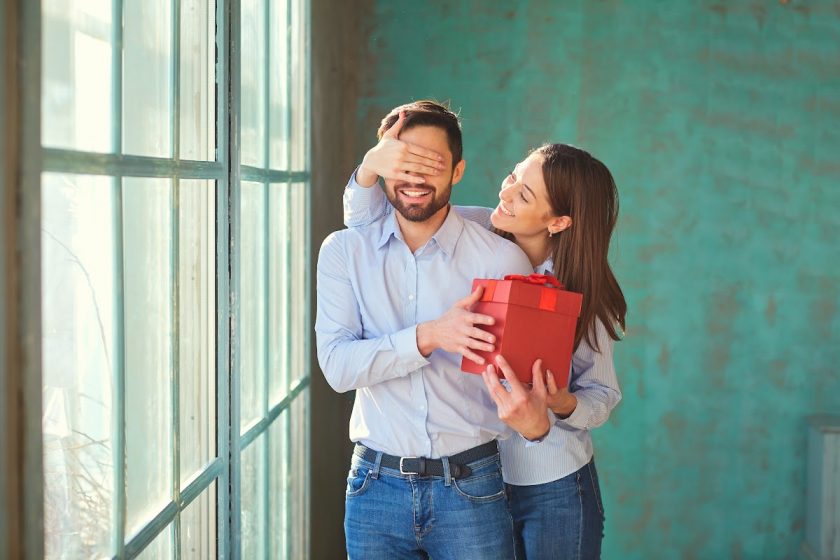 30+ Minimalist Gifts for Him (Dads, Brothers, Husbands, Sons)
This post probably contains affiliate links, which means I may earn a commission if you make a purchase through those links. As an Amazon Associate, I earn from qualifying purchases. You can find our full disclosure HERE.
You'll notice a LOT of food-related gift ideas on this list. That's because consumable gifts make excellent gifts for minimalist guys!
And always remember that most minimalists also appreciate experience gifts: amusement park tickets, ski passes, sky-diving, etc.
1. Bookstore Gift Card
I love book stores! When Borders closed years ago, I was so sad. I imagine if the minimalist man in your life loves books, he loves book stores, too.
Grab him a Barnes & Nobles gift card or even better, a gift card to an independent bookstore near him. If he really loves sorting through old or thrifted books, choose the bookstore accordingly.
Related: 30 Experience Gifts for Moms (Because She Doesn't Need Another Mug)
2. A Book You Loved
If he's an avid reader willing to branch out from his typical genres, give him a book you enjoyed.
Books are extremely easy to declutter when you're finished with them, making them ideal gifts for minimalists. Books can be put in a Little Free Library, donated to a brick and mortar library, resold to book sellers, or passed along to a fellow book-lover.
3. Kindle Unlimited Subscription
In keeping with the book-loving dude theme, consider gifting them a kindle unlimited subscription. You get access to tons of books for one low monthly cost.
Does he prefer audiobooks? Try Audible or Scribd, instead.
4. Wireless Headphones
Has he been pricey Apple pods for a while now? Expressing frustration about how headphones with wires don't last and he needs to keep replacing them?
Christmas, Father's Day or a birthday are the perfect time to gift him a new pair of wireless headphones.
Want a more budget-friendly option? Try THESE headphones. My husband and I both have a pair, and they've lasted over a year so far. The only downside is they do not have a microphone, so if he wants to make and receive calls using them, you'll need to look for other options.
5. Phone Charger
This one might be way too specific to our family, but with seven people home all day, chargers are constantly being misplaced, "stolen" (by other family members) or lost altogether.
You could upgrade his current charger to a fast-charging one, which charges at twice the speed of regular chargers. Or maybe a charging pad that never leaves his bedside table would be better – totally "theftproof".
6. Device Screen Protectors
Have you noticed a cracked screen protector on his phone that's still cracked two months later?
Give him a new pack of screen protectors. Just make sure the phone model is correct before ordering.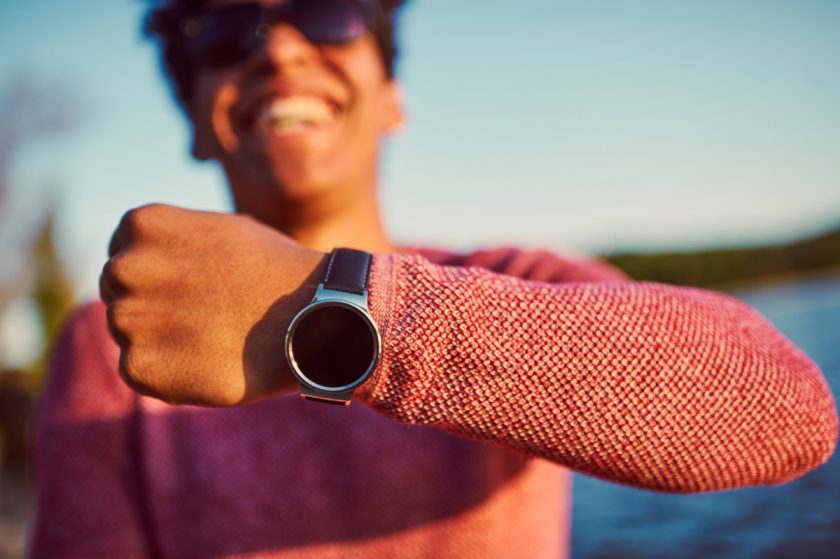 7. Smart Watch
Last gift in the tech category, if he loves all things technology and doesn't yet have a smart watch, I bet he'll love this gift!
Even if he already has a smart watch, but you know the latest and greatest models are his thing, he still might like an upgrade.
8. Multi-Tool
My husband claims this was one of the best groom's gifts he ever received.
A multi-tool is probably one of the most sensible minimalist gifts you could get anyone in your life, not just a guy. Keep one in your car in case of emergencies, or in the house for all the things.
If he doesn't do many projects requiring tools, this is a catch-all that when paired with a power drill can tackle any small task. We use ours all.the.time.
9. Quality Socks
I don't know a lot of men who are willing to splurge on socks. But MAN, a good pair of socks is surprisingly remarkable after years of living with cheap socks (which was us, up until recently).
Bombas socks are pricey, but absolutely worth the splurge! Plus, they donate a pair of socks to homeless shelters for every pair purchased.
Grab him some ankle socks or warm wool boot socks, depending on the timing of the gift-giving occasion.
10. T-Shirt With Meaningful Phrase
This might not be the right gift for every minimalist man, but some people love wearing their opinions and their favorite slogans on their shirts.
Is he passionate about a cause or politics or a show? Or does he just love a certain phrase that he's saying all the time, or it's a running joke between you?
Find a t-shirt that will say exactly what he wants everyone to know he loves.
11. Pairs EyeWare Gift Card
I recently tried Pairs, and I'm in LOVE with these glasses. It's such a perfectly minimalist idea to be able to get one pair of glasses and change them up with a topper without buying an entirely new pair.
And the ability to wear sunglasses without contacts? Revolutionary, at least to me.
So if your guy has glasses and needs new ones, get him a Pairs gift card and let him choose his glasses and toppers. They are super affordable.
12. Stitch Fix Gift Card
Did you know that Stitch Fix has subscription boxes for men? The service as a whole gets mixed reviews depending on the stylist you get, but if he hates to shop, but still likes to look put together, this could be a great gift option.
Give him a gift card, and let him decide when he needs a wardrobe update.
13. Costco Membership
Especially if the minimalist man in your life is single and doesn't like to cook, the prepared foods section at Costco could be life-changing. It was for me, anyway: homeschooling, work at home mom who doesn't love to cook.
We've tried all three big box stores – Sam's, BJ's and Costco – and Costco is our favorite for prepared food options.
Related: 25 Easy Costco Dinner Ideas (low prep and fast)
14. Gift Card to His Favorite Restaurant
This one is pretty self-explanatory. Choose his favorite restaurant and grab a gift card – done.
15. Meal Kit Subscription
Does he like to eat at home, but doesn't love prepared foods? Try gifting him a meal kit subscription – minimal, easy cooking involved.
Here are some to choose from:
Every Plate
Hello Fresh
Gobble
Hungry Root
Plus, you can usually get a discount if you're signing up an address for the first time, too.
16. Favorite Recipe with Shelf Stable Ingredients
Does he love to cook? Gift him your favorite go-to recipe with all the shelf-stable ingredients included.
Bonus points if it's a dish with spices or sauces on the rarer side that he might not branch out to try unless they were given to him.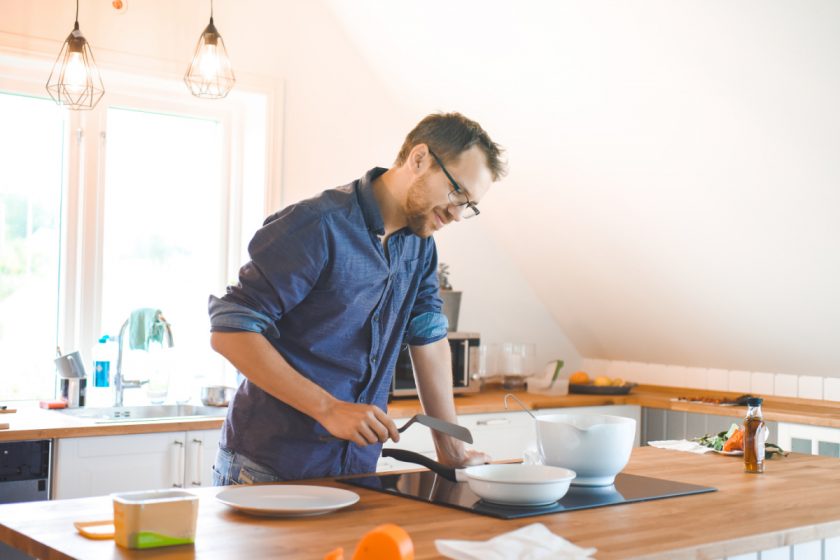 17. Quality Pots and Pans
Sticking with the cooking theme, has he been eying a new set of pots and pans because his are on their last legs? Or just one pot or pan that's high quality and a real workhorse in the kitchen, but definitely a splurge?
A minimalist would much rather receive one high quality gift that he'll use all the time (and love using). Holidays and birthdays are the best time to splurge.
18. Chef's Knife
Last thing with cooking, I promise! If he loves to cook and hasn't replaced his knives in a while, a new knife is probably on his wish list.
Already has great knives? Then a knife sharpener will keep his current knives good for years to come. Any gift that makes things last longer is very minimalist.
19. Coffee Shop Gift Card
Does he love stopping by a favorite coffee shop on the way to work in the morning?
Starbucks, Dunkin, Tim Horton's, or some other local place. Get him a gift card to his favorite.
20. Local Coffee Beans
If he enjoys being adventurous with his coffee selections, give him a special bag of beans that are roasted locally. To be safe, stick to the type of coffee he usually goes for – dark, light (blond), etc.
…Or don't and go out on a limb with something he might not try otherwise.
21. Snack Food Basket
Need I say more? All his favorites snacks in one place, ready for a movie marathon or football game…or to keep him waiting patiently for dinner.
If you don't think he's be able to use a nice basket, put all the snacks in a cardboard box and wrap it up, instead.
22. Quality Bottle of Wine (or Beverage of Choice)
Does he love high quality alcoholic beverages? Get him a bottle of wine he probably wouldn't buy regularly.
I don't know wines, so I can't make suggestions, but here's a current list of the best wines to gift, with lots of options.
Not into wine? Give him his beverage of choice, or the ingredients to make it (margarita's anyone?).
23. Baked Goods
Are you really good at baking? Give him a cake, homemade brownies, or other baked good that's your specialty.
I don't know a guy who would turn down homemade baked goods…unless you're really bad at baking. Then, definitely skip it, or buy something from a local bakery.
24. Grub Hub or Door Dash Gift Card
If your guy lives somewhere that Door Dash or Grub Hub delivers, get him a gift card.
Then he can order whatever he's in the mood for and not be limited to a single restaurant.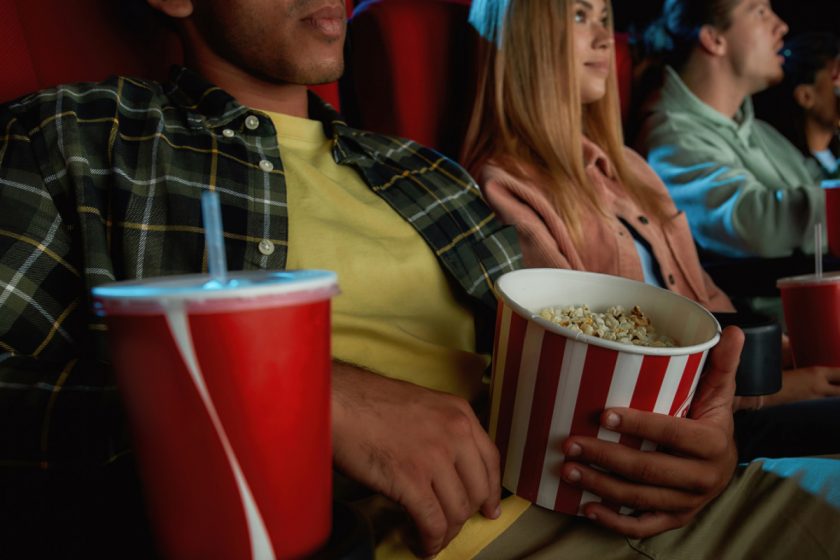 25. Movie Theater Gift Card
Who doesn't like going to the movies? Especially if he's into films that are just meant to be seen in a theatre (hello Marvel and Star Wars).
Get him a gift card to a theater near him. Include a note with the day of the week that's a discount day (typically Tuesdays), to make it last.
26. Hotel Gift Card
Does he love to travel, but doesn't go as often as he wants because of costs? Get him a hotel gift card to a national chain (Marriott is one, off the top of my head) that he'll be able to use in most cities.
27. Gas Station Gift Card
We all know the problems with gas prices at the time of this writing (mid 2022). Maybe we should all just give each other gas gift cards this year.
It's an extremely practical gift any minimalist would probably appreciate.
28. Oil Change Gift Certificate
Oil changes. One of those things you have to do, but no one enjoys paying for when the time comes.
Perfect for practical minimalist men who claim to want nothing for Christmas, birthdays or [insert Hallmark-created, gift-giving holiday here).
29. Car Detailing Gift Certificate
Is he a dad whose kid-trashed car drives him crazy? Or just a guy who really likes having a super clean car?
Get him a gift certificate to have his car detailed. Bonus if it's the kind that gets all the nitty-gritty areas no one thinks to clean regularly.
30. Hobby-Related Gift
Does he have a hobby that wasn't covered earlier in this list? Is he into wood-working or hiking or playing guitar or, I don't know, knitting? (Yes, guys do knit.)
Giving him a gift that's directly related to his hobby would probably mean a lot to him, especially if his love language is gifts.
And hey, as a gal married to a guitar player, I know that you can never have too many picks.
31. A Missing Piece of Their Collection
I am currently missing 5-6 books from two series I'm collecting. Of course, you'd only know that if you lived with me or were a really close friend.
Yes, minimalists can have collections, but they're typically curated to their personal interests and passions. Know your minimalist.
If you know your dad, husband or son has a collection, and you know they are missing a particular piece, this could make a great gift.
You Might Also Like: What to Do With Unwanted Gifts (A Thoughtful Guide)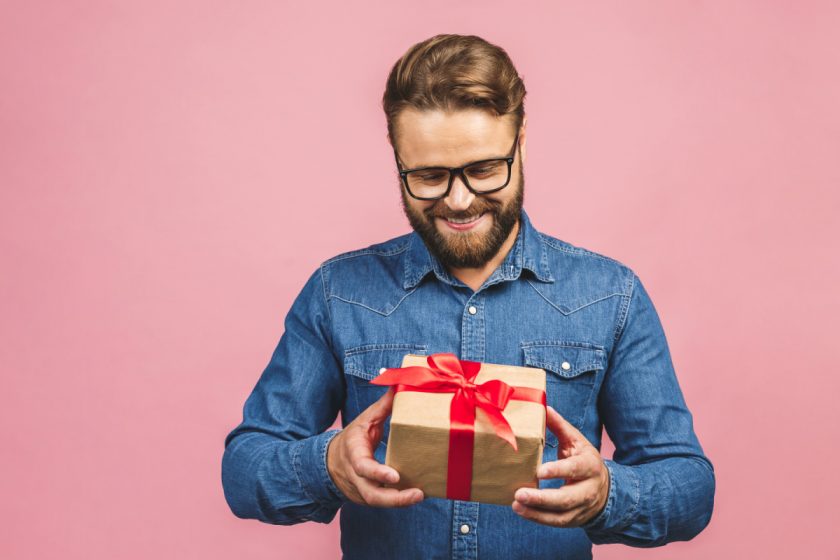 When In Doubt, Stick To His Gift List
I've said the same about minimalist moms, but if you've looked through these ideas, and nothing seems like a good fit, ask for – or check their already made – gift list.
Minimalist guys know what they need and want best, and minimalists don't want more clutter.
Especially if they've taken time to make a gift list and let the loved ones in their life know about it, maybe it's best to choose a gift from that list.
Nothing says love to a minimalist like buying something they have specifically asked for. Because after all, who knows what they truly need (and what they don't need) better than a minimalist?
Read Next: 40+ Practical Gifts for Minimalist Moms (that won't cause anxiety)