Inside: Looking for minimalist gifts for her? This gift guide is full of ideas from a minimalist woman who would be thrilled to receive pretty much anything on this list.
I've been a minimalist for seven years now, and I'm still not a huge fan of any holiday that involves receiving gifts.
Maybe one day I won't hate Christmas? I hope?
I can shop for gifts for other people, no problem. But just the thought of receiving gifts is enough to send my blood pressure through the roof.
Not all gifts are bad, and I love the heart behind gift-giving. But if the person shopping isn't minimalist-savvy, those gifts can easily be clutter.
And that's why I love helping other people come up with gift ideas for the minimalists in their lives that won't make them ugly cry – on the inside, of course – the second they tear off the wrapping paper.
The encouraging news? There are more gift options for minimalist women out there than you think!
Honestly, it could be worse: you could be trying to buy a gift for a minimalist guy. That's a real treat (tell me you can sense the sarcasm).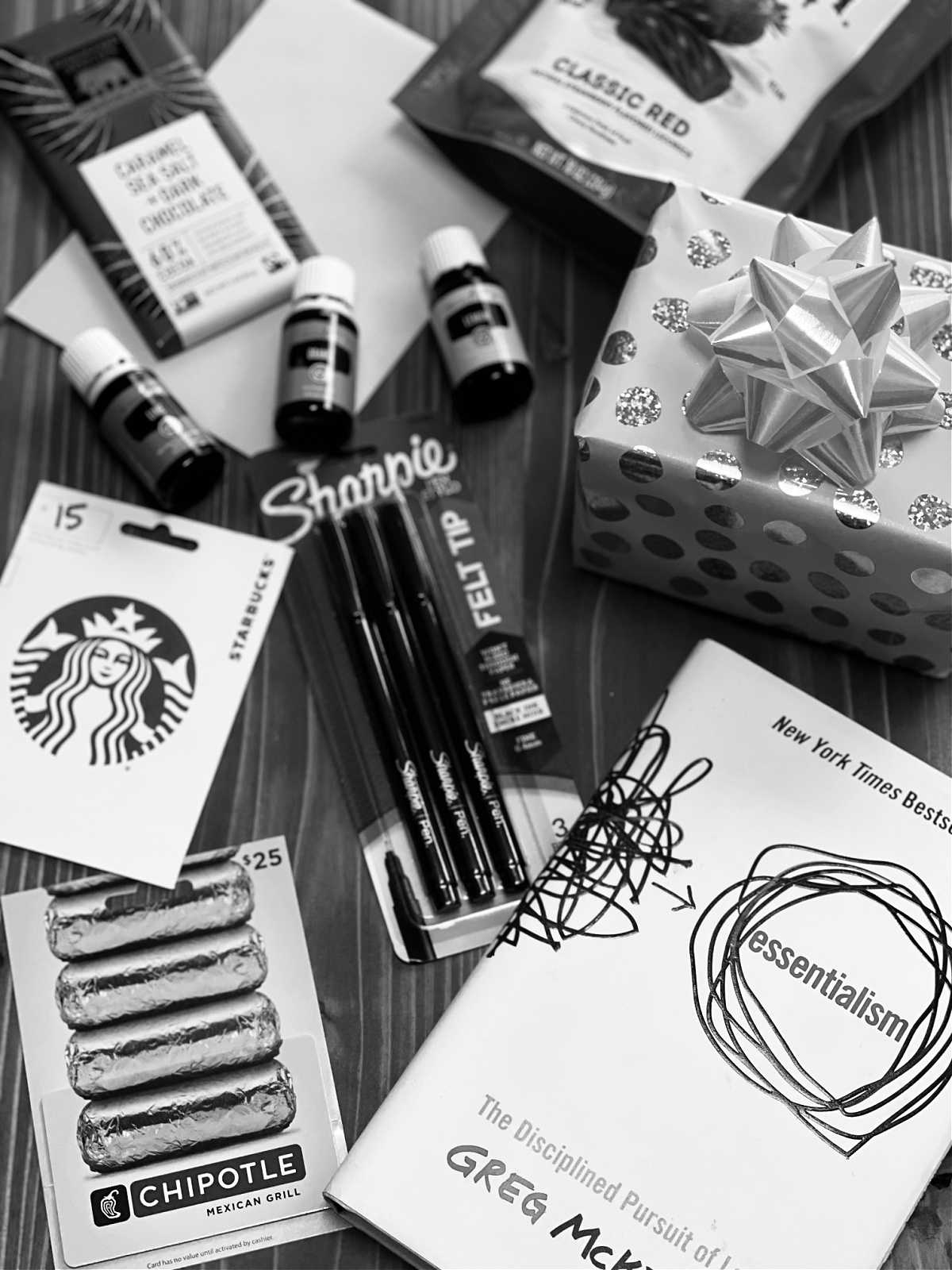 Practical Minimalist Gifts for Her (That She Won't Return ASAP)
This post probably contains affiliate links, which means I may earn a commission if you make a purchase through those links. As an Amazon Associate, I earn from qualifying purchases. You can find our full disclosure HERE.
Here are over forty great gift ideas for the minimalist woman in your life.
Happy shopping!
You Might Also Like: 40 Gifts for Minimalist Moms That Won't Cause Anxiety
1. Something Sweet
I was originally going to put chocolate because what woman doesn't like chocolate? But I guess there are women out there who don't.
So give her quality chocolate (I adore THIS brand) or her favorite sweet, and she'll (probably) be thrilled.
Unless she's on a strict diet or weight loss program…then maybe not so much.
2. Leather Bag
I'm not sure what minimalist woman would turn down a nice leather bag, especially if it's an upgrade from a cheap, imitation leather tote like the one I've been rocking for years.
I've heard THIS brand is amazing.
3. Bag Organizer
Maybe she already has a bag she loves. But is it organized?
If it's a tote bag, THIS insert could work wonders. Or you could give her a couple pretty, zippered pouches to help her get her purse under control.
4. Wallet
If you've noticed that her wallet has seen better days, this is the perfect practical minimalist gift for her.
THIS wallet that comes in every color has so many slots for cards, it's amazing! Mine are always getting lost (ask my kids how long it takes me to hunt for my Costco card).
Plus it has room for cash and/or receipts.
5. Charcuterie Board Basket
Every year for Christmas, someone would give my parents a basket with charcuterie board foods (maybe it was Hickory Farm?).
It seemed quaint at the time, but all of the yummy meats and cheeses were actually super delicious.
Give her a Charcuterie basket to help her make her own board! Any kind of consumable gift is usually a win for minimalists.
You could include things like:
Candied Nuts
Yummy Cheeses
Crackers
Salami
Dips (spinach dip is my favorite!)
Spreads
Olives & Pickles
In Season Fruit
Dried Fruit
The sky's the limit. Check out THIS list of charcuterie board ingredients for more inspiration.
6. Bulbs
Is the minimalist in your life a gardener? Bulbs can make a great gift because they keep right on giving year after year.
I'm not normally a gardener, but I helped my husband plant tulip bulbs from The Netherlands in the fall. When they bloomed this spring, I loved them so much more than I expected!
7. Tree or Shrub
Maybe she already has lots of bulbs in her yard.
Consider getting her a tree or a shrub, instead. Hydrangeas and lilacs are amazing!
8. House Plant
Ok, outdoor gardening isn't her thing, but she likes house plants or wants to get into them?
For beginners, get her something low-maintenance "can survive anywhere" plants like:
Snake Plant (I just bought THESE)
Pothos
Include instructions for watering and sun/shade preferences for the house plant newbie.
9. Bombas Socks
I honestly don't know who could possibly be sad about receiving Bombas socks. I adore my Bombas ankle socks.
I'd steer clear of the no-show socks, though, as I've heard they wear out much faster than the others.
10. Essential Oils
A lot of minimalists are trying to reduce toxins in their homes as much as possible.
I use essential oils in place of candles as much as I can. I also use them on wool dryer balls, for car-sickness relief and to fight anxiety.
If you aren't sure about her scent preferences, stick to fairly common "safe" scents like:
Vanilla
Lemon
Lavender
Lime
Peppermint
If she doesn't have a diffuser, you could get her a diffuser, too. I adore THIS diffuser.
(Obviously, if she's been pretty adamant about "no essential oils for me", thanks, then skip this one.)
11. Wine
If and only if you know she drinks (and drinks responsibly), wine can be a great gift for a minimalist.
Grab her a bottle she normally wouldn't splurge on, or just her usual, go-to favorite.
12. Movie Night Basket
Does she love to watch movies at home? Make her a movie night gift basket.
Be sure to include:
iTunes gift card (to rent a movie)
Candy
Popcorn
Beverage
Any minimalist, movie-loving homebody gal will love this gift.
Bonus: this gift is budget-friendly compared to the alternative (see the next gift idea).
13. Movie Tickets (Movies Gift Card)
She prefers to see the latest and greatest movie in the theater and loves the energy of being out and about?
Grab her a gift card to the movies – enough for a couple movie tickets, plus concessions.
14. Coffee
Yes to all things coffee. If she likes to try new blends, give her a bag of local beans.
Gift her one month of a coffee subscription of some kind. Or just a bag of her favorite beans.
15. Tea
Not a coffee drinker? Got it. Maybe tea is her thing.
Give her a small assortment of teas to try, or just give her a tin of her favorite tea (THIS is mine).
If she doesn't like coffee OR tea, then I don't even know what to tell you.
Maybe a hot chocolate basket? Or just a nice water bottle? Or try another gift on this list.
16. Coffee-Shop Gift Card
She adores getting her coffee or tea out?
Give her a gift card to her favorite coffee shop, so she can grab a beverage on the way to work or while she's running errands completely guilt-free.
(Because we're all being told that giving up our lattes will solve all of our financial problems. Insert: eye roll.)
17. Skincare Products
If she loves Clinique or Beauty Counter or has some other go-to skincare brand, give her a set of her favorite products.
Or maybe she doesn't typically splurge on the fancier stuff (hello, Beauty Counter's night cream), but she would use it if she had it. That would make a great gift!
18. Sephora Gift Card
Even the most extreme minimalist woman probably uses SOME kind of makeup.
Help her stock up on her go-to makeup products with a Sephora gift card.
Related: A Simple Minimalist Make-Up Routine
19. Kindle
Does she love to read, but hates to use the app on her phone? Get her a Kindle Paper White.
The perfect gift for a minimalist bookworm who adores reading, but doesn't love to accumulate physical books.
20. Library Membership
Did you know that you can BUY a library membership? Yes – you can!
Although Brooklyn recently stopped allowing people outside the state to purchase library memberships, there are other counties/cities that do allow it.
The cost is usually around $50.
21. Audiobook Membership
Maybe she prefers audiobooks? Then a great minimalist gift for her would be a membership to Audible.
Keep in mind, though, that if she is an avid reader, a few books a month aren't going to cut it. In that case, go the library membership route, where they don't limit your audiobook consumption.
22. Bullet Journal
Even if she doesn't bullet journal, small, bullet journal style notebooks can be super useful for jotting down grocery lists, to-do lists, or just journaling in general.
Choose one like THIS that's small and portable.
23. Pens
You know what's incredibly annoying? Having a drawful of crappy pens. Stock her drawer with the good stuff, so she can clear out the clutter.
THESE pens are my absolute favorite pens.
24. Clothing Gift Card
Rarely would I say giving a minimalist woman clothing is a good idea (except maybe THESE).
If you know her favorite clothing store, give her a gift card to that store and let her shop in her own time, when she truly needs new clothes.
She probably has a capsule wardrobe, and only she knows what needs replacing and will work with the rest of her closet!
Related: I Tried Not Buying Clothes for a Year – Here's What I Learned
25. Baked Goods
If she has a sweet tooth and you love to bake, a sweet treat would make the perfect gift.
Especially if you're giving at Christmas, who doesn't love Christmas treats they didn't have to make?!
(You could pair it with a bag of her favorite coffee or tin of her favorite tea.)
26. Hobby-Related Gift Card
If she loves to read, but rarely splurges on new books, give her a gift card to Barnes & Nobles. Books are easy to pass along when you're finished with them.
If she's a runner, give her a gift card to a running store. If she loves camping, a gift card to REI would be perfect.
You get the idea.
Minimalists usually adopt relatively inexpensive, clutter-free hobbies. But if she does knit, sew, or some other craft-related hobby, you could her a gift card to Michael's.
27. Car Washes
Car washes are so nice! …but I rarely spend money on them.
If someone gave me five car washes, I would absolutely use them. Especially if she's a fan of pampering her car, this would be perfect.
28. Kitchen Item That Needs Replacing
Has her chef's knife seen better days? Give her a new one (on my to-buy list this Christmas).
Are her non-stick pans chipping? Give her some Green pans.
Especially if you've heard her lamenting needing to replace XYZ kitchen item, get her that.
Related: Minimalist Kitchen Essentials: Just the Basics (According to a Minimalist)
29. Book About Minimalism
I've been a minimalist for seven years. Reading books about minimalism never gets old for me.
THESE are my favorite books on minimalism. If she's read these already, give her a copy of a recent release.
(Bonus: It will make her so happy when she's finished to drop this in a Little Free Library to let someone else discover minimalism for free!)
30. Mani/Pedi Gift Certificate
Very few women will turn down a manicure/pedicure as a gift!
Unless she's a hermit with extreme social anxiety who never leaves the house, this is a very safe gift idea.
31. Hand Cream
Especially if you're shopping for minimalist gifts for her at Christmastime, quality hand cream could be a highly appreciated gift.
I like to keep one by my bed, in my purse and in my car, and I usually am missing one out of three.
32. Etsy Gift Card
Minimalists often enjoy supporting small businesses and buying unique, handmade items.
Let her shop for something unique for her home or wardrobe with an Etsy gift card.
33. Container Store Gift Card
Minimalists might not have a lot of stuff to organizer, but pretty baskets and containers might make her happy?
You know her, I don't: you decide.
34. Subscription Meal Kit
Has she been wanting to try a subscription meal kit? Give her your personal favorite or ask for recommendations from friends.
Personally, I would go with Hello Fresh or Blue Apron if she likes fancier, more gourmet meals (or she's up for trying).
If she just prefers straightforward basics with only a little twist, Every Plate would be more up her alley.
Related: The Best Gifts for Older Parents Who Have Everything (or Seem To, Anyway)
35. Hand Soap
I would never turn down nice hand soap for our bathrooms! We go through soap like crazy as a family of 7 who are home all day.
Dr. Bronner's peppermint hand soap or JR Watkins foaming hand soap are both non-toxic brands that smell amazing and look great.
We love Mrs. Meyer's hand soap, but I can't say for sure it's non-toxic.
36. Music Streaming Service (or gift card)
If she loves music, but doesn't want to buy specific albums or songs, you could give her Pandora Premium or something like it.
If she prefers to buy whole albums or songs one-by-one, an iTunes gift card would be perfect.
You could pair this with new earbuds if that's something she's needing/wanting.
37. Show or Concert Tickets
Are in-person music events more her thing? Consider giving her some kind of in-person show tickets.
That could be concert tickets (Taylor Swift, anyone?), a Broadway show or something quieter like a classical concerto.
This is very much a "know your minimalist" type of gift. Steer clear of this one unless you're sure she'll love it.
38. Favorite Restaurant Gift Card
This one is pretty straightforward: give her a gift card to her favorite restaurant.
Sit-down or fast food – or both!
Related: 30 Experience Gifts for Mom (Because She Doesn't Need Another Mug)
39. Bed Sheets
Especially if it's been awhile since she's replaced her sheets (and they weren't amazing to begin with), upgrade her sheets by giving her a set that will last.
Having fresh sheets is an amazing feeling. Plus, if her old sheets are in decent shape, she can always donate the old ones to a homeless shelter or animal shelter.
40. Bed Pillows
When was the last time you replaced your pillows? Can't remember? Yeah, same.
Odds are she would appreciate new pillows, too.
40. Cash
You really can't go wrong with cash! This is a 100% fail-proof minimalist gift for her.
Give her a card that will make her laugh or smile: be sure to personalize.
41. Donation in Her Name
For the minimalist woman who truly wants nothing (not even money!), a donation in her name to a favorite charity could make the perfect gift.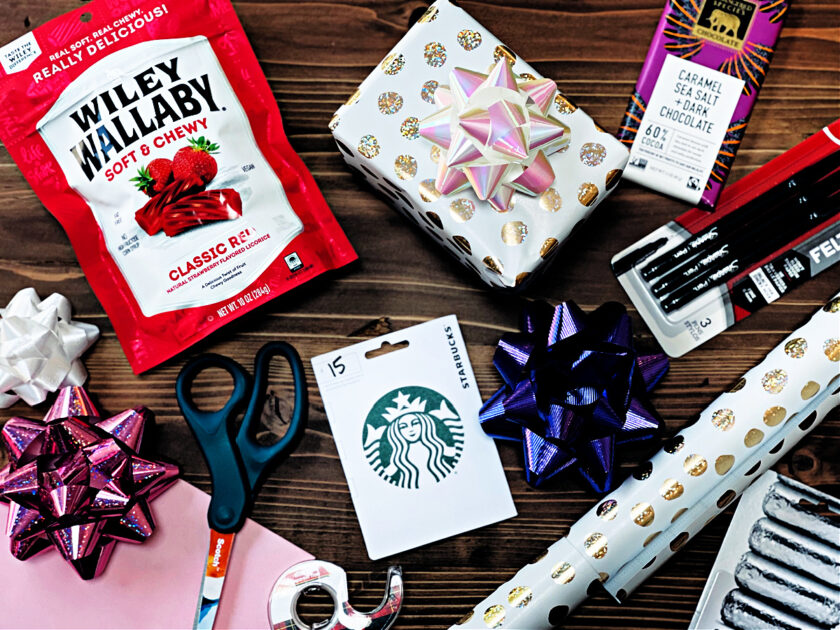 If You're Not Sure, Give Her Something She's Already Asked For
You've looked through this entire gift guide and still aren't sure? There's one foolproof minimalist gift: something she's asked for.
If she's dropped subtle – or not so subtle hints – about something she's been wanting, follow her lead.
If she's talked about needing to replace something in her home, a replacement would make the perfect minimalist gift for her.
If she made a wish list of some kind, definitely stick to the list, unless everything is out of your price range, then choose a budget item from this list, instead.
Here's to whatever gift you choose being well-received! But if for whatever reason you didn't nail it…
P.S. Always, always, ALWAYS include a gift receipt. Especially when you're shopping for a minimalist. 😉
Do you have more minimalist gift ideas for her? Share in the comments, and I'll add them to the list!