Inside: See what's in my minimalist makeup bag and my 5-minute minimalist makeup routine. Use 5 questions to create your own minimalist makeup routine to save time, space and money.
When I started researching for this post, I typed "minimalist makeup" into Google. Can you guess what I found first?
I was instantly bombarded by multiple supposedly "minimalist" makeup products in the top search results. What amused me was that those brands specifically targeted the term "minimalist" as it applies to makeup.
Minimalism is trendy right now, and everyone wants a piece of the pie, even if they have no idea what minimalism is really all about in the first place.
I hope that when you click away from reading this article, your major takeaway is that minimalist makeup is in no way about the kind of products you choose to use or even how much makeup you use.
(Well I mean, if you have dozens and dozens of unused makeup products clogging up your bathroom, it kind of is about that then.)
Just like minimalist decor rarely equals modern-looking furniture and bare white walls, minimalist makeup isn't any one brand, product or look.
It's about living intentionally, and the truth so many are finding these days in our culture of extreme excess: that less is almost always more.
And life with less makeup? It's pretty awesome.
Related: What Exactly IS Minimalism? Common Misconceptions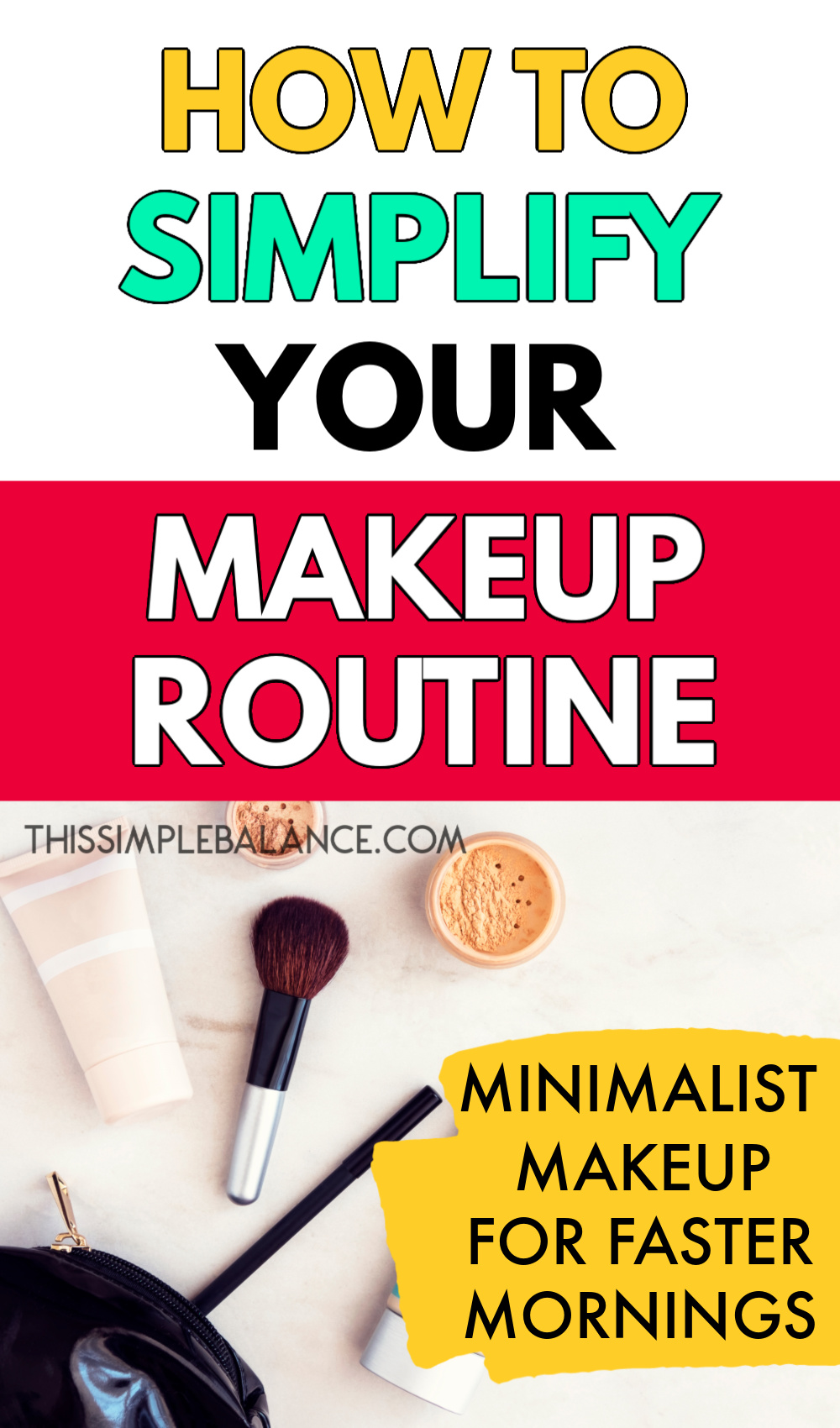 Minimalist Makeup: Why I Chose to Simplify My Collection
THIS POST PROBABLY CONTAINS AFFILIATE LINKS. AS AN AMAZON ASSOCIATE, I EARN FROM QUALIFYING PURCHASES. YOU CAN READ OUR FULL DISCLOSURE POLICY HERE.
First, I"ll be completely honest: I'm no makeup guru. This isn't the story of a recovering makeup addict getting rid of drawers and drawers worth of products.
I've never been a big makeup girl, but somehow I still managed to collect a fair amount of random makeup products, mostly through freebies or random purchases.
It's only been as I've reached my mid-thirties that I've really tried to create a makeup routine of any kind, let alone a minimalist makeup routine.
After my fifth baby was born, I hit a low with postpartum depression and how I felt about my looks. It's taken me longer to bounce back after this little gal, and I decided that upping my makeup game might help me feel better somehow.
I thought I needed foundation – 2 to get the proper blend of color – to cover the brown spots on my face, an unfortunate byproduct of pregnancy, and the splotchy areas from spending too much time in the sun with my kids that summer (without a hat – sigh).
I thought it needed more makeup to achieve the uniform, flawless faces I saw on magazines.
Not only did I buy foundation and under eye concealer, but I bought new, time-consuming to apply eye shadow AND lip gloss AND eyeliner.
For a while, it helped. It made me feel better to have more makeup on.
But eventually I started to resent how much time makeup stole from my mornings.
So, I came up with a solution: put away ALL the makeup. Then add back in what I truly missed, one at a time until it felt like the right amount of makeup for me.
Things that I never missed? I decided to keep two products for special occasions and tossed the rest.
At the end of my experiment, only a few essentials ended up back in my minimalist makeup bag.
Why Establish a Minimalist Makeup Routine?
1. Time
Mornings can be tough for busy moms. Instead of using 25-30 minutes applying makeup, you could be spending those 25-30 minutes:
reading a book,
praying or meditating,
enjoying an entire cup of actually hot coffee in one sitting
exercising
And goodness knows what else.
Whatever refreshes you, you could be spending the time you spend putting on makeup doing THAT instead.
Then on the back end, the more makeup you apply, the longer it takes to remove at the end of the day. It steals your time on both ends of the day!
Following a minimalist makeup routine can cut that time down to 5 minutes or less a day on applying makeup AND taking it off.
2. Money
A new survey from Skin Store of more than 3,000 women found that the average woman in the US spends around $300,000 on makeup in her lifetime. (source)
Yikes! I don't know about you, but I don't have hundreds of dollars a year to spend on makeup, and I have about a billion things I'd rather spend $300,000 on.
Save a ton by cutting down your collection to the true essentials, the things you truly love and use daily. Then you only need to replace those moving forward as opposed to trying new products all the time.
3. Values
A minimalist life is a values-based life.
Personally, I value freedom and simplicity. A minimalist makeup routine fits my values.
It's quick, inexpensive and doesn't take up much space.
Your values might be different – family, fun, adventure.
Whatever your values are, establishing a minimalist makeup routine will give you confidence that the time and money you do chose to spend will be spent intentionally, not mindlessly.
Curious what your core values are? Read this book for more guidance.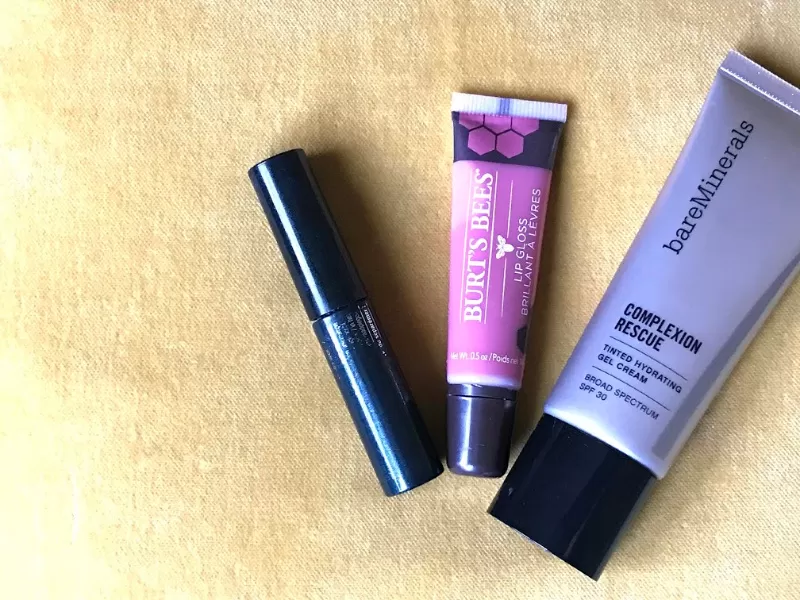 What's in My Minimalist Makeup Bag?
My little experiment, plus reading this book last year, caused me to seriously contemplate whether or not I should ditch makeup altogether.
Author Elizabeth Thames explains how she finally ditched makeup completely for the sake of frugality, time and because she valued financial independence more than the money she would otherwise be spending on makeup.
Funnily enough, she gave up makeup while still working full-time in a large office, and get this: NO ONE NOTICED.
No one asked her about it. No one cared.
I was so tempted to do the same.
BUT…
I realized that having a few makeup basics does make me feel put together.
And as a mom home all day surrounded by kids, it's nice to feel like you could see another adult that day (maybe – possibly) and actually feel like an adult, too.
These are the few items that ended up back in my minimalist makeup bag and are part of my daily minimalist makeup routine:
(I apply them in the order listed.)
Bare Essentials Tinted Moisturizer
Update: Last summer, in an effort to find a non-toxic brand, I tried Beauty Counter's Dew Skin Tinted Moisturizer, and I'm a huge fan! It's replaced this item in my collection.
I recently discovered Bare Essentials Complexion Rescue Tinted Moisturizer, and I am a huge fan!
It glides on smoothly and is just the right amount of coverage. This stuff is so effective, I even ditched under-eye concealer.
It's dewy and doesn't make you look like you're wearing makeup (something I personally don't love on my own face). Plus, it has SPF 30 mixed in.
I still apply regular moisturizer before I apply the tinted Moisturizer.
With any foundation or tinted moisturizer, make sure to go to the store to figure out your shade. But after that, almost anything can be found be found on Amazon.
It so happened that the day I went to Sephora, they were out of my shade (Birch – 1.5), so I ordered it HERE. Most of the shades you can find at a significant discount on Amazon.
Here is a video demonstration:
Burt's Bees Lip Balm & Lip Shine
I purchased a lip gloss at Clinique last summer on my PPD shopping binge, but Burt's Bees Lip Shine is so much easier to apply, plus it's cheaper!
I love the combination and use them every single day. I use the "Lily Dip" shade (015), similar to "Blush".
Cover Girl Lash Blast Mascara
Update: I recently switched to Beauty Counter's Volumizing Mascara. I'm pretty indifferent to the switch, but I'll stick with it because it's non-toxic.
I'm currently finishing up a mascara sample (again: the Clinique shopping spree episode). But when it's used up, I plan on returning to this Covergirl mascara that I've used in the past and it got the job done.
It's inexpensive and doesn't clump. That's pretty much all I'm looking for in a mascara.
Makeup I Keep for Special Occasions Only:
That's it. Not a lot, I know.
But two of my core values are simplicity and freedom.
I didn't love how much time makeup was taking from my mornings – it cramped my freedom for slower mornings. I also didn't love the complexity of layered eyeshadows or even unscrewing a cap to said eyeshadow (maybe I'm just lazy?).
If my minimalist makeup collection feels extreme, yours doesn't have to be!
Use these questions to declutter your makeup and create your own minimalist makeup collection and minimalist makeup routine.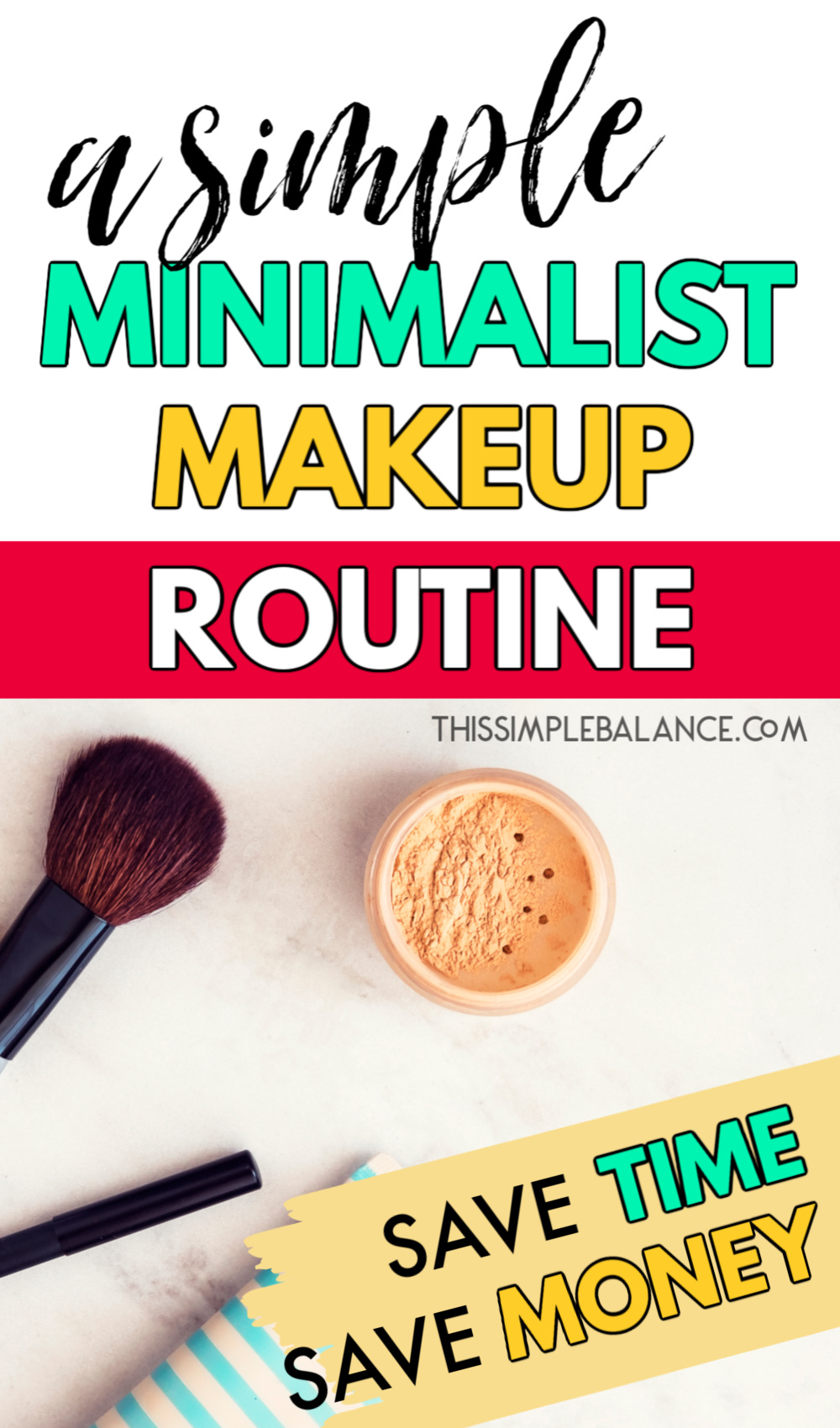 Minimalist Makeup: Declutter Your Collection with 5 Simple Questions
1. Do you have expired makeup?
Makeup shouldn't be used longer than 6 months. If it's expired, toss it.
If you can't remember when you bought it, it was so long ago? Double toss it.
Moving forward, apply a small piece of masking tape to your products and write the date you opened it.
Related: Where to Start Decluttering When You're Too Overwhelmed to Start
2. How much money did you spend on my current makeup collection?
A product here. A product there.
It doesn't seem like a lot until you look at the entirety of it, and add up how much you spend on makeup altogether.
Is that really what you want to be spending your money on?
Sometimes, decluttering is worth it just because it stops the cycle. Clutter attracts clutter.
When you get rid of excess and realize just how much money you wasted on things you rarely use, you stop the mindless consumption in its tracks.
Be wary of keeping things simply because you spent a lot of money on it. Keeping that makeup won't fix the fact that you wasted money on something you never use.
In fact, it's a constant reminder to you of that mistake. So cut your losses and declutter the things you never use. Giving it away and seeing the wastefulness of it all should deter you from impulsive expensive purchases.
Related: 15 Things You Need to Stop Buying (Because You Already Have Enough)
3. Do you truly enjoy having makeup variety?
An extreme minimalist makeup collection isn't for everyone.
I listened to this podcast about capsule wardrobes and learned that the podcaster – a supposed minimalist "expert" – did not have a true capsule wardrobe.
She tried an extreme capsule wardrobe for a while. But eventually she realized that she truly missed the joy she used to have getting dressed in the mornings, back when she had more variety in her wardrobe.
So guess what? She bought some more clothes. She added back in variety.
That's why I recommend putting everything away (instead of throwing away things right away) and slowly adding back in what you truly miss.
Your minimalist makeup bag doesn't need to look like mine.
4. How much time does it take to put on your makeup?
Time yourself in the morning. How long does it take you to apply your makeup?
Do you love spending your time that way?
Do you experiment with your makeup every morning, taking forward to be satisfied with the final product?
A minimalist makeup routine, applying the same products in the same order every single day saves time AND can reduce decision fatigue.
5. What do you truly miss?
I challenge you to do my experiment. Throw away the expired makeup first, and then add back in only what you go looking for.
When you reach for something that isn't there, or you look in the mirror and truly miss how your foundation made you look and feel? Then you know you truly love it, use it, and need it.
That's how you know an item truly deserves a place in your minimalist makeup collection.
After 30 Days, keep a few things for special occasions and get rid of the rest.
(Buy/Nothing groups can be a great place to give things away for free, including used makeup.)
A Final Word About Minimalist Makeup
Before you run off to declutter your makeup, I'll leave you with a final question to ask yourself.
Why do you wear makeup? Is it for you?
Or is it for your husband. Or your coworkers. Or the magazines that tell you you need it to be beautiful.
Or for the Instagram comparison game.
Or to cover up low self-esteem.
Why?
Answering this simple question may lead you to ditch makeup altogether like Elizabeth Thames, or it could make you aware of how much you truly enjoy makeup.
Either way, your relationship with makeup moving forward will be intentional, every makeup purchase purposeful.
Then you can spend the rest of your time and money on what truly matters to you, which is what minimalist makeup is really all about.
Do you have a minimalist makeup routine? What's in your minimalist makeup bag? Share in the comments!
Read Next: A Simple Morning Routine for Moms Who Can't Wake Up Early