Inside: Shopping for a minimalist birthday or Christmas gift for a toddler can feel SUPER daunting in a world full of too many options and whole lotta plastic. Cut through the chaos with this list of 25+ minimalist gifts for 1-year-olds – a mix of experiences, consumables and open-ended toys.
I have five kids. Most of their first birthdays are blurs…except for my oldest's.
It was ridiculously simple.
We bought her a single bakery cupcake with Elmo frosting on top. I don't remember getting her a gift, and I wasn't even a minimalist at that point.
She made a royal mess of the cupcake in her high chair with a great big grin on her face. She clearly loved it.
One-year-old's don't need a lot to be happy in life.
But when you're invited to a 1-year-old's birthday party, or you're heading to a family gathering to exchange Christmas gifts, it can feel strange not to bring a gift.
Even if you know the parents are minimalists.
Hopefully this list can help you find a gift you love to give that will be well-received by said 1-year-old…but really, if we're being honest, by that 1-year-old's parents.
You Might Also Like: 10 Timeless Christmas Gifts for Kids Under 8 Years Old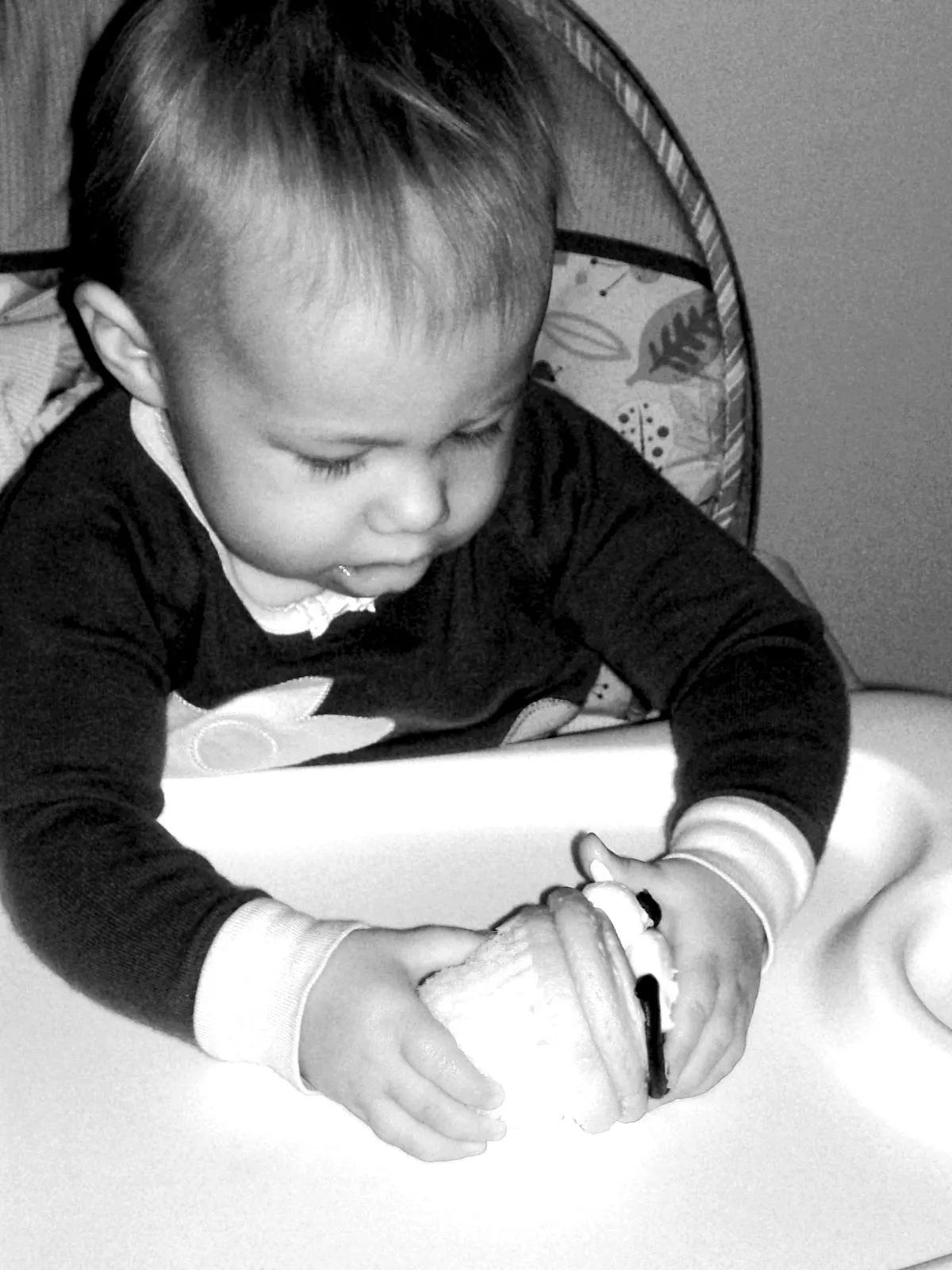 27 Minimalist Gifts for 1-Year-Olds: Experiences, Consumables, and Open-Ended Toys
This post probably contains affiliate links, which means I may earn a commission if you make a purchase through those links. As an Amazon Associate, I earn from qualifying purchases. You can find our full disclosure HERE.
I'm a minimalist mom that's pretty picky when it comes to gifts for my littles (before they're aware enough to even ask for anything). With five kids, I kind of have to be: we only have so much space.
I still managed to come up with a list of over 25 gifts I wouldn't mind my 1-year-old receiving. There's actually quite a few options, and I did my best to stick to useful and long-lasting gift ideas.
I hope this list of ideas helps you find the perfect clutter-free gift for the 1-year-old in your life!
Only caveat: if the parents have already made a no gifts request, try your best to honor that.
(Still want to bring a gift, anyway? Stick to the experience or consumable gift options.)
You Might Also Like: The Best Minimalist Toys for Hours of Happy Play
1. Children's Museum Membership
If the primary caregiver is a stay-at-home parent, a children's museum membership can be a true life-saver, especially if they live in an area with long winters.
Yes, many exhibits are geared toward older children, but there is usually at least one or two sections dedicated to toddlers.
2. Zoo or Aquarium Membership
Zoos and aquariums are super fun experiences for both kids and adults. Giving a gift that both the parents and the 1-year-old will appreciate is sure to be a hit!
To make it fun for the 1-year-old, print out a picture of animals, put it in a box with the membership and wrap it up.
Again, the unwrapping is the best part for this age.
3. 529 Plan or Contribution
At this age, the child could really care less about how many or what gifts they get or don't get.
Therefore, this birthday or Christmas is the perfect time to either open a 529 plan in their name OR make a gift contribution to an existing 529 plan.
It turns out anyone – friend or relative – can open a 529 plan for a child and make contributions. It's never too early to start saving up for future education!
4. Large Cardboard Box (With Markers)
Parents joke (kind of?) that they give their kids so many gifts for Christmas, and they end up playing with the cardboard boxes that held the gifts.
Especially for a 1-year-old, just give them a big ol' cardboard box (with washable markers)! Yes, really.
After they unwrap it, plop them inside the box and let them doodle away.
An hour of contained, quiet self-play = best gift ever.
5. Favorite Snack
Does the 1-year-old in your life have a favorite snack? Here are some ideas…
Smoothie Melts
Cheerios – Honey Nut or Plain
Puffs (If They're Still Into Them)
As long as you wrap it up and they get to unwrap it, they'll love it!
6. Favorite Treat
Make sure to clear this with the parent first, especially if you know the family is avoiding a lot of sugar.
For this age, you could give freeze-dried fruit, cookies or muffins.
You could even give a single bakery cupcake with pretty frosting? But only if the parents are cool with it.
Related: 27 Minimalist Gifts for Kids (Not Just Experiences) 
7. Balance Bike
Outdoor toys for one-year-olds can be amazing for both you and your toddler's mental health.
As young as 15-18 months, depending on the toddler, kiddos can start learning how to use a bike.
My advice? Skip the trikes and go right to a balance bike.
Because we put three of our kids on these as young as 15-18 months, they were all able to transition straight to a regular bike WITHOUT training wheels.
Where was this when our oldest was one?!
8. Camelbak Water Bottle
We adore kid-sized camelbak water bottles. They're pretty and super long-lasting! You just need to replace the mouth-piece every so often.
You could give a water bottle with replacement mouthpieces for later.
9. Blocks
Blocks are one of the best open-ended toys for all ages. For 1-year-old's, you could give one of the following:
I'd love to enthusiastically endorse Duplos for this age because they last such a long time, BUT they aren't the best for kids who love to put everything in their mouths (one of my toddlers tested it once: not good, almost couldn't get it out).
Also, I intentionally did not include Mega Blocks as kids grow out of them super fast.
10. Ball
You know those really cheap, small bouncy balls you see in the grocery store for $1.99? It's the perfect gift for a 1-year-old!
(As long as it wasn't already part of their minimalist baby toy collection.)
My kids – the boys, in particular (stereotypical, I know) – would play with a single ball for hours when they were little.
Bounce it. Roll it across the floor. Toss it. So many options.
My youngest two kids STILL beg for these at the grocery store every week, even though we already have one.
11. Bubbles (OR a Bubble Machine)
What 1-year-old doesn't love bubbles?! And what parent doesn't love not having to constantly blow them?
THIS bubble machine gets super high ratings. Make sure to include a large container of bubble mix.
Want to give a strictly consumable gift? Just give the bubbles.
12. Tunnel
Tunnels are so much fun for this age group! They can lay inside them, crawl through them and just hide for a while.
They're also great for small spaces because they're collapsible and take up very little space to store.
13. Soft Doll
Soft baby dolls make great gifts for 1-year-olds, no matter their gender.
We've had a good experience with THIS doll. Only complaint? The magnetic pacifier gets misplaced often, with no replacement option (it's MIA at the time of this writing).
14. Non-Toxic Bath Crayons
As long as said 1-year-old is past the chewing on everything phase, non-toxic bath crayons are a great minimalist gift idea! Almost any consumable gift is, really.
And you KNOW any toddler is going to love being given permission to draw in the bathtub.
15. Mess-Free Coloring Book
One-year-olds are a little bit too young for water painting books, which are great consumable gifts.
But THESE mess-free coloring books from Crayola are a variation that's perfect for 1-year-olds!
If you aren't familiar with them, the pictures come pre-colored (you can't see the colors), and the clear marker activates the color on the pages.
It will keep them busy for a long time! Plus, you can discard the book when all the pages are complete.
16. Stacking Cups
What I love most about stacking cups is that they are a super versatile toy.
You can stack them, take them in bath, play with them at a water table, fill them with pom poms or beans (when they're ready for sensory-play activities).
Any toy that can be played with in multiple ways counts as a minimalist toy in my book!
You could make it a consumable gift by giving colorful one-time use cups. It's not the most eco-friendly gift, but it might make a minimalist mom happy?
17. Green Toys Cars
Cars and trucks like THIS set from Green Toys are the perfect size for 1-year-olds. Plus, they're made of 100% recycled materials AND produced in the US (if that matters to you).
They can play with them around the house, at the park, or in water or sand.
18. Board Books
Even if the minimalist parents aren't into creating a massive family library, toddlers are very hard on books (signed: the mom of a former book-ripper).
Plus, books are pretty easy to give away or discard when you're done with them.
Here are a few titles we've loved over the years:
For more ideas, see THIS post with 40 awesome board books for 1-year-olds.
19. Lake or Pool Pass
Does the 1-year-old in your life live close to a pool or lake, but you need to buy a summer family pass of some kind?
This makes a great gift! Sand + water + toddler = awesomeness.
(If they don't already have a water vest, you could give that with the pass).
20. Toy Phone
Since smart phones have become so normal, every 1-year-old I've ever seen has grabbed for their parent's phone! Why not give them their own toy phone?
Only catch: keep it as simple as you can, which is a challenge today.
THIS relatively simple toy phone from B. toys gets pretty good reviews. Ironically, the biggest complaint is it's not loud enough (these parents must have only one child, I swear).
21. Hats
This would be a super fun and inexpensive gift for a 1-year-old! Just go to the closest thrift store and get a couple hats.
Start their minimalist dress-up collection early with versatile pieces.
22. Play Silks
Speaking of dress-up, play silks are one "toy" that has gotten so much use in our home!
Children use them to cover up toys, have picnics for their stuffed animals, play peek-a-boo, wear them as skirts and so much more.
Bonus Tip: You could even use these to wrap another consumable gift on this list.
23. Bucket & Shovel
A sturdy bucket and shovel will get a TON of use! They can fill them with water, sand, grass, rocks or just about anything else outside.
The cheap plastic ones break way too easily, so try to invest in a durable, quality set like THIS one (also from Green Toys.
It's made with recycled milk containers, and gets great reviews!
24. Water Table
These tables are great for outdoor play! Toddlers will play with water for hours.
Note to Parents or Grandparents: You can often find these second-hand on Facebook Marketplace or Offer Up. Nothing wrong with a second-hand gift, especially for a 1-year-old!
25. Balance Board
We bought a balance board for our kids a few Christmases ago, and it's gotten a LOT of use.
For 1-year-old's, it's fun to use upside down or on its side. As they get older, they can use it in the "rocking" position.
26. Push Bike
If they aren't quite ready for a balance bike, grab a push bike, instead.
The parent can get some exercise walking while the 1-year-old is a little more entertained than they would be in a regular stroller.
27. Roll of Drawing Paper
A simple roll of drawing paper could be a great 1-year-old gift.
During long, long winters, we used to lay out a long piece on the floor for them to go crazy with.
Make sure to include some non-toxic chunky crayons.
You Might Also Like: 35 Activities for Kids to Do At Home (for when you're out of ideas)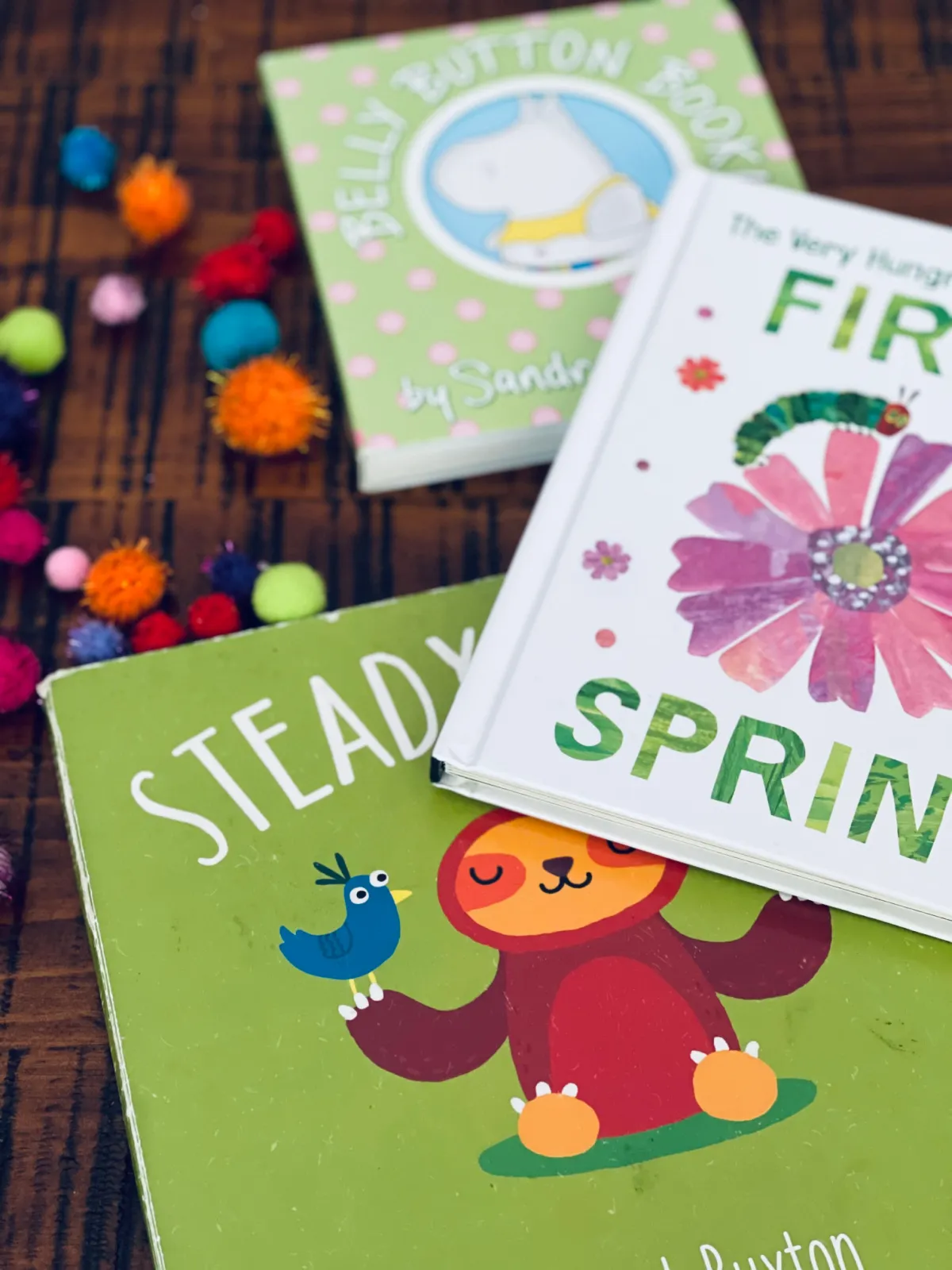 If You Have to Buy a 1-Year-Old a Gift, Keep It Simple
I feel compelled to reiterate: no 1-year-old needs a gift.
Especially if you're a new parent, maybe consider put off the gift-buying stuff for a year? You'll have years and years of buying gifts ahead of you.
But if you must buy a gift, keep it simple. One gift is more than enough.
Read Next: Small Gift Ideas for Kids That Aren't Junk ($20 or Less)
Do you have ideas for minimalist gifts for a 1-year-old? Share them in the comments!