Inside: Sharing our unschooling ideas for the upcoming "school year", unschooling five kids in 8th, 6th, 4th, 1st, and Pre-K. Read on for resources, thoughts and tentative plans as we enter our ninth year homeschooling (or 14th? my oldest will be 14 in October – you tell me).
Have you ever read or seen the analogy of filling a jar with rocks and sand? It's about prioritizing time and fitting everything in, and it came to mind as I was thinking about this upcoming year.
If you haven't seen it, imagine there are three piles on a table in front of you: medium-sized rocks, pebbles and sand.
There is also a large glass jar and a pitcher of water.
If you try to put the pebbles and the sand in the jar first, you won't be able to fit the larger rocks or the water. Only when you put the biggest rocks in the jar first, then the pebbles, sand and water, does everything else fit.
This year, I need to deliberately shift what I consider to be the "biggest" rocks.
They aren't what I would have chosen, but for all of us to thrive this year, I knew I needed to embrace our current reality.
You Might Also Like: 11 Ways to Recover from Homeschool Burnout (That Actually Work)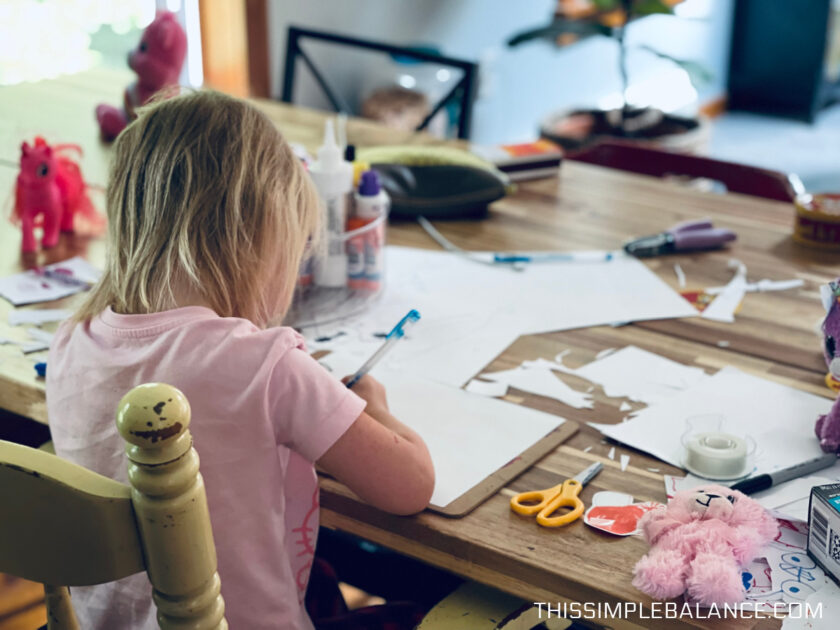 Shifting Family Dynamics Change What Unschooling Looks Like
This post probably contains affiliate links, which means I may earn a commission if you make a purchase through those links. As an Amazon Associate, I earn from qualifying purchases. You can find our full disclosure HERE.
My 4-year-old, who also happens to be my youngest, needs a LOT of activity and engagement. Her preference is go go go all.the.time.
Solitary pretend play? "NOOOOOO!"
It's FAR from her favorite thing.
For a long time, I resisted her need to be out and about or be offered constant activities at home. And we all suffered from me not adjusting our homeschool schedule to prioritize her needs.
We would try to read aloud, and she would interrupt frequently. Board games? Same thing.
Interruptions are my kryptonite: they drive me CRAZY.
She also has started asking about school. And while it would be fine if she decided to go later on, I wanted to attempt to meet her needs at home first, and that meant I needed to shift my focus and adjust my priorities.
So reluctantly, I decided that the biggest "rocks" this year needed to be my 4-year-old's activities, which include my 7-year-old as well a lot of the time.
We'll be out of the house far more often than I would prefer – story hour, museums, park outings, etc. But that's what she needs, and we are ALL much happier when her needs are met first.
My work will take a back seat this year. And things like chapter book read-alouds and board games are still happening…just less frequently because I only have so much time and energy, ya know?
Also, my oldest three are pretty good at pursuing their interests independently. They still need me, but far less than they used to.
You Might Also Like: Unschooling Resources & Plans for 2022-2023 (7th, 5th, 3rd, & K)
Unschooling Ideas for 2023-2024 (Grades 8, 6, 4, 1 and Pre-K)
Before I dive in, why do I even include grade levels? It's not a very unschooling thing to do, after all, but this is a very intentional decision on my part.
While grade levels don't really matter to me, for better or for worse, they are how our state, our country and the world at large tracks childhood.
For us unschooling parents, it's easy to say "pish posh, grades don't matter at all – they're made up!" Cool…but that doesn't help our child feel more comfortable in a world where grade levels are everything and everywhere.
My kids have felt very unsure about their grade level in social settings with peers or at the doctor/dentist. Especially for my kids who have anxiety, knowing their "grade level" every year has really helped to reduce their anxiety.
Finally, it can really help those new to unschooling get a glimpse of what life and learning looks like for a kid in XYZ grade level. And it also gives some context for new readers who want to go back and read my plans over the years.
Again, this is just one unschooling home. Unschooling looks so SO different depending on the family, especially if you're unschooling with a big family!
Please don't use this as a comparison sheet, but gather inspiration and ideas for your own unschooling situation.
With that out of the way, let's dive into all the unschooling ideas.
Related: Unschooling vs. Homeschooling – What's the Difference?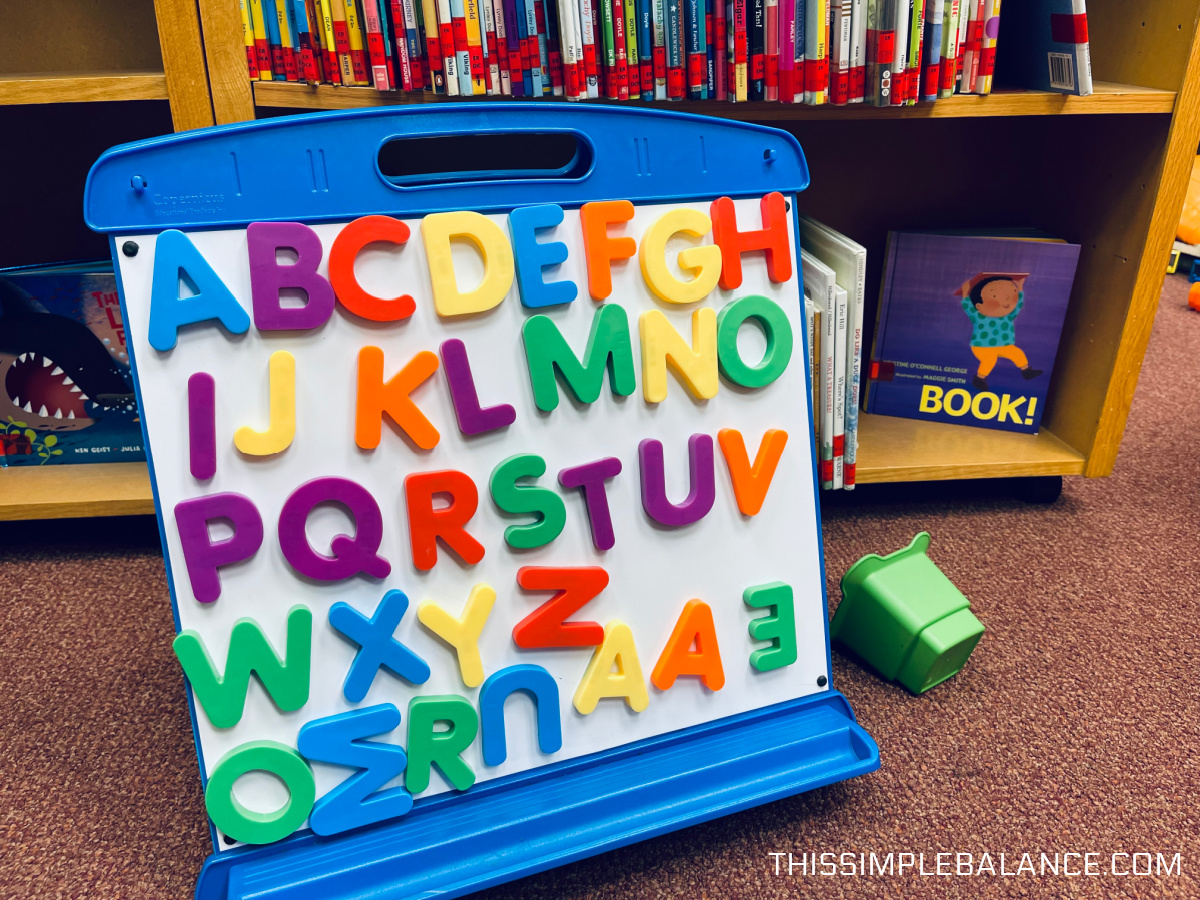 1. Library
We are at the library A LOT. I take my Pre-K kiddo to library story hour once a week, and I take both my first grader and my Pre-Ker a different day of the week to play and write stories.
My first grader loves writing! Initially, he would type out the words as I spelled them. But now, he dictates, and I scribe while he watches.
He has written nine "chapters" in a story about the adventures of himself and two squirrels we see regularly in our yard (affectionately dubbed "Chunky" and "Smarty").
His goal is 75 chapters, and he adores sharing the story with the librarians every week.
They even created a binder to keep a print out of every chapter at the library AND they gave it a call number! Talk about supportive.
Last, but not least, my oldest is participating in a monthly LGBTQ meet-up for teens at the library.
2. Foreign Languages
In the 2021-2022 school year, we purchased DuoLingo Pro, which enables you to learn on the app as much as you want (on the free version, after 5 errors, you're locked out for the day).
Two of my kids used it regularly that year. The feature they loved most on DuoLingo Pro was audio lessons, which was conversational learning and pronunciation practice.
We were planning to sign up again for Duolingo Pro this year, but guess what wasn't there? Yep, the audio lessons.
They were so disappointed that they didn't want to get Pro this year. So we are using the Duolingo free version to practice/learn French (8th grader) and Dutch (4th grader and 1st grader), respectively.
I've actually found language learning to be a great way to practice reading with my 1st grader! He is now recognizing more sight words like "the", "and" and "of" effortlessly.
We are going to give TalkBox.Mom a try for French, which focuses on useful and conversational language learning. I plan on speaking it with at least my 8th grader and my Pre-Ker.
I will be sure to write a review once we try it.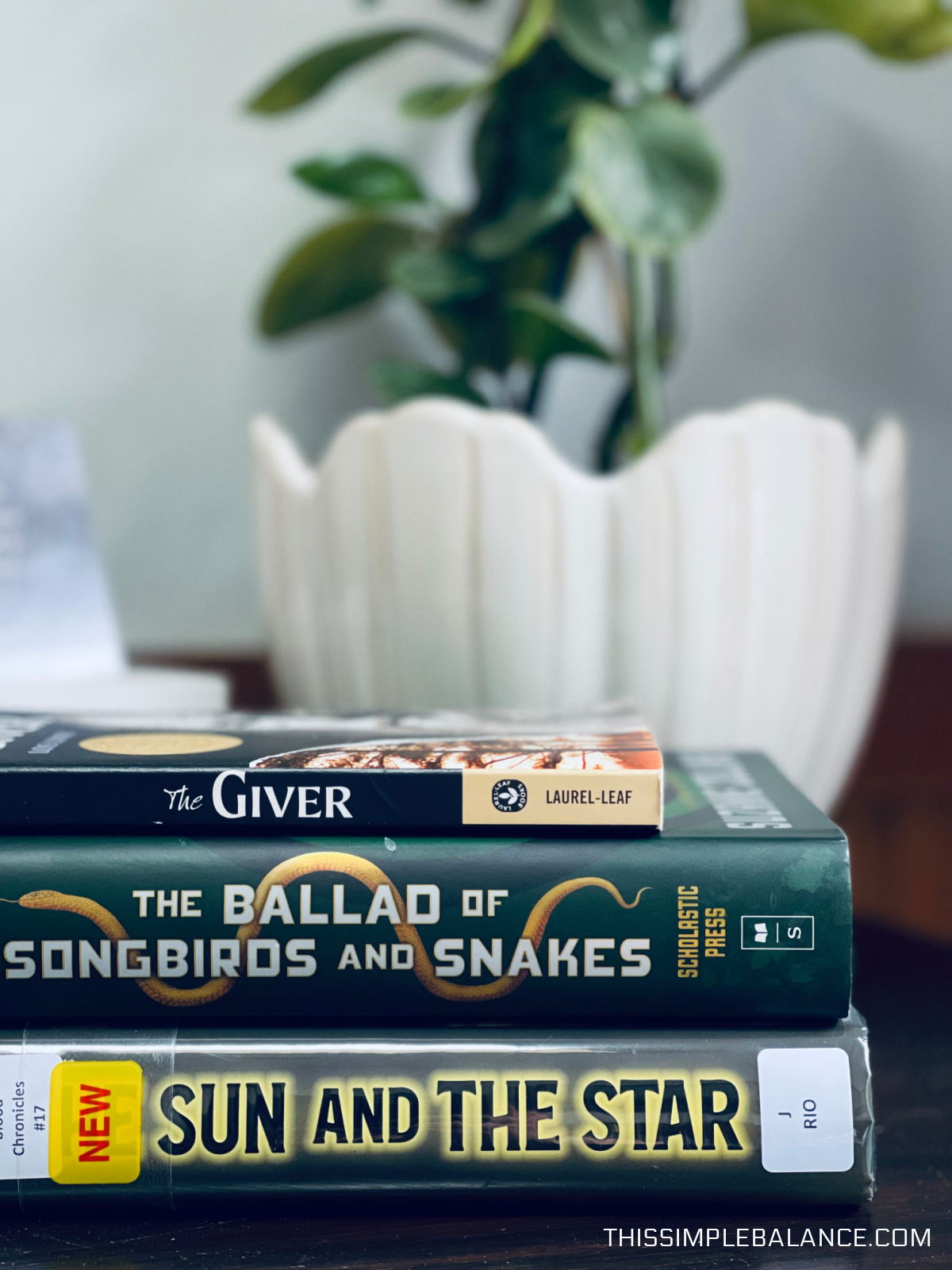 3. Read-Alouds
With my 8th and 4th grader, I will probably be reading aloud chapter books on average four days a week this year.
I wish it was every day, but honestly, I'm not finding the time and energy every day with all of our other activities, plus working from home.
Here are the books we want to read this year:
I read aloud to my youngest two every night, and occasionally during the day.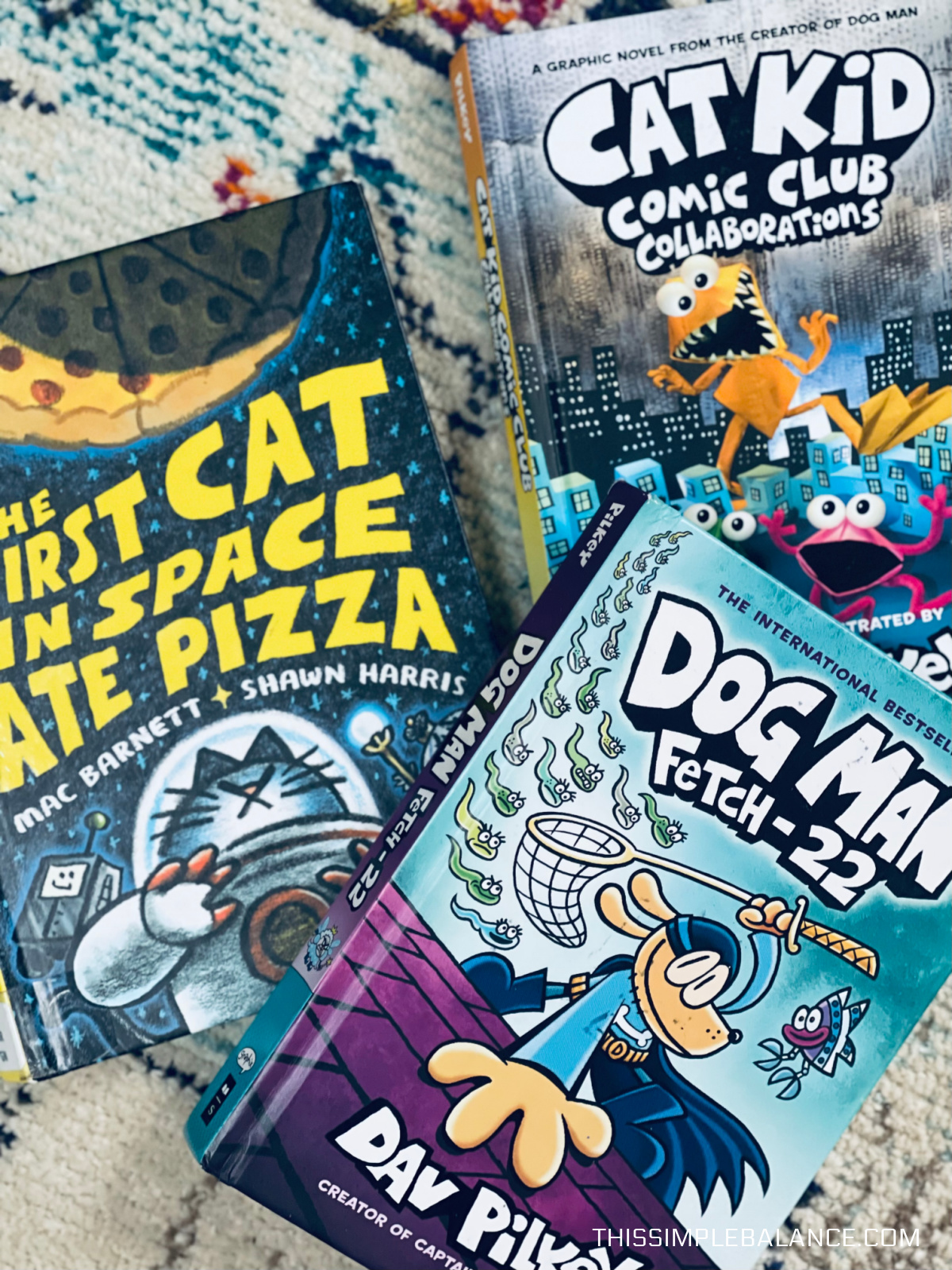 My first grader is still stuck on Dog Man and Cat Kid Comic Club [insert: deeeeeep sigh]. We've read through them a bazillion times, but thankfully there's another new release this fall.
I did find The First Cat in Space Ate Pizza last year, another graphic novel that's similar to Dog Man, and he agreed to read it. We are waiting for the second book to come out this fall.
I plan on doing poetry teatime once a month with my Pre-Ker, as no one else is interested but she wants to restart. We will focus just on poetry, mostly from THIS poetry book by Chris Harris.
**OMG I'm so excited! I realized while writing this post that Chris Harris FINALLY released a second poetry book! We're getting it!**
As for picture books, we keep discovering delightful new ones! You can find some of our favorites in these posts: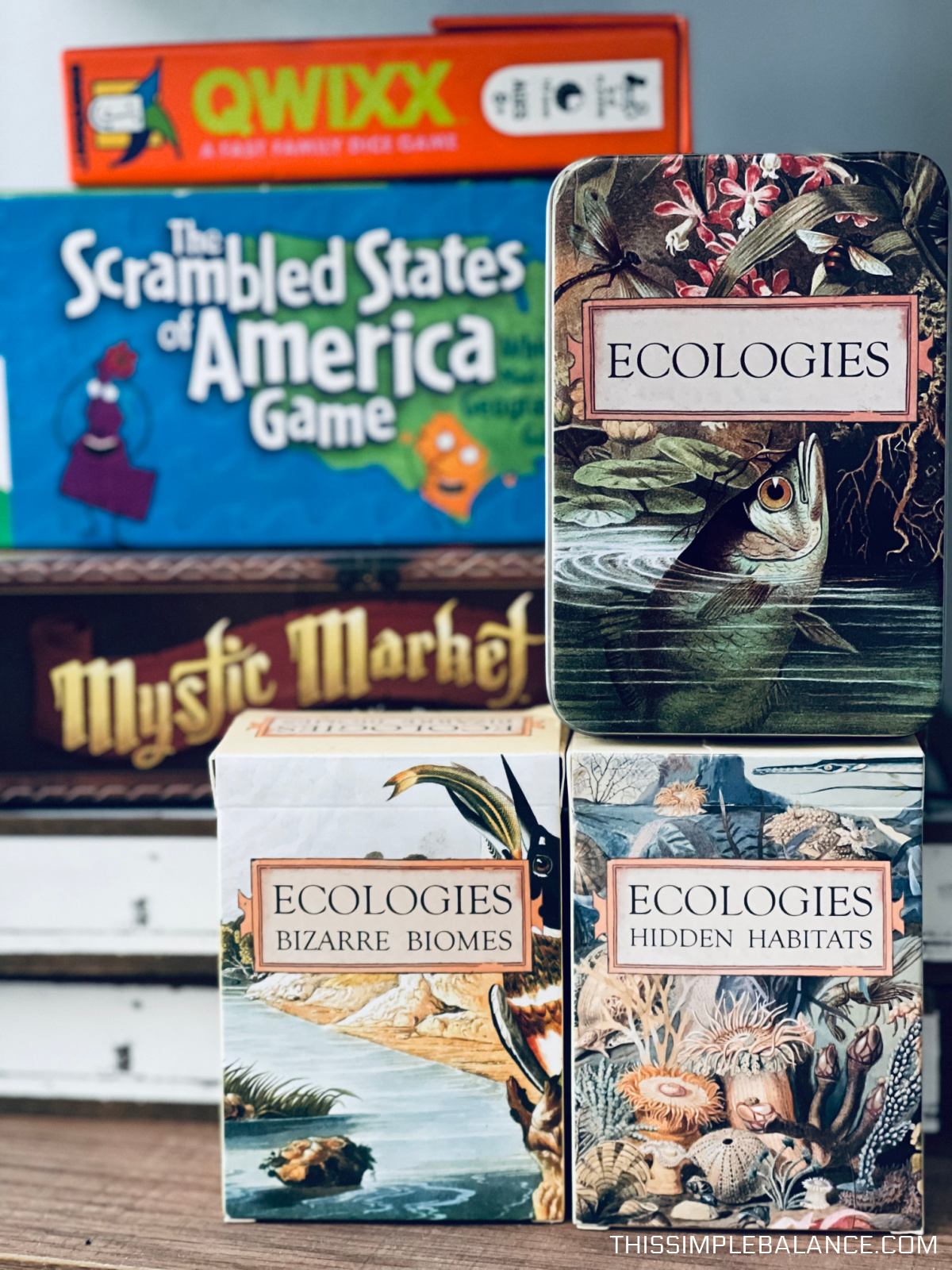 4. Games
We still love gameschooling (see our favorite educational board games HERE)…but with such a wide age spread, playing all together is extremely difficult.
Finding time to play longer board games with my youngest around has become quite challenging. Then there's the sensory overload of playing board games with so many people.
So my plan this year is to split up my game time between my oldest three and my younger two.
My goal is to play longer games on the weekends with the older kiddos and shorter games more frequently with my younger two during the week.
Games We're Currently Loving:
Ecologies (we have 3 card sets!)
Settlers of Catan
Ticket to Ride
Race to the Treasure
Sum Swamp
I'm also eyeing Cascadia and Trekking the World because the themes connect to interests – art and geography.
Related: 25+ Geography Board Games and Card Games
5. Health
My three older kids are focusing on health awareness this year in one way or another, whether that be mental health, developing self-driven (not mom-driven) habits around hygiene like teeth brushing and showering, eating and exercise.
We allow for a lot of food autonomy and freedom. I decide what comes into the house and offer new foods regularly, but they decide what to eat based on personal preference.
My oldest three are focusing a lot on balancing their diets, with different focuses for each, and getting enough exercise that they enjoy.
My 8th grader is clarifying which fruits and vegetables she likes and finding ways to balance sweets and healthier options. She loves doing split exercises (yoga-like exercises that help you be able to do a split) every other day.
My 6th grader seems to be in the "let's explore the far limits of food autonomy" phase (yay!), where we talk a lot more about establishing and retaining fruits and vegetables he enjoys eating.
He spends a lot of time on the computer, so we are currently exploring together ways he can move his body more. In the summer, he loves to swim, and in the winter, we visit the trampoline park regularly. We may explore weight-lifting this fall.
And finally, my 4th grader struggles to eat enough every day, so we are working on getting the calories he needs during the day (lots of math!).
He plays soccer in the fall and spring, with treadmill and trampoline park in the summer and winter respectively.
My younger two seem to have relatively few issues with balanced eating and regular exercise, although we are talking more and more about food content (particularly sugar!).
These two will be trying out forest school occasionally, along with homeschool park meet-ups.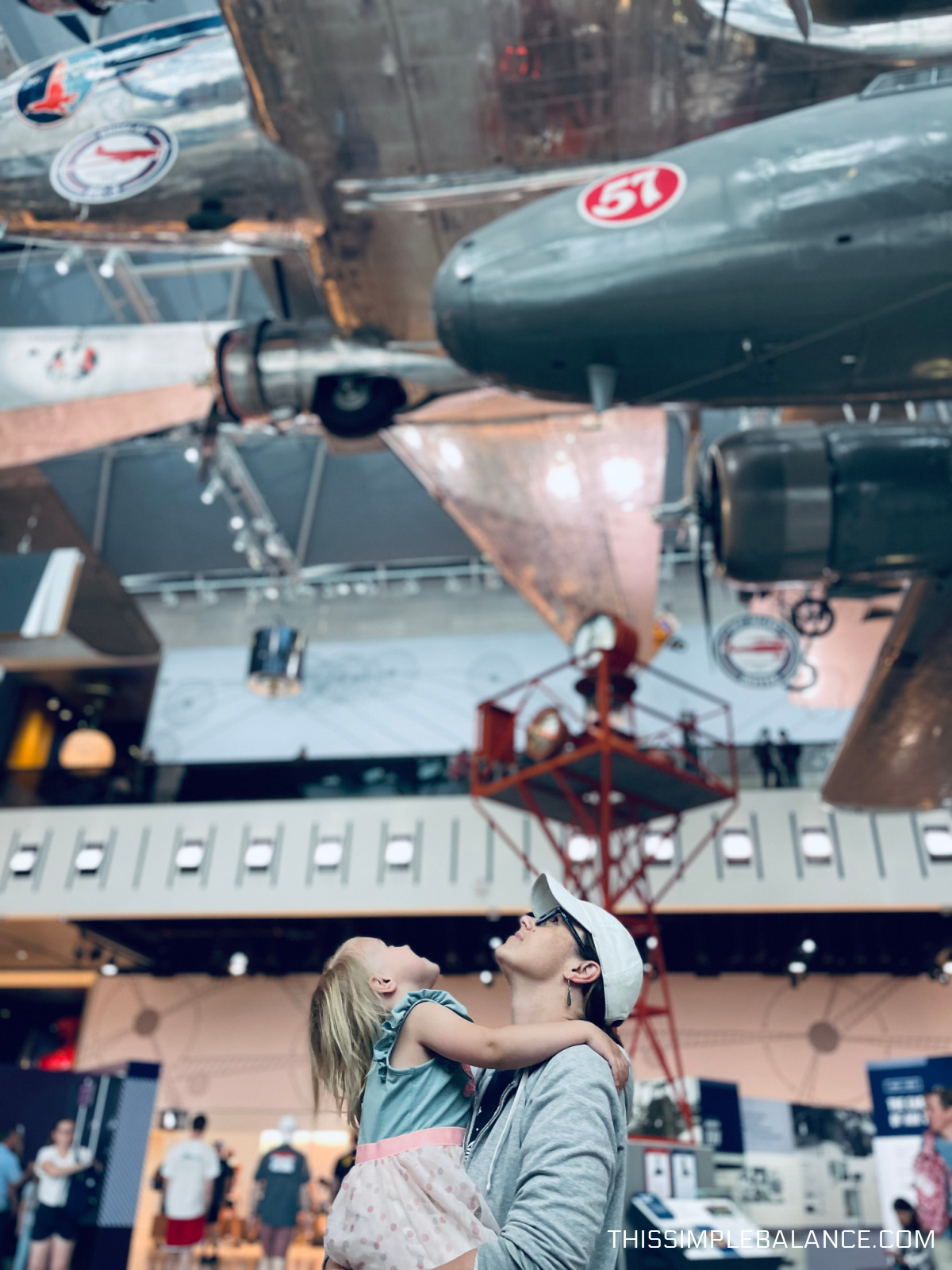 6. Museums/Trips
In June, we visited the Air and Space Museum in Washington, D.C. We want to go back to see the Lincoln Memorial and the Spy Museum.
We have a membership to the Da Vinci science museum in Allentown, and my youngest two really enjoy going. My 11-year-old tags along every so often.
Next year, we may purchase an out of state pass, instead, which covers both the science museum and The Adventure Aquarium in New Jersey.
Good friends of ours recently bought a house in Boston. We hope to visit them and see 1-2 museums and visit historic sites in the area.
We will take our annual beach trip, which always includes a trip to THIS amazing free zoo (donations requested).
7. Screens
Parents today are so dismissive and scared of screen time, probably because all the "experts" are telling us we should be. I used to be one of those parents!
But after three years of unlimited screen time, I honestly cannot imagine our homeschool without them now.
They use them to learn everything from geography to history to video game tutorials to how to use a new digital program to art techniques to reading to pop culture and more.
We just bought our eighth grader her own iPad so that she can grow her digital art skills using ProCreate.
My sixth grader uses our desktop computer for Minecraft, graphic design, video editing, Youtube channel development and more.
My fourth grader adores Stack the Countries for geography practice, and his Youtube shorts feed is filled with geography and history facts.
I love the Human Anatomy app because it's so awesome for showing different body systems to my younger two kids, and how Slice Fractions makes an intimidating subject like fractions fun.
And I already mentioned how Duolingo is supporting my 7-year-old's reading practice/development.
My sixth grader saw an episode of Bluey that prompted us to look at currency conversions between the AUD and USD, which prompted an entire lesson from dad about unit conversions in general.
These examples only scratch the surface! The internet and screens are revolutionary tools for homeschooling, especially for unschooling.
I get that unlimited screen time isn't for everyone, but I would encourage every family to consider reducing screen time limits and giving more freedom to their kids. I honestly wouldn't feel good about unschooling without unlimited screen time.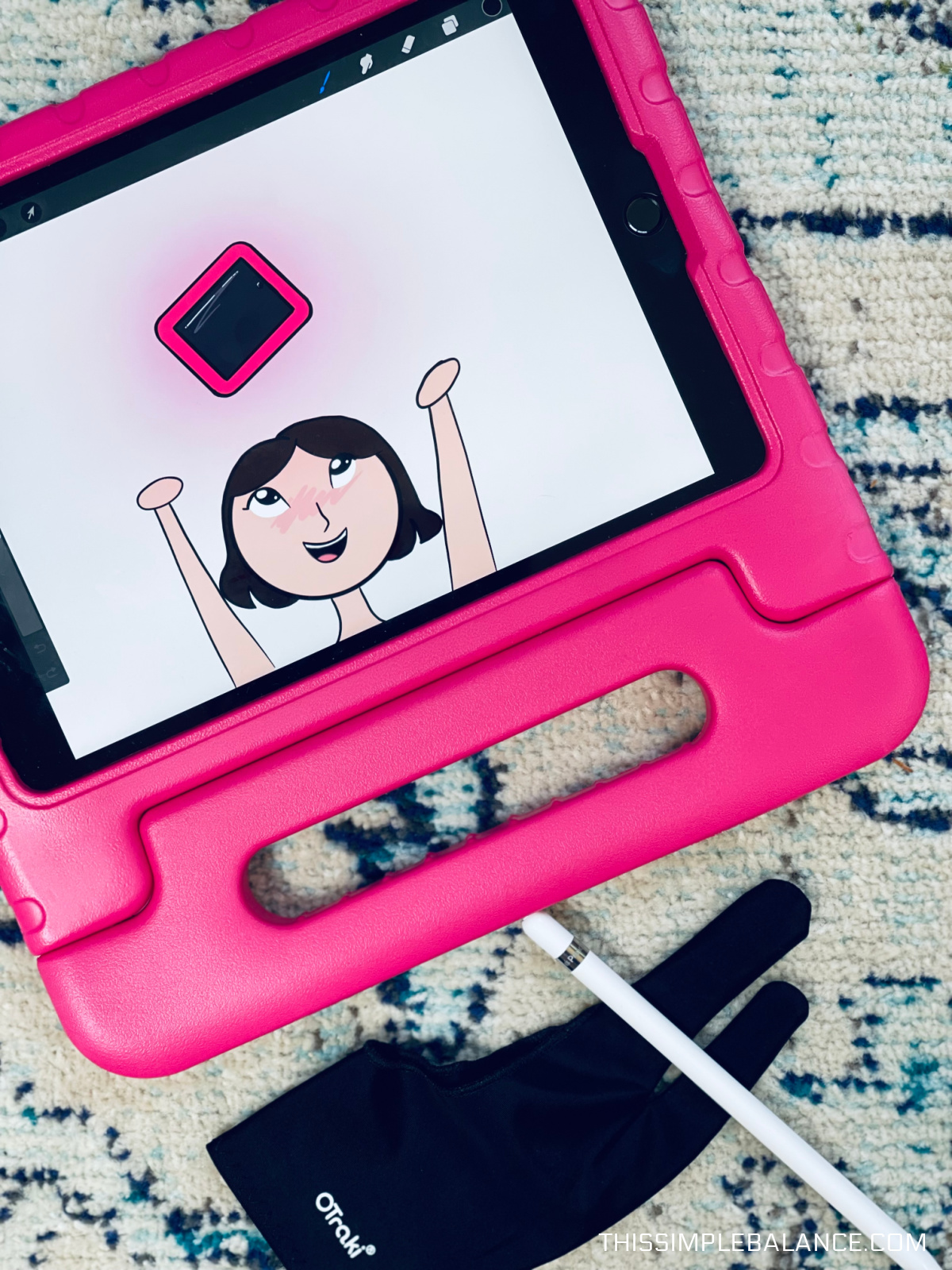 Individual Interests by Age/Grade Level
Here are current interests for each child that were not covered above.
They really are so unique in their passions!
Eighth Grade
My oldest is still all about drawing! She has done mostly on paper sketching up to this point, but we hope that purchasing the iPad for her exclusive use will help her develop her digital art skills.
She still loves French, but she was super disappointed with the Duolingo Pro changes.
I'm hoping the new language program will put the wind back in her sails as far as French is concerned because she's a natural.
She loves Pixar documentaries and watches them over and over again. Hopefully we can find more documentaries about animation and film this year.
We also opened up an Acorns account last year at her request, and we are having more and more money discussions (investing, saving, budgeting, yay!). I'm so excited to give her a strong financial foundation.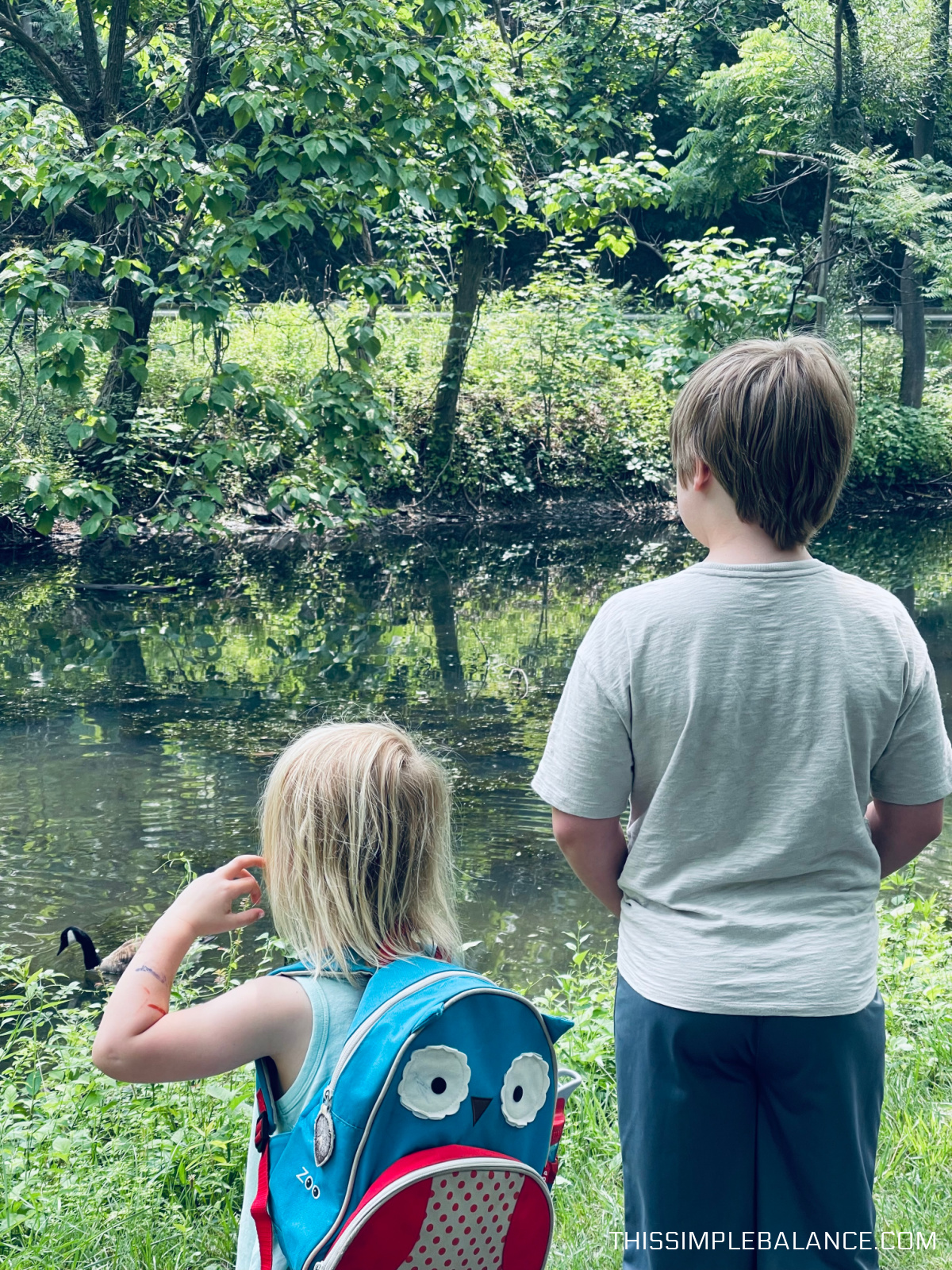 Sixth Grade
My 11-year-old is all about Minecraft Java. He loves designing buildings, fighting "player v player" battles and filming and editing videos and shorts for his Youtube channel.
He has grown so much this year in internet safety and overall awareness, not feeling intimidated by learning new online programs for things like graphic design or getting mods and plugins for Minecraft.
This is his longest "deep dive" to date. In the past, he would go all in on interests like card tricks or Rubix cubes for about six months.
It will be interesting to see if he decides to increase his dedication to growing his Youtube channel this year.
He is also working on spelling this year, slowly memorizing and practicing THESE spelling words. He wants to finish memorizing multiplication tables as well.
Related: Unschooling Spelling Works – How Kids Learn to Spell Without School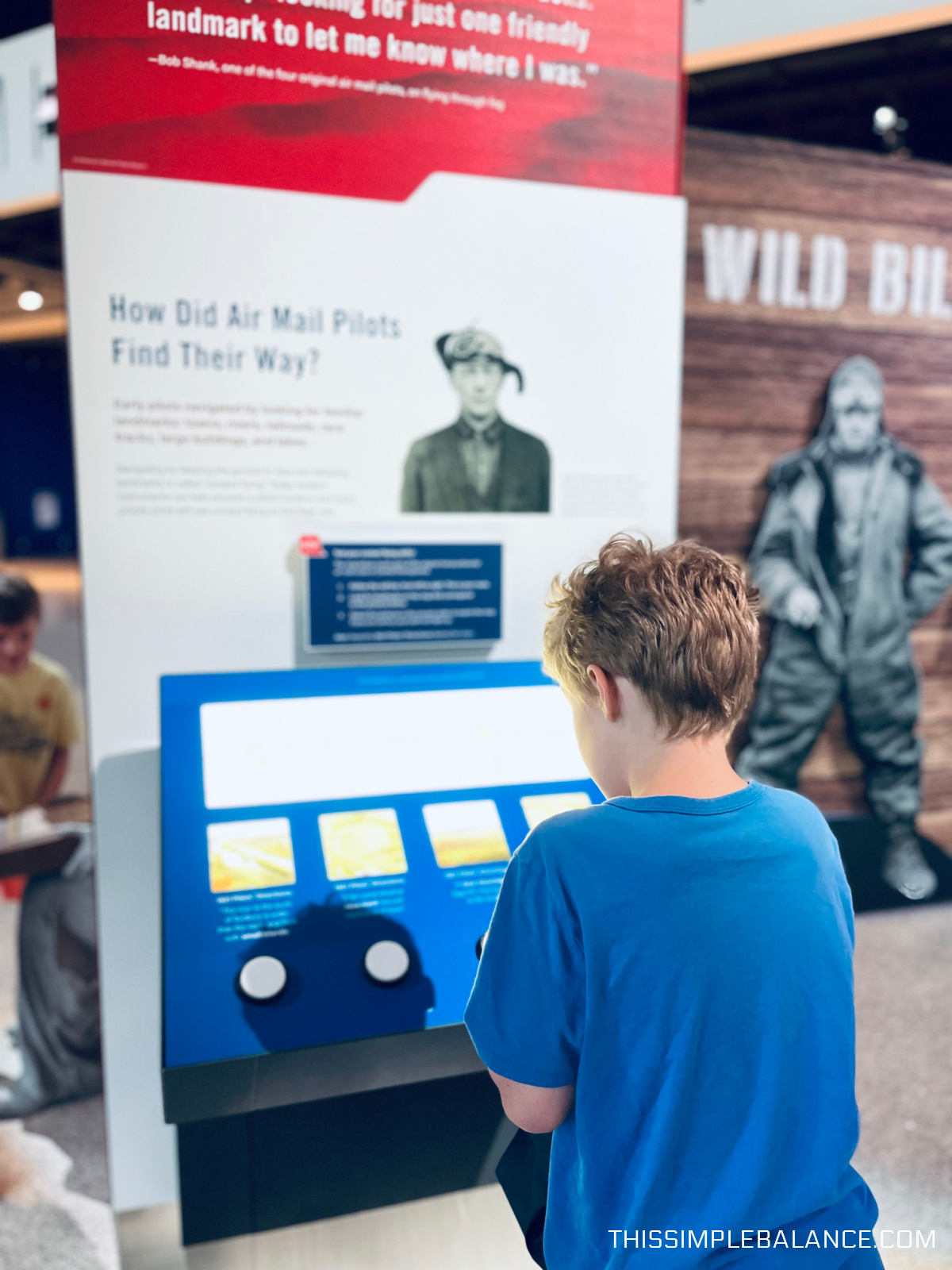 Fourth Grade
My 9-year-old still loves history, and he recently branched into geography as well. He loves practicing his European geography in particular with Stack the Countries.
He pursues his history and geography interests solely through Youtube shorts and apps. We may make a US timeline to put up in our "homeschool room" this year if he's interested in helping me design it with Canva.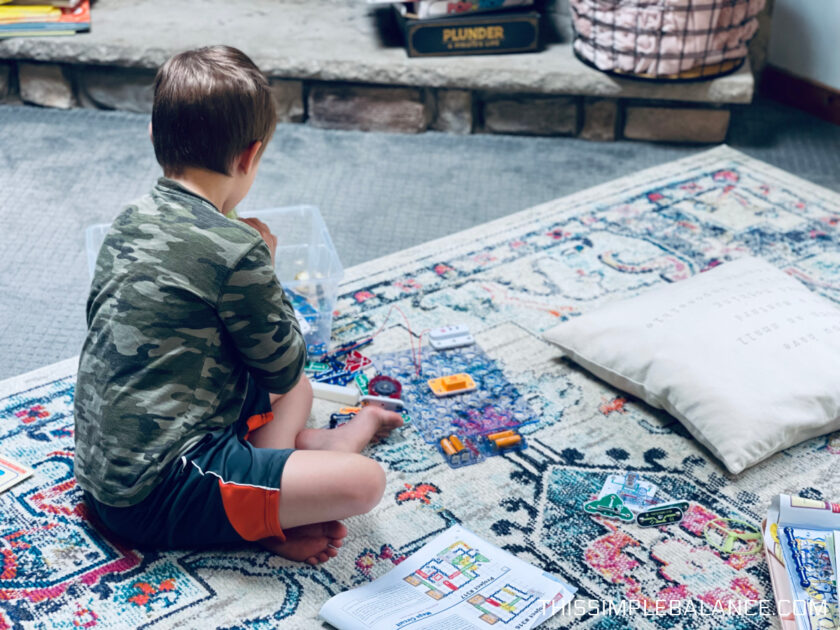 First Grade
My 7-year-old has really come out of his pandemic shell over the past year. He is pretend-playing a lot more with his 4-year-old sister, and exploring hands-on activities far more than he used to.
He loves to swim, so we are going to visit the pool as much as possible this season. He also enjoys Snap Circuits. We may invest in another set.
Making Stop Motion videos is another interest (with clay, LEGO, or any other toy), along with writing short stories at the library every week.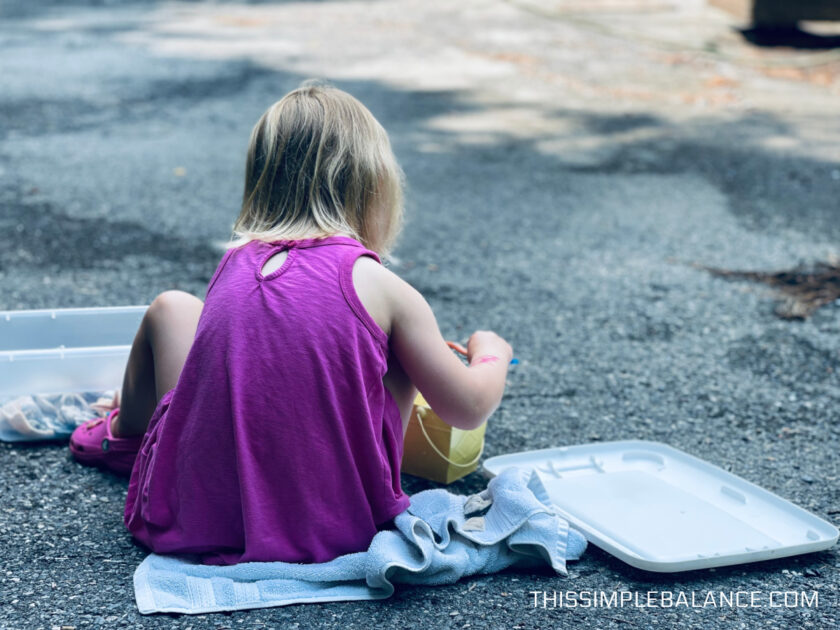 Pre-K
My 4-year-old loves preschool story hour at the library and the science museum and the park. She loves nature walks and parks.
She adores LEGO pretend play and dressing up. If she could buy every dress in the world, she would.
Another strong interest is the human body. We talk a lot about various illnesses and why they happen, and she loves rereading The Human Body Lift the Flap book from Usborne.
If any of my kids go into a health related field, it will be this one! So watch out for my "what if your unschooled kid wants to be a doctor" post 10 years from now.
She loves being with people all the time, so I am working hard to find regular friends for her to play with. This is challenging in our area where there are fewer homeschoolers who are more spread out.
Tell me about your unschooling family! Any big plans or ideas for the year (or next few months)? Share in the comments!
Read Next: What Is Unschooling? Defining a Misunderstood Homeschool Style