Inside: Move over, Dr. Seuss – Mo Willems is here! Gerald and Piggie won me over 12 years ago when my oldest was small. Learn why, in my opinion, Elephant and Piggie books make the best early readers, plus the best Elephant and Piggie books (according to parents).
It was a casual library conversation. Just two moms making small talk.
Mo Willems' latest pigeon book stood out on my massive stack of books to check out, and it caught her eye.
"That looks like such a great book!" she said.
"Oh, for sure! We love Mo Willems, especially the Elephant and Piggie books," I gushed (just a smidge overenthusiastic, in retrospect).
I expected her to gush right back. She had a 4- or 5-year-old, after all.
Surely she'd heard of Piggie and Gerald…right?
To my shock, she replied, "Piggie and Gerald? Oh no, I've never heard of those. I'll have to check them out sometime."
I couldn't believe it. Never hearing about our absolute favorite picture books?!
So for every parent who hasn't met Piggie and Gerald yet, if you have young children, you need to!
Here are three reasons why they're so amazing for early readers, in particular, and which books in the series to start with (to ensure you love them as much as we do).
You Might Also Like: 17 Unexpectedly Awesome Picture Books for Young Boys (Ages 4-8)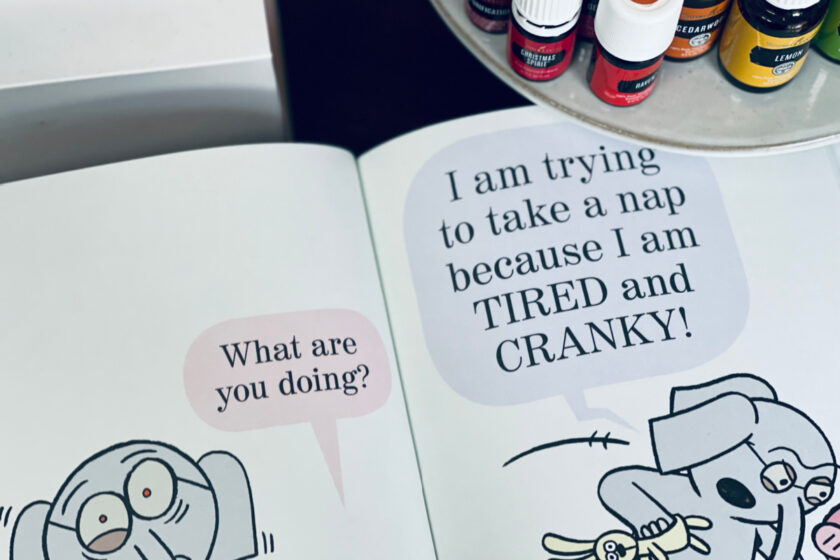 Why Are Elephant and Piggie Books Perfect Early Readers?
This post probably contains affiliate links, which means I may earn a commission if you make a purchase through those links. As an Amazon Associate, I earn from qualifying purchases. You can find our full disclosure HERE.
Growing up, Dr. Seuss books were consistently recommended for beginning readers, and for good reason.
One page of Hop on Pop, for instance, covers multiple same-ending words in quick succession on one page: "Red Ned Ted and Ed in Bed."
Despite all the recent controversy, I don't take issue with Dr. Seuss per se. The Lorax is one of my favorite books – I tear up every time I read it.
But for me, Dr. Seuss's early readers pale in comparison to all that Elephant and Piggie books have to offer, which is why we have the entire series on our shelf, instead of Dr. Seuss's early readers.
Three of my reasons…
Hilarious, Engaging Stories
I will always, always, ALWAYS choose funny, well-written stories for my pre- and developing readers.
I mean, have you read some of the early readers that are supposed to help kids learn to read, and hopefully love reading? They make me – the adult fluent reader – hate reading.
YAWN.
I can't imagine what kids are thinking when they're arduously working their way through them. Do they get to the end and think, "I worked so hard to read that poor excuse for a story?! Ugh!"
Elephant and Piggie books are the exact opposite. We – both parents and children alike – adore every story in the series!
The characters are endearing and relatable (depending on your personality, you might feel more connected to one over the other).
Most of the books in the series make us laugh out loud.
And if they don't, they are interesting enough to keep us reading once, and then over and over again.
For the love of Piggie and Gerald.
Related: The Best Simple Reading Curriculum for Reluctant Readers
Color-Coded Word Bubbles
All of the word bubbles in Elephant and Piggie books are color-coded to respond to the characters.
Piggie is pink, and all of her word bubbles are pink.
Gerald is gray, and all of his word bubbles are gray.
Any other characters who come into the stories? Their word bubbles correspond to their colors.
If multiple characters are talking at once, those word bubble colors are a blend of their individual colors.
It's very easy for young children to follow who is speaking. This feature also makes it easy to trade off reading characters.
(My 3-year-old loves to "read" Piggie's words, by which I mean I whisper the words and she repeats them).
Repetition + Simplicity
I suppose most early readers do this, but Elephant and Piggie books use repetition all the time to help beginning readers develop word recognition.
Sometimes, the repetition is exact.
For example, in I Will Take a Nap, Gerald asks Piggie on one page, "Ready to nap?", to which Piggie responds, "Ready to nap!"
Other times, the first phrase is repeated partially, with the second half of the phrase introducing new words.
Also in I Will Take a Nap, Gerald yells at Piggie, "I am NOT enjoying my nap, Piggie!". On the next page, he shouts again, "I am NOT napping!"
The natural repetition supports early readers in both practicing and learning new words and phrases.
Related: Learning to Read is a Natural Process…If You're Willing to Be Patient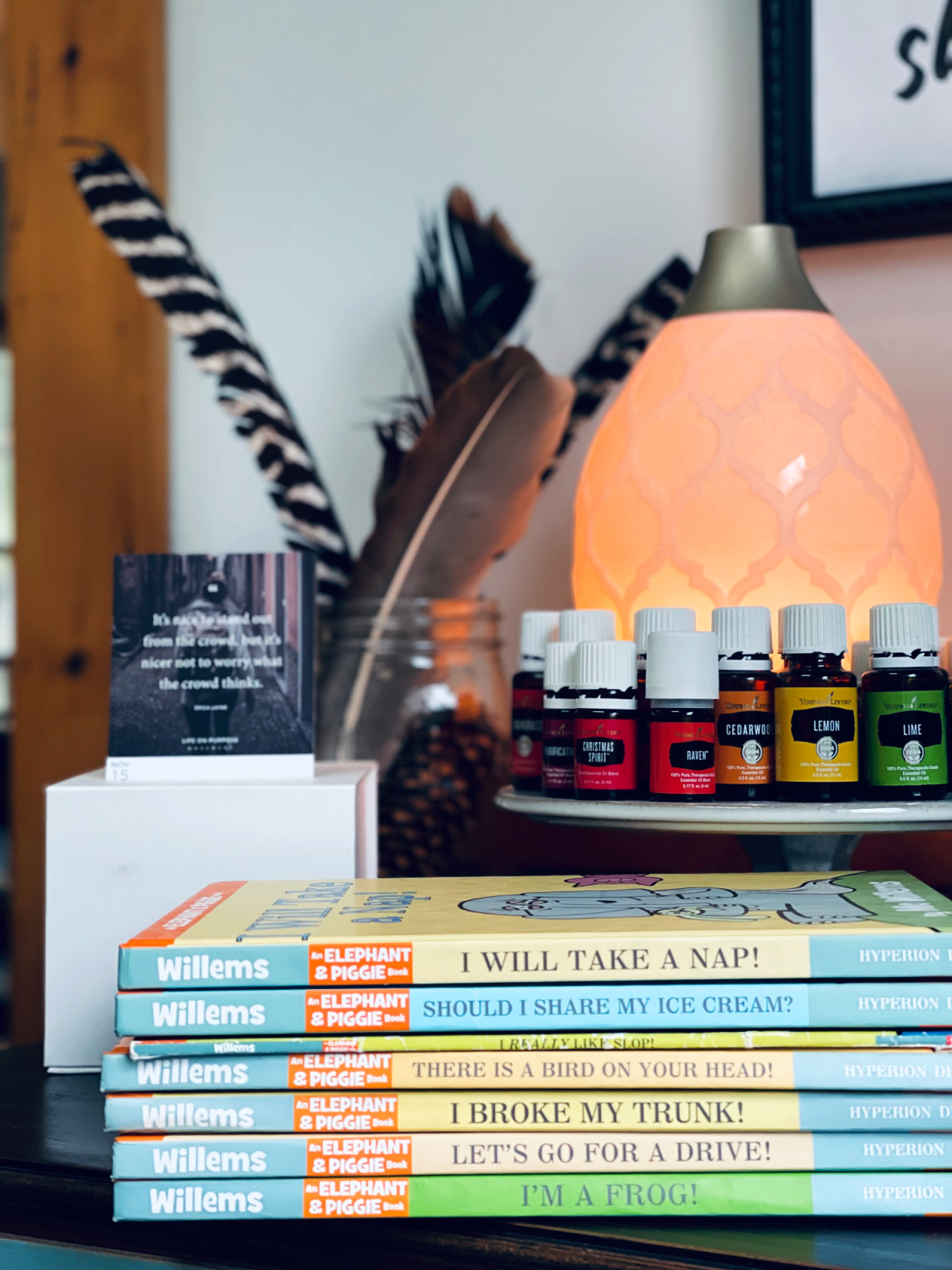 Top 7 Elephant and Piggie Books (Start Here)
If you forced me to choose the best Elephant and Piggie books out of all twenty-five, these are my top seven.
These are the ones that make us laugh the most, the ones whose quotes have become part of our insider family dialogue, and the ones that I enjoy re-reading most.
(Because if you, the parent, have to read aloud the same books over and over again, you might as well enjoy them, am I right?)
So if you're debating which ones to buy, not borrow, these are the ones. Get the rest from the library.
And make sure to keep an eye on Target and Amazon's sales because they offer a buy two get one free deal semi-regularly, and definitely around the holidays.
P.S. I'm not sure exactly why Mo Willems decided to call these Elephant and Piggie books, since the elephant is Gerald and the pig is Piggie. I use "Piggie and Gerald" and "Elephant and Piggie" interchangeably.
Related: The Best Mo Willems Books You Probably Haven't Heard Of
1. Should I Share My Ice Cream?
One of the earliest Elephant and Piggie books, Should I Share My Ice Cream? wrestles with a very important question: to share or not to share.
(I happen to have a Ben & Jerry's in the freezer right now that I might or might not be sharing with my children. I feel your pain, Gerald!)
But Gerald's hilarious inner struggle goes on a bit too long for his ice cream cone. Thankfully, best friend Piggie comes to the rescue with her own ice cream cone to share.
2. I Really Like Slop!
In I Really Like Slop!, Piggie tries to get Gerald to try his favorite pig delicacy: slop.
Gerald's obvious discomfort and over-the-top reaction to actually tasting the slop is priceless!
Plus, the closing line, "Don't push it bub," gets used regularly around here. I love it so much.
3. I Will Take a Nap!
Gerald is an elephant after every parent's heart: all he wants is to take a nap. Because he's cranky.
But Piggie catches onto the idea and decides to give it a try, too. The only problem? Piggie snores – extremely loudly, making napping impossible for Gerald.
I Will Take a Nap! is so relatable for every parent of young children. And you may or may not come across your kids singing, "I'm a floating turnip head! I'm a floating turnip head!"
4. There is a Bird on Your Head
There is a Bird on Your Head tells the tale of a bird family making a nest and starting a family in a less than ideal place: Gerald's head.
Naturally, he doesn't want a bird on his head. So, Piggie and Gerald both try to convince the bird family to leave.
…Piggie doesn't appreciate the results.
5. I Broke My Trunk!
This is my very favorite Elephant and Piggie book! Gerald broke his trunk, but in a hilarious, unexpected way.
I Broke My Trunk! is Gerald telling his long, drawn out story about how exactly he broke his trunk.
With Piggie asking over and over again, "Is that how you broke your trunk?" And Gerald replying, "No. There is more to my story." It's the best!
6. Let's Go for a Drive!
"Drive, drive, drive-y drive driiive." We sing this song in our house constantly (we made up our own tune to go with it this much repeated line)!
Gerald and Piggie want to go for a drive in Let's Go for a Drive!, and they spend the entire book gathering everything they need for the drive.
The only problem? They're missing one "go for a drive" essential.
7. I'm a Frog!
In I'm a Frog!, Piggie pretends to be a frog, but Gerald, who has never heard of pretending, is confounded by her transformation. He doesn't want to become a frog!
Piggie explaining the art of pretending leads to our favorite Piggie and Gerald dialogue of all time.
Piggie: "Pretending is when you act like something you are not."
Gerald: "Wow…and you can just do that?! You can just go out and pretend to be something you are not!?"
Piggie: "Sure. Everyone pretends."
Gerald: "Even grown-up people?"
Piggie (with the best face ever): "All the time."
You Might Also Like: 27 Best Picture Book Read Alouds (Most Requested Re-Reads)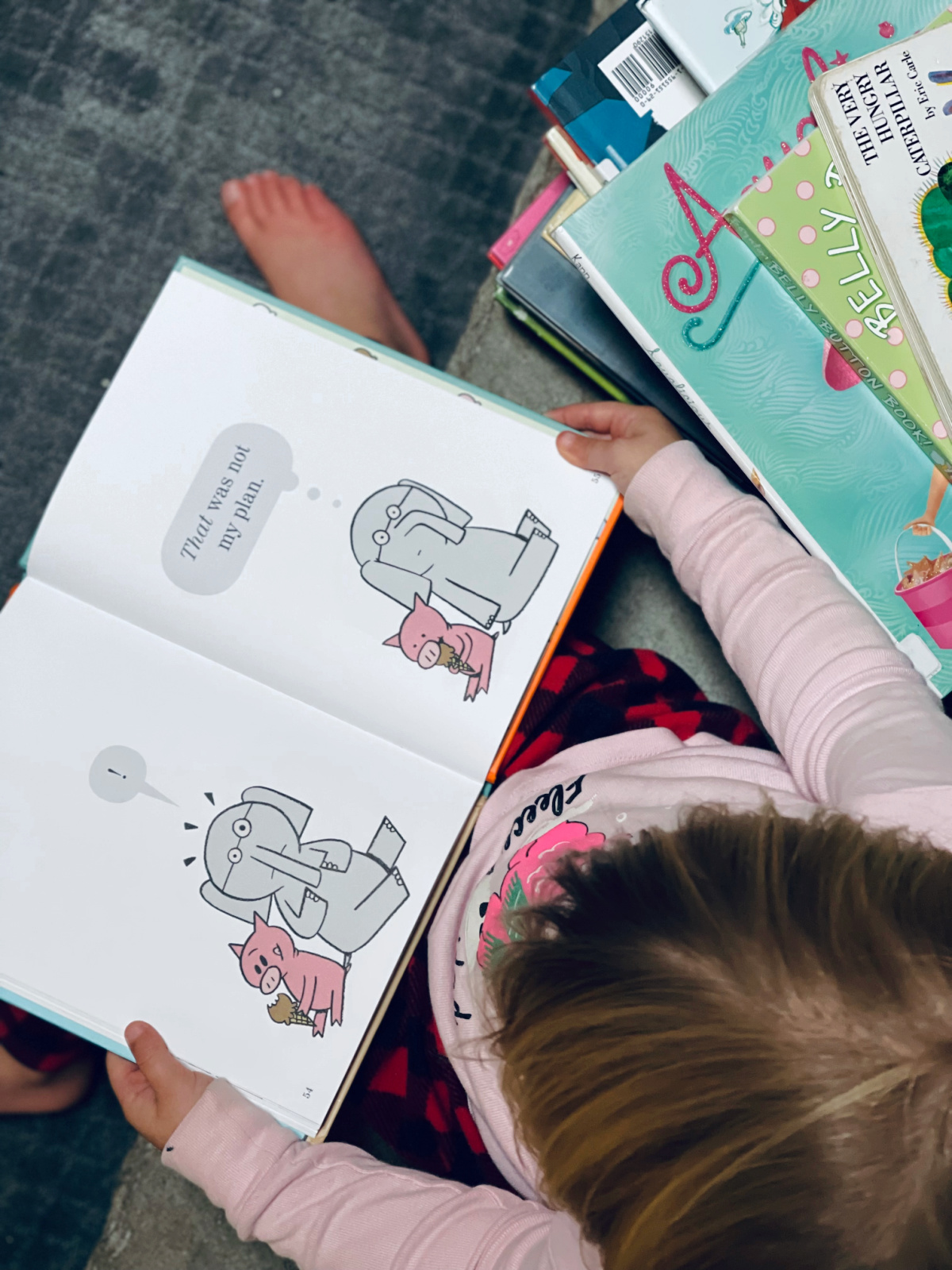 So What Are Waiting For? Meet Piggie and Gerald ASAP
If I haven't convinced you to give Piggie and Gerald books a try, I'm not sure what will.
They're simply the best. I'm pretty sure I already said ten times that we own every book in the series.
If you don't add them to your picture book collection, at least check them out at the library.
I'm convinced that every child should read at least one Elephant and Piggie book in their lifetime (preferably before they outgrow them).
And hey, I'm a minimalist mom. I plan on keeping these to share with my grandchildren.
So maybe that says something about how awesome these books are? Or maybe not.
Either way, I'd love to hear your thoughts on this series!
Read Next: 20 Best Read-Aloud Chapter Books According to Homeschoolers
Do you have a favorite Elephant and Piggie book that didn't make the list? Share in the comments!