Inside: If you're bleary-eyed from scanning articles with 40-50 Halloween costume ideas, narrow down your choices to these 7 easy peasy minimalist Halloween costumes for kids with costume creation instructions. Banish decision fatigue and pull together a costume fast with things you probably already have lying around the house.
I'll admit, I've been a Halloween-hater for years (don't throw stuff at me!).
I'm just not into fear. I consistently pass on haunted houses, scary movies, or anything else that feeds the worst-case scenarios already buzzing around my Enneagram 6 head.
I also love to avoid feeding my kids' imaginations with anything that leads to nightmares, and consequently less sleep for ME.
Cranky mom + cranky kids = nothing good.
But this year, it occurred to me that we CAN celebrate Halloween without the scary or the gore.
We can pick and choose the fun from Halloween and enjoy things like costumes, Halloween treats, and my personal favorite, Harry Potter.
Why Choose Minimalist Halloween Costumes?
THIS POST PROBABLY CONTAINS AFFILIATE LINKS. AS AN AMAZON ASSOCIATE, I EARN FROM QUALIFYING PURCHASES. YOU CAN READ OUR FULL DISCLOSURE POLICY HERE.
Two things that also bugged me about Halloween costumes:
the costume clutter
the costume expense
Last year, Americans spent close to $9 billion on Halloween as a whole – the candy, the greeting cards, the costumes.
Not only are parents shelling out hundreds on Halloween costumes every single year (not to mention the candy), where do all those costumes go when Halloween is over?
I suppose parents might be adding them to dress-up collections, which is one environmentally friendly option.
But for the sake of your wallet and your home, I implore you: choose a different way. You can do Halloween the minimalist way.
I define minimalist Halloween costumes as any costume that adds very little clutter to your home, and the earth by way of discarded costumes. Ideally, costume pieces can be reused by your children or in real life.
I personally get overwhelmed by lists of 30, 40, or 50 ideas of just about anything (although I confess I've made a couple of them myself because not everyone is like me).
Cut the decision fatigue and limit your options (or your child's options) to one from this list.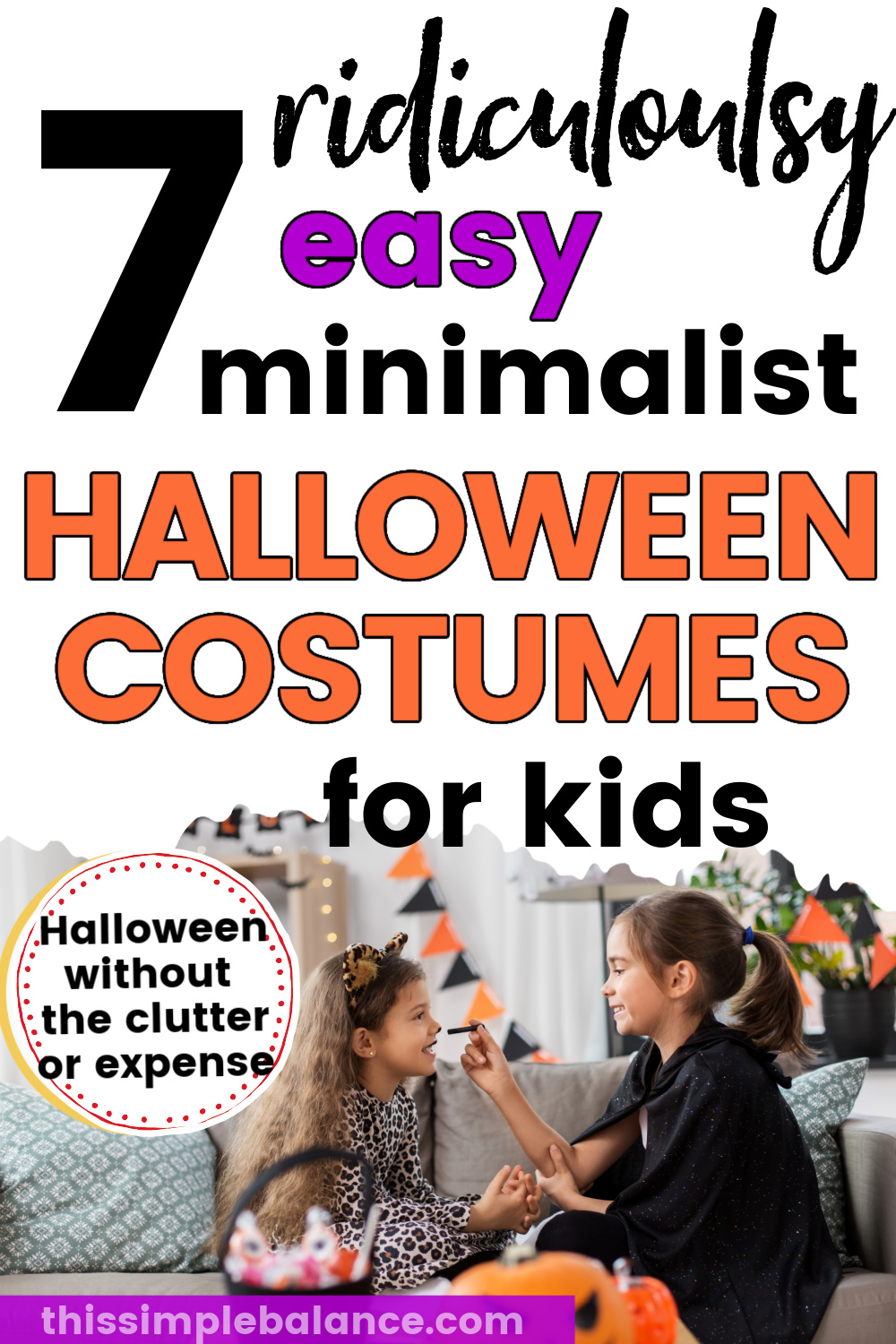 7 Minimalist Halloween Costumes for Kids
Many of these require a simple face painting set, which you can find on Amazon HERE.
You could probably get by with basic make-up in a pinch – eye liner and lipstick.
(My kids adored learning how to do face painting, and this could even become a profitable side hustle one day for artistic teens or young adults!)
Try to shop your own home first, then thrift stores or borrow from friends/grandparents.
Sometimes you've gotta do what you gotta do and buy something new, but the general idea of a minimalist Halloween is to avoid adding clutter to your home.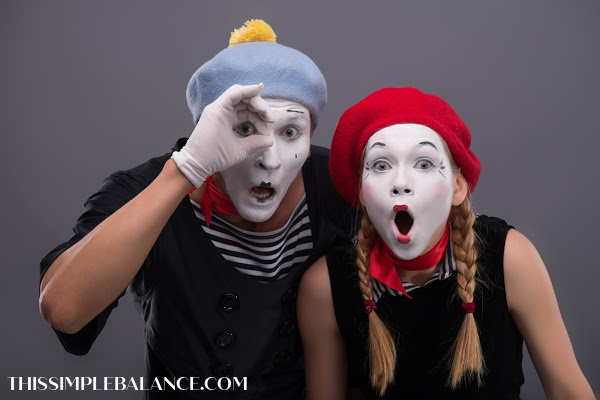 1. Mime
A mime Halloween costume is quick and easy to pull together using whatever clothing is available, and some basic Halloween faces paint.
This costume works well for boys and girls, and you can easily raid your closets or the dress-up collection for clothing options.
Materials Required for a Mime Costume:
long pants and a long-sleeved shirt in any color; look online for pictures of Mime costumes for inspiration
white, black, and red (optional – could substitute red lipstick) Halloween face paint
white gloves
How to Make a Mime Costume:
Dress in the costume clothing and white gloves, preferably before you do the face paint to avoid smudging.
Cover the child's entire face in white face paint.
Use the black face paint to add highlights around the eyes.
Use the red or black face paint to color in the lips.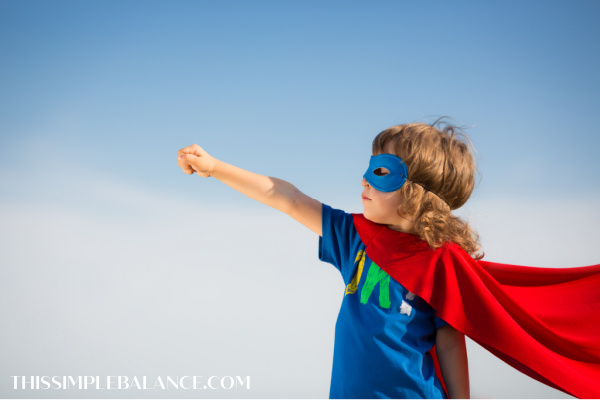 2. Super Hero
While dressing up as a superhero can be a sterotypically boy costume, it can also be a great Halloween costume for girls! After all, what little girl doesn't enjoy helping to save the world?
Materials Required for a Super Hero Costume:
tights or leggings and a matching shirt in the super hero's color of choice
a large scarf or piece of fabric wide enough to tie around the child's neck and long enough to hang to the child's knees (play silks are a great option, too)
a sheet of poster board in a color that compliments the clothing
glue, tape, safety pins and/or a stapler
markers or paint
mask or felt/elastic to make one
How to Make a Super Hero Costume:
Cut two squares (or other shapes like triangles or circles) out of the poster board, each large enough to act as the symbol for the superhero. One of these pieces will be attached to the chest and one to the back of the cape.
Use markers or paint to decorate the poster board cut-outs with a special superhero symbol of the child's choosing. Letters that stand for the super hero's name or motto would be a good choice (search online for inspiration).
Use glue, tape, safety pins, or a stapler to attach one symbol to the front of the shirt and the other to the center of the scarf or fabric.
Fashion a mask out of the felt and elastic (see one pattern HERE) OR repurpose a superhero mask you already have by safety-pinning a small superhero logo in place of the existing one.
Put on the tights and shirt, tie the ends of the cape around the neck, and add the mask for an instant superhero!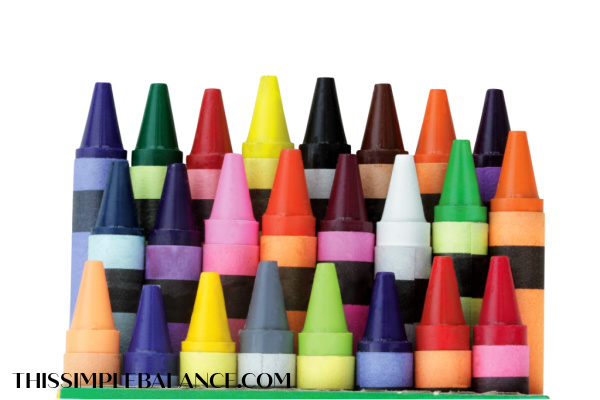 3. Crayon
This is a very quick and easy Halloween costume to make for boys or girls and can work well with a group of kids where everyone dresses as a different colored crayon.
Another option for this costume is to omit the hat and simply dress up as a color with crayon letters, which can be a good option for a reluctant costumer.
See this awesome pin for the inspiration behind this costume idea!
Materials Required for a Crayon Halloween Costume:
matching pants and shirt in the desired color (pajamas from Primary work well if you have them!)
a sheet of poster board that matches the color of the clothing and a black sheet of poster board to make the "Crayola" label
construction paper in crayon color to outline word "Crayola"
glue, tape, safety pins and/or a stapler
face paint or body paint to match the color of the clothing
How to Make a Crayon Halloween Costume:
Cut a semi-circle out of the poster board with the straight side sized to the circumference of the wearer's head. Fold into a cone-shaped hat and secure with glue, tape, or staples.
Cut a long, rectangular oval in black poster board for the crayon label on the shirt.
Cut out the letters to spell the word "Crayola". Affix to the crayon color construction paper to make an outline. Glue the outlined word "Crayola" to the black rectangular oval. Safety pin the entire label to the shirt (again, see pin image HERE for the example).
Put on the clothing and cover all exposed skin, including the face, with the face or body paint.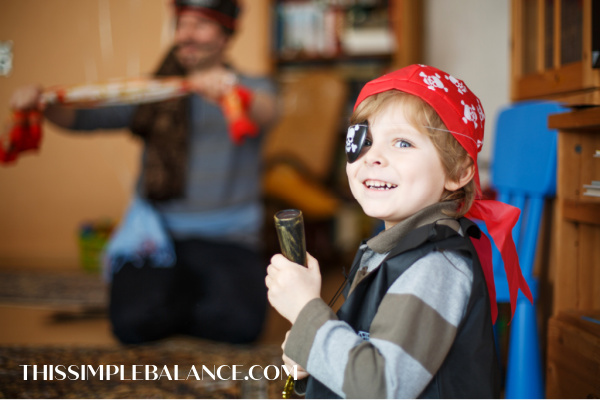 4. Gypsy or Pirate
Being a gypsy or pirate requires a lot of layers and jewelry. The following tips can go for both outfits and for either gender.
Materials Required for a Gypsy/Pirate Costume:
A scarf or bandana for wrapping around the head – key to putting the look together!
Hoop earrings and lots of flashy necklaces, rings, and bracelets
Bold colored vest or blouse
Black or brown "pirate-like" boots
Flowing skirt or 3/4 length black/brown pants or leggings
How to Make a Gypsy/Pirate Costume:
For the gypsy, wear a flowing skirt, several of them can be worn for added effect and to keep warm.
For the pirate, depending on what kind of boots one could get, the person can wear anything ranging from brown ¾-length pants to black jogging pants with the elastic hiked to the knee. Or if there is a pair of old dark pants kicking around that are destined to be thrown out, one can cut them in jagged edges around the knee to make them look worn out.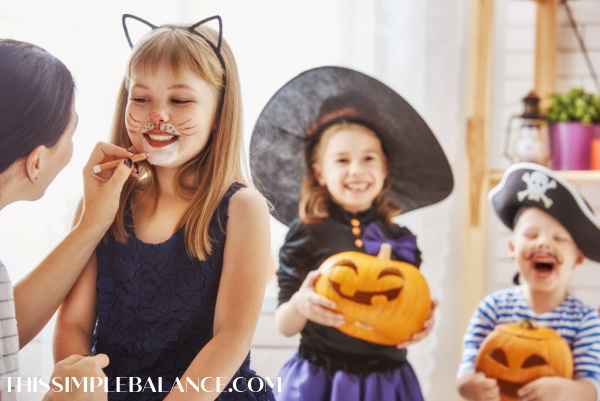 5. Cat
Animals are ridiculously easy to make costumes for, and the cat is especially easy! All you need is a few basics for an adorable kitty.
(We've also done cows for Chick-fil-a Cow Appreciation Day. Check out their website for cow mask and spot templates!)
Materials for a Cat Costume:
headband
pipe cleaners
facepaint or simple makeup
clothing in the color of your child's choosing (black, brown, white, grey etc. are generally accepted cat colors)
How to Make a Cat Costume:
Shape two pipe cleaners around the headband to form triangle-shaped cat ears.
Apply facepaint or make-up as artistically and liberally (or not) as desired. Just don't miss the black nose and whiskers!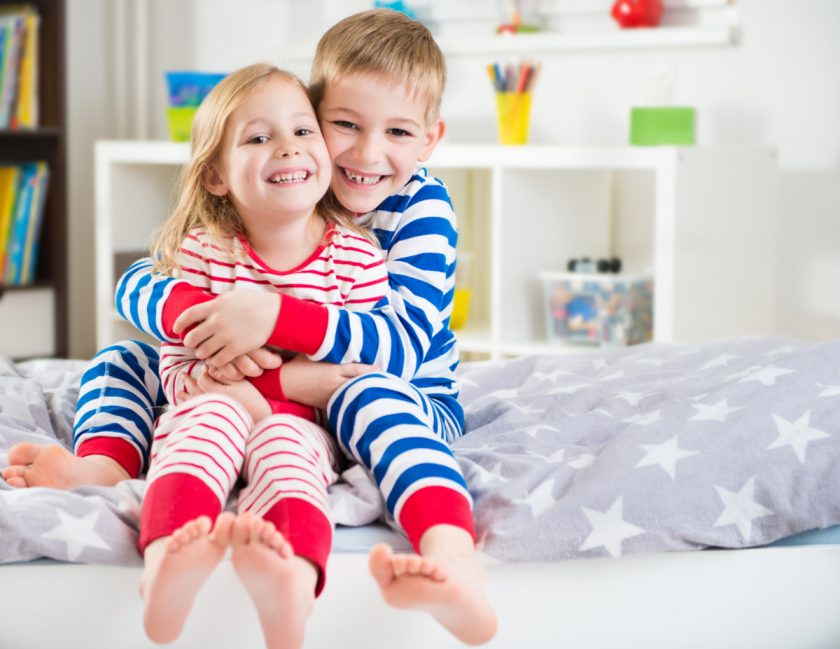 6. Bedtime Pajamas Costume
Another super easy minimalist Halloween costume using things you surely already have around the house!
Materials for Baby Halloween Costume:
pajamas
cozy socks
slippers
stuffed animal
crazy hair
hair gel or hairspray
How to Make a Bedtime Baby Costume:
Dress up in all of the clothing items listed above.
Make your hair go crazy! Tousle and tease that hair to death and set with hair gel or hairspray.
If you're worried about losing a beloved stuffed animal while trick-or-treating or at a Halloween Party, you can tie it to the child with a long piece of fabric for safe-keeping.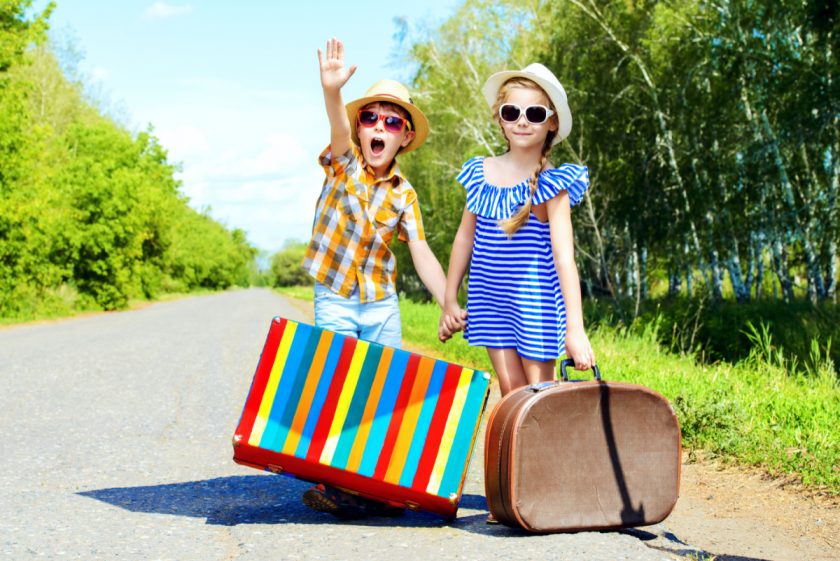 7. Travelling Tourist Costume
This might not appeal to all kids, but it could to those with wanderlust! Hey, my kids ask to go on planes all.the.time. Why not capitalize on that dream, right?!
You can choose to go sophisticated tourist (Audrey Hepburn) or tacky tourist (think floral shirts, flip flops and sunburns).
Materials Needed for Tourist Costume:
Floral clothing, sandals and sunglasses
OR nice jeans, blazer and white shirt
Camera
Backpack
Passport
Map
How to Make a Tourist Costume:
Dress in all of the above. Possibly safety pin the passport to the shirt or outside of backpack.
Make a camera from paper (see DIY tutorial HERE).
Carry map in one hand.
Minimalist Halloween Costume Alternatives
1. Shop your local thrift store.
If you choose this option, make sure to shop EARLY. Thrift stores typically start pulling out Halloween inventory in September and early October.
If you go by mid-October, all the good costumes are usually gone.
When Halloween is over, you have the option of donating the costume back to the thrift store, or you could see if local preschool's in the area need items for their dress-up station.
2. Organize an annual neighborhood Halloween costume swap.
If everyone is looking for a new Halloween costume, and you already have several sitting in a bin downstairs, other people are probably in the same situation!
Think through how you organize carefully…
Who gets to "shop" first?
Who can participate? Only donors? Will you open to the public?
Will you charge a small fee per item? Where will that money go?
Could you organize through your school or church so that more people will donate and come to the swap?
This idea sounds like a lot of work (I'm sure it is), but if you're ambitious, it could be a great way to make nice Halloween costumes accessible to more people, reduce waste AND clutter.
3. Use the dress-up clothes you already have.
That's what I did for Halloween, and there is absolutely NO shame in using what you already have at home.
We have a modest dress-up collection with lots of accessories, and I told them to go create a costume from it (they chose our Wild Kratts suits).
Celebrate Halloween without the Clutter
Halloween doesn't need to add clutter to your home OR hurt your budget. However, minimalism IS counter-cultural, so if comparison is a struggle for you, prepare yourself mentally in advance.
If this is the first time you're going minimalist on Halloween costumes, and your kids are used to spending $30-40 on a costume (each: ouch), maybe offer some kind of incentive for choosing a minimalist costume.
I hope these ideas get you started in choosing a minimalist Halloween costume!
With a little creativity and resourcefulness, Halloween can be just as fun without expensive, store-bought costumes.
Read Next: How to Transition to a Minimalist Christmas with Kids