Inside: Picture book biographies are my favorite way to inspire my kids with stories of how real people overcame difficult challenges to achieve their dreams. Biographies also happen to teach multiple subjects with just one simple book – a bonus for homeschooling families! Use this growing list of over 70 of our favorite picture book biographies (plus series and anthologies) to inspire your kids.
If you have never ventured into the biography section of your children's library, you are missing out! This is my very favorite section of the library, and I sorely miss our old library we left behind in Raleigh because it had the BEST picture book biography section I've seen yet.
The librarians, bless them, made it ridiculously easy to sweep through the shelves and grab a stack for the week. They were always displaying new releases and eye-catching titles.
Now that I no longer have access to such an amazing picture book biography section of the library, I realize how hard it must be to not know where to start when choosing your own picture book biographies.
So here I am with a list to get you started!
Related: 25 Picture Books on Immigrants and Refugees
Want a printable PDF of all 70 picture books? Scroll to the bottom of this post to subscribe to my e-mails and get this free gift!
Why Read Picture Book Biographies? 5 Good Reasons
But first, why read picture book biographies in the first place?
Especially if you aren't reading them in conjunction with a history spine or as part of a curriculum guide, you may need a few good reasons to put these titles on hold at your local library ASAP.
Lucky for you, I can give you several.
1. Picture book biographies inspire.
We could all use a little inspiration, right? I am just as inspired as my kids when reading these stories, which is why I continue to grab stack after stack at the library week in and week out.
To know that real people overcame seemingly insurmountable obstacles to achieve great things inspires me to reach for the impossible. I'm hoping that if I read enough inspiring real life stories, my kids will know that whatever their dreams, they can achieve them, too.
2. Picture book biographies cover multiple subjects at once.
These stories cover history, science, math, vocabulary, art, reading comprehension, and more (not every subject in one story, of course, but some combination).
If you did nothing else during your homeschool day, reading one of these checks all the boxes.
3. Picture book biographies develop a growth mindset.
A growth mindset says that you can improve your skills and abilities with practice and perseverance. Picture book biographies can support the development of a growth mindset in children (which is why THIS growth mindset journal includes so many inspiring true stories in their journals).
Related: An Honest Big Life Journal Review
4. Picture book biographies broaden worldview and encourage empathy.
It's hard to imagine growing up with anything but your own challenges. Picture book biographies help kids understand how many different kinds of obstacles people face every day – from race to gender to finances to language (and more).
They can put their own challenges into perspective and encourage empathy for many different kinds of people groups outside of their own.
5. Picture book biographies expose children to a variety of unique careers.
With a background in guidance counseling, I am fascinated by how people end up choosing their careers. There are so many interesting ways to make a living in the world.
These books barely touch the surface of possible careers, but it's a start.
Would you pin this post? The more people pin it, the more people can find it. Thank you in advance for sharing!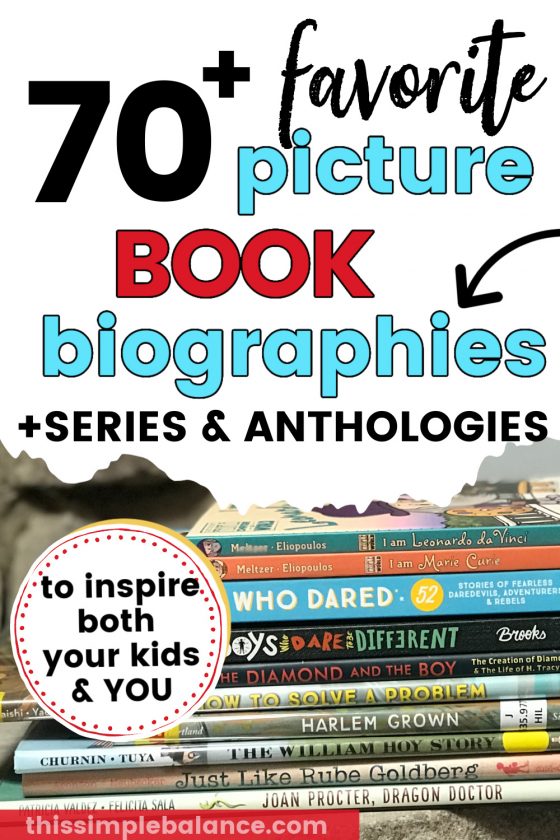 70+ Picture Book Biographies to Enjoy This Year
Eugenie Clark loved sharks from a young age and quickly became determined to prove to the world that sharks weren't the ugly, scary creatures most people thought they were. The story of how she overcame obstacles (her gender) to become a scientist and an expert on sharks.
Temple Grandin received her autism diagnosis at a young age, and with that diagnosis, she lost all expectations that she would talk or accomplish anything note-worthy.
Learn how she defied the odds and become a scientist who revolutionized farms around the world, all because her brain worked differently than everyone else's.
A story of young Michael Jordan as told by his mother, this picture book biography shares Jordan's discouragement about his height (or lack of it) and how he almost gave up on basketball because of it. His parent's unusual intervention gave him the encouragement and vision he needed to persevere despite his current height.
How Mary Awning discovered her first dinosaur bones, became a scientist and helped found a new branch of science – paleontology. Her unrelenting fascination with fossils, particularly dinosaur fossils, paved the way for both future paleontologists and female scientists.
Paul Erdos was a brilliant mathematician who struggled with basic life skills like diriving or cooking. His fascination with math (and boredom with everything else) led to him being homeschooled.
He went on to travel around the world in pursuit of challenging math problems, which he worked on collaboratively with other mathematicians.
Brought to the spotlight by the movie Hidden Figures, Katherine Johnson beat the odds – both for her race and her gender – by attending college at 15 and working for NASA after graduation. Her genius calculations contributed to multiple NASA firsts, including the world's first journey to the moon!
Another fantastic picture book biography about Katherine Johnson I highly recommend is Counting on Katherine: How Katherine Johnson Saved Apollo 13. (A story the movie Apollo 13 sadly neglected to tell.)
The story of Harper Lee and How to Kill a Mockingbird, this book shares the fascinating story of the woman who wrote the "most read novel in America" – surpassing even the ever popular Harry Potter (source)!
The unusual gift that gave her the time to write How to Kill a Mockingbird, the childhood that inspired it, and why she decided to publish only two books, decades apart.
Discover the childhood that inspired Snoopy and Charlie Brown, and the entire world of Peanuts.
Creator of the beloved Peanuts comics. Charles Schulz always wanted to become a professional cartoonist, but his journey to become one was long and winding, including military deployment and personal tragedy.
Learn how Louis Braille became blind during childhood and later went on to invent the dot system used by the blind around the world to access literature of all kinds: Braille.
This picture book biography literally had me crying as I read it aloud to my kids.
Paul Robeson was a man of deep conviction and decided his best contribution to a war was to fight with music instead of guns. So he literally played music on the battlefield during a war.
Somewhere between actual biography and tall tale, this picture book tells the story of how fruit trees traveled from the midwest all the way to Oregon and became the orchards that exist there today.
The true story of Alan Rabinowitz, as told by himself. This picture book biography shares how his love for animals drove him to overcome his stutter in order to speak up for their wants and needs when they couldn't speak for themselves.
We thoroughly enjoyed discovering the fascinating history of how crayons were invented. Learn how Edward Binney created the affordable drawing tool that, for the first time, allowed children everywhere to draw in color.
Enjoy another picture book biography dedicated to female scientists who pioneered in their chosen fields of expertise. Joan Proctor loved reptiles from a young age, even keeping baby crocodiles and lizards as pets!
Discover how she designed a new reptile habitat at the London Zoo and studied Komodo Dragons, helping to dispel commonly held myths about these exotic creatures.
Did you know that some diamonds are dug out of the earth but others are man-made?
Learn more by reading the inspiring story of Tracy Hall, who overcame a difficult childhood and went on to invent a machine that makes diamonds, used for engineering and machinery world-wide.
Harry Coleburn rescued a baby bear he eventually named Winnie. That bear inspired the hear-warming adventures of Winnie the Pooh.
This picture book biography tells the story behind the story – of Winnie and of his friend Christopher Robin.
Sammy Lee faced intense discrimination for his Korean heritage. Although he did finish his medical degree and become a doctor, he set aside his father's dream for him to work as a doctor in order to pursue his own passion, instead: to become an Olympic champion diver.
A poetic tale of Jacques Cousteau's childhood, this biography relates the boyhood curiosity that inspired Cousteau's love of the ocean and its creatures, leading to his successful career in oceanography.
Katherine Sessions loved trees, and she couldn't imagine living anywhere without them. But when her career took her to San Diego – a formerly treeless city – she took on the challenge of bring what she loved to what she considered to be a barren wasteland.
The Tree Lady is the story of how she transformed San Diego by planting gardens and parks all over the city, and one hundred years later, you can still see her work today.
When his village faced drought and eventual starvation, 14-year-old William Kamkwamba didn't have enough money to attend school. He spent his time learning how to use wind to generate electricity and went on to build an actual windmill from scrap metal and save his village.
The tale of Ben Franklin's (theoretically) first invention, this story describes the problem he faced and how he came up with a way to solve it. Especially inspiring if you have little inventors!
Anna Comstock loved science and nature. The only problem? She was a woman. Learn how she pursued science despite her gender and became a "nature expert", petitioning schools everywhere to get children outdoors and into nature as much as possible.
This is the story of how Chris Hadfield was inspired by the first moon landing to overcome his fear of the dark and become the first Canadian astronaut to walk in space.
There was a time in history when people believed insects were evil (sometimes, I agree with them). But Maria Merian was fascinated by them, and she used art to document the beauty of the natural world – from butterflies to other insects to plants.
This picture book biography tells the tale of young Malala Yousafzai who longed for a magic pencil to change the relatively small problems she faced. Eventually she started to see the world's bigger problems and long to erase those, too.
Although she realized one day that you can't change the world with magic, Malala discovered you can still work hard in other ways to change the world.
This picture book shares the story of Everett Ernest Just, African American scientist who overcame discrimination in his field and made ground-breaking discoveries around the origins of human life.
Child of a poet and (almost) mathematician, Ada Lovelace loved science, math and machines. Her determination and vision led to her development of the first computer program…before computers even existed!
This picture book biography tells the story of Harriet Powers, former slave who survived and was set free by the Civil War. Her sewing skills both clothed her family and created beautiful quilts that were eventually designated African American folk art.
Maria Mitchell was fascinated by the night sky from a young age. One night she discovered a comet no one had ever seen before. The fame from her discovery led to her becoming known as America's first female astronomer.
Les Paul loved music and tinkering. All that tinkering led to him inventing the first solid-body electric guitar, along with numerous other inventions that made modern music what it is today.
This story tells the tale of Teddy Roosevelt's fascinating childhood and the health challenges he had to overcome. His determination to beat frequent illness and build a strong body shaped him into the man he needed to be to become president of the United States.
Unbeknownst to many, George Washington Carver studied seeds from a young age, planting and testing different gardening techniques in his secret garden.
This is the story of a man who respected nature and loved science/botany so much, he was willing to stand up to intense prejudice in order to attend college. Getting that degree allowed him to build the career that resulted in the invention of over 300 different products from the peanut and saved the South from total economic ruin.
Jane Goodall loved animals, but she had a special affinity with chimps. Learn more about how Jane Goodall's childhood pave the way for her to become a world-renowned animal activist and conservationist.
This picture book biography tells the incredible true story of how Philippe Petit walked (and danced, apparently) on a tightrope between New Yorks' Twin Towers for over an hour. While it's not a feat you'd necessarily want your children repeating, they are sure to love this fascinating true story!
Walt Disney is with a doubt an inspiring global icon. Discover the fascinating, winding journey – filled with both failures and successes – that led to the creation of beloved Disney movies and theme parks.
Lesser known peer of famous artists Frida Kahla and Diego Rivera, Leonora Carrington always loved art, but it wasn't until she discovered surrealist art that she found her true passion. Like so many others, she had to set aside the expectations of her parents to fulfill her dream of becoming an artist.
The story of Hanson Gregory and how he accidentally created this beloved treat while aboard a boat, of all places. Be sure to enjoy this story with a side of doughnuts!
The late Ruth Bader Ginsburg had an amazing career and was well known for her bold, dissenting opinions.
This picture book biography relays the inspiring story of this strong female Supreme Court justice who advocated for justice for disadvantaged people everywhere.
Elizabeth Blackwell grew up during a time when women weren't supposed to be anything except wives and mothers. Read how she defied the odds and became the first female doctor, paving the way for any woman to become a doctor if she so chooses.
Although he isn't the most popular figure in America today, Thomas Jefferson did have a passion for books. So great was his collection, his personal library eventually helped to rebuild the Library of Congress.
The incredible world of insects was unknown the world until Jean-Henri Fabre decided to study them in their natural habitats. One of the first and most important naturalists, Fabre changed the way the world saw insects.
Where did the umpire signs for calls like strike, "you're out", safe, frequently used in modern baseball, come from? Learn how deaf baseball player William Hoy changed baseball as we know it.
Newbery Medal namesake, John Newbery completely changed how the world saw children's books. In the 1700's, the primary goal of children's literature was to communicate rules and warnings, but John Newbery thought children's books should be fun and magical and enchanting.
This picture book biography tells the story of Margaret Hamilton. She adored numbers from the time she was a young girl and went on to attend MIT and work for NASA.
Her correct calculations contributed to the success of missions Apollo 8 – Apollo 11, helping to put a man on the moon!
The fascinating story behind Frakenstein author Mary Shelley. Friends with famous Lord Bryron and daughter of a writer, Mary longed to come up with her own ideas for books of her own.
Learn how overnight inspiration struck and led to one of the most famous monsters of all time.
Known mainly for his street art, Keith Haring declared himself an artist and just kept drawing despite criticism and rejection. His generosity with his art and desire to see art accessible to the masses is truly inspiring.
During the Great Depression, Dorothea Lange decided to document the hurting, the desperation, and the despair that marked the nation. Get a glimpse into the life behind the photographer who captured the iconic photograph "Migrant Mother".
Grant Wood loved art, but had trouble finding a style that fit. After a lot of trial and error, he fell in love with Gothic art, which eventually led to the creation of the famous painting "American Gothic".
Learn more about the one who helped create a uniquely American style of art.
Alan Beam was an astronaut with a unique passion for art.
He fell in love with the moon after becoming the fourth man to walk its surface, and he sought to share the beauty he discovered there with the world. His gift allowed people to experience a small taste of what it was like to walk on the moon.
Born just before the Great Depression, Leontyne Price adored music – especially opera. But as an African American woman growing up in the south, she didn't think she had a shot at actually taking the stage.
Inspired by Marian Anderson's success, she decided to pursue her dream despite the obstacles. With a lot of hard work and grit, she eventually won multiple roles at the Metropolitan Opera.
Zaha Hadid was an Iraqi architect who had a unique approach to her craft, incorporating nature and non-linear shapes into her work. Learn about her life, the obstacles she overcame, and what led to her work becoming known and replicated by architects world-wide.
Isabella Bird was born to explore. Unable to stay in one place for long, she traveled all over the world, becoming the first female member of the Royal Geographic Society,
This picture book biography tells the fascinating tale of how Pluto got its name. Venetia Burney's passion for Greek Mythology and connection to a member of the Royal Astronomical Society led to Pluto being named by an unlikely 11-year-old girl.
Medical pioneer Vivien Thomas overcame many obstacles in his pursuit of medicine, including the Great Depression and his race. As an African-American, he had to come up with creative options in order to pursue his dream of becoming a doctor.
He eventually helped to develop an innovative and life-saving technique for open-heart surgery on children – a technique for which he never received credit.
The story behind Star Trek's Captain Spock is one of perseverance and hope. Leonard Nimoy always wanted to be an actor, but was discouraged from doing so by his parents. However with a lot of hard work, he was finally offered the role of Spock and became one of the most beloved and well-known television characters today.
Another Temple Grandin story, this biography focuses on her paradoxical lack of desire for a physical hug but true need for the physical pressure hugs offer. This unusual need led her to a unique solution: design and build a hugging machine.
A hard-working tennis player, Billie Jean paved the way for female equity in sports. Her famous tennis match with Bobby Riggs proved that women can meet men on the same playing field…and win.
Tyrus Wong immigrated to the United States with a dream to become an artist. He created art until he finally attended art college, where he was discovered by Disney and given a once in a lifetime opportunity – to draw scenes for Bambi.
Read about this unsung Disney artist who was never credited for his groundbreaking work in film art.
Everyone thought the Brooklyn Bridge was designed by Emily Roebling's husband. It turns out that when her chief engineer husband fell ill, Roebling had learned enough engineering to carry on his work and finish the job!
How Emily Saved the Bridge is another amazing picture book biography about this amazing lady!
From a young age, Barbara Johnson had a clear, loud voice filled with confidence, one that people stopped to listen to. That voice propelled her to become a lawyer, congresswoman, and advocate for civil rights.
Rachel Carson wanted to know how pesticides affected the environment. Her research and studies eventually led her to write the famous book Silent Spring about the effects of humans on planet Earth, which helped shape the modern environmental movement.
This picture book tells the story of Patricia Bath, African American woman who wanted to be an ophthalmologist in the 1940's when it wasn't technically an option. Despite opposition, she went on to invent a way to remove cataracts and save peoples' sight, even when all other doctors gave up.
In the early 1900's, children worked long hours in the mill, to the detriment of their physical health and emotional development. Mother Jones passionately fought to see child labor laws put into place in order to save childhood, culminating in her march with 100 mill children from Philadelphia to the president's home in Long Island to demand change.
Young Frank Epperson loved experimenting, especially with liquids. After he invents a delicious beverage his friends adore, he wonders what it would taste like frozen.
This story is best enjoyed with a side of popsicles!
Alice Roosevelt was an unconventional woman during her time. Muchlike her father Teddy Roosevelt, she wanted to learn and to see everything she possibly could, which was not what women were supposed to do back then. Her adventures and pursuits often left her father scratching his head, wondering what to do about Alice.
The story of Nelson Mandela and his quest to end South Africa's system of racial apartheid. The children's version of his official biography, this picture book makes Mandela's life story accessible for all ages.
The story of how Tony Hillery had a dream – a garden in the middle of Harlem – and how he made that dream a reality that now gives elementary students purpose and provides free healthy food to the surrounding community.
Rube Goldberg was an inventor…sort of. He came up with ideas for hundreds of inventions just for the fun of it. And none of them ever got built!
The story of an unconventional cartoonist, this picture book biography demonstrates how you can combine your passions, no matter how different they are, to find work you love.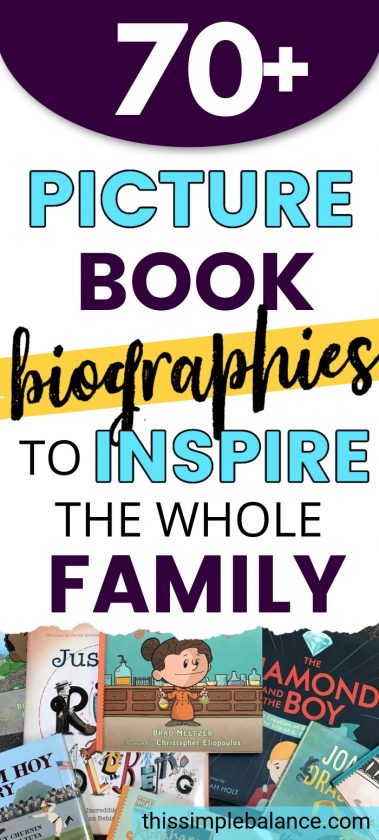 Picture Book Biography Series & Anthologies
Included here are entire series of biographies and anthologies we have loved.
1. Ordinary People Change the World Series
We have several books from this series, and my oldest reads them voluntarily again and again.
Martin Luther King Jr., Rosa Parks, Helen Keller, and Abraham Lincoln are just a few of the names in this series. Weaving true life stories with humorous speech bubbles, these are ones to collect and keep!
New releases we just ordered are I Am Marie Curie and I Am Leonardo DaVinci. Two more are due to release in October.
2. Getting to Know the World's (Artists, Composers) Series
We absolutely adore these picture book biographies! If I had all the money in the world, we would own them all.
Each biography tells the life story of its subject and is accompanied by hilarious comics that have my kids cracking up the whole time.
From Edgar Degas to Peter Tchaikovsky , you kids will love learning about famous artists and composers through these books.
3. Getting to Know the United States' Presidents
Another "Getting to Know" series, these are perfect if you are studying United States history, or just for everyday reading.
Again, if I could own them all (in library binding of course), I'd love it. But $1500 isn't exactly in the homeschool budget.
4. Goodnight Stories for Rebel Girls (I & II)
We haven't read this one as a family yet, but I've read through several stories in the bookstore and it's worth checking out!
I appreciate that these books have more recent "famous" women from modern times, such as Ellen Degeneres, J.K. Rowling, and Beyonce.
Getting the set is significantly cheaper than purchasing each book separately.
5. Stories for Boys Who Dare to Be Different
A collection of 50 stories of men who changed the world in unique ways, this book was a favorite last year in our homeschool. We read one a day most days.
While I appreciate the push for more stories about amazing women, there aren't as many picture book biography anthologies for boys. So I'm hanging onto this one and constantly keeping my eye out for more.
They recently released a second book with 50 more stories and another book Stories for Kids Who Dare to Be Different. These are on my "to buy" list this year!
6. Women Who Dared
This anthology is divided into three sections:
Daredevils
Adventurers
Rebels
We didn't enjoy this one as much as I hoped, although it did entertain the boys with the daredevil section (women who were in the circus or did stunts for a living).
Dive into the Wonderful World of Picture Book Biographies
I've only touched the surface with this list. There are so many amazing picture book biographies!
I will add more to this post as we read them, but be sure to spend some time in the children's biography section of your library the next time you visit.
Grab a stack and get reading – we've rarely read a picture book biography we didn't love.
Read Next: 17 Best Picture Book for Young Boys