Inside: An unbiased Big Life Journal Review sharing what we loved and what we didn't love. Why we never finished Big Life Journal, but I still don't regret buying it. Because the one who needed a growth mindset the most? It wasn't my daughter…it was ME.
Two years ago, growth mindset was THE buzzword in parenting and education (and it still is). And Big Life Journal was everywhere.
All the homeschool and parenting bloggers were promoting it. Every time I scrolled my Facebook feed? Bam! There it was AGAIN.
Eventually my curiosity got the better of me, and I clicked over to check it out. What exactly was a growth mindset, anyway?
The more I read, the more I wanted to try it.
Still, I stayed on the fence for weeks. Our homeschool budget was pretty maxed out at that point.
As I was debating again one day, I *almost* dismissed the idea entirely. Later that same day, I heard my daughter screaming in the background.
I caaaaaan't do thiiiis!!! I'll never be able to do it!
Add some paper ripping sounds, running feet, sobbing, and door slamming to the screaming.
Yes, yes we did need Big Life Journal. And we needed it yesterday.
But while I thought my daughter was the one who needed Big Life Journal, it turns out the one who needed Big Life Journal most was ME.
Related: 70+ Best Picture Book Biographies for Kids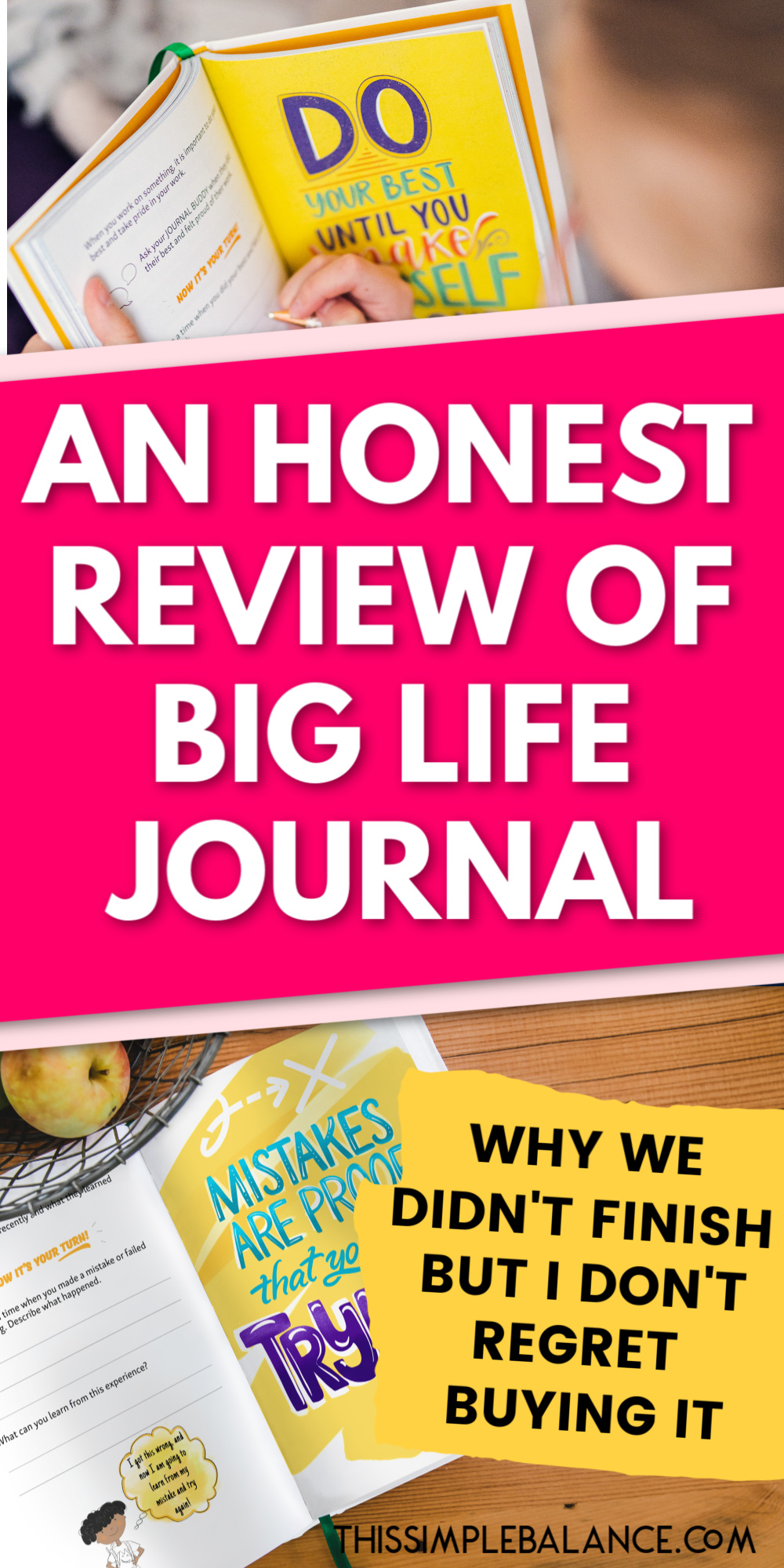 What Is Big Life Journal?
THIS POST PROBABLY CONTAINS AFFILIATE LINKS. AS AN AMAZON ASSOCIATE, I EARN FROM QUALIFYING PURCHASES. YOU CAN READ OUR FULL DISCLOSURE POLICY HERE.
Big Life Journal was born when Alexandra Eidens couldn't find any growth mindset resources geared towards children. Having personally benefitted so much from developing growth mindset, she wanted to make sure she could pass on those benefits to her own child.
When her search came up empty, she decided to create what she couldn't find anywhere else.
The original Big Life Journal is a physical book designed for one child to work through with a parent or mentor once a week over the course of several months.
Big Life Journal contains:
Inspirational Stories of Real People Who Overcame BIG Obstacles, Failures and Mistakes
Poems & Art Related to Growth Mindset
Journal Prompts, Activities & Questions Designed to Develop Growth Mindset
Big Life Journal covers the following topics:
Making a Difference in the World
Dreaming Big
Listening to Your Heart
Stuff Doesn't Make You Happy
Believing in Yourself
Taking Action
Persistence
The Importance of Effort
Becoming a Life-long Learner
Mindfulness
Reframing Failure as Learning
Positive Thinking
Big Life Journal started as just a mom selling a growth mindset journal through a kickstarter campaign.
But over the past few years, one mom and one journal blossomed into an entire company with dozens of products and even a podcast dedicated to helping children develop a growth mindset!
Many of these products are designed primarily for classroom use and include group activities that may be a challenge to do at home with only a few kids. So as homeschool parents, keep that in mind when purchasing any of their printable products.
Some of the products like THESE yearly goal setting sheets or THESE conversation cards can work in any setting.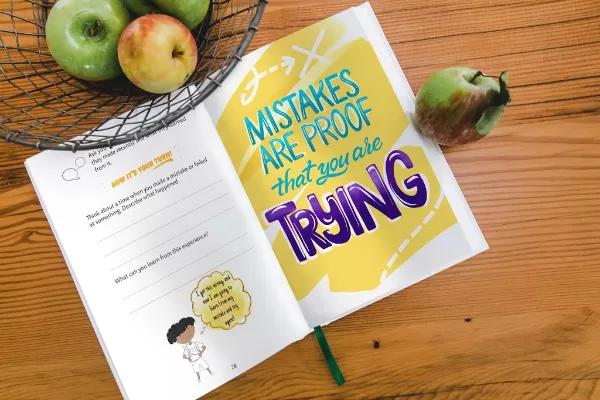 We purchased the original Big Life Journal, designed to be used with children ages 8-11.
There is a second Big Life Journal edition (shown above), which is gorgeous! I love the new look.
They also recently released a Big Life Journal Teen Edition, which you can find HERE.
What Exactly IS "Growth Mindset"?
If you're unfamiliar with growth mindset, researcher Carol Dweck originally coined the term over thirty years ago.
A growth mindset is the belief that your talents and abilities and intelligence are not fixed from birth.
Growth mindset says that yes, you can become smarter, acquire new talents and continually improve. There is no limit to what you can achieve.
Carol Dweck put it this way:
Individuals who believe their talents can be developed (through hard work, good strategies, and input from others) have a growth mindset. They tend to achieve more than those with a fixed mindset (those who believe their talents are innate gifts). (source)
Growth mindset is the opposite of a fixed mindset.
Her research demonstrates that children with a growth mindset perform better academically, and have better life outcomes in general, than children with a fixed mindset.
After her research was published, educators and parents started to discuss the best ways to help kids move from a fixed mindset to a growth mindset.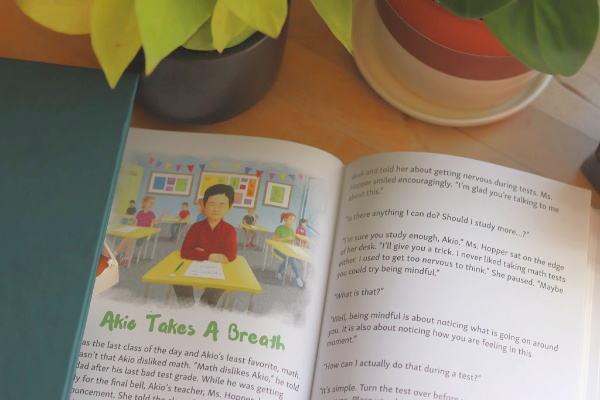 Why We Decided to Try Big Life Journal
Seeing Big Life Journal everywhere woke me up to the face that my daughter was consistently showing signs of developing one of the most deadly enemies of a growth mindset:
Perfectionism.
Her perfectionist tendencies were becoming glaringly obvious, and the negative self-talk was even worse. She declared, "I can't do this," or, "I'll never be able to do this," on a regular basis.
I recognized myself in her. I've wrestled with perfectionism all my life, and watching her face the same struggle was painful. I desperately wanted to help her.
But at that point, my perfectionism still held me back. It stopped me from taking risks.
I was always afraid to make mistakes, constantly afraid of failure. Failure in parenting. In marriage. In online business.
As a child I don't remember ever being given any tools to cope with those perfectionist tendencies. I remember it being one of my most defining characteristics, part of my personality I didn't think I could change (fixed mindset, anyone?).
But If I could give my daughter the tools she needed to NOT struggle with perfectionism her whole life, to not be held back from doing what she truly wanted to do, to not be afraid to fail or make mistakes, I knew I needed to do it.
Big Life Journal seemed to offer the solution to the problem, so I gave it a try.
Here is my honest Big Life Journal review – what we loved and what we didn't.
Related: How to Homeschool Fourth Grade: Curriculum & Resources for 2019
What We Loved About Big Life Journal
1. Big Life Journal helped ME, the parent, develop a growth mindset.
I'll tell you right now that you won't be able to help your child have a growth mindset if you don't.
By far, the biggest impact Big Life Journal had on our family was it pushed ME to develop a growth mindset. The more I change my own mindset (I'm still working on it!), the more I bring that to my kids in our homeschool.
You may need to take some time to work through the journal yourself before you go through it with your child.
2. Big Life Journal provided a clear framework for developing growth mindset in children.
Big Life Journal does a lot of the hard work for you.
They've gathered multiple inspirational stories and thought-provoking questions. They clearly put a lot of thought into ordering the various concepts in a way that makes sense and systematically builds on each other.
If you love prepackaged, already done for you, products that save you the time of designing various unit studies or decided on what order to teach them in, you'll love Big Life Journal.
On the other hand, if you really don't like following someone else's plan, you may not love Big Life Journal.
3. Big Life Journal forever shaped our homeschool by introducing us to inspirational biographies.
To say Big Life Journal influenced our homeschool isn't an exaggeration. Because of the journal's inspirational biographies, I started searching for more to include in our reading on a daily basis.
Inspirational biographies are now a non-negotiable part of our homeschool day.
Almost every single day, we read about men and women who overcame incredible challenges and failures, and went on to do amazing things with their lives.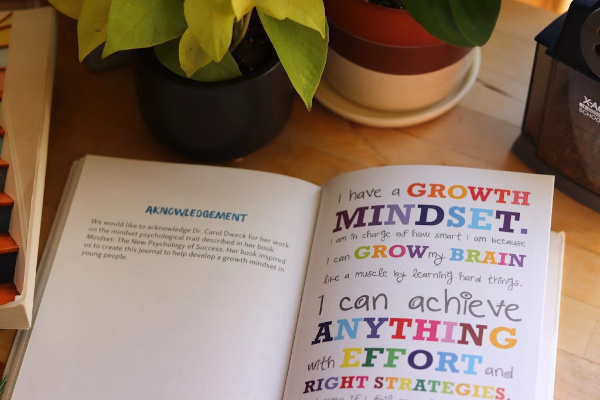 What Did We NOT Love about Big Life Journal
1. My daughter – a very black and white, what's the "right" answer, kind of child – struggled with the many open-ended questions.
We started Big Life Journal when my daughter was 7, probably a bit too young to get the most out of it. She is also a very literal thinker and loves answering questions with a right and a wrong answer.
She struggled and became frustrated with several of the questions that required imaginative thinking.
Questions like:
"What is your biggest dream?"
"Can you think of a time you followed your heart when facing a choice?"
"If you could be anyone in the world for a day, who would you by and why?"
She would probably do better now at age 10. Make sure to take the age recommendations seriously.
2. We didn't love the recommended time frame (26 weeks).
I don't know about you, but twenty-six weeks is a LONG time to commit to anything. We tend to operate on three-month cycles, changing up projects and interests with the seasons.
Even if my daughter didn't struggle with answering the questions, I think we would still have struggled to complete the journal.
Life happens, especially in homeschool families of any size. Kids get sick or amazing learning opportunities come up out of nowhere, stretching the already long six months into even more months.
If you plan on purchasing Big Life Journal, I would consider going all in for a much shorter period of time. You could increase your Big Life Journal sessions to 3-5 days a week in order to complete the journal in a month or two.
3. We just aren't "fill in the blank" journal type people.
Growing up, I really didn't love journals with question prompts and fill in the blanks. It just wasn't for me (much to my mom's dismay).
My daughter also seems to struggle with the format. Neither of us do well with questions that with semi-obvious correct answers (because those seem to insult our intelligence) OR the imagination questions.
We prefer reading aloud together and having "big, juicy" conversations (a term coined by Brave Writer's Julie Bogart).
Here's where my confession comes in: we never actually finished the journal.
We got to week 7 (out of 26 weeks) and stalled out. Our dislike of fill-in-the-blank journals is a major reason we have no plans to finish it.
Related: An Honest Review of Brave Writer (from a former skeptic)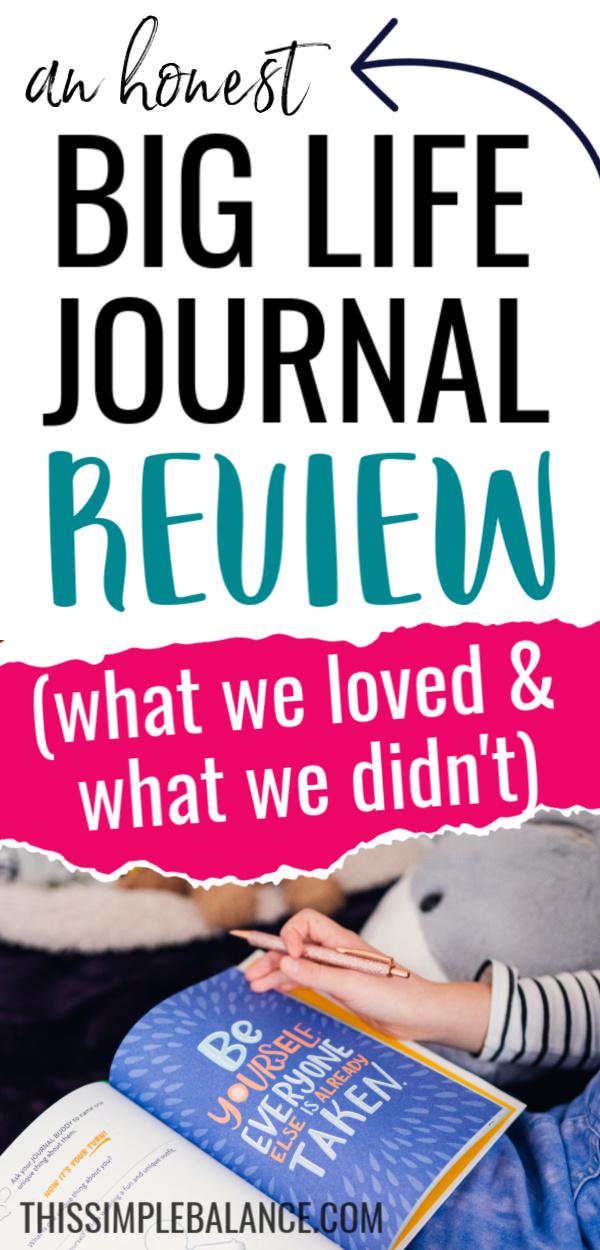 How to Develop a Growth Mindset without Big Life Journal
You can absolutely instill a growth mindset in your kids without this journal.
🔆 Use the concept list in Big Life Journal as your guide. Introduce those concepts naturally into your everyday conversation. It's easier (and far more natural) if you're working on developing growth mindset yourself.
🔆 Work with your child to reframe negative self-talk (e.g. changing "I can't do this" to "I can't do this yet" OR "I don't FEEL like I can do this").
🔆 Keep a running list of times your child persevered through difficult circumstances and overcame. Then the next time your child is screaming they can't do something, remind them of the list you made.
🔆 Share your own mistakes with your child and how they changed the direction of your life for the better.
🔆 Read inspirational biographies to your child. They don't have to be long!
Here are several anthologies we have used with stories that take less than ten minutes to read:
Final Thoughts on Big Life Journal
As time went by, I realized that as I developed a growth mindset, many of the topics in Big Life Journal worked their way into our everyday life and conversation.
Even though I have no plans to finish the journal, I consider Big Life Journal a valuable resource for me as a parent and a homeschool mom.
I go back to it periodically when I sense the need to add another "tool" to my children's toolbelts when it comes to growth mindset, and I need a little help.
I would buy Big Life Journal again, even knowing we would never finish it.
Whether or not you end up purchasing the journal, make sure to get on Big Life Journal's e-mail list (you can follow the link above).
They regularly send out beautiful free printables on topics related to growth mindset and discount codes for their digital downloads.
You may also enjoy their new growth mindset podcast for kids HERE.
Have you tried Big Life Journal? What did you think? Share in the comments!