Inside: Help your kids develop critical thinking and reasoning skills in a fun way using logic board games! Choose from over 25 of the best logic board games for kids of all ages – preschool through teenager.
I remember loving logic puzzles and brain teasers as a child, and I couldn't wait until my kids were old enough to try them!
Last year, we started adding in logic exercises like Sudoku and logic puzzles. More recently, both of my older kids went on a deep dive into Rubix cubes, spending hours one week learning the algorithms required to complete them.
When I first introduced logic puzzles, I worked alongside my oldest to teach her the basics.
And dang! I forgot how much patience, perseverance and brain power logic puzzles require!
As you work your way to more difficult puzzles, the brain exercise is INTENSE. You're holding several different facts in your brain at once, looking for definite conclusions and constantly making sure your reasoning is sound.
Sometimes, you make big leaps and conclusions that are WAY off. Or you forget to take into account all the information and what each clue tells you (along with what that clue rules out).
Then you have to go back to the beginning and start all over again.
Despite all of that, my kids and I keep coming back for more!
Related: 17 Best Educational Board Games for Kids (that we play ALL the time)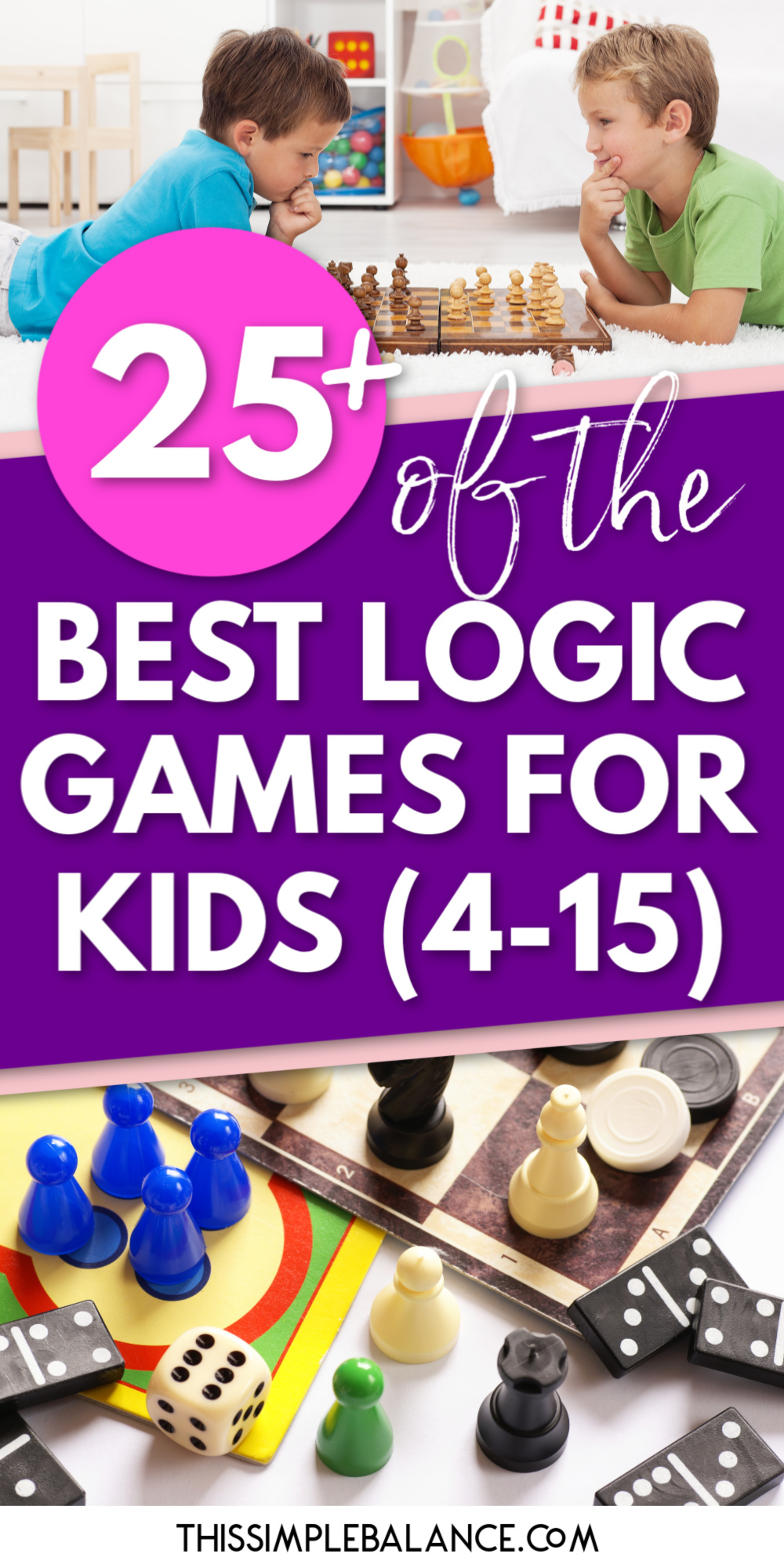 Why Buy Logic Board Games?
THIS POST PROBABLY CONTAINS AFFILIATE LINKS. AS AN AMAZON ASSOCIATE, I EARN FROM QUALIFYING PURCHASES. YOU CAN READ OUR FULL DISCLOSURE POLICY HERE.
We are just dipping our toes into logic board games primarily because logic puzzles are difficult to do with more than 1-2 people. Since there's one of me on five kids, I'd love to be able to work on logic exercises and activities more than just 1:1.
That being said, some of the logic games on this list can still be played alone (like Logic Links and Rush Hour).
In a world of shorter and shorter attention spans, logic puzzles and logic board games help our kids develop sustained attention and the ability to work through a problem to the end.
I rounded up the best logic board games for our own Amazon wishlist. And I hope you can find a few logic board games in this list to add to your own educational board game collection!
(Side Note: Our favorite logic puzzle books are THESE ones. I do them on my own and with my daughter – she started around age 9.)
More Educational Board Games:
25+ Logic Board Games for Kids
Ages 3 and up, 1 to 4 players, 2-minute playtime
There is no reading required with this logic board game that encourages little learners to use strategic planning and cooperation.
Ages 5 and up
A froggy fun twist on solitaire from logic game gurus Think Fun! 40 multilevel challenges become more difficult as you work through them.
It teaches strategic thinking and planning.
Ages 4 and up, 2-4 players, 10-minute playtime
Kids work together using memory and strategy to rescue the dinosaurs before the volcano erupts!
This is a great logic board game for younger kids that incorporates team-building and shared decision making.
Ages 4 and up
Adorable animal titles and bright illustration make this game fun and engaging for little mathematicians. Introduce Sudoku, develop basic math reasoning and logical thinking skills.
Choose the animal version or one of the five other options.
Ages 4 and up.
Another logic board game easy enough for young children that does not require any reading. Players select cards and place chips on corresponding characters on the game board.
Ages 8 and up
This classic board game requires serious reasoning and deduction skills.
How can you ask the right combination of questions in order to figure out the murderer, the weapon and the room before someone else figures it out first?
I personally prefer the retro version, but the new version of the game (swaps Dr Orchid for Mrs. Peacock) is much cheaper and can be found HERE.
Ages 8 and up
Figure out how to unblock the traffic jam. Comes with the board, all the required cars, and 40 cards with different initial scenarios ranging from beginner to difficult.
From Think Fun, Rush Hour is one of the most popular STEM/logic board games today – it gets almost perfect 5 star reviews on Amazon. How often does that happen?!
My older kids (6-10) all really enjoy this one.
Ages 8 and up
Cat Crimes is another logic game by Think Fun where players develop critical reasoning and logical deduction skills while they solve increasingly difficult challenges.
Find out which cat is responsible for the crime using paw prints, toys, and clues to figure it out. 40 challenges ranging from beginner to expert.
Ages 8 and up, 2-4 players or teams
This game of strategy is great for the whole family! Players drop tiles of different shapes into a vertical game board. Think Connect 4 with shapes with a bit of challenging twists.
Ages 8 and up
Coding, programming logic, and STEM! Players will develop critical thinking skills, reasoning, and planning with 60 beginner-expert level challenges. Instruction booklet with solutions included!
Ages 8 and up, 2-7 players or teams
Does anyone remember playing flashlight tag? Be the Seeker or the on a team that controls the forest animals who hide from the light. This unique board game helps team building and critical thinking.
Perfect for a camping trip and also teaches how lights and shadows work!
Another great game of strategy for short attention spans. This logic board game is all about speed!
It can be played independently or with others and is great for all ages. Players move test tube ingredients from one tube to another as shown on challenge cards. Great hands-on game!
Ages 8 and up, 2 or more players
Learn how the human brain works! Players use deduction and reasoning, problem-solving, strategic thinking, and teamwork as they race to the finish space.
Based on the National Geographic Channel TV Series, Brain Games, this logic game will get the whole family thinking.
Ages 5 and up, 2-4 players
Players work together to help the fairies escape winter frost. Match fairy cards and gather hidden gems in this logic board game.
We love cooperative games from Peaceable Kingdom!
Ages 6 and up.
This game is a magnetic maze with 60 challenges of increasing difficulty. Players take control of their own UFOs to solve challenges, snatching cows.
A crazy attention grabbing game that develops critical thinking.
Ages 5-10 years
Players race to guess what secret sweet treat their opponents have chosen.
Using logic, reasoning, and memory players will eliminate variables to make the best possible guess! Guess right and win or guess wrong and get a "Brain Freeze"!
Ages 6 and up
This classic logic game needs little introduction. It's a fast-paced game of strategy and skill that is perfect for a break from the books!
Help your kids learn chess! Pick up the skill instantly with a special game board that guides players through set up.
There's also a card deck that shows how to move each piece.
Ages 6 and up
Use tactile tracking and speed to solve these game board puzzles. Players use observation to find the patterns to rebuild as fast as they can, but it's get's tricky!
Three levels of difficulty make it flexible for multiple ages.
Ages 6 and up.
Each card includes clues you decipher to place the colored chips in the correct sequence. 166 puzzle cards with 32 plastic colored chips.
Game can be played alone or with others. Compete to see how many puzzles you can complete in a set amount of time OR work together as a team.
Ages 10 and up
"Battleship meets Sudoku" in this strategy game that combines logic and deduction as players try to guess their opponents secret square on the gameboard.
Ages 8 to adult, 30-40-minute playtime
Use logic and reasoning to unmask enemy spies. The top spy will have to "bluff, deceive, and double-cross" their opponents in a suspenseful logic board game that will engage the entire family.
Ages 8 and up, 2 player, 15-minute playtime
An abstract strategy game using deductive reasoning. A concept simple enough for kids with a design sophisticated enough for teens and adults.
Easy to learn and quick to play!
Ages 7 and up
Players race for treasure in a loving maze while playing this logic board game. Learn cause and effect, planning, and association.
The player with the shortest route through the labyrinth wins!
Ages 5 and up
This is a classic strategy game for all ages. Players take turns placing their titles on the game board, but there are rules. Each new piece must touch at least one other piece of the same color-but only at the corners!
Simple enough for little ones to catch on and addictive fun for the whole family.
Ages 6 and up, 2-4 players
Another great game for that will pass inspection from big kids and teens, yet it's simple enough for the youngest in the family too.
Ages 16 and up
What a fun game night! Use logic and reasoning in this real-life escape room set that includes three different room possibilities.
The only downside to this logic board game is once you've completed all three escape rooms, you probably won't want to play again.
You could always start a fun regifting train and keep a list inside the box of all the families who have played the game!