Inside: Primary Clothing Review | A refreshing new line of kid's clothes that is affordable and free of graphics, text, or pictures – just basics in beautiful colors that are easy to mix and match.
If you hate shopping for clothes and are frustrated with the options in kid's clothing today, you need to know about Primary.com. I love this children's clothing company much that I am transitioning as many of my kid's clothing purchases here as I can possibly afford.
And that's a big deal in my frugal world.
If you've been following my blog for a while, you know that I love saving money on clothes. In fact, I get a lot of my clothes for free from GAP and Old Navy.
While I will still get the majority of our adult clothes from these stores, I love having a simpler option for kid's clothes. Enter: Primary.
3 Major Problems with Kids' Clothing Today
THIS POST PROBABLY CONTAINS AFFILIATE LINKS. AS AN AMAZON ASSOCIATE, I EARN FROM QUALIFYING PURCHASES. YOU CAN READ OUR FULL DISCLOSURE POLICY HERE.
Get Cash Back from your Primary.com purchase when you sign up for BeFrugal.com (plus a bonus $10 once you reach $10 cash back).
1. Everything is trendy.
The trends in children's clothing are constantly changing. One year, you can find exactly what you're looking for. You fall in love with a classic look and plan on buying those same pieces all the time…until the next year when the store you frequent stops carrying it.
This past year particularly, I was looking for yoga pants. My daughter only will only wear "comfy pants"; she hates jeans. I didn't want leggings that are super tight from butt to ankle, but yoga pants like these ones that flare slightly at the leg.
Could I find them? Nope. Definitely not at GAP, Old Navy, Carter's, OR Target. Every pair of pants deemed "comfortable" was either a too-tight legging or ill-fitting sweatpants.
And then there's shorts shopping. Some years, I can find decent shorts, but others I can't find a decent pair anywhere, especially as my daughter gets older. The lengths (or lack thereof) are absolutely unacceptable for any girl in my opinion, no matter her age.
Swimsuits? If your child is more than three years old, finding one with decent coverage is nearly impossible these days. You can purchase ones from L.L. Bean, if you want to pay almost $50 for a top and bottom together at retail price.
Graphics on clothing also change based on trends. Deciphering those slogans and pictures on shirts takes far too much of my precious brain power. Hmmm, do I want my child to have a shirt with a picture of a dog in a tutu on it, or not?
What does that phrase even mean anyway, and what does it communicate about the person wearing it? You never know in our culture.
2. Clothing pieces are outfit-centric.
Mixing and matching pieces in clothing stores can be a super frustrating process. Certain pieces ONLY come in outfits. Do those outfit pieces coordinate with anything else? No guarantees.
I love simple kids' wardrobes. I want clothes that are ridiculously easy for my kids to produce outfits that don't make me wince.
Most clothing stores today do not make that easy. I don't have all day to shop for the perfectly coordinated child's wardrobe. I want to grab several similar items and go.
3. There are way too many choices, and it's overwhelming (that's an understatement).
There are simply too many choices. Parents already suffer from decision fatigue. Where are all the basics that make clothes shopping a breeze?
And then came Primary.
Primary Clothing Review
Primary.com is a new children's clothing company started by moms who saw these problems and decided to solve them. Frustrated by not being able to find a single piece of affordable children's clothing without text, graphics, or patterns, they decided to fill an obvious void.
The result? Basic, well-made, affordable children's clothing with pieces in almost every color – and ONLY color: no graphics, no text, no patterns.
After several frustrating shopping trips in the fall, I was forced to settle for the only decent leggings we could find (a combination of GAP, consignment, and hand-me-downs). Then we moved to North Carolina in January, and I suddenly needed girl's shorts in February. Crazy!
I needed simple and affordable, and I needed it fast. Because I had browsed Primary.com so many times, I decided to make the plunge and give them a try.
I found exactly what I was looking for: quality yoga pants with a flared leg, undershorts for underneath dresses, and comfy shorts with a decent length. All these clothes were available in colors my daughter loves.
For my first order, I was able to use their new buyer's coupon for 20% off your entire order – an even bigger incentive to try it! I ordered nine items, and paid just over $80 for everything, with free shipping included.
We have gone on to order the pocket skirt, the short-sleeved pajamas, and the midi short. We've loved every piece.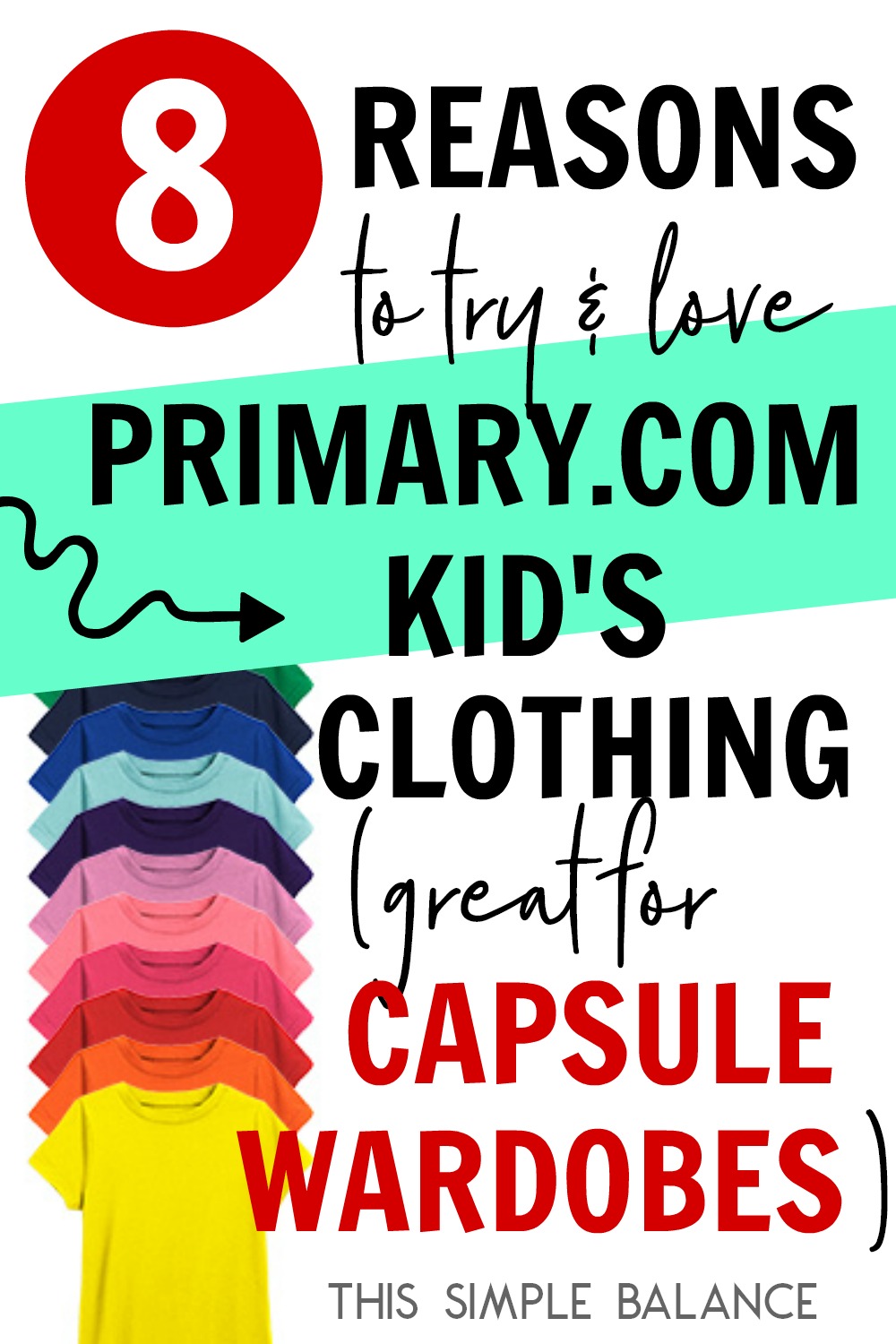 Primary Clothing: 8 Reasons to Love It
Here are eight reasons I appreciate Primary.com.
1. Lengths & Fit
While I have only ordered girl's bottoms so far (I will update the post when we try more items), I have been impressed with the fit and lengths of both the shorts and yoga pants.
Until now, finding girl's bottoms that were not skin tight or so short your butt shows was far from easy.
2. No Text, Graphics, or Slogans
Solid colors. I don't need to worry that my kids will be walking around shouting some questionable message to the world. I can't really keep up with all the hidden meanings in phrases these days. Now, I don't have to.
3. Quality Clothing
Update: These do last a long time…but they do not last years handed down to multiple children, washed week after week, year after year. But I accept the same reality for the t-shirts I purchase for myself. If you expect clothes to hold up to this level of wear and tear, Primary may not be the clothing brand for you.
The clothes are well-made. So long as you follow the listed laundry directions, they hold up well over time.
The stitching doesn't come loose, and the fabric holds its shape well. Some of the colors may fade with time, but you can use a low-heat dryer setting to avoid excessive fading.
4. Coordinating Basics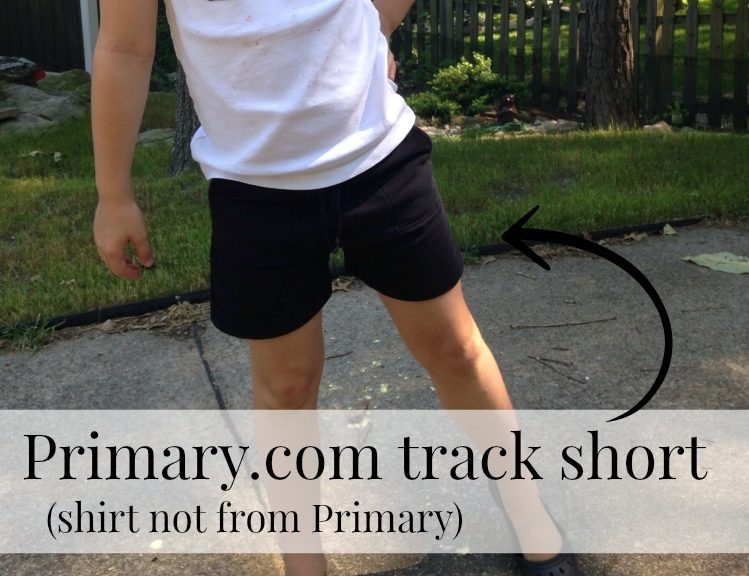 All the pieces come in solid colors. As long as you stick to a color scheme, you should theoretically be able to get an entire wardrobe that coordinates all the time, no matter what the kids pull out of the drawers in the morning.
Everyday basics are hard to find as clothing companies ride the trends and change their lines every six months. Primary.com offers solid wardrobe staples – every day, all the time. You can buy it one year and get it again after the next growth spurt.
5. Started by Moms
When my budget allows, I love choosing products that support people and causes I am passionate about. I love supporting moms who are innovative problem-solvers, generating income for their families with their talents.
6. Affordable Prices
The basics are super affordable, and they also have a clearance section with older styles. They offer more ways to save in exchange for spreading the word about Primary.com.
7. Rewards
Primary used to offer free shipping on any purchase amount, but I'm sure that was not a sustainable business model. Now, they offer a percentage back on a specific purchase amount as store credit.
Combine that with a cash back program like BeFrugal, and you get double the cash back!
8. Free 90-day Returns
Don't love it? You have a long, long time to return it: a quarter of a year to be exact. And it's free – there is absolutely no reason NOT to give Primary a try.
For first-time orders, they even offer a 20% off your entire order coupon. Give them a try – I bet you'll love Primary.com as much as I do.
Get 10% Cash Back from your Primary.com purchase when you sign up for BeFrugal.com first (plus a bonus $10 once you reach $10 cash back).
P.S. If you loved this post, please share it on Facebook or Pinterest. I'd really appreciate it!