Inside: Transitioning from stay-at-home mom to work-at-home mom can be challenging! These seven tips will help you (and your family) adjust to your new role as work at home mom.
When you first decide to be a stay-at-home mom, no one tells you how it will totally shake you – turn your whole world upside down. Your entire identity changes overnight.
You leave the workforce, and all of a sudden, poof! The pats on the back or congratulations for a job well done vanish.
There's just a screaming baby who needs God knows what (did I change his diaper an hour ago? Didn't I JUST feed him?) and your wonderful husband coming home every day asking what's for dinner.
While those two family members love you to pieces, they don't always thank you for everything you do. Eventually, you adjust and life as a stay at home mom becomes your new normal.
And then, you decide to become a work at home mom, and you have to adjust all over again.
THIS POST PROBABLY CONTAINS AFFILIATE LINKS. AS AN AMAZON ASSOCIATE, I EARN FROM QUALIFYING PURCHASES. YOU CAN READ OUR FULL DISCLOSURE POLICY HERE.
Becoming a Work at Home Mom
It can be quite a shock to the system (especially your family's) when you decide to become a work-at-home mom. Everyone is accustomed to how life works in your home.
You are the mom – the go-to for pretty much everything.
You can recite every family member's social security numbers and dates of birth off the top of your head. You know exactly how to load to the dishwasher to fill it to max capacity. You know the passwords to ever single online billpay. You know each child's bedtime routine and how to fold the laundry.
You are IT – the one that makes the world go 'round, and without whom it would fall apart.
Adding working from home to the mix doesn't change that fact, but it does make it just a bit harder for you to make the world turn all on your own. Things don't run quite as smoothly as they used to. In fact, sometimes, you wonder how you will ever have time to breathe again, let alone stay on top of everything!
The house isn't quite as clean.
The laundry isn't always folded.
Dinner isn't always on the table by 5. Or let's face it, at all. Take-out, anyone?
If you're struggling to transition from stay at home mom to work at home mom, use these tips to help you get through it.
You can be a great work-at-home mom. Just keep putting one foot in front of the other. Don't give up!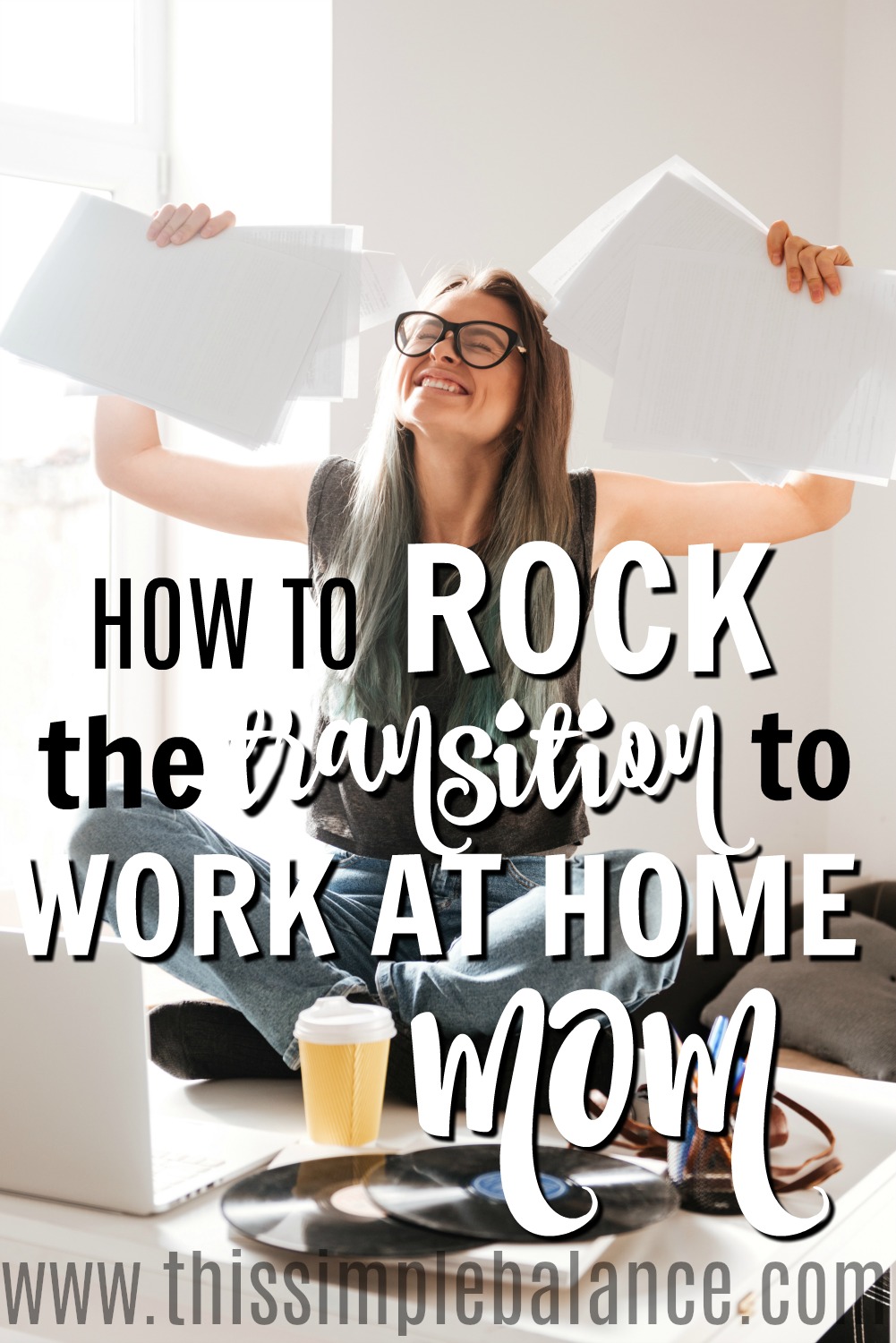 7 Tips to Transition from Stay at Home Mom to Work at Home Mom
Get your husband on board.
If you and your husband decided together that working from home was a good choice, then skip to the next step.
But maybe you didn't. Maybe you started off working a few hours a week – it easily fit into your child's naptime. You spent the little you earned on little extravagances. You really didn't need to bother your husband about it.
But then it grew, and it grew, and it grew.
Now, your little side job/hobby is spilling into the rest of your life, and it's time to admit that you're actually working from home.
Whatever your story, if you didn't get your husband on board before you started working from home, this step is critical. You need to figure out what your husband thinks and feels about all this.
All the "Husband Feeling" Possibilities
He could be excited about the extra income. Or he could be wondering why you thought your family needed extra income in the first place.
He could be happy for you to have something that brings you joy and fulfillment. Or he could miss the days when your focus was JUST on being a stay at home mom and all that that entails.
He might not mind the late dinners and digging through a clean basket of laundry for clean underwear. Or he might mind…just a little.
The easiest way to find out is to ask the question, "How do you feel about me working from home?"
His answer will help you find your way forward.
If he's super supportive (basically all the first halves of those above statements), then great! You are probably going to need to ask for his help. We'll talk about that more later.
If he expresses frustrations or reservations about your work from home, you have some explaining to do.
When Your Husband Doesn't Understand
First, tell him why you want to work from home.
Does working from home make you feel more secure about your family's finances? Tell him that.
Does working from home give you a sense of accomplishment? Tell him that.
Do you need something outside of being a mom to make you feel like you? Tell him that.
Then, ask him to share his concerns and feedback, and actually listen – without getting defensive or crying. Discuss them and work through each other's concerns. Perhaps commit to a trial period to see how it works for the whole family.
Whatever you do, get your husband on board. It will go a long way toward making working from home doable!
Accept your own limitations.
If you're an achiever like me, you want to be able to do it all – and what's worse, you often think you can. That could be true…for a while.
Running at full speed with no margin just isn't sustainable. Burn-out is inevitable.
You need to think about your limitations holisitically: physical limitations, emotional limitations, spiritual limitations.
Accept that you have limitations as a work at home mom. Something has to give. You need sleep, exercise, time for you, and most of the time, the only one who is going to make that happen is YOU.
We all get the same 24 hours, and you will need to think a little more carefully about how you want to spend them, at least until all of your kids are in school.
Life will need to be rearranged. You need to establish new priorities and work within your new limits. Only you can determine how to spend your time in a way that aligns with those things.
Learn how to say, "No."
When you were only a stay at home mom, maybe you could say "yes" to a lot of things. You volunteered in your child's classroom regularly, worked in the nursery every Sunday, and consistently bailed a friend out by watching her kids so she could beat a deadline.
You probably won't be able to say "yes" all the time, at least not as much as you used to.
Maybe fitting those things into your schedule isn't too hard. After all, the whole family is going to church on Sunday – what does it matter if you're in the nursery or in the service? Watching your friend's kids? Well, you would be watching your own anyway, so what's a few more?
The problem is saying yes to it all may compromise your emotional health.
Those things may not drain you physically, but they may drain you emotionally. As moms, our emotional health is SO important. You set the tone for your home. If you are constantly on edge emotionally, your kids will probably start to reflect that.
You also don't want to give your family the leftovers. They are your first priority, and they need you to be emotionally intact when you aren't working.
Believe it or not, there will be another nursery worker, and the school will figure it out. There will always be more volunteers. Your kids only have one mom. Your husband only has one wife.
That's you.
Learn how to say "no" when you need to, so you can say, "yes" to your family as much as possible.
Ask for help.
When you are a work-at-home mom, you will need to ask for help. If you struggle with asking for help, it gets easier with practice.
Your Husband.
Start here. He's the father of your kids. You are both the parents here, even if you are the primary caregiver. It's up to both of you to figure out how to do life and make things work.
Explain that you won't be able to do it all like you did before. Ask him how he could help.
That might look like him helping with the dishes at night – or he might suggest using paper plates a little more often.
It might mean he helps with cooking – or you might agree that simple dinners and the occasional take-out works to.
The point is that there are a lot of ways to make life work as a work at home mom. Give your husband room to make suggestions and to offer help on his terms – not to keep life running the same way it did before.
Give your husband room to make suggestions and to offer help on his terms – not to keep life running the same way it did before.
Life probably won't look the same, especially if you have small children.
Your Kids.
If you don't already have a chore system in place, now's the time to start thinking about one. Personally, I don't like complicated chore charts. I prefer everyone pitch in and work together on things, but if chore charts work for your family, do it!
Related: Why We Stopped Giving Chores (& What We Do, Instead)
But often it's not even the chores that will help the most. It's asking for help in the little, everyday things that will make the biggest difference.
Did you get home from grocery shopping and your kids are watching a movie? Pause the movie, and recruit them to help bring in groceries.
Did everyone get distracted by a family puzzle and you are left with all the dinner clean-up? Kindly ask for everyone to come back and help for ten minutes.
I think you'll find that they are happy to help (maybe not eager, but willing) if you just ask. Giving a time frame can help, too.
For help outside your intermediate family, read on to the next point!
Think outside the box: look for creative solutions.
Get creative. Think about all the ways you could outsource or ask for extra support while you adjust to working from home or ongoing support while your kids are small.
Do you have family close by? Ask for help one or two mornings a week with the kids so you can work. Focused work goes a lot farther than working with distractions and interruptions.
Could you make room in your budget for cleaning help once or twice a month? Think about what you could rearrange or give up to make that happen.
Do you have a friend you could swap "days off" with once a week? Negotiate this carefully, especially if you have different numbers of kids.
Could you join your local YMCA and use some childcare hours to work in the eating area instead of working out? I've done this, and most YMCA's don't care how you use the childcare time, as long as you don't leave the building.
Could you go to Panera on Saturday mornings while your husband watches the kids? I find that kids are happiest in the morning.
Can you establish "office hours" at home when your kids know you are not available expect in emergencies? This can take some training.
Are there educational shows your kids can watch so you can get some focused work done? Sometimes, you need to do what you need to do to make life work, especially if you don't have family living nearby and your husband has a demanding job.
There are many many ways to make being a work at home mom easier. You just need to think outside the box and keep trying until you find something that works.
Related: Yep, Your Kids Do Watch Too Much T.V. (and it's o.k.)
Nail down systems for the Big Three: food, dishes, & laundry.
Falling behind in any of these areas causes major stress as a work at home mom (for any mom, really). You need to find systems that help you keep up. I don't know about you, but even when the house is crazy, as long as there are clean dishes and clothes (bonus if they are put away), I can function.
Related: How to Stop Obsessing Over a Clean House
One work at home mom I know swears by running the dishwasher three times a day, once after each meal. She keeps the sink empty at all times.
Another work at home mom of four uses paper plates for dinner every single night.
Still another asks her husband to take care of the dishes – that's his major contribution to keeping the world turning in their family.
The point is, there is no one right way to do it. You need to try different systems to see what works for you.
Related: 4 Tips to Fighting Laundry Overwhelm
Related: The Fastest Way to Plan Your Meals (10 Minutes or Less!)
And guess what? That will probably change! I've stopped thinking I've arrived when I find something that works for us.
Instead, I thank God it works for right now, and I willingly let it go when it stops working.
The same principle applies for meal planning and keeping up with the laundry. If something isn't working, find something else. Perseverance is key.
Give yourself and your family time to adjust.
Remember how much time it took for you to be comfortable in your own skin as a stay at home mom? It may not take quite that long, but in my personal experience, 6-9 months is a healthy amount of time to give yourself not just to adjust but also to feel confident as a work at home mom.
Your family needs time, too. There is a little less mommy attention to go around. Your kids may need to figure out how to entertain themselves just a little more than they used to. Your husband will probably need gentle reminders that you need his help a little more often these days.
You're Gonna Make It.
When you first start working from home, it can feel a little bit like you're drowning. But from one mom who is nine months in, I'm telling you that it will get easier. You will stop feeling so overwhelmed eventually. You'll get to the other side, find balance, and have room to breathe again.
As long as you stay flexible and get the whole family on board, you will totally ROCK the transition from stay at home mom to work at home mom.
You CAN do this!
Related: A Busy Mom's Guide to Working From Home with Kids (& Staying Sane)