Inside: Every month or so, I share a new book list filled with books my boys and I have read together and thoroughly enjoyed. So if you're looking picture books for boys (ages 4-8) will love, you've come to the right place. 
It's about time for another installment in my "Books for Boys" series. Since we have three boys close in age (currently, 6.5, 4.5, and 2.5), I plan on providing new book lists for the next several years.
It's a joy to share with you the best of the best so that you don't waste your precious time on less than awesome books. Maybe not all of these will be a hit with your kiddos (girls love these books, too!), but I bet you'll enjoy at least half of them, if not more.
Discovering amazing new books together has become an adventure that creates so many memories. We don't have a lot of money for expensive vacations or exotic destinations right now, so I love that reading aloud can create similar types of memories for free.
When we crack the cover of a new book, we have literally no idea what it will hold. The little blurb on the outside cover tells you so little about what is actually inside.
I've said this before, but my boys now fully understand the meaning of the common phrase, "Don't judge a book by its cover." The best part about that is they are more willing to try new books now! Ones they would normally dismiss pique their interest.
What if there's something amazing inside, and we miss it?
They are realizing that a mediocre and unenticing book cover means pretty much nothing about a book's contents. In fact, when the cover is lame, they are more curious to see if it's hiding a wonderful story.
I am relying more and more on my oldest to help choose the books. After we enter the library, I prevent crazy toddler boy from wreaking havoc on the relatively quiet library by reading him a few board books.
In the meantime, my daughter sets off to scan book titles and actually peek inside them – oh, the luxury! When we finally make it home with our absolutely ridiculous book load (I budget $10 every few months for library fines), she plops down on the couch to screen the books for us.
She reads nearly every one, separating them into three piles: "Greats", "Maybes", and "Duds". I am extremely thankful that she took this job on herself.
We waste far less reading aloud time on bad books. More time for the good ones!
You Might Also Like: Usborne Homeschool Books That Are Actually Worth Buying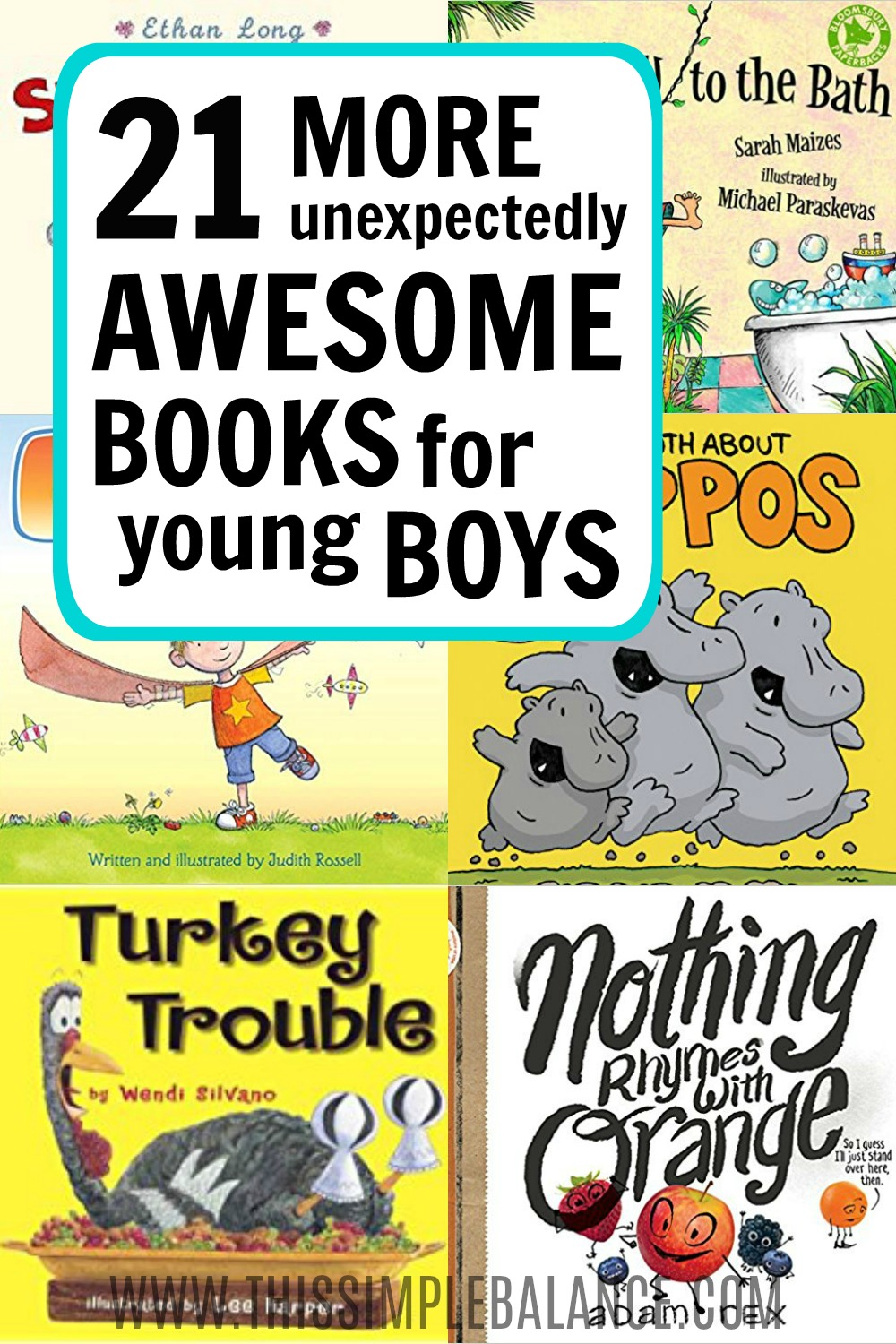 21 More Picture Books for Boys
THIS POST PROBABLY CONTAINS AFFILIATE LINKS. AS AN AMAZON ASSOCIATE, I EARN FROM QUALIFYING PURCHASES. YOU CAN READ OUR FULL DISCLOSURE POLICY HERE.
If you have an animal lover, this book will be especially enjoyable. Learn several interesting and funny facts about hippos that you probably didn't know before!
Snickerdoodle wakes up to find a delicious cake just sitting in the kitchen waiting to be eaten, except the note says he can't. Fighting temptation doesn't go so well, and he needs to come up with a plan to remedy his mistake.
Jerome loves words. Like others collect rocks or shells, he collects words all of kinds. Invite your kids into a celebration of words of every shape, length and sound.
Several extremely cute animals want to play in the sandbox, but the bullies keep knocking down their sandcastle. Find out how they persevere despite repeated bullying.
One very special moose wants to be everything BUT a moose, much to the frustration of the animal directing a documentary about moose.
Nina was born a ninja baby: she kicks and chops her way out of just about everything. Most of all, Nina does NOT like to be helped. But when a new baby arrives, she is forced to learn how to be part of her growing, changing family.
Bruce's house is full – too full. Introverted Mother Bruce doesn't mind the ducks, but the mice have gotta go. See the lengths Bruce goes to find a little peace and quiet…and it doesn't turn out how he expected.
Lady Pancake and Sir French Toast are back, and they need to determine the source of a wretched smell that is threatening to take over the fridge. Is it Baron von Waffle? Or the fish in Corn Chowder Lake? Find out in this fun and beautifully illustrated book.
What lengths will a little girl go to to avoid a bath? Laugh along the way at just how many creative ways she can delay the inevitable before succumbing to her wet and bubbly fate.
A curious boy who loves to invent things, Oliver also loves to explore. One day, he wonders about what lives under the bathroom drain, and goes to find out.
The monsters of Loch Ness do their best to teach their new little monster how to be a good monster. Unfortunately, the youngest Loch Ness Monster struggles with messes to such an extent that his pile pushes him up above the surface of the lake! After this incident, he teaches himself how to keep his things neat and tidy, much to his parents' surprise.
Do you want to know the truth about having a new baby in the house? Sophie Peterman tells you all the cons about having a new sibling with a candidness that will have your kids giggling all the way through. She also begrudgingly reveals the sweetest benefits.
You Might Also Like: 70 Picture Book Biographies for Kids
Jenny is saving up every coin she finds for a very special purchase: her very own piggy bank! Just when she thinks she has enough, she realizes that she forgot to include the all important tax.
Literally every other fruit has corresponding rhyming words…except orange. Orange feels left out throughout the tale, but this hilarious rhyming book has a sweet and happy ending as the other fruits rally around him at the very end to create a brand new word that does rhyme with orange.
A dad reads a superhero story to his kids: comic book style. Villains Filth and Vacuum seem invincible against even the strongest superheros. It's an unlikely superhero – Boring Man – who saves the day.
In this comical tale, Teddy hosts a party for all the stuffed animals on the block, and it gets so rowdy, the police need to investigate! From coloring the walls to dressing up in Mom's clothes, the stuffed animals manage to mess up the house in all the best ways.
A bear journeys through the forest to the city and back again. On his journey, he has several memorable encounters, including a run-in with a certain unattended sandwich.
Billy is a struggling young author who needs confidence-building and experience. The librarian decides to hold a story-writing contest – the perfect opportunity for Billy to practice! He decides to write a memoir of sorts; his booger? He's the unlikely hero in Billy's amusing, not quite winning story.
Thanksgiving is coming, and the turkey knows he's going to be dinner if he doesn't do something. Follow his attempts to disguise himself from the farmer all the way to the hilarious and unexpected ending.
From the Adam Rubin, who brought you Dragons Love Tacos and Those Darn Squirrels, comes the story of the monsters of La La Land. Bubbles might be innocent enough to us, but to these monsters? They are the scariest thing ever!
Chloe is a little girl who collects loose change so that she can afford to ride the merry-go-round. She meets a lion, after which the story turns into a hilarious dispute between the author and his rebellious illustrator. They are forced to work out their differences in order to finish Chloe's story.
Are there any picture books for boys you love? Share in the comments!