Inside: Do you need homeschool organization ideas for small spaces? Get tips and strategies from a mom who homeschools with five kids in a small house (less than 1200 square feet).
We have always lived in small homes. I was used to it when we only had little babies, but adding bigger kids and homeschooling to the mix made our tiny home feel more than slightly claustrophic.
The inevitable pile of books and supplies that come with homeschooling cluttered our small home FAST. I decluttered like mad, but you can only get rid of so much when you homeschool.
I had to find ways to organize all the stuff we absolutely needed to homeschool.
From a two-bedroom apartment in Boston to our current less than 1200 square feet, single-family home, I've picked up a few ideas along the way for staying organized while homeschooling. I know homeschooling in a tiny house can feel overwhelming, but organization doesn't need to be hard if you have the right supplies and strategies.
Related: 4 Signs Your House Is Too Small (& It's Time to Upsize)
Homeschool Organization Ideas for Small Spaces
THIS POST PROBABLY CONTAINS AFFILIATE LINKS. AS AN AMAZON ASSOCIATE, I EARN FROM QUALIFYING PURCHASES. YOU CAN READ OUR FULL DISCLOSURE POLICY HERE.
We currently rent our less than 1200 square foot home. There are three small bedrooms, one and a half bathrooms, a kitchen/dining area, a living room, and a family room.
A portion of that 1200 square feet has got to be the storage room because our home is definitely small.
I want to start by sharing how I organize our homeschool in my own "small space". I'll give you ideas from organizing the space I know best. Then, I'll share a few general tips for homeschool organization in small spaces anyone can apply.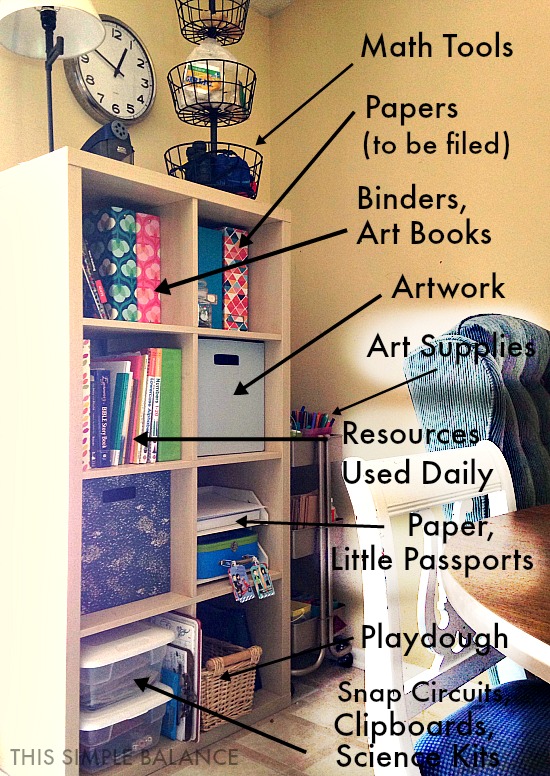 Homeschool Organization in Our Own Small Space
Here's how we fit everything into our small home.
The Kitchen/Dining Area
The kitchen houses the majority of our homeschool supplies, and much of our formal homeschooling happens around the kitchen table – the only table in the house. I use the IKEA Kallax bookshelf and this rolling cart to keep all of our books and supplies organized.
Because our kitchen is both the kitchen and the dining room, this room serves a lot of purposes. Unfortunately, our kitchen table often speaks to the fact that we homeschool, and I blame the constant mess as the reason we don't sit down to dinner together more often.
I am going to buy some additional trays from IKEA for activities like art, playdough, and puzzles to make it easier to clear the table quickly.
Homeschool Papers
When either of my older two kids finish working on something I think I want to save, I immediately date it and place it in his/her designated magazine folder. Every one or two weeks, I sort through the papers, hole punch what I want to keep, and transfer them to the correct binder.
Even though we are relaxed homeschoolers, I still like to have proper documentation of their work. Keeping their papers organized (in the simplest possible way) helps me to see their progress from one month to the next, one year to the next.
I keep very simple homeschool records with resources we use and what we did each day on these planner pages. I rarely plan in advance. We have a few basics we do almost every day and just keep working through them.
Story of the World? Just read the next chapter.
Life of Fred Math? Just read the next chapter.
Finished a book? Move to the next.
Homeschool Books
The kitchen holds the books we use daily, along with any workbooks we tend to use in the kitchen.
Our Wipe Clean handwriting books, for example, can only be used in the kitchen (we're in the middle of the terrible twos, and that marker would end up on EVERYTHING). Brain Quest Workbooks, on the other hand are most frequently done in the living room, so they live there.
The books we use regularly live on one shelf, and the workbooks we only use occasionally live on another.
Artwork
Any piece of artwork is apparently worth keeping for ever and ever, at least according to my sentimental child. While we don't actually keep artwork forever, we put every single piece of art (from scribbles to masterpieces) in a single, large bin. I go through all the artwork every six months to a year, transferring the best pieces to long art boxes, one for each child.
Extra Homeschool Materials
One cube fits two stackable bins (these fit the IKEA Kallax) that hold our Snap Circuits and Magic School Bus Science Kits, leaving a little space for clipboards and a paper cutter.
Another cube fits a small, narrow basket fits our playdough tools and playdough, when we have some made (make your own playdough, and you will never buy the store kind again!). Next to the playdough, our Little Passports Science bag just fits beside it.
Finally, one cube fits a wooden paper sorter (similar to this one) that holds paper on one shelf and our Little Passports Geography suitcase right beneath it.
The top of the Kallax fits a small lamp, a paper sorter for bills I need to pay (or I might forget!), our pencil sharpener, and vertical baskets for storing math tools and a few small games in the bottom basket, and onions, garlic, and potatoes in upper baskets.
Wall Space
We have a map that we use regularly hanging right above our kitchen table. That way we can point out places on the map as we read or discuss different countries.
On another wall, we have a dry erase board. While the dry erase board works for now, if I could go back, I would have chosen a chalk board.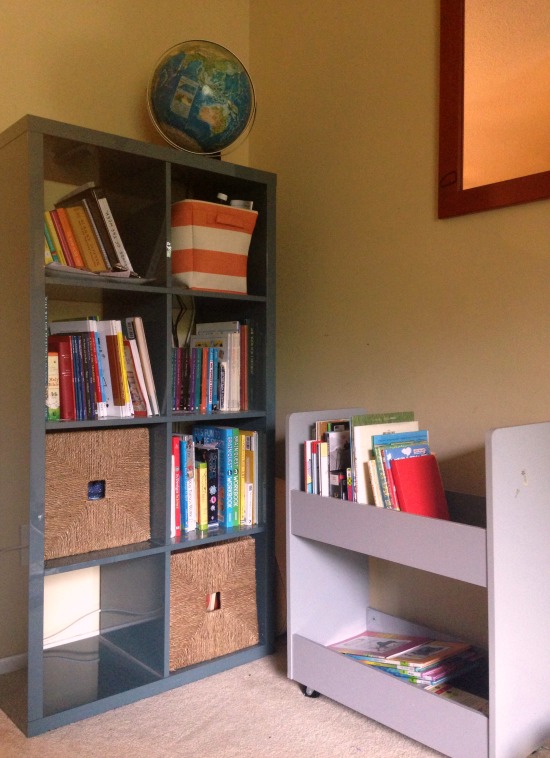 The Living Room
The living room is where we do about half of our reading aloud. We have a second IKEA Kallax in this room, which holds our chapters books and educational resource books.
Library Books
In order to keep our library books separate from our book collection, we store all of our library books on a rolling bookshelf I got from Target years ago.
Clutter Collectors
We keep separate bins for a few different rooms in our home in the living room. Their purpose is to be a catchall for clutter we find throughout the week.
That clutter gets put in the appropriate bin, and once a week or so, we deliver the entire bin to its appropriate room to be put away.
Related: 12 Tips to Keep Your House Clean With Kids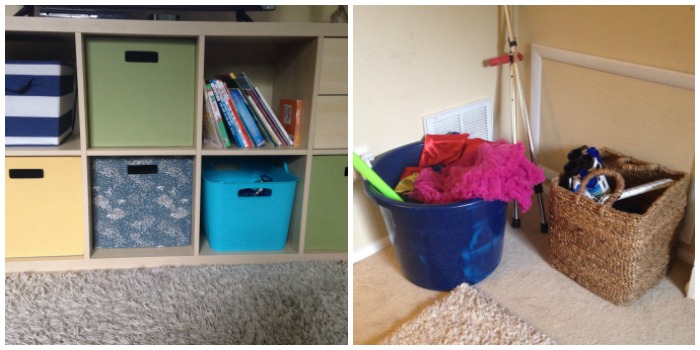 The Family Room
The majority of our toys live in our downstairs family room. We keep cars, Duplo blocks and dress up clothes downstairs. The rest of our toys are stored in bedrooms and very occasionally in the living room.
The Kids' Bedrooms
We store all of our educational board games in the closet in my boys' shared bedroom. It was the only place left to put them!
LEGOs also stay in their room, and occasionally, the magnatiles make their way back upstairs as well.
Related: The Simplest, Cheapest Way to Store LEGOs
The Storage Room
Our storage room holds, among other things, a portion of our not currently in use homeschool supplies.
I have to be honest though, that number is decreasing. I am constantly in decluttering mode mentally, asking, "What can I get rid of?"
The few things we have down there take up about 2-3 feet of shelf space.
I am considering ditching our Story of the World Activity Sheets, which are HUGE binders that take up the majority of that shelf space.
Random Extra Tip
I have seen homeschool moms who live in tiny homes rave about use the inside of cabinet doors as their command center or calendar space.
Maybe it will work for you?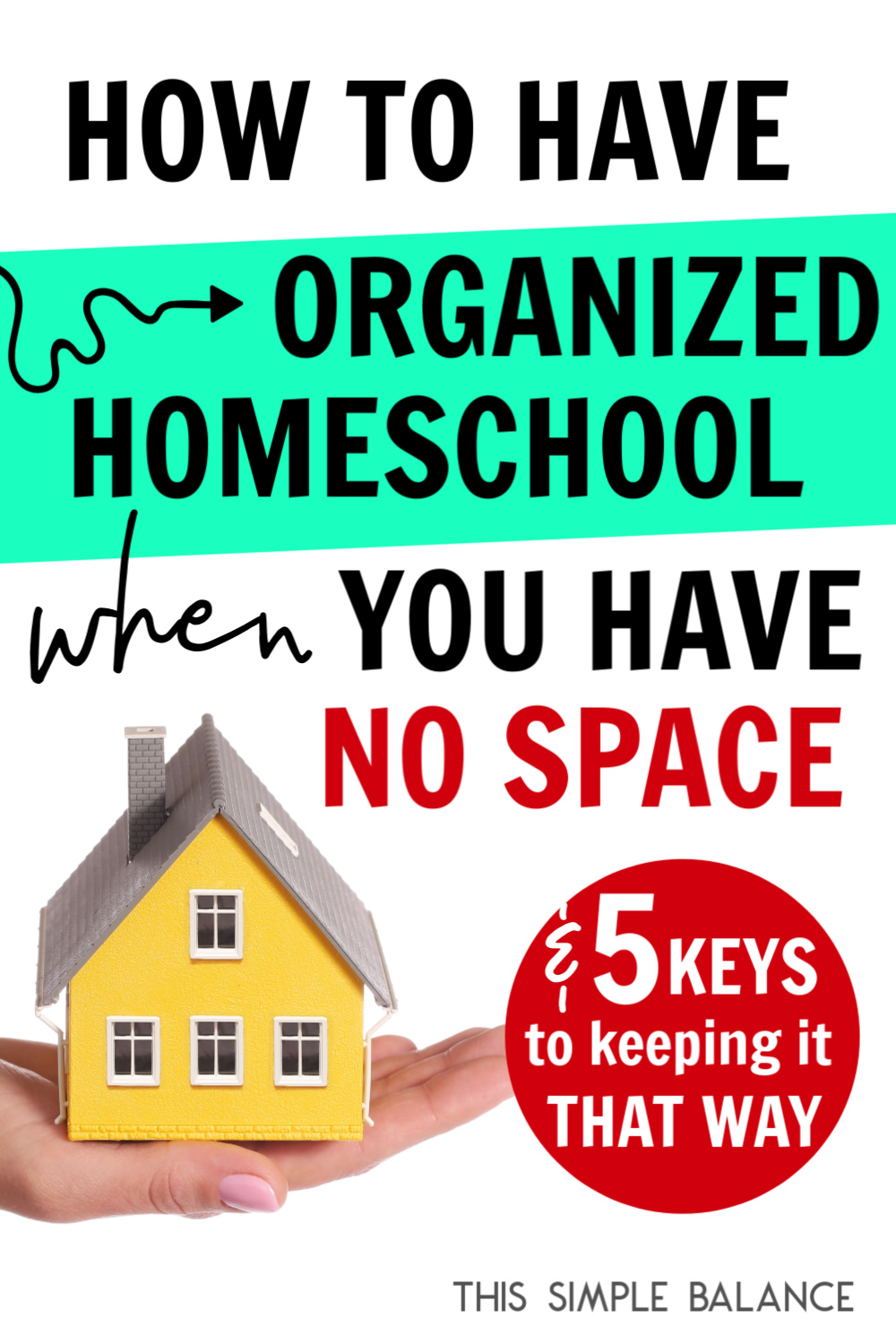 Small Space Homeschooling: 6 Essentials to Making it Work
That covers all the homeschool organization ideas I have for small houses, but I do want to share five things that are a MUST if you are going to homeschool in a small home without losing your mind.
1. Declutter.
I'm not just talking about your homeschool materials, although this charge applies to those things, too. You need to declutter your home like a boss. Set aside a week (the kids will be ok, promise!) and declutter your home. You will feel a million times better about life!
Don't know where to start? Where to Start Decluttering (When You're Too Overwhelmed to Start)
If you get stuck after that, I recently came across this simple decluttering tip from a fellow minimalist blogger that was SO helpful for people who get overwhelmed. Try it and let me know how it goes!
2. Use the library.
Did I mention I ruthlessly decluttered our kid's books as well? We have far fewer books than the average homeschool family, I'm sure.
I can get away with that by using the heck out of our library. We are relaxed homeschoolers, and I teach a ton simply by reading aloud. We have no limit on our library card, and boy do we take advantage of that!
As a homeschooler, I'm sure you are already using your library, so why keep books in your home that you can easily get there? Let go of everything except the ones you NEED to have on hand.
Reference books you can't get anywhere else are usually the ones we buy and keep (atlases, science reference books, etc.), along with some classics, board books, and easy readers for my younger children. We also own a few series that we all love.
3. Maximize vertical storage.
Anytime you can make your storage vertical, do it! Two of our three Kallax bookshelves are positioned vertically.
We store our board games on their sides, vertically (no more games falling while trying to get the one on the bottom).
Vertical storage can make a world of difference when you feel overwhelmed by ALL. THE. STUFF.
4. Try using trays.
I mentioned this earlier, but trays can help contain messes so they can be easily moved from one room to another.
I sometimes envy homeschool moms who have an entire dining room or homeschool room where they can just leave the mess somewhere else. It doesn't live with them all the time. That must be glorious.
Trays make the mess portable, which helps on busy days when you can't clean up right away.
5. Create simple systems.
Create simple storage systems for your homeschool materials that even your kids know. When your kids know the organizational systems, they might actually put stuff back from time to time.
6. Embrace minimalist homeschooling.
When you have a small house and you spend a LOT of time in it, you can't do all the things you see on your Instagram feed. Not if you want your house to be livable.
You need to decide what's MOST important to you in your homeschool.
Minimalist homeschooling in a nutshell is a values-based education. You decide your values and your homeschool goals and mission. Knowing those things allow you to choose the best activities and curriculum for your unique family (and hopefully fewer of them!).
Learn more about minimalist homeschooling HERE.
Homeschool Organization in a Small House: Final Thoughts
When you're cramped in a tiny house homeschooling your kids all day, it's tempting to want a bigger house. You think that will solve all your woes.
While the extra space would be nice, I know that living in a small home for so long is training me to not fill all the empty space when we do move to a bigger house. If I can organize a small home, I can stay organized in big one.
If you need help organizing, I cant recommend highly enough The Organized Home by Hilary at Pulling Curls. I love Hilary's course so much!
She's not a homeschool mom, but she knows organization. There are several different, affordable ways to access her course, including a monthly option. So if can get through the material in a month and apply it, that will be all you need (plus, you'll be highly motivated to finish and get organized)!
Get organized in your small home now. Don't wait for a bigger house.
When you do buy that big house, organizing your homeschool (and the rest of your stuff) will be a breeze!
Read Next: 4 Clear Signs It's Time to Upsize Your House (Even If You Love Small House Living)