Inside: Get an honest Little Passports review from a homeschooling mom of four so you can know whether it will be a good fit for your family!
Updated July 23, 2019: We've renewed our Little Passports World Edition Subscription two years in a row and continue to enjoy our subscription! We paid for these renewals – I did not receive additional free product upon renewal, and I still consider Little Passports worth the price.
Our first Little Passports subscription box showed up in the mail two months ago, and the kids were jumping up and down with excitement.
What kid doesn't love to get not just letters, but ENTIRE BOXES in the mail addressed to them?!
They tore open the box, eager to dive into the activities inside. They examined the shiny blue Little Passports suitcase, flipped through the pages of their new "passport", and sat down together to start on the written activities inside.
They worked steadily through each activity, happily occupied for a good half hour.
What more can a homeschooling mom ask for?
An Honest Little Passports Review
THIS POST PROBABLY CONTAINS AFFILIATE LINKS. AS AN AMAZON ASSOCIATE, I EARN FROM QUALIFYING PURCHASES. YOU CAN READ OUR FULL DISCLOSURE POLICY HERE.
Now that we've received a couple boxes, I wanted to share an honest review of Little Passports subscription boxes.
Before I jump into the Little Passports review, you need to know that our family loves geography. Even though we are homebodies, we love the world and want our kids to love the world, too.
Because we cannot afford to travel the world right now, Little Passports seemed like a great tool to help our kids love geography and maintain their interest in the world as a whole.
Thankfully, as a homeschool and parenting blogger, I was able to receive a three-month subscription for free in exchange for this review. However, I only pursued the opportunity because I could honestly see us renewing our Little Passports subscription long-term (see recent update – we've renewed two years!).
Related: 14 Easy Ways to Homeschool Geography without Curriculum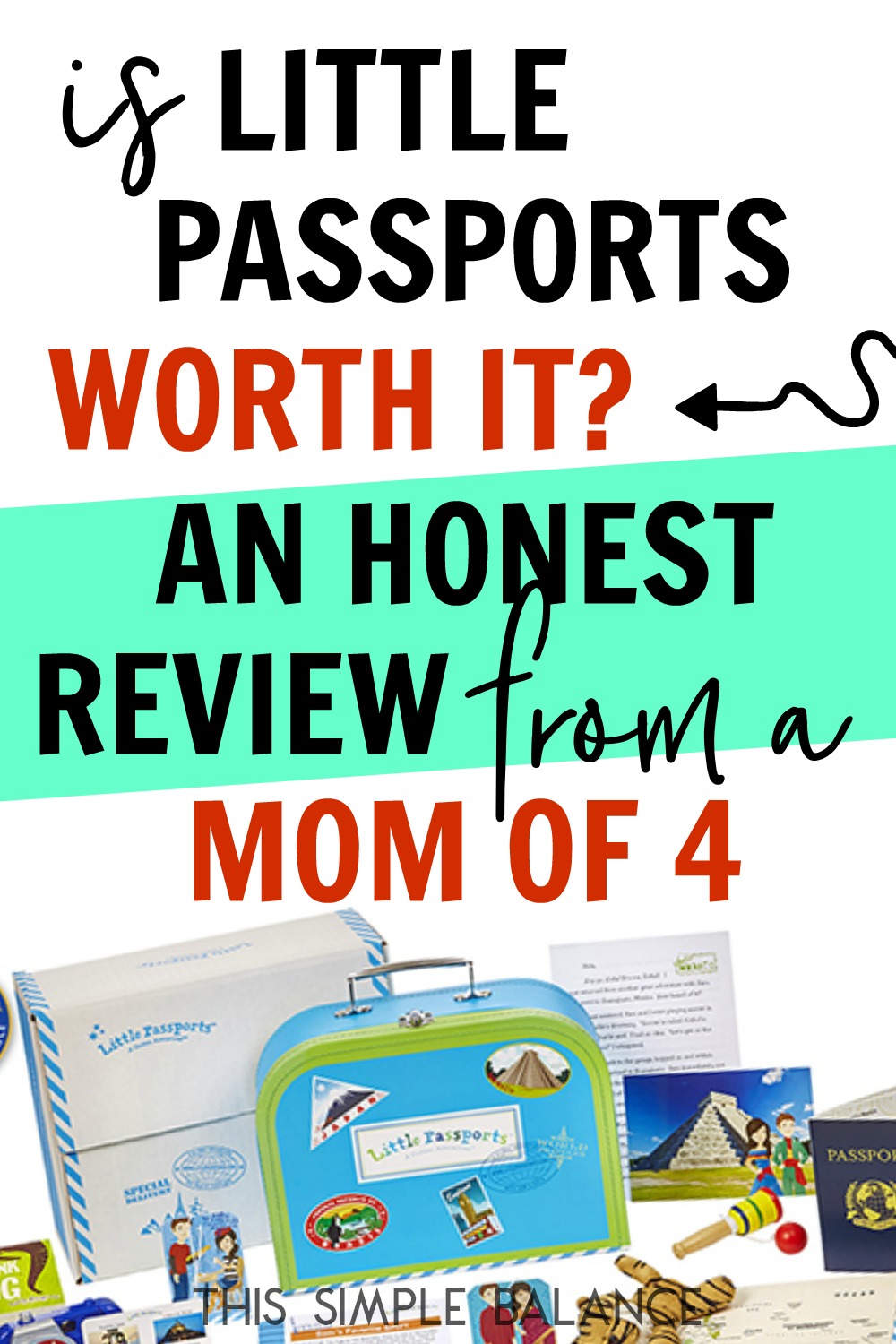 Little Passports World Edition: What Do You Get?
We signed up for the World Edition Subscription, which is suitable for kids ages 6-10.
The first Little Passports box you receive will contain a blue suitcase with a passport. Inside, you will find facts about the world in general, a large and beautiful world map, an activity sheet, and a letter from Sam and Sophia.
The following month, you will receive materials specific to one country. Our first country was Brazil.
For Brazil, we received another activity sheet to complete, another letter from Sam and Sophia, a photograph of an animal native to Brazil with facts on the back, a stamp for our passport, and an amethyst cluster.
The amethyst cluster was definitely the highlight of this box!
My son declared a newfound interest in rocks. In fact, he had me research larger amethysts on the spot and vowed to save enough to purchase the biggest one I could find (um, $330?).
Included in each box are instructions to access additional materials on the Little Passports website. For me, these increased the value of the box and were a crucial part of our Little Passports experience.
The online area included links to Brazilian music, videos of Brazilian culture, and other interesting facts about the country.
The activities were perfect for my older kids – ages 8 and 6. My four-year-old was not as interested and listened to me read from a distance while he played with Magna-tiles instead.
Sharing a box amongst siblings can be done fairly easily, but I wouldn't recommend Little Passports if you are trying to share a subscription box with more than two children at a time.
The passport we received has space for a passport-sized photograph, but we have yet to print one for it.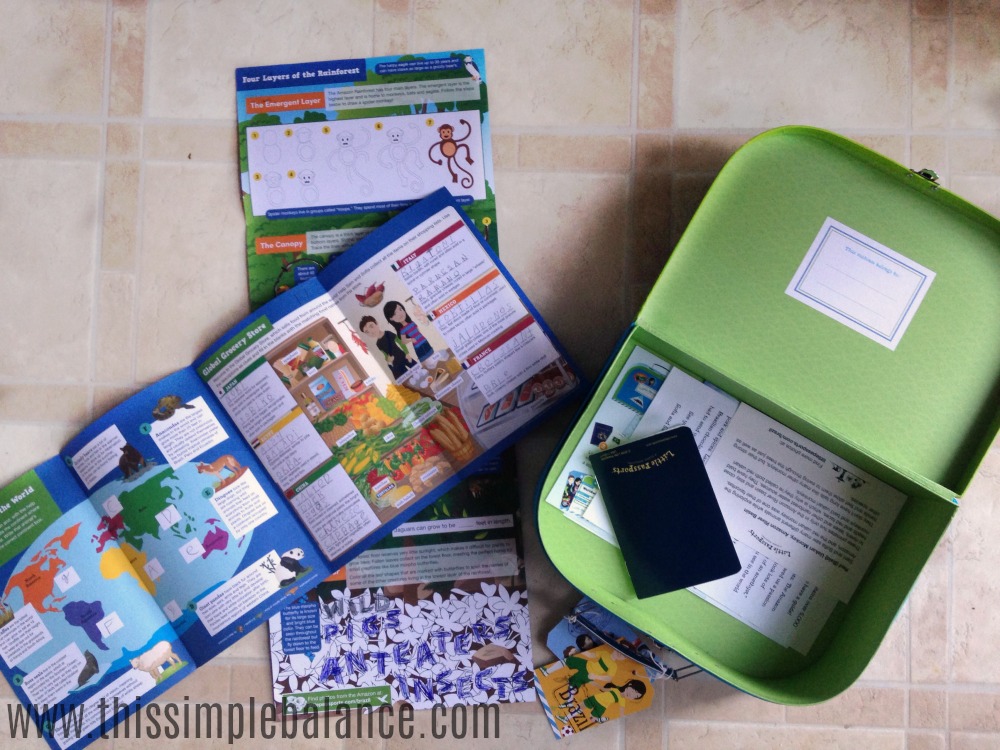 Will Little Passports Be a Good Fit For You?
Little Passports might be a good fit if you want:
Hands-on Learning
Beautiful, Large, and Current World Map
Color Photographs
Interesting, Country-Specific Activities
Additional Online Content
Little Passports might not be a good fit if you:
Want More Materials
Have Non-Readers and Want Something Your Kids Can Do Partially on Their Own
Already Enjoy Putting Together Hands-on Activities for Your Kids
Have Time To Create These Activities Yourself
Little Passports Review: My Honest Opinion
I'll admit that my initial reaction to our Little Passports boxes was slight disappointment. I dug through the box and the envelop a second time to make sure it was all there.
It was.
It's probably my frugal nature, but at first, I honestly expected a little bit more for $13 a month.
But then I stopped to consider the cost of everything that comes with each shipment:
Several Written Activities per Country (these take time to create/find)
The Hands-on Activity
A Letter (again, these take time to create)
A Color Photograph on Quality Paper
I also thought about the fact that I am not the kind of homeschool mom that loves to put together hands-on activities and crafts from Pinterest. I love hands-on learning compiled for me and shipped to my door.
I needed to be honest: I am not going to take the time myself to put something like this together, and I have kids who love hands-on activities.
For us, it is worth investing in the extra hands-on activities, especially since we already purchased almost all of the homeschool basics (math, reading, history, writing) that we will need for the elementary years.
You Might Also Like:
We plan to renew our Little Passports subscription for one year, one of the few things we are paying for this homeschool year.
The main reason we decided to renew, however, is that I plan on building our entire homeschool geography curriculum around our Little Passports subscription box this year.
I hope this Little Passports review helps you decide whether or not to try Little Passports!
Read Next: How to Teach Math without a Curriculum