Inside: Are you going to homeschool 3rd grade or 1st grade this year? Check out the third grade homeschool curriculum section of this post for our core resources, and the rest of the post for additional resources we are using for the 2018-2019 school year for both grades.
Even though I am writing a curriculum post for the 2018-2019 school year, we are technically year-round homeschoolers.
I suppose you could consider our annual standardized test – as required by the state of North Carolina – the marker for when one school year ends and another school year begins. I typically administer the test in July or August each year.
While we don't have an official "back to homeschool" day, we are starting a new tradition: an annual "NOT back to school" day!
I'm generally not bothered by the fluid nature of our homeschool days and years, but I know that my kids might need/want more special days to mark the years by.
Going out for ice cream (something we never do), playing board games and watching movies together all seemed like fun and easy ideas for an annual back to school day. Now to pick an official date in early September!
You Might Also Like: 20+ Best Homeschooling Tips for Beginners
Meet Our Relaxed Homeschooling Family
If you're new to this blog, we are on the cusp of officially being a "big family". We currently have four kids: an almost 9-year-old girl, a 6.5-year-old boy, an almost 5-year-old boy, and a 2.5-year-old boy. We are expecting our newest addition at the end of January 2019.
We fell into relaxed homeschooling after quite an interesting journey, which included a University Model school (part-time school, part-time homeschool), Sonlight boxed curriculum, and unschooling. Now, I can't imagine homeschooling any other way!
Related: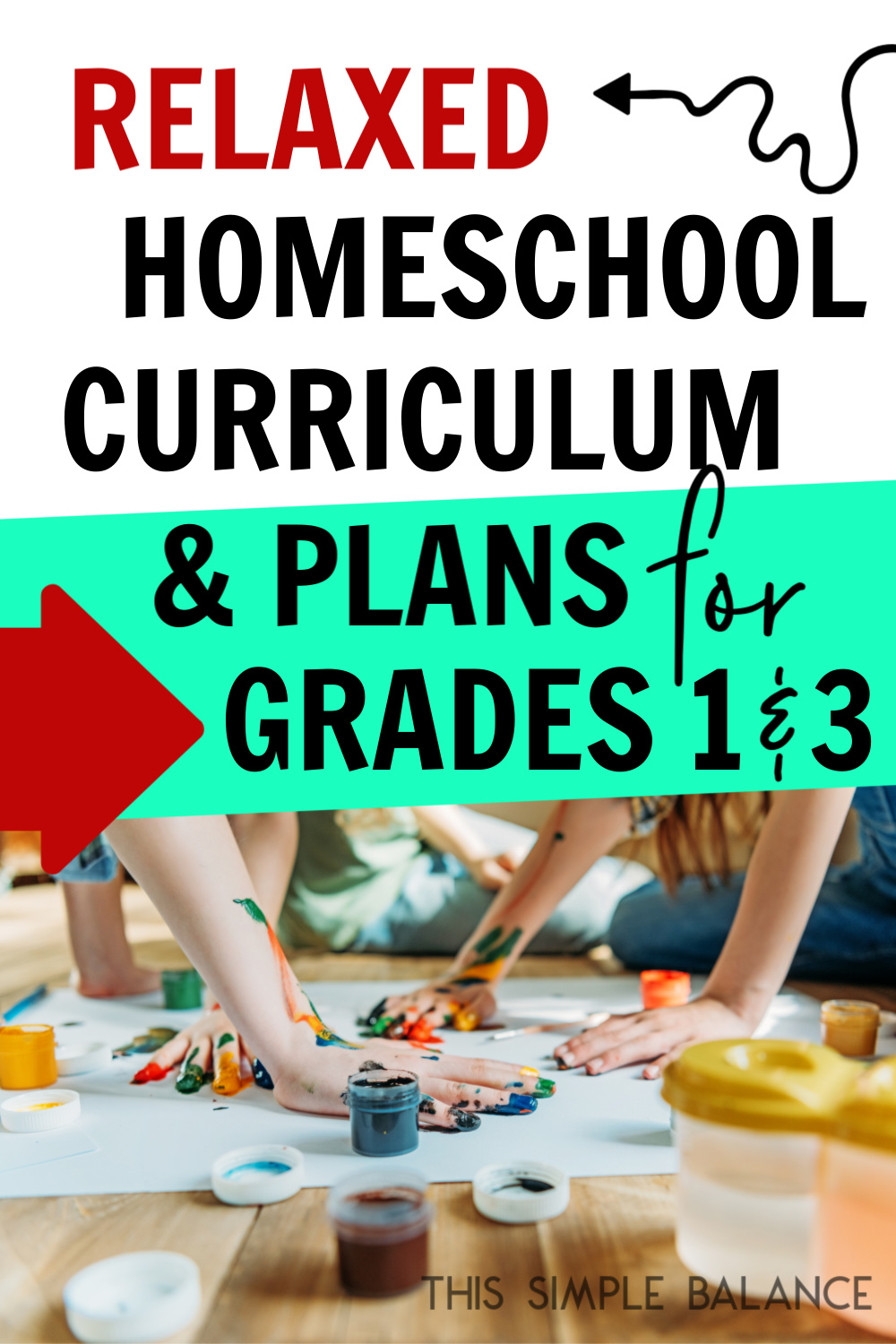 Homeschool 3rd Grade and 1st Grade Curriculum
THIS POST PROBABLY CONTAINS AFFILIATE LINKS. AS AN AMAZON ASSOCIATE, I EARN FROM QUALIFYING PURCHASES. YOU CAN READ OUR FULL DISCLOSURE POLICY HERE.
Our curriculum choices are not much different from last year (but stay tuned because our extra resources are different!). We are sticking with the same core curriculum this year.
Core Homeschool Curriculum: 3rd Grade & 1st Grade
We still love Life of Fred! We are currently on Life of Fred Goldfish, and my kids still ask for Fred when we miss it for whatever reason. I am confident in this curriculum's ability to teach elementary math, but I do supplement with practice problems, math workbooks and math games.
We read 2-3 chapters a week from Story of the World, usually breaking up the segments in the chapters. My 6-year-old boy currently thinks history is boring, and I allow him to do something else while I read to my 8-year-old and 4-year-old. Sometimes we break out the activity coloring sheets. More often, we just read. We are halfway through Book Two.
I chose Egermeier's Bible Storybook because we already had it from when we used Sonlight's boxed curriculum. After mostly reading from the Jesus Storybook Bible before we started this version, I knew I wanted a resource that would thoroughly cover the Bible as a whole.
While the author is liberal in some of her additions for the sake of creating more of a narrative, the rest is true to Scripture. We are very slowly working our way through the book: it's taken a year to read half (one story/passage a day).
(Need a basic homeschool supply list? Find it HERE.)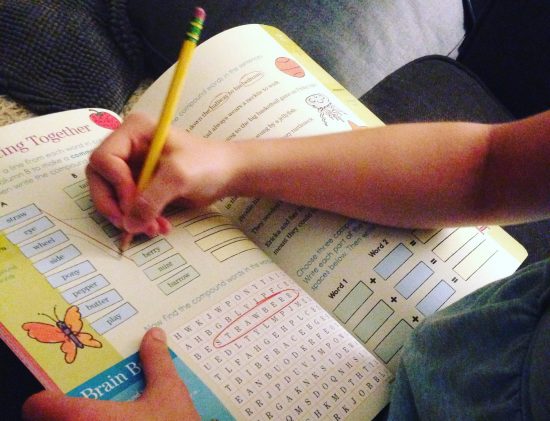 Third Grade Homeschool: Language Arts
My 3rd grader already reads fluently. She was one of those eager, early readers. Just before she turned five, she was practically begging to learn how to read (my son, on the other hand is a late reader and still has little interest at age 6.5 – both ends of the spectrum here!).
At that time, I was unsuccessfully juggling three kids five and under. Thankfully, the opportunity arose for her to attend a fledging university model school, and I took it!
They taught her to read with a traditional phonics approach. She took off and required very little additional reading instruction after that year.
Therefore, we aren't doing any formal reading instruction other than reading aloud together.
So what are we doing for language arts?
Brave Writer
Thanks to Brave Writer, I feel extremely confident about my laid-back approach to language arts.
If you haven't heard of Brave Writer, it is both a language arts program with a unique approach to teaching writing and an approach to homeschooling (called the Bravewriter Lifestyle) that matches our relaxed homeschooling perfectly.
The writing program prioritizes children first having something to write about, instead of pushing the mechanics of writing first, which often kills any desire or energy to write anything at all.
I absolutely love this approach because when I started writing for a living (this blog), I actually had to unlearn much of the stilted, academic writing I learned in school.
According to my high school and college transcripts, I excelled in reading, writing, grammar and language usage, but I HATED writing. When I decided to start this blog, I thought the writing portion would be a huge obstacle. I was pleasantly surprised to find that once I started writing about the things I was passionate about, I actually loved writing!
Reading Comprehension/Vocabulary
I teach reading comprehension and vocabulary through reading aloud to her every night before bed. Last year, we read through the following series:
This list doesn't include the countless audio books she listened to on her own, including the Little House Series (for the third or fourth time) and The Penderwicks Series (for the second time).
This year, my loose plan, which is always subject to change, is to read through the following series:
I am especially excited to watch the Anne of Green Gables movies with my daughter after each book! I've been waiting for her to be ready for Anne, and I've tried a few different times. After reading through 2-3 pages, she would always lose interest, and I did NOT want to ruin Anne of Green Gables.
I opted to wait another year, lest my beloved Anne become a memory associated with painful tedium and boredom.
The same thing happened with the Little House series. I started too early, and almost ruined it for her! Another two years did the trick, and now she has listened to the entire series a few times through. If your child is ever not into a book, just wait. Try again in six months or a year: the timing might not be right.
Now, when I bring up starting Anne of Green Gables, my daughter is so excited about it (o.k., especially about the movie part)! She can't wait to start, which is just how I want it to be.
Grammar/Language Mechanics
I *almost* bought a grammar curriculum this week because she took her annual standardized test (we use the CAT), and as expected, grammar was her weakest area. She was still above grade level, but it made me squirm a bit that she didn't know about using periods after abbreviations, like Feb. or Mr.
Then I reminded myself that she has made progress. Last year, she honestly didn't know that much about capitalization. This year? She rocked capitalization! And that's with ZERO formal grammar instruction.
She picked up on capitalization through reading and writing, and she still tested well above 3rd grade level. That's all it took was one more year, along with her occasionally asking me to edit some of her writing for grammar errors.
When we do tackle grammar next year, we will be using a curriculum called Grammar Galaxy. I love the story-based approach, probably because it reminds me of Life of Fred.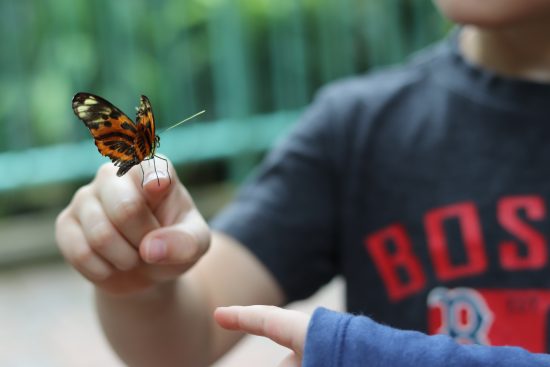 Homeschooling Third Grade: Additional Resources
Homeschool Resources Mentioned in This Section:
Little Passports Science
Science Museum Membership
Rosetta Stone Homeschool (French)
In addition to what I've already mentioned, we will be continuing to use Rosetta Stone Homeschool (French) and make time for creative writing. My third grader also loves to write and will finish writing short stories she started this past year.
Art is also a big part of her life. In the past, we have used Masterpiece Society, which is a membership site offering virtual art lessons. At this point however, she seems content to pursue art on her own terms. She still talks about making coloring books when she grows up and spends a lot of time coloring adult coloring books.
We will pick back up with our Big Life Journal, though again, I still need to figure out the best time in our week to do this together. If you haven't heard of it, The Big Life Journal teaches kids to have a growth mindset. I was very impressed with the chapters we covered last year: I will be writing a review very soon!
Last year, she also asked me to purchase math workbooks so she could practice what we learn in Life of Fred Math, and she will continue to work her way through those. She goes through phases of being very into workbooks, and then not. These are the workbooks we are using (it took me forever to find a math one I liked!):
We purchased a year-long family membership to our local Life Science museum, and I plan on spending a lot of time there – it's a fantastic resource! We also joined a local Wild & Free homeschool group, where we participate in nature walks bimonthly and the occasional group field trip.
Finally, we will be playing a TON of games in our homeschool this year. See the homeschooling 1st grade section for what we're using and why!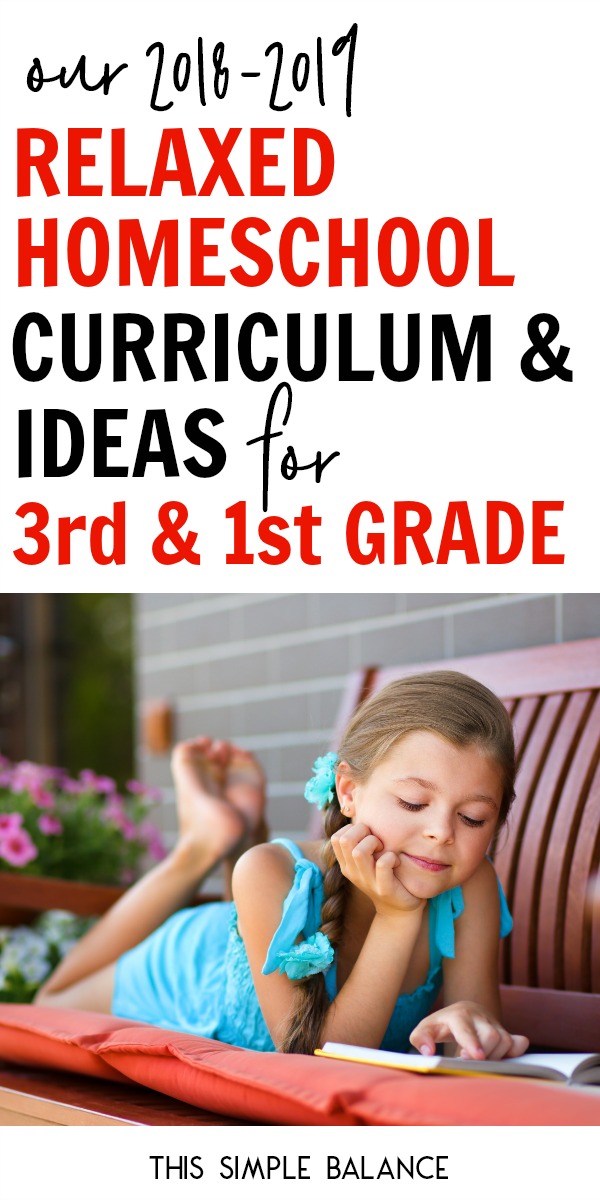 Homeschooling 1st Grade: Additional Resources
1st Grade Reading
My son is teaching himself to read. This is crazy to me, and I still can't get used to every child being SO different.
As I mentioned, my daughter was itching to read before she even turned five. My son, on the other hand, has shown interest here and there. We used this simple homeschool reading curriculum for a while, until he lost interest again.
Because he was resistant, I backed off. I occasionally asked him if he wanted to practice reading. Sometimes he said, "Yes," and we would read another couple of pages, but more often than not, he said, "No."
I left it alone.
We recently bought the game Logic Links. It requires reading, and initially, his sister helped him read a few cards. But then, she became busy with her own puzzles and stopped helping him.
What did he do? He started reading, and for the most part? He could do it. (I think the word "adjacent" held him up, and that's a hard word!)
He needed to read because he wanted to play the game, so he read.
Last week, he randomly picked up a Blaze and the Monster Machines book and started reading. To my complete amazement, he could read almost the entire book by himself.
I helped him with a few words, but otherwise? He has been teaching himself to read without any instruction for the past 3-4 months.
The way he described it was, "Mom, I'll be really good at reading when I've memorized all the words. I know a lot of them right now, but not all of them." So basically, I have a whole language learner on my hands. I do tell him how to "sound out" words, and he'll follow along when I help him.
The majority of his learning though appears to be through memorization. And he's doing just fine.
Isn't that true of about half of reading? Phonics will only get you so far. When I come across new words or names in books, I google how to pronounce them because even with phonics instruction, I just.don't.know.
Because he is making progress on his own, I will continue to surround him with good books and lots of reading aloud.
Related: 5 Popular Homeschool Reading Curriculums Explained – & How to Choose
Gameschooling
The other major component of our first grade homeschool this year (besides the core curriculum I listed earlier) is games. Especially with my first grader, games are something he asks to play every single day. I am trying to prioritize playing games with the three older kids 3-4 days a week.
Brave Writer first introduced me to gameschooling as a legitimate teaching/learning tool. I realized how much games teach, and how many quality educational games exist today.
Even when we are not playing a strictly "educational" board games, the kids are still learning SO much!
Through games, kids learn:
How to win and lose graciously
How to cooperate and negotiate
How to follow instructions
How to play by the rules
Besides the social benefits, kids can also learn math, science, reading, etc. Except for an annual membership to our local life science museum, the majority of our homeschool budget this year is going to games.
Related:
Games for the 2018-2019 School Year:
In addition to gameschooling, I will be reinstituting Poetry Teatime, another part of the Brave Writer lifestyle. I let it slide during my first trimester because just doing the basics was tough. I will be working on getting it back in our weekly schedule again, though I still need to figure out which day is going to work well on a regular basis.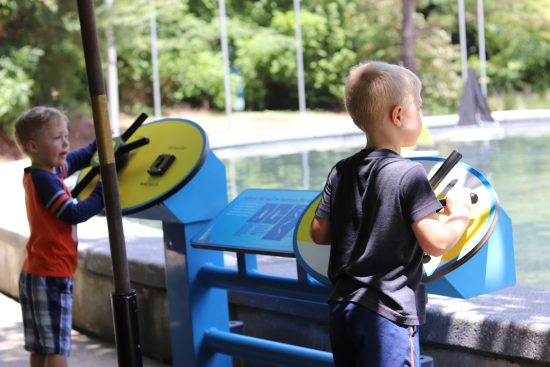 Our First Grade and Third Grade Homeschool Plans: Final Thoughts
In late January/early February, our fifth child will make his or her debut! I am still debating on whether or not to take a long break in December or not because I will need an additional break in February.
Someone recently asked me how I plan on homeschooling with a newborn. I laughed out loud!
The baby is not the problem: the toddler is. Thankfully, our toddler will turn three in early January, and *hopefully* will be less of a handful next year.
Related:
I didn't address our daily schedule in this post, but we will continue to use the unconventional schedule I described in this post. It still works best for our family, at least for now, especially since it gives me the time I need to get work done while I am at my best.
I used to be able to stay up very late to work: now, that feels impossible. Even if I do stay up late, my mental capacity for work is completely gone.
I'm looking forward to another year of homeschooling! Despite its challenges, I truly love our lifestyle: it's perfect for us.
Let me know if you have any questions!
Read Next: 2019-2020 Relaxed Homeschool Curriculum & Resources (4th Grade)