Inside: Is your big family homeschool schedule just not working? Instead of giving up, use our unconventional homeschool schedule to think about your schedule creatively, so you can make homeschooling a big family work for you!
It's 10:30 a.m, and your little cherubs? They are bouncing off the walls.
Your homeschool lesson plods along in 5 minute intervals with interruptions galore, and you are convinced you are going to lose your mind!
There are far more kids to teach than there are of you. It's impossible to read with one side of your mouth and shush yelling boys with the other.
Oh, and did you mention that the toddler has JUST THIS MORNING figured out how to climb bunkbeds?
Is this really your life?!
You just can't picture your homeschool life continuing on like this for two or three or four more years.
Homeschooling multiple kids is just too hard. Even if you're only doing formal lessons with just one, getting that one to focus and "miss out on all the fun" feels like climbing Mount Everest.
If any of that sounds familiar, you are not alone!
Figuring out a big family homeschool schedule is tricky and frustrating and takes a lot of trial and error.
I know because that is where I sat several months ago.
Frustrated.
Wondering whether I should keep on with the same old homeschool schedule that just wasn't working.
Feeling like I was missing something.
Related: How to Homeschool Without a Schedule and THRIVE
Our Former "Traditional" Big Family Homeschool Schedule
THIS POST PROBABLY CONTAINS AFFILIATE LINKS. AS AN AMAZON ASSOCIATE, I EARN FROM QUALIFYING PURCHASES. YOU CAN READ OUR FULL DISCLOSURE POLICY HERE.
My daughter (the oldest) is the only one of four kids formally registered for school. We started our homeschool schedule right after breakfast most days.
We do most of our learning through reading aloud, but I could barely make it through a page without having to stop to regain her attention.
The boys were bouncing around us, having tons of fun (they couldn't go outside in our unfenced backyard without me), and they loved being around us. Staying away from the main living areas in a small house is a real challenge.
#bigfamilysmallhouseproblems
And my daughter gazed longingly at their fun, often distracted by their crazy, adorable selves.
I cannot possibly express in words how frustrating being interrupted while reading aloud is for me: it drives me absolutely bonkers!
Besides being annoyed at the interruption itself, how I spent the interruption added to my frustration. I didn't want to be scolding little boys just for being little boys, or my darling daughter for craving the fun her younger siblings were so obviously having.
I tried to persevere, but every day without fail, it took three hours to finish all of our reading (what should have taken 45 minutes).
Discouraged, I began to think that homeschooling a big family just wasn't realistic or doable.
We are very relaxed homeschoolers, and even still, the little amount of actual "school" I was trying to accomplish felt like an impossible task!
But thank God for bloggers. Seriously.
Because had I not read this post and this post about flipping your homeschool schedule upside down, I probably would have carried on with the same miserable homeschool schedule, all in the name of perseverance.
Insanity is doing the same thing over and over again and expecting different results.

Albert Einstein
Related: Our Relaxed Homeschool (Second Grade & Kindergarten)
Experimenting with Your Big Family Homeschool Schedule
As an ISFJ, I love the conventional and traditional. I defend and uphold what has been done, and walking the road less traveled doesn't come naturally to me.
My initial reaction to unconventional ideas is typically horror. Incredulity. Skepticism. Even anger (if I feel like someone else is forcing me down an unconventional path).
But once these extreme feelings subside, I usually come around to trying something new.
Both these homeschool bloggers had one thing in common: they homeschool in the afternoon.
Light bulbs started going off.
Every blog post I read, every podcast I listened prior to reading these posts suggested a homeschool schedule that declared mornings to be the "golden school time": mornings were for "work"; afternoons, for play.
As I processed the possibility of changing up our homeschool schedule, I reasoned: since I see play and formal schoolwork as equally valuable, why not switch up our homeschool schedule?
Since our current homeschool schedule was clearly not working for anyone (we were all miserable: sulky student, cranky mama, scolded boys), we shifted our structured schoolwork to the afternoon.
Finally, we have a big family homeschool schedule that not only works, but we also LOVE.
Related: Relaxed Homeschool Resources & Plans for 2021-2022 (Grades 6, 4, 2)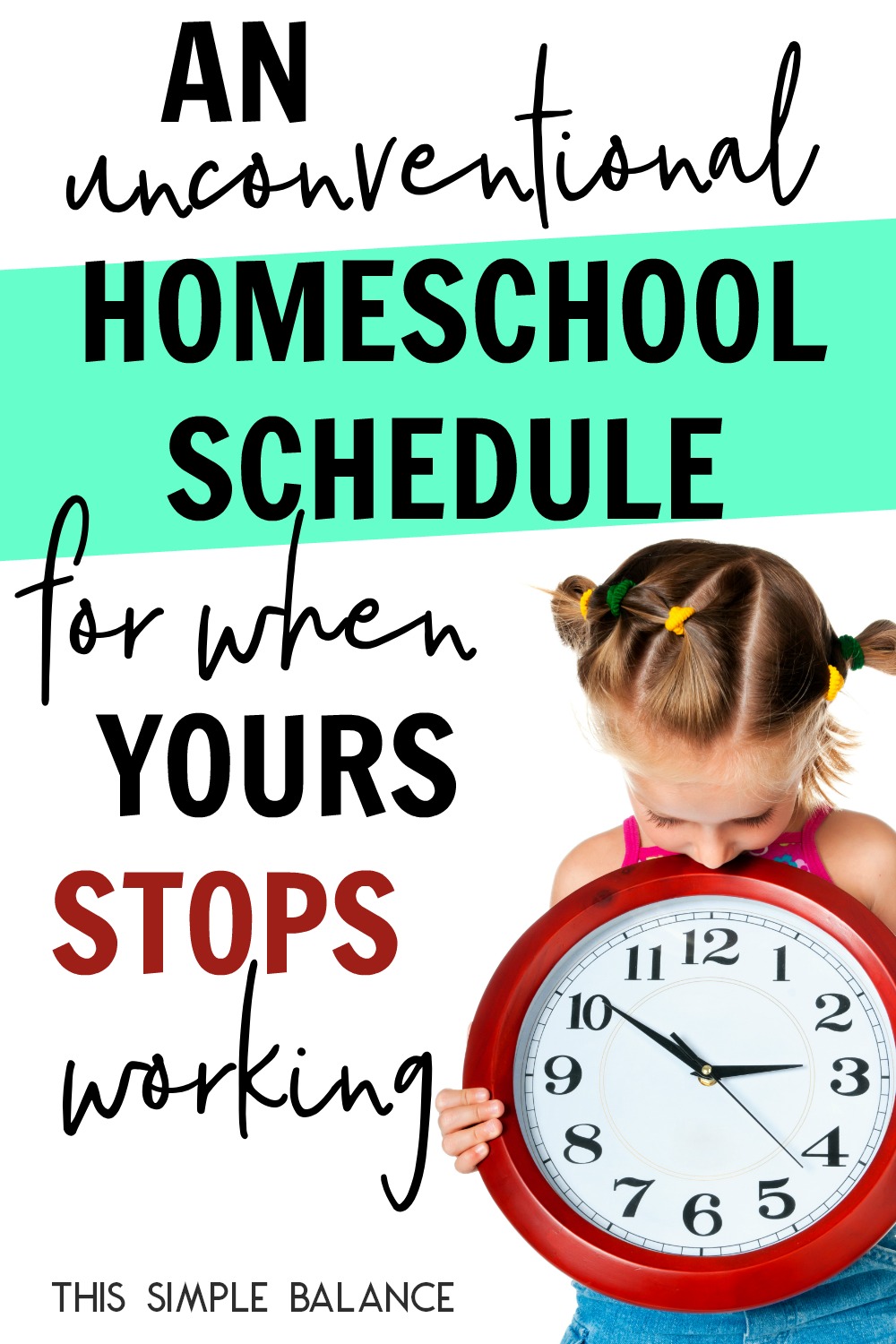 Our New Big Family Homeschool Schedule
We went back to the drawing board and created a schedule that works with our natural rhythms and habits.
Early Mornings: Morning Routines
Because I don't wake up before my kids, early mornings (and by early, I mean 8:30 or 9) are for educational shows and breakfast. I use this time to wake up, drink coffee, and do the rest of my morning routine.
Once their shows are over, I already feel like I've accomplished so much.
If you go to bed every day feeling like you did so much but accomplished absolutely nothing, check out Crystal Paine's Make Over Your Mornings.
Related: My Simple Morning Routine – for Moms Who Can't Wake Up Early
Later Mornings: Play for Kids, Work for Mom
After finishing their family service, the kids are free to play the rest of the morning and into the afternoon. They play pretend with each other, play with their magnatiles or cars, do a puzzle and listen to audiobooks, jump on the trampoline outside.
As I mentioned before, I consider play to be an equally important part of their education as reading history or doing math. Kids learn SO much through play that prepares them for adult life.
While they do all this, I get to do work, either household or blogging. For the most part, it's uninterrupted work because when you have this many kids, they entertain each other most of the time
Afternoons: Formal Schoolwork
When the toddler goes to nap or while he watches a show, I read to everyone else. We make it through a chapter of Life of Fred, a chapter of Story of the World, and a story from this Children's Bible.
After we get through these three must-dos, I sometimes add in extras with my oldest. We practice spelling words, do Big Life Journal, or do some extra math work.
Before Bed: Reading Aloud
I consider reading aloud a core and non-negotiable part of our homeschool day. In fact, if we were to get nothing else done except reading aloud, I would consider it a successful day.
The boys are not quite ready for chapter books, and my daughter is listening to books well above grade level. I use bedtime for divided read-aloud time.
I'll read picture books to the boys and most likely the obligatory Star Wars book that my four- year-old requests every single night. My daughter sometimes joins us as she still enjoys picture books.
After the boys are in bed, I read aloud a chapter or two from our current chapter book (we are working our way through the Chronicles of Narnia series, and before this we read through the entire Harry Potter series together).
Related: 17 Unexpectedly Awesome Books for Young Boys
Weekends: All the Extras
We currently have one subscription that comes every month: the Magic School Bus Young Scientist Kit. We are also going to try out Little Passports.
I use weekends to do the non-core subjects and more interest-led learning. We attend free Home Depot builds, tinker with science experiments, explore the world, etc.
After all, we homeschool!
Time is flexible, and everything doesn't need to fit during traditional school hours.
Related: Unschooling Science – 8 Easy Ways to Learn Science Naturally
One Homeschool Schedule Caveat
My only caveat to this alternative homeschool schedule is that there is a fine line between capturing them when they are "played out" and ready to listen, and when they are tired out and not able to engage.
I definitely need to catch them in the right window and avoid getting too caught up in my own tasks.
We also homeschool year-round, with an occasional week-long break here and there for me to get a break, holidays, or sickness.
Homeschooling year-round gives me the flexibility to skip a day of our formal schoolwork here and there when they are just not able to focus.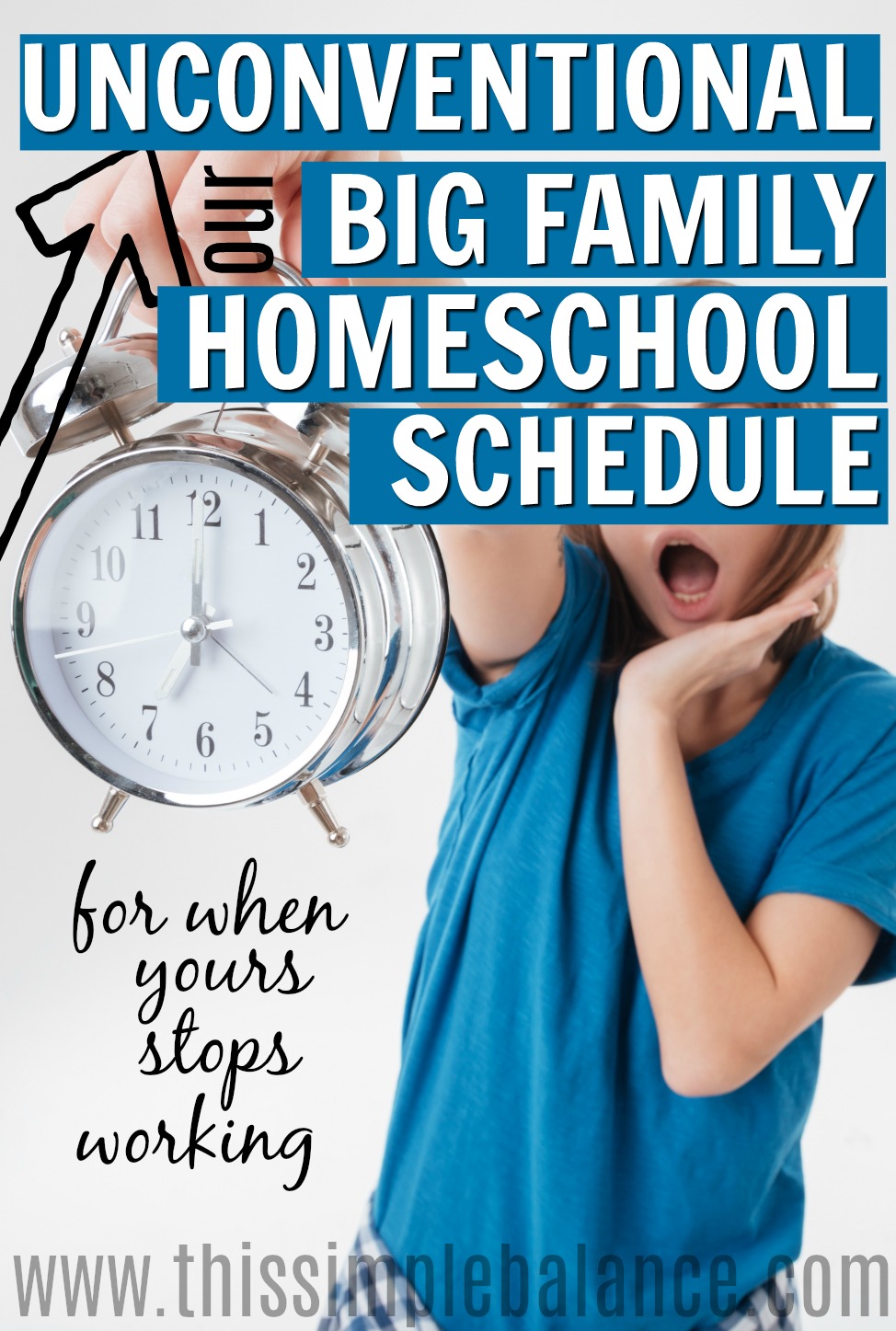 Creating Your Big Family Homeschool Schedule
My biggest piece of advice is to think outside the box when creating your own big family homeschool schedule.
Could you break up the work? Everything doesn't need to get done at once.
Could you work with an older child at night after little ones are in bed?
Is there early morning time before other kids get up when you could have some quiet time to work with an early riser?
Can you take school outside so younger ones can play while you read or do work with your older children?
Do weekends work better when Dad can corral the littles so you can school the bigs?
There are SO many creative ways to make homeschooling a big family work.
You just need to get creative and give yourself permission to look at the big picture, not just 9-3 hours.
Tell us about your big family homeschool schedule! What works/what doesn't?
Related: Relaxed Homeschooling v. Unschooling – What's the Difference?