Inside: Wondering how to homeschool with a crazy toddler on the loose getting into everything? It IS possible, but it does take some outside the box thinking to make it happen. Get 5 tips from a mom who's doing it successfully.
How to homeschool with toddlers. Ha! I laugh even as I type the title.
I've read my share of blog posts on the subject, and there are SO many different opinions and approaches out there.
So much depends on your homeschooling style and the personalities of you, your older children, and your toddler.
The personalities in our family, along with gender mix (girl, boy, boy, boy), create an overall dynamic that made homeschooling in this season challenging to begin with. And then baby grew into a toddler, making homeschooling even more difficult.
Babies are the easy part, at least for me.
THIS POST PROBABLY CONTAINS AFFILIATE LINKS. AS AN AMAZON ASSOCIATE, I EARN FROM QUALIFYING PURCHASES. YOU CAN READ OUR FULL DISCLOSURE POLICY HERE.
It's when that baby becomes a needy, clingy, mobile toddler that the juggling really begins.
And our current toddler is definitely the clingy and demanding type. This came as quite a shock after our easy-peasy, independent third child.
Did I also mention he doesn't like to sleep? Major bummer.
At this point, I can't see the light at the end of the tunnel, but I can share with you what I'm doing to cope right now.
For reference in case you're new here, we currently have four kids: a girl age 7, a boy age 5, a boy age 3, and a boy age 1.
Related: The Ultimate Guide to Homeschooling with Babies & Toddlers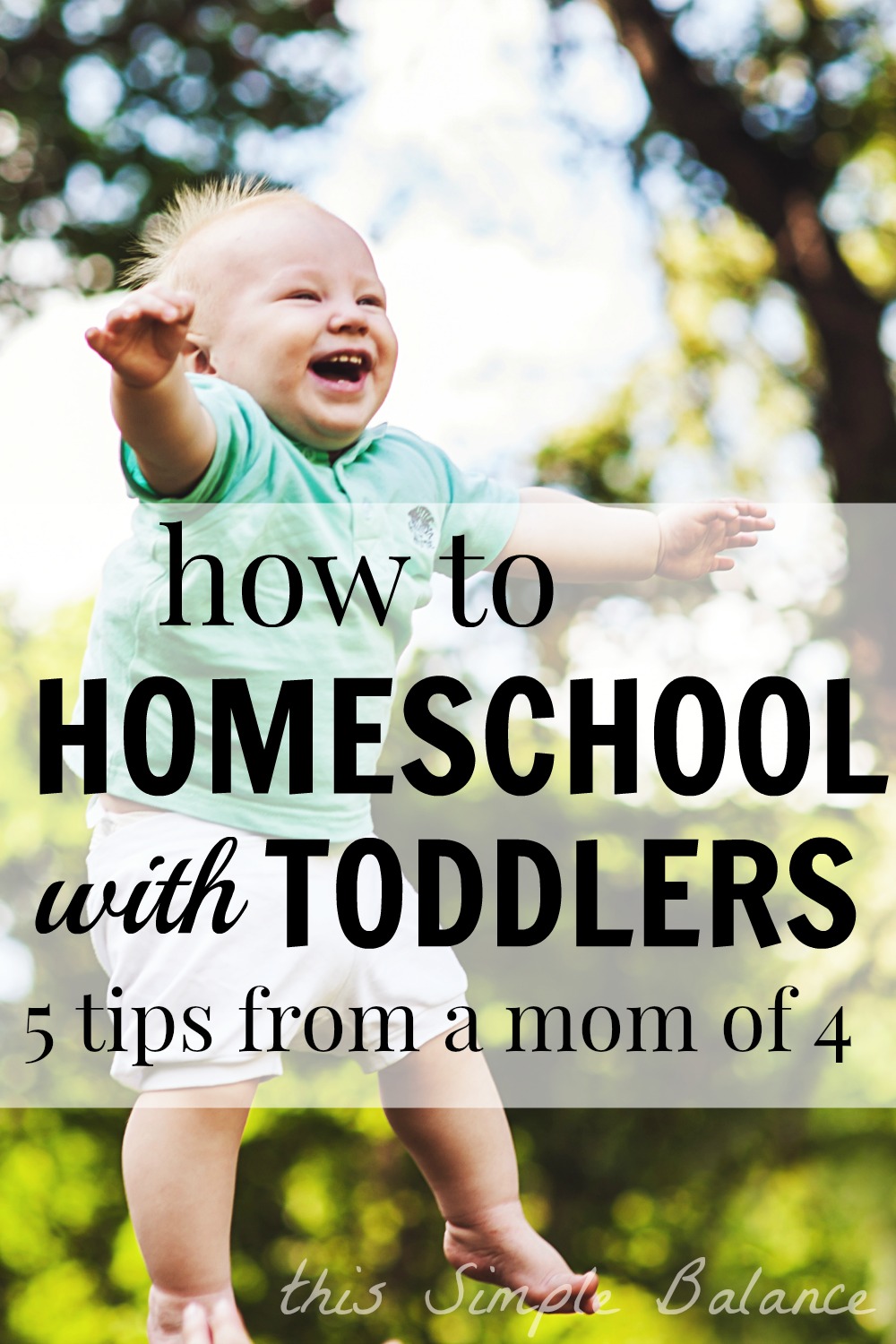 5 Tips for Homeschooling with Toddlers (without losing your mind)
1. Sleep in. Wake up when your kids do.
Yes, you read that right. You need your sleep, and you need a little time to yourself, homeschool mama!
Bedtime is a bit unpredictable at our house for a number of reasons (mainly, clingy, needy, "I don't need any sleep" toddler). Our schedule also runs a bit later than many families I know.
One of the main reasons we homeschool is the freedom to set our own schedule based on what works best for us. I regularly stay up later than the kids to work OR just to get some much-needed alone time.
Then, I wake up with them and follow this simple morning routine.
Related: An Unconventional Homeschool Schedule We're LOVING
2. Think outside the box with your schedule.
Again, the beauty of homeschooling is a completely flexible schedule. Who says school needs to happen during the daytime hours?
Our oldest child is the only one actually registered for school at this point. While we do a lot of learning altogether during the day, it's nearly impossible for me to do intentional school while my younger kids are awake. Intentional school currently includes extended periods of reading aloud.
When I try to read chapter books aloud, my boys really struggle with interrupting. It drives my ISFJ, achiever self crazy!
I finally had to accept they just don't have the attention span for them yet. With a toddler that doesn't sleep, I don't have the desire or patience to teach them right now.
I decided to wait until they can truly enjoy chapter books rather than have them think they're torture.
I moved reading aloud with my oldest to the evenings, after the boys are asleep.
I can finish the same amount of reading in less time, and the relief of being able to focus and actually enjoy the book with her is absolutely worth the later bedtime (for her and me).
For you, this might look different.
Does your husband have a flexible work schedule? Can he be home with your younger children while you get focused time with your school-aged kids?
Do you have a parent who lives nearby who can help at an unusual time of day?
Can you have your younger kids watch a show only they enjoy while you do school with the others?
Think outside the box. Embrace homeschooling as a lifestyle, and don't be confined to the set hours of traditional school.
3. Get outside.
The toddler is so much more independent when we go outside. I am able to have much more intentional, uninterrupted conversations with my older children.
We also spend time developing curiosity about nature and getting exercise, both of which count as school.
4. Lean more toward unschooling.
We do a lot of lifestyle learning right now.
I teach mainly through conversation, educational board games and tv shows, baking, hiking, and reading great books.
The most intentional "school" I do almost every night of the year is faithfully reading one or two chapters of a book to my oldest every night.
Everything else, I teach through living life together, asking questions and finding answers (hello Google), reading aloud, and playing games together (when the toddler isn't destroying them!).
Right now, we are loving the iPad apps Stack the States and Stack the Countries, science shows, and Life of Fred math.
We are also playing a math game called "Sum Swamp" – a game that came in a Chick-fil-a kid's meal (a useful kid's meal toy, for once!). It's a game the oldest three can play together without tears or meltdowns, which is rare.
Related: 20+ Math Board Games for Kids
5) Stop worrying about doing enough.
I'm lucky to have an oldest who is very advanced in reading, thanks to a homeschool co-op that gave her a jump-start in reading, and who already had the majority of her first grade math mastered halfway through the year.
I'm not worried about her getting behind.
If getting behind is a concern for you, especially if you live in a state where the guidelines are more strict, I suggest putting more thought into what intentional learning activities you can work into your days (that a toddler won't destroy).
Reframe your thinking about what counts as school, and keep good records about your days.
When I'm worried we aren't doing enough, I re-read An Unschooling Manifesto again to remind myself that kids are wired to learn and they don't need "school" to do it.
It's seriously the best $3 I've spent on homeschooling: I've read it five times at least this year. Even if the idea of unschooling absolutely makes your skin crawl, we all need extreme perspectives to balance our own extremes.
You don't have to do everything it says: just let it challenge how you think about learning.
I don't know if we'll unschool forever. I suspect we will be eclectic homeschoolers, taking a little from each philosophy and blending them, depending on each child's learning style and our season of life.
I am particularly drawn to something called the Brave Writer lifestyle, which I hope to incorporate more of as my kids get older.
But I do know that kids are always learning, and I'm thankful for the flexibility of homeschooling during these crazy seasons of babies and toddlers.
What are your best tips for homeschooling with babies and toddlers? Share in the comments!
Related: Relaxed Homeschooling v. Unschooling – What's the Difference?