Inside: Choosing a homeschool reading curriculum can feel overwhelming, which is why we're covering five popular choices in detail. Learn the features of all five curriculums, along with who they might be a good fit for and the cost of each one. Bonus tips on how to make learning to read less stressful (from a homeschool veteran).
This is a guest post from fifteen-year homeschool veteran Kay Chance. Learn more about Kay's experience at the end of this article.
We had finally decided to homeschool our son. What a relief to know where he would be educated!
But that one decision set off the need to make so many other choices—how we would do it, what subjects we would cover, the curriculum and resources we would use.
It's no wonder new homeschoolers can feel a bit overwhelmed.
Unlike the homeschooling pioneers, we have so many options today. Though it may not feel like it, all those choices are really a blessing because there really are resources out there that are a good fit for every child.
But no other choice feels quite as important as a reading curriculum because, well, it's reading, arguably the most important skill your child will need as an adult.
There Is No "Best" Homeschool Reading Curriculum
For most families, one of the first curriculum decisions they make is about what they will use to teach their children to read.
Knowing the importance of reading as the foundation for other learning, it's not surprising that many parents agonize over this decision. But I'm going to let you in on a little secret – there is no best homeschool reading curriculum.
There is only the best homeschool reading curriculum for YOU. The one that gets the job done? That's the best one.
Let me assure you: whatever reading program you decide to use, your children will learn to read. Some children may need some extra help if they have a learning disability, but there's a curriculum out there that will work for them.
Not every child is ready to read at the same time though.
Just keep reading aloud to your kiddos (for however long they'll let you), have amazing conversations, and be patient.
What to Consider When Choosing a Homeschool Reading Curriculum
You'll want to ask several questions as you evaluate different reading curriculum options such as:
How much is the curriculum? Does it fit in our homeschool budget?
Is it consumable, or will I be able to use it with multiple children?
How simple or complicated will this system be to teach my children to read? Am I willing to make the time commitment to use it?
How thorough is the program? Do my children need this much, or do they seem to be picking up reading naturally?
Do I think that this reading curriculum will help inspire more than skills to read? Will it actually help develop a love of reading?
How does my child seem to learn best? Does he/she need a multi-sensory approach or something more simple?
It's also important to note that different children sometimes need different approaches when it comes to learning to read.
If your child isn't thriving with the curriculum an older sibling used, it may just mean they need to try something else.
That's part of the reason we choose to homeschool anyway, right—to give each child a customized education?
Related: Unschooling Language Arts – A Guide for the Elementary Years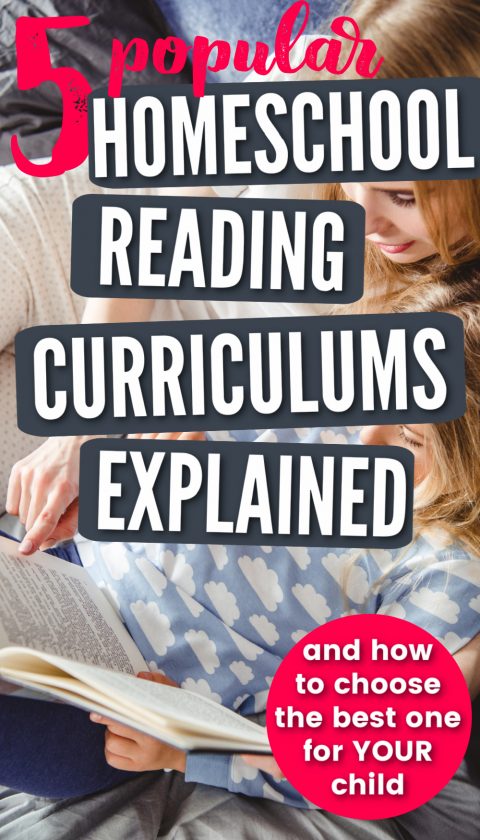 5 Popular Homeschool Reading Curriculums Explained
THIS POST PROBABLY CONTAINS AFFILIATE LINKS. AS AN AMAZON ASSOCIATE, I EARN FROM QUALIFYING PURCHASES. YOU CAN READ OUR FULL DISCLOSURE POLICY HERE.
To help you in the search for the best homeschool reading curriculum for YOU, we wanted to give you the details of five popular choices, with thoughts on what kind of homeschooler each one might be a good fit for.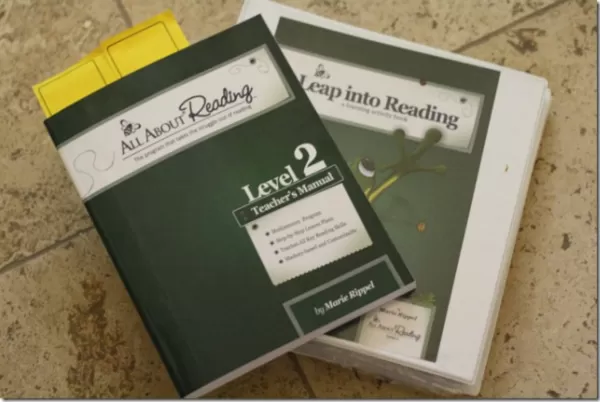 1. All About Reading
All About Reading is one of the most comprehensive, yet still delightful programs available.
Probably the most recommended – and the most heavily debated because of the price point – All About Reading will remain a solid choice for certain kinds of homeschoolers, particularly for children with learning disabilities.
It's multisensory, developmentally appropriate approach—that's completely laid out for mom—makes it a popular choice.
The Details:
Scripted, open and go format
Multi-sensory approach
Step-by-step, incremental lessons
Placement tests available
Several pieces, which can make it difficult to keep organized
Heavy phonics emphasis
Very thorough—includes instruction and practice in five areas including phonological awareness, phonics and decoding, fluency, vocabulary, and comprehension
Unique, generous one year guarantee—use it for an entire year and if you don't get the results you want you can return it in any condition and your purchase price will be returned
A Good Fit For: This program is a great fit for parents who want a solid phonics foundation and to have it all laid out for them. Children who need a multi-sensory approach will benefit from this very thorough program. The price point may be a bit high for some families, but materials can be used with multiple children.
Price of the Program: The pre-reading level is either $94.05 or $134.95 according to the package you want. Levels 1–4 are $149.95 each with an additional one-time kit purchase of either $21.85 or $45.85.
Where to Buy: You can purchase All About About Reading HERE. Again, if you don't get the results you want after using it for one year, you can return it in any condition, and get your full purchase price back.
2. Teach Your Child to Read in 100 Easy Lessons
If you want a proven and inexpensive option for teaching your kids to read, check out Teach Your Child to Read in 100 Easy Lessons.
Thousands of homeschoolers have used it with their children since it's original publication in 1986.
The Details:
Complete instructions at the beginning of the book (Note: It's really important for you to read this section instead of skipping straight to the lessons!)
Step-by-step, scripted lessons
Very straightforward with a simple layout
Each lesson follows the same basic format and includes sound introduction, review of previous sounds, the sounds themselves, and saying and writing the sounds
Phonics based
Affordable
Instructions for parents in color, but the pages are for the parent to read with some places for kids to run their finger underneath sounds as the read them
Non-consumable
A Good Fit for: If you want a solid, budget-friendly option, Teach Your Child to Read in 100 Easy Lessons might be right for you. Students who don't need as much of a multi-sensory approach like All About Reading can do really well with this simple but effective method of learning to read.
You will want to note though, that some find it "boring" while others can't praise it enough. Just goes to show that everyone is different, but it's pretty inexpensive to find out if it's a good fit.
Price of the Book: Less than $15 new on Amazon. You could probably also find it at your local library, if you want to look through the book before you buy.
Where to Purchase: You can purchase Teach Your Child to Read in 100 Easy Lessons on Amazon HERE.
3. Phonics Pathways
This is the curriculum I used with my youngest son.
His favorite part was the fluency building book, Reading Pathways: Simple Exercises to Improve Reading Fluency.
We just went through a couple of pages a day and paired it with lots of read-alouds and trips to the library for easy readers.
Although not designed specifically for homeschoolers, it's easy to adapt for homeschool use.
On a side note, one of the memories that I still laugh about came one day while he read the list of words for the day. It's not uncommon for early readers to mix up the "b" and "d".
The word was ditch… You can imagine what happened. And of course he sounded it out nice and slow 🤣
The Details:
Step-by-step guide you can open and go
Short lessons
Teaches reading using sounds and spelling patterns
Phonics based
Full of examples, word lists, and practice readings that are 100% decodable
Multi-sensory approach
Reading and spelling taught as together
Fun and engaging lessons
Black and white, but with cute illustrations
Non-consumable. There are activities you will copy and use, though! I recommend laminating them to last longer.
A Good Fit for: Phonics Pathways along with it's companion book Reading Pathways is another great option for families that need a solid reading program while being careful with their budget. It's simple, straightforward, and can be done in short lessons—perfect for those kids who need a gentle approach. It also integrates spelling, so there's no need for a separate spelling program (yay!).
Price of the Books: Get Phonics Pathways and Reading Pathways for less than $40 together.
Where to Buy: You can purchase Phonics Pathways HERE and Reading Pathways HERE.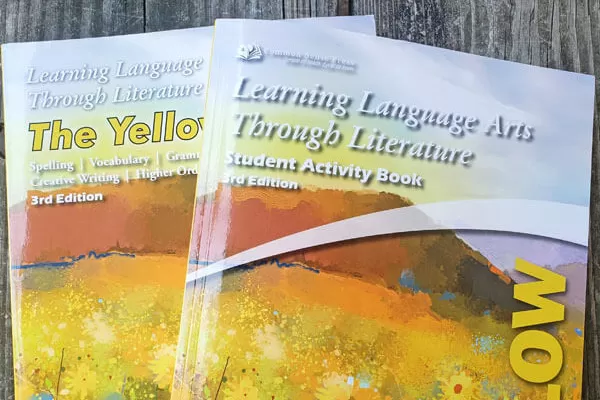 4. Learning Language Arts Through Literature
Learning Language Arts Through Literature uses an integrated, natural approach to teaching language arts skills for beginning readers through high school.
The first program in the series is the Blue Book for beginning readers and is appropriate for first graders, and some kindergarteners. If I could do it again, this is the one I would choose today because of its natural approach—an approach we used for teaching language arts skills throughout our homeschooling years.
The Details:
Phonics based, natural approach to teaching reading
Includes 36 weekly lessons divided into easy-to-use daily plans—little to no prep needed
Student activity guide is consumable, but can be bought separately for use with other children
Gives a list of read aloud books to go along with reading instruction you can buy or borrow from the library
Complete program comes with phonics readers and bridge readers
Includes handwriting instruction and practice sheets
Hands-on projects and activities
Placement tests available
Provides student assessments
A Good Fit for: For parents who want to use a natural approach to teaching language arts skills including reading, Learning Language Arts Through Literature is a favorite. It's mid-range price point makes it affordable for most families, especially those with more than one child who will use the curriculum.
Price of the curriculum: The complete program is around $110 and includes the Student Activity Book, Teacher Book, Short Vowel Readers, Long Vowel Readers, Bridge Readers, and Materials Packet.
Where to Buy: You can purchase the Teacher Book for Learning Language Arts Through Literature HERE.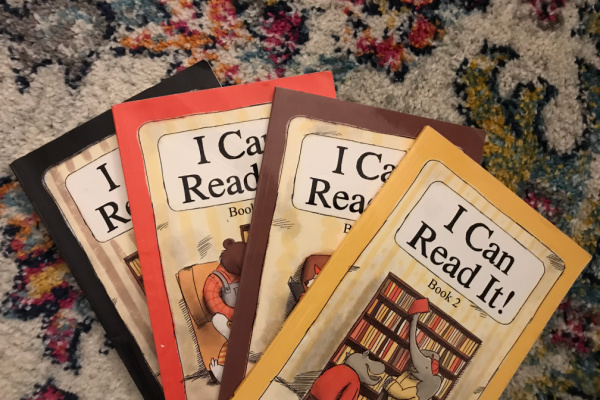 5. Sonlight's I Can Read It! Books
The super simple—and effective—I Can Read It! books from Sonlight curriculum may be just what you need if you have a reluctant reader.
For a thorough review be sure to check out The Best Homeschool Reading Curriculum For Reluctant Readers, but here's an overview:
Description:
Phonics based
Real stories that include a plot, action, and even conflict
Engaging and funny (even moms think so!)
Simple and flexible
Integrated approach of teaching phonics and sight words at the same time
Consists of one book with word lists that target a specific sound with all the related words, then stories practicing those sounds with sight words
Non-consumable
Who it will be a good fit for: Those who have reluctant readers, who want to keep it simple, and aren't intimidated by the thought of not having a step-by-step script to teach reading.
Price of the Complete Set: You can get the complete set of I Can Read it Books! new on the Sonlight website for about $45. If you're unsure you want to go this route, you can purchase individual books on Amazon.
Where to Buy: You can purchase the first book HERE and word list companion book HERE. If you would like the complete set, you can find it on Sonlight's website.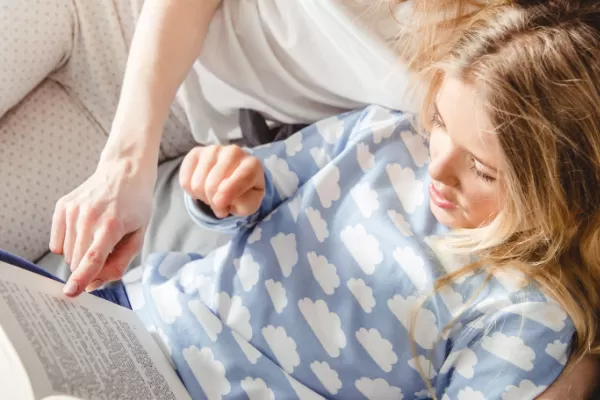 Additional Reading Tips from a Homeschool Veteran
Whether you need a curriculum like the ones above, or choose to use a more natural approach to learning to read, your children will learn not only how to read, but they can also develop a true love of reading.
That's why I want to encourage you with this: however you choose to teach your kids to read, make reading an enjoyable part of their education with these tips.
Keep lessons short.
Lessons should be no more than 15 or 20 minutes a day, at the most, and shorter if that's what your child needs.
Don't be afraid to set reading aside for a season.
There are times when your child will hit a plateau. You may sense them becoming frustrated.
Know that it's fine to set aside the lesson for the day and even for a few days if your child needs a break. Learning to read doesn't need to bring them or you to tears!
Read aloud to your children every day.
And don't just read fiction! There are engaging books on almost every subject for children.
Include tall tales and books about science, poetry and prose, pictures books and chapter books.
You get the idea. Read a lot and mix it up.
Related: 70+ Picture Book Biographies for Kids
Add in some fun and adventure along the way.
Do a craft that goes along with your read aloud, take a field trip based on something in the book, build a fire and make hot chocolate as you snuggle on the couch reading.
You want your kids to associate reading with good memories and time together.
You Might Also Like: The Number That Completely Changed How I Choose Read-Alouds in Our Homeschool
Learning to Read Doesn't Need to Be Stressful
Is learning to read a pretty essential skill? Yes. But so is walking and talking, and they learned how to do that just fine, right?
Pressuring children to learn how to read never helps anything, so take the pressure off and RELAX.
Learning to read isn't a race, and unlike schools, you have the luxury of taking your time.
Embrace that luxury and enjoy the process.
Read Next: Learning to Read is a Natural Process…If You're Willing to Be Patient
---
About the Author: Kay is the co-executive editor of Homeschooling Today magazine, author of the older extensions for the Trail Guide to Learning series, and a freelance writer and content creator.
She homeschooled her two boys for fifteen years. While teaching them, she discovered a passion for writing and developing curriculum resources. She loves sharing natural learning methods and creative lesson ideas with other homeschooling parents in her Homeschooling Today column, Learning Naturally. She makes her home in Texas with her husband Brian.