Inside: Want your kids to learn how to read the news, but are struggling to find age-appropriate news stories on their reading level? The Juice Learning has got you covered with their brand new subscription service offering carefully selected daily news stories, and more excellent content. Learn more about this super simple way to cover current events in your homeschool.
Reading the news. It's a skill we want our kids to learn, but it's SO complicated figuring out how to do that, especially in an age appropriate way.
After all, the news can be a minefield, and it's getting crazier by the day. Sensationalism and political bias seem to be unavoidable.
And when you throw kids with anxiety into the mix, knowing what to share with them and what not to share feels like an intense decision. Who has time to figure all of that out?
We want to raise informed citizens, (eventual) adults who can read a news story and know exactly what the reporter is communicating, separating fact from our own assumptions. These are future voters, after all.
No matter where my kids land on major issues later in life, I want to know that I did my best to show them how to get the information they need to form their own opinions about the world, and about our country.
But how do you actually do that?
(This post is sponsored by The Juice and includes tracking links. For more information about tracking links and how to opt out, please visit All About Do Not Track prior to clicking any links found in this post.)
Finding Unbiased, Age-Appropriate News for Kids Is Tough
THIS POST PROBABLY CONTAINS AFFILIATE LINKS. AS AN AMAZON ASSOCIATE, I EARN FROM QUALIFYING PURCHASES. YOU CAN READ OUR FULL DISCLOSURE POLICY HERE.
In early 2020, when all the craziness started, I signed up to receive a daily news digest from a reputable newspaper.
I shared various news stories with the kids, but wading through the vast sea of daily news for things that were appropriate to share and would be of interest to them felt tedious and overwhelming.
And have you seen the daily news? Talk about decision fatigue.
Even as an adult, I struggle to decide what I need to read to stay informed, and wrestle with how much time to dedicate to reading the news each day.
I was also all too aware of my own political bias that I brought to every discussion with my kids. I knew that they were getting the news filtered through me, not direct, age-appropriate news stories they could read on their own.
That's why I found The Juice Learning, a daily news subscription service for tweens and teens, to be a great option for homeschool families who want their kids to learn how to read the news, but they don't want to wade through a million NOT age-appropriate options – and whole lot of bias – to do it.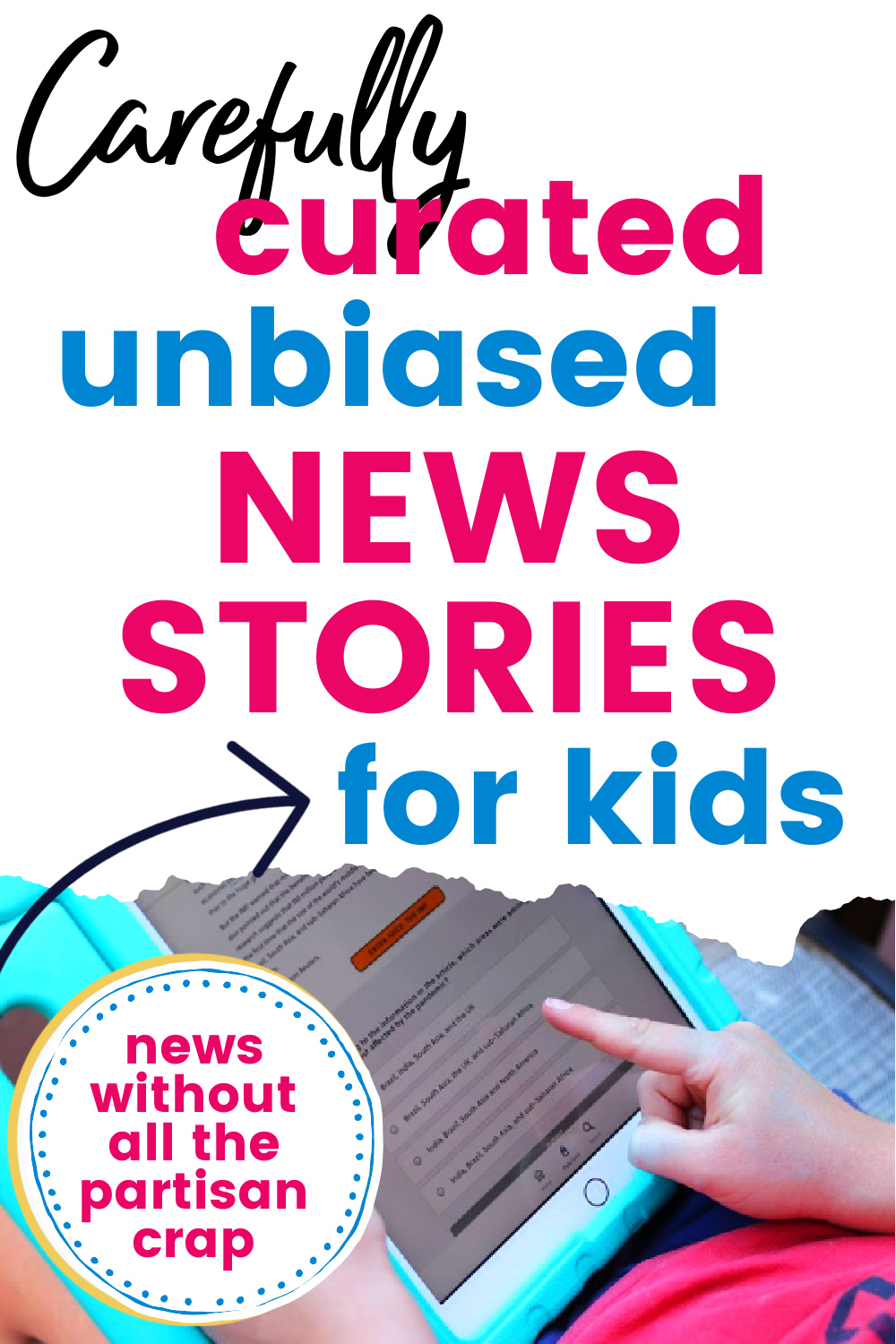 So What Is The Juice Learning?
The Juice Learning is a subscription service for tweens and teens that provides unbiased, age- appropriate news articles, along with additional educational content like vocabulary words and short educational videos.
The Juice makes it easy for middle and high school students to read age-appropriate current events every day of the week.
And as the parent, you don't need to pick and choose which stories to share with your kids, or worry about clickbait or biased content – The Juice does all the work for you and curates a balanced mix of content written specifically for tweens and teens.
The platform also helps your child improve critical thinking skills, learn new vocabulary words and develop reading comprehension skills simultaneously.
Each day of the week, students can access the "Daily Juice", which includes the following:
4 News Stories, A Mix of National and International News
1 News Story focused on "feel good" news, called "The Bright Side"
1 New Vocabulary Word
6 Quiz Questions, one for each news story and vocabulary word
1 New Video covering science, life hacks, careers, book reviews and more.
Extra Juice, connected to one or more news stories
When you subscribe to The Juice, you have a parent dashboard where you can access the exact same content as your child, along with their quiz results.
Related: An Honest Big Life Journal Review – What We Loved & What We Didn't
What Are the Key Benefits of The Juice Subscription?
Here's what you get every day, five days a week, with your subscription to The Juice.
Unbiased News Stories, Written in a Variety of Reading Levels
The five daily news stories are well-written and in my opinion, the perfect length. There's also a healthy mix of national (American), international and "feel good" news.
They are 4-5 paragraphs each, with "extra juice" available for one or two stories each day giving additional background into the topic.
I also love that The Juice includes one news story every single day that is dedicated to positive news. It's so hard to find these days!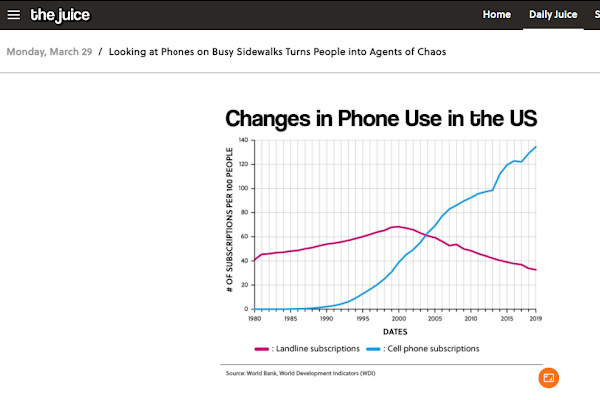 Colorful and Engaging Infographics
Each day, there is at least one beautiful, extremely well-done infographic.
A recent one that stood out was included in a story about an 8-year-old cancer survivor who sold an insane amount of girl scout cookies.
The infographic showed a picture of the United States, and the most popular girl scout cookie in each state. The quiz question asked which cookie was most popular in the United States.
This particular one practiced estimating, training the kids to look at the entire map and see which cookie seemed to occupy more states than the rest.
Most importantly, kids learn how to read infographics in context, instead of random graphs in a math book that have little significance to them. I'll take in context learning over randomness any day.
Reading Comprehension and Test-Taking Skills Practice
I don't know about you, but my kids rarely take tests at this point.
We currently test as much as our state requires (grades 3, 5, and 8 in Pennsylvania). When my kids want to take quizzes for fun, they do so randomly.
I'll probably never be a fan of testing, but the reality is that testing is part of the world we live in. The Juice offers regular exposure to and experience with multiple choice testing.
Learning how to take tests is a skill I know kids need to pick up at some point, and the six daily quiz questions in the Daily Juice offers that practice.
The quizzes focus on developing reading comprehension and vocabulary skills. The questions teach your child what to look for in a story – being able to separate the overall point of the article, and what were just supporting details or interesting facts that support the main idea.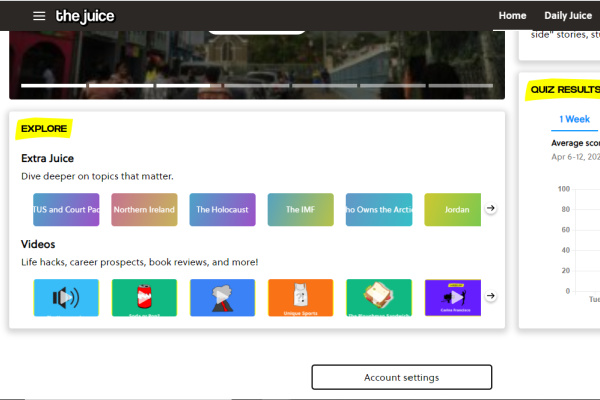 Extra Juice For In-Depth, Related Learning
Dive deep into extra learning that helps you understand the context behind a particular news story.
One day, for example, we learned that Iceland is currently experiencing frequent earthquakes – thousands per day (yes, thousands), and they are on constant alert for volcanic eruptions.
The extra juice for the day showed (and explained) why Iceland is more prone to earthquakes: the infographic demonstrated visually that Iceland sits directly on top of a major fault line and has several active volcanoes.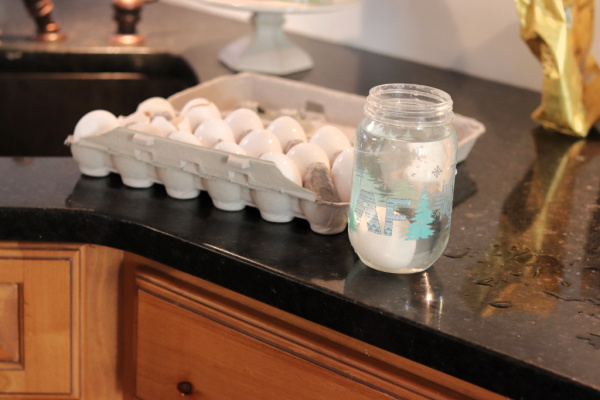 Short and Fun STEAM Videos
The videos are a super easy way to fit in short bursts of learning for a variety of topics like science, the arts and history.
The videos definitely inspired my kids to wander down more rabbit trails of learning, especially the science videos.
For example, after we watched a video explaining a simple method for determining whether eggs were still good or on their way to rotten, my son immediately got out our carton of eggs to test them.
Audio Version of News Content
Have a child who doesn't love to read but does better with audio content?
Every news story and "extra juice" has an audio option built in, so your child can listen to the news instead of reading it.
You Might Also Like: An Honest Brave Writer Review from a Former Skeptic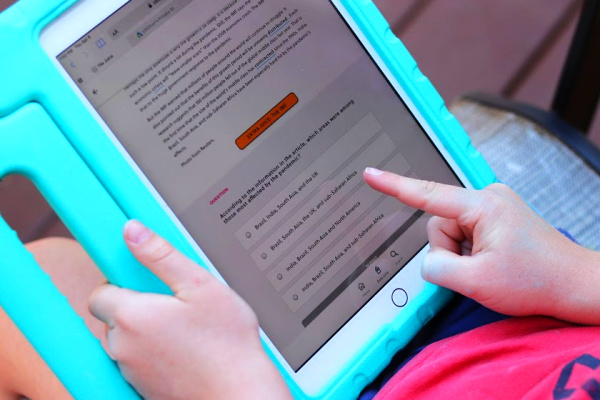 What Did I Love Most About The Juice?
We were given early access to the Juice, and I was able to try it with my third and fifth grader. Here's what we loved about it…
1. Work Done for Me
As a work from home, homeschool parent of five, I need things to simplify just about every aspect of our lives, including the homeschooling part.
I say this over and over (and over) again: when you homeschool, you need to automate and simplify as much as possible, especially if you are homeschooling multiple kids or trying to work from home and homeschool. You also need to outsource.
The Juice is a perfect example of outsourcing. It's paying pretty small fee for someone else to do the work of:
Sifting through the daily news and choosing the top 4-5 stories.
Summarizing and condensing those news stories into age-appropriate, bias-free, non-partisan content.
Creating colorful infographics and preparing interesting videos.
Choosing a vocabulary word each day.
We have used a variety of subscription services over the years. Some have stuck, others haven't.
I'm sure that The Juice Subscription will stick with us, especially as my kids are working their way into the teen years, because I love that I don't have to choose which news stories to share with my kids every day. The work is already done for me.
2. The Price
The price is on point for everything you get – I pay a similar monthly fee to support the news outlets I believe in.
It's honestly a no brainer addition to any homeschool with tweens and teens, and in my opinion, even third and fourth graders.
If you value sharing current events with your kids, and teaching them how to read and understand the news, The Juice is an obvious addition to your homeschool.
3. Multiple Subjects, One Activity
Sure, The Juice is "current events", but doesn't the news address almost every subject? Science, history, language arts, math, the arts.
Touch on every subject, every day of the week with the Juice.
It's perfect for relaxed homeschoolers. Check off all required subjects in one fell swoop, 10-15 minutes a day, leaving lots of time for interest-led learning.
Related: Relaxed Homeschooling v. Unschooling – What's the Difference?
How Can You Use The Juice to Homeschool Current Events? Two Different Options
Here are two different ways to use The Juice in your homeschool.
1. Read and discuss altogether as a group.
The Juice would make a great addition to a "morning basket" or whenever you work reading aloud into your homeschool day.
We read the stories together, discussed and watched the videos as a group. You can also tackle the quiz questions together.
I prefer this approach with my current age group (a third and fifth grader).
It helps me to understand how much they are comprehending and opens up interesting conversations and connections to other things we're learning.
2. Use The Juice for independent learning.
If you have older tweens and teenagers and need independent work options to add to your homeschool day that addresses a wide variety of subjects, The Juice would be a great fit.
The Juice can be set up with your child's e-mail address to deliver that day's link right to their inbox.
Plus, the design looks just like an app in the web browser- very modern and user-friendly.
(Although I do hope they also develop an app one day! Apps are far more kid-friendly, especially for the younger grades.)
There is a tab showing every date the Juice was available, for "catch up" should they miss a day, and you can track their answers to the quiz questions from your parent dashboard.
How to Get a Subscription to The Juice
There are several different subscription options:
a week free trial
a monthly subscription, and
an annual subscription (get almost half off!)
Obviously, the annual subscription is going to be the best deal.
For a limited time, The Juice is offering 25% off using the coupon code: JUICETSPB. Ready to subscribe? You can sign up for early access to The Juice by clicking HERE.
How do YOU cover current events in your homeschool? Have you tried The Juice Learning Subscription? Share in the comments!
Read Next: How to Homeschool Science without a Curriculum – 8 Easy Ideas