Inside: Have a hard time finding great books for boys? Use this list to grab already vetted books that your boys are sure to love!
I use reading to teach pretty much everything in our homeschool: history, math, science, vocabulary, and just about everything else.
Picture book reading usually happens before bed every night (after rambunctious, pull the book right out of my hand toddler is asleep).
My target picture book audience is currently my middle boys, ages five and three, although my daughter still loves to listen in, too. Maybe it's just me, but I have a much harder time choosing great books for boys – books that truly delight and engage them – than I ever had choosing books for my daughter.
THIS POST PROBABLY CONTAINS AFFILIATE LINKS. AS AN AMAZON ASSOCIATE, I EARN FROM QUALIFYING PURCHASES. YOU CAN READ OUR FULL DISCLOSURE POLICY HERE.
Challenge: Finding Great Books for Boys
For my daughter, I easily found series she loved: Little House on the Prairie (she listened to this audiobook version), Beverly Cleary's Ramona series, and the Boxcar Children. Keeping her in chapter books was simple.
Picture books were the same way. They didn't have to be particularly funny or adventurous. She loved almost every book I brought home from the library.
The boys? They set the bar higher. "If a book doesn't have at least three laughs, it's not a hit," my five-year-old said nonchalantly one day before bed. Books have to be either humorous or extremely engaging adventure stories.
If a book doesn't have at least three laughs, it's not a hit. – My 5-year-old Son
Finding great books for boys is a challenge – I know!
While I try to use this reading treasury to select books, I'll be honest. These days, trips to the library look more like grabbing every single book the librarians decide to display on the shelves that looks even remotely interesting.
Side Note: I'm realizing that illustrators are the ones that actually sell books. Sometimes, I'll quickly grab a book with amazing illustrations, only to get home and find the book itself to be very disappointing. It gives a whole new meaning to, "Don't judge a book by its cover." But that's another post.
The point is that most of these books were happy accidents, discovered by grabbing huge stacks of books and hoping that a handful of them were hits.
The majority of these books are laugh out loud funny, with one or two gripping adventure stories thrown in as well. I hope you find these books to be great for your boys, too!
Miss the first set of unexpectedly awesome books for boys? Read it now: 17 Unexpectedly Awesome Books for Young Boys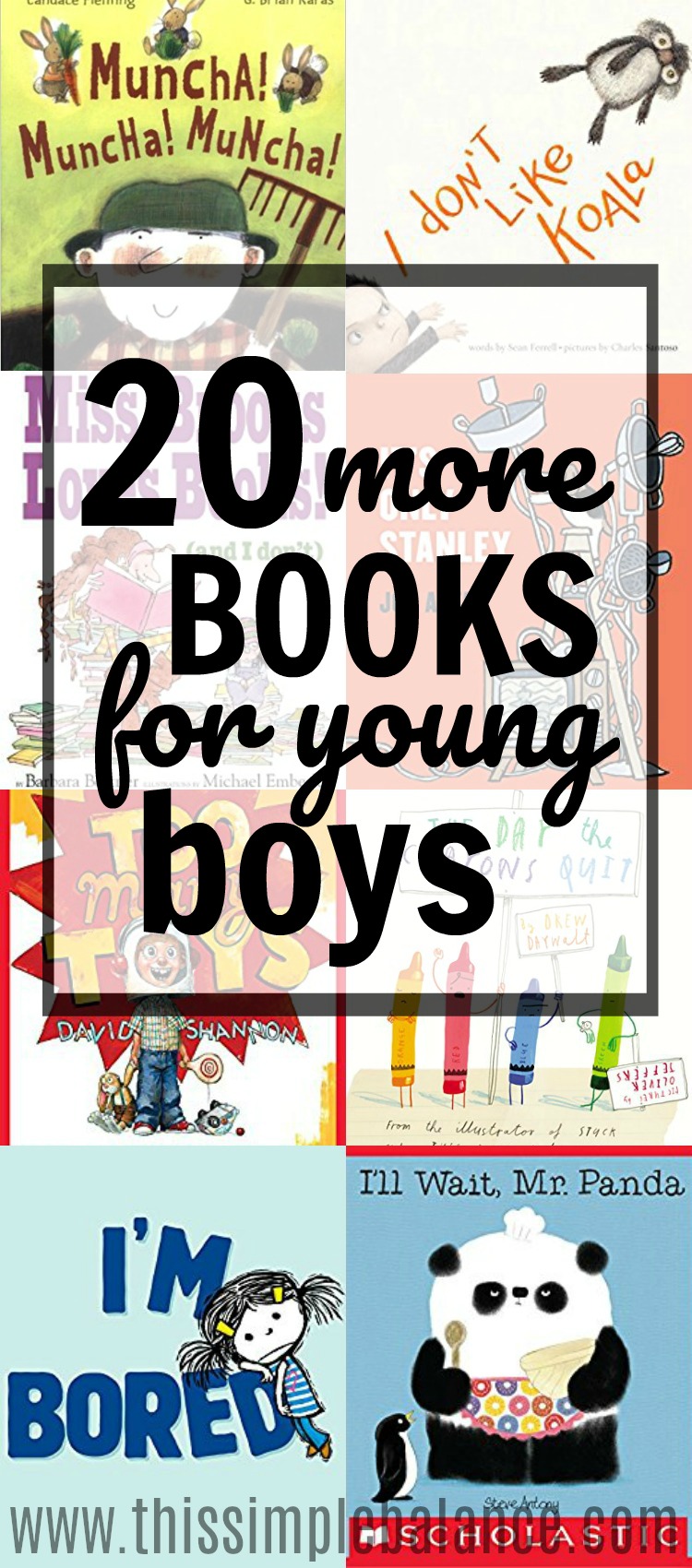 20 Great Books for Boys
1) How to Clean Your Room in 10 Easy Steps by Jennifer Larue Huget
2) Too Many Toys by David Shannon
3) Meet the Dullards by Sara Pennypacker
4) Please, Mr. Panda by Steve Antony
5) Miss Brooks Loves Books (and I don't) by Barbara Bottner
6) The Younger Brother's Survival Guide by Lisa Kopelke
7) The Magic Word by Mac Barnett
8) I Don't Like Koala by Sean Ferrell
9) The Whopper by Rebecca Ashdown
10) I'm Bored by Michael Ian Black
11) Another Brother by Matthew Cordell
12) The Highway Rat by Julia Donaldson
13) Frog & Toad are Friends by Arnold Lobel
14) Muncha! Muncha! Muncha! by Candace Fleming
15) Bob's Hungry Ghost by Genevieve Cote
16) It's Only Stanley by Jon Agee
17) I'll Wait, Mr. Panda by Steve Antony
18) The Day the Crayons Quit by Drew Daywalt
19) Alexander, Who's Trying His Best to Be the Best Boy Ever by Judith Viorst
20) Those Darn Squirrels and the Cat Next Door by Adam Rubin