Inside: Elementary homeschool art appreciation doesn't need to be complicated and arduous, and you don't need fancy (or expensive) curriculum. Get 7 easy ideas for adding art appreciation to your homeschool!
I could care less about art. There, I said it. While I do remember drawing as a child, I never drew for fun past my tween years, and I would never choose to spend my spare time going to an art museum. The art in our home is mostly my kids' artwork, word art, and maps (which are probably considered a form of art).
But just because I don't love art doesn't mean my kids shouldn't be given the opportunity to fall in love with art.
I've done enough reading to realize the value of art during childhood, both doing and beholding. A powerful quote from one of my favorite movies, Mr. Holland's Opus, ultimately convinced me to make sure to include the arts in our homeschool.
THIS POST PROBABLY CONTAINS AFFILIATE LINKS. AS AN AMAZON ASSOCIATE, I EARN FROM QUALIFYING PURCHASES. YOU CAN READ OUR FULL DISCLOSURE POLICY HERE.
When Mr. Holland's boss, the high school principal, decided to eliminate the art, theatre, and music programs in favor of padding the budgets of the English and math departments, Mr. Holland warned,
Pretty soon these kids are going to have nothing to read or write about."
Makes you think twice about skipping music or art, right?
Because art is not my favorite thing in the world, I need to be intentional about incorporating art appreciation into our homeschool. However, I don't want to make it too hard on myself – I do work from home, after all.
So I came up with several easy and natural ways to add art appreciation to our everyday lives.
I hope these ideas encourage you that you don't need to pull off 30 Pinterest art projects in your homeschool every month. Then again, if that kind of thing makes you giddy, and it doesn't cause you to hyperventilate like it does me, by all means, go right ahead!
When it comes to art appreciation in our relaxed homeschool, at least, simplicity wins the day.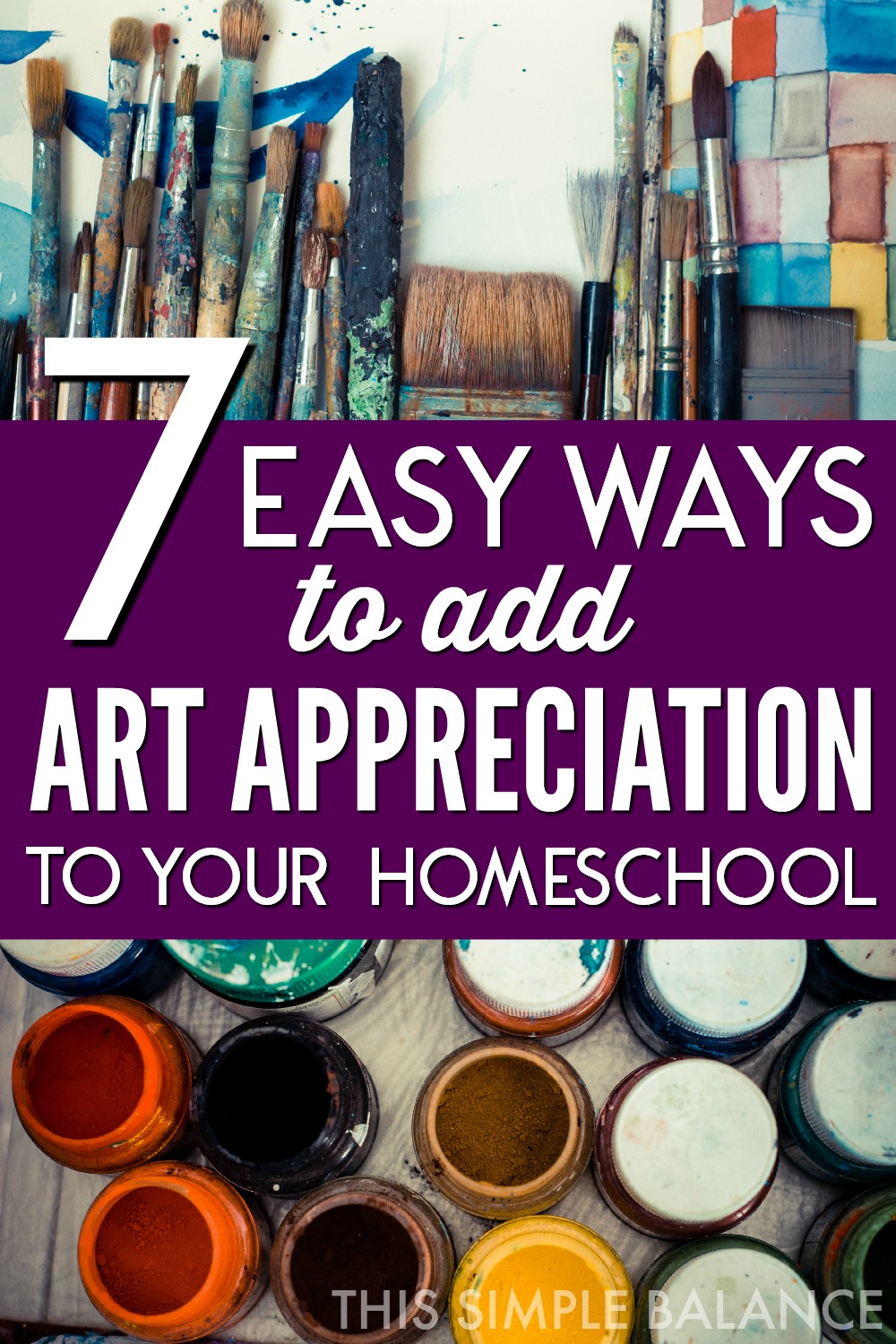 7 Easy Ways to Add Art Appreciation
1 ) Buy and stock an art station.
If you are lucky enough to have a homeschool room, you will probably have a beautiful art station or dedicated table to contain the mess. We, on the other hand, fit a family of 6 into a less than 1200 square foot home. A dedicated art space is not our reality.
And yes, if you were wondering, our kitchen table is covered with artwork constantly.
To work with our small space, I bought an adorable little cart at Michael's (this cart on Amazon is nearly identical).
Cute little bins house markers, colored pencils, paint brushes, glue sticks, scissors, and charcoal pencils. Lower shelves hold a basket for pretty paper and stickers, dot art, and envelopes for mailing letters and artwork.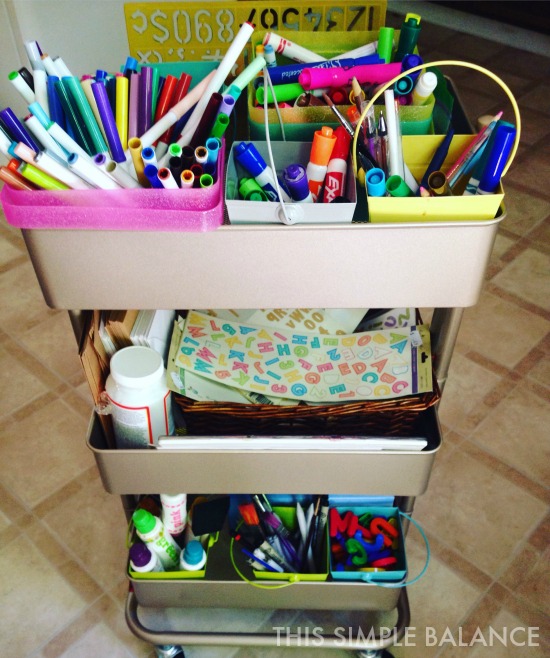 I get free paper from Staples whenever they offer their penny paper deal, and we still have a small stock of decorative scrapbook paper that my sister gave us years ago.
However, I've found that my kids are just as happy with plain white paper and their favorite markers than all the fancy stuff (which also equals less clutter).
My daughter is especially interested in art, so we've made a point of giving her art-related birthday and Christmas gifts. She has a nice set of pastels and quality colored pencils, along with adult coloring books and sketchpads.
Side Note: My kids hate folding their artwork into thirds for some reason, so they could never mail their artwork to family and friends. I finally bought envelopes in this size, which has made mailing art much easier (and shipping off their oodles of artwork to friends and family makes me happy).
General Art Supply List:
Stickers
White Paper
Envelopes
Paint Brushes
2) Keep a variety of How-to-Draw books on hand.
I am far from the creative type, so I love art books that teach drawing step by step. Being able to copy exactly what the book says to do and have my drawing look exactly like it should, makes me happy.
With kids, this can go two ways.
Some kids are perfectionists by nature and never draw spontaneously because they get frustrated at their inability to put what's in their heads on paper. That type of child will probably love how-to-draw books. But you also want to [gently] push your kids to free draw. T
here may be times to make those books unfindable and push your kids out of their comfort zones with art.
This book is one of our favorites for learning to draw people.
3) Read about famous artists and see their paintings.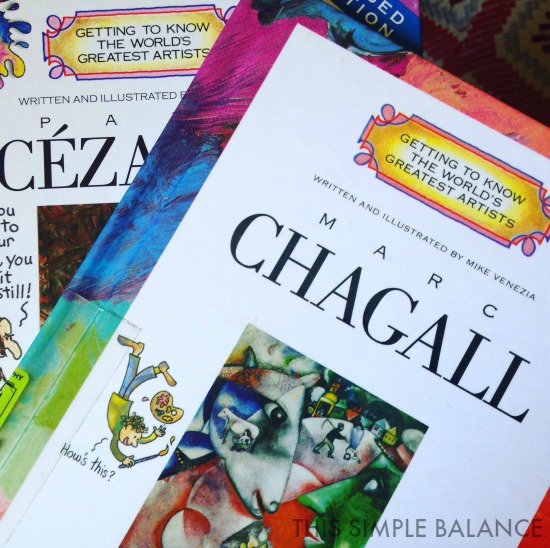 Getting to Know the World's Greatest Artists SeriesLast year, I purchased this Usbourne book from a friend, and we love looking at the colorful pages together (be warned: photos of nude statues are included). But most of all, we love reading aloud this excellent series on famous artists.
What makes this series special is the author's ability to combine art history with hilarious comics. My daughter laughs out loud at every book and loves doing the quizzes at the end to learn new and random facts about the artists.
The author went on to create series on The U.S. Presidents and Famous Scientists and Inventors, too. Even though I'm a minimalist and declutter books like a fiend, I actually want to start collecting these books.
They are keepers, for sure! Check them out HERE.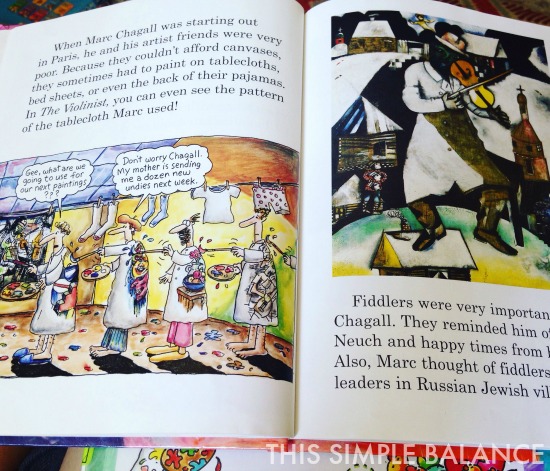 4) Visit art museums occasionally.
When we lived in Boston, you could easily get free passes to the Museum of Fine Arts. We didn't use it as much as I wish we would have, but my kids were young then. In our current city, the art museum is free all the time.
Be sure to check with your local art museum about free days and opportunities for homeschool field trips at a discount.
5) Participate in their art sessions from time to time.
When was the last time you actually sat down to do art with your kids? If you don't love art, it can be challenging to make time for it as a homeschool mom. Heck, I like to think of art time as me time.
However, I recently sat down with my kids to watch an art lesson and actually attempt to draw the example (realistic eyes using charcoal pencils). I was so surprised! I felt a foreign sense of accomplishment. I mean, being able to draw something like faces well feels pretty good.
The next time your kids are doing art, pull up a chair and try your hand at drawing something new. You might surprise yourself and enjoy it.
6) Subscribe to online art lessons (because I've clearly got nothing in that department).
I only provide art lessons because my oldest shows an artistic bent. Otherwise, I would probably stick with the how-to-draw books, Youtube, and free drawing, at least during the elementary years.
We currently have a one-year subscription to Masterpiece Society, a membership site offering art lessons and art appreciation for homeschoolers. Purchasing the one year membership gave us access to almost all of her courses (new ones are being added on a regular basis).
There is everything from basic how-to-draw lessons for younger kids to mixed media projects for older ones. Many of the courses are appropriate for ages 9 and up, unless you have a very eager young artist with a great attention span.
I highly recommend the membership! The cost divided over twelve months is very affordable, especially if you have multiple kids. You do cover the costs of the art supplies yourself, however. Just keep that in mind if you decide to try it.
If you aren't sure about a year-long membership, you can join on a monthly basis to try the membership before making the bigger commitment.
Try one art lesson completely free! Click HERE to access the free lesson for painting an Impressionist-Style Bluebird.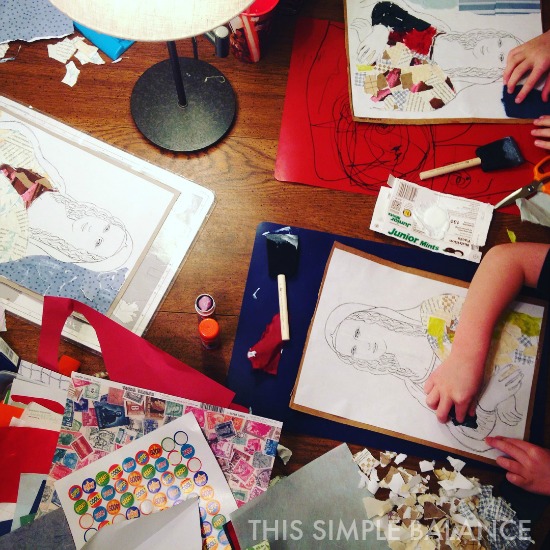 7) Teach your kids to observe and discuss art.
You don't need to be a professional artist to talk about a piece of art. When we look at famous paintings together, I ask questions about various aspects of the piece. We discuss how the artist used color, brush strokes, details to make the piece what it is. What do they love about the piece?
It doesn't need to be complicated or even use proper art terms (though you're welcome to). The point for me is to teach them how to be observant and how to express their own opinions.
All of this is of course good practice and preparation for the rest of life, and isn't that the point of homeschooling?
Homeschool Art Appreciation: Final Thoughts
My biggest piece of advice when it comes to adding art appreciation to your homeschool is this:
Play to your strengths.
Do you love reading aloud? Get the Greatest Artists series from your library or buy it on Amazon. Read them aloud with your kids.
Do you like to hand-letter? Teach your kids how to do it, and explain that hand-lettering is art.
Do you love to quilt or knit? That's art, too. Involve your kids in your art process.
Do you like to be out and about exploring your city? Visit the art museum and find other ways to observe art in your city.
Every homeschool mom can find ways to add art appreciation to her homeschool.
Get creative. Just do it.
Need more ideas? Get this FREE Art Appreciation Guide for more ideas!