Inside: These homeschool art ideas are ridiculously easy to implement and require very little prep work beyond buying art supplies or heading out of the house for a field trip. They're perfect for busy and/or non-artistic moms who want to bring more art into their homeschools, but just don't have the extra time to dedicate to it.
I'm going to be real with you for a second – I don't care a whole lot about art. I'm also not very artistic.
While I do remember drawing as a child, I never drew for fun past my tween years, and I would never choose to spend my spare time going to an art museum. The art in our home is mostly my kids' artwork, word art and maps, which are probably considered a form of art.
But just because I don't love art doesn't mean I don't want to give my kids the opportunity to fall in love with art, if that's where their interests and talents end up landing.
That being said, I don't have a lot of extra time to dedicate to the subject. With five kids and two blogs to keep going, I need homeschooling art to be EASY and not take a lot of preparation on my part.
I'm sure you're a busy homeschool mama, too.
So I rounded up several ideas I've used for homeschooling art over the past five years that are ridiculously easy to implement. I'm all about making just about everything simpler and easier.
Related: An Introduction to Minimalist Homeschooling for the Overwhelmed Homeschool Mom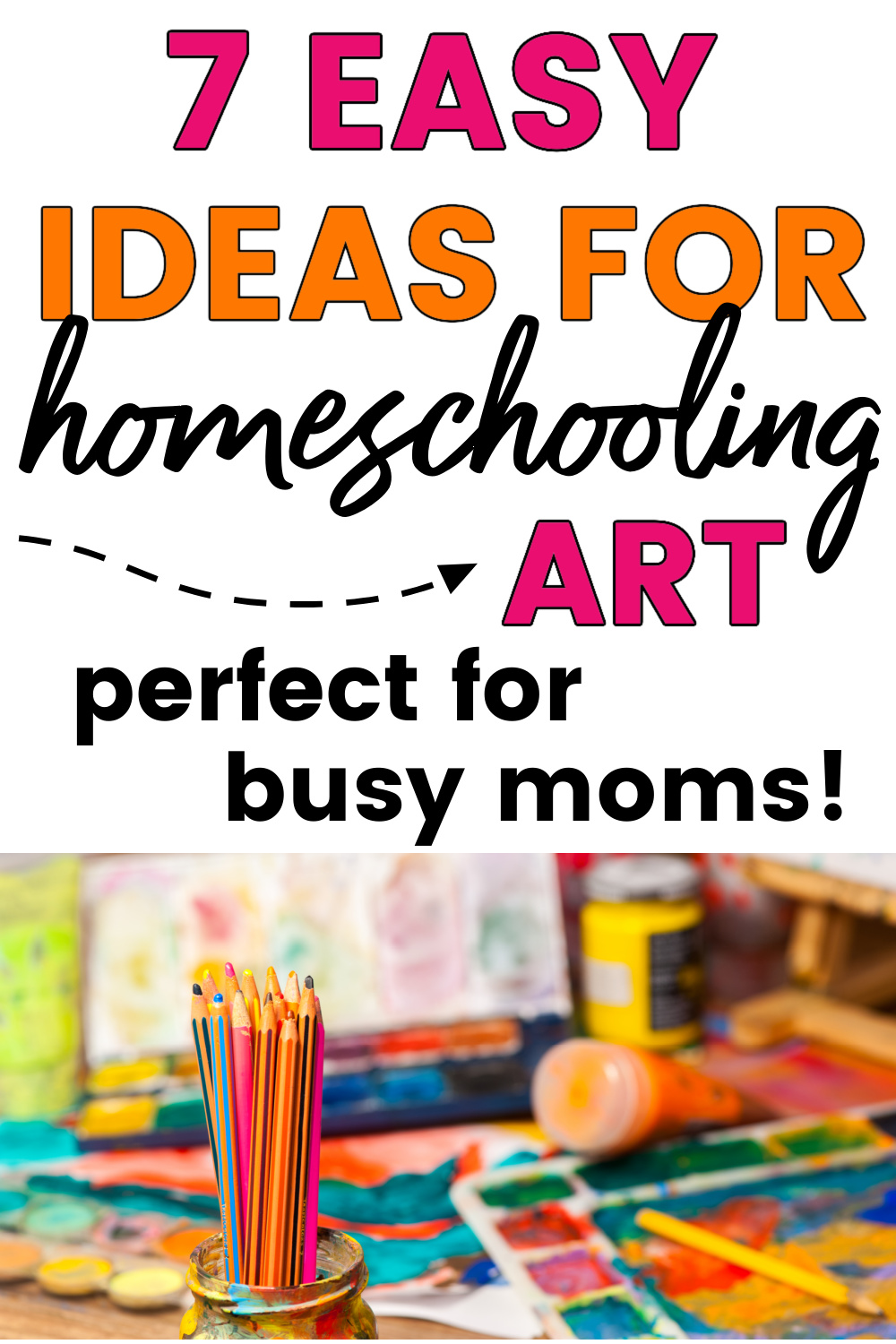 7 Homeschool Art Ideas That Are Ridiculously Easy
THIS POST PROBABLY CONTAINS AFFILIATE LINKS. AS AN AMAZON ASSOCIATE, I EARN FROM QUALIFYING PURCHASES. YOU CAN READ OUR FULL DISCLOSURE POLICY HERE.
Before I dive in, keep in mind that especially if you're homeschooling elementary aged kids, they really don't need a lot of structured lessons to make art. In fact, sometimes structure puts a damper on their creativity.
Less is more. Child-led is ideal.
Ultimately, I hope these ideas encourage you that you do NOT need to pull off 30 Pinterest art projects in your homeschool every month. Or any Pinterest-perfect homeschool art projects at all, if that's not your thing.
Then again, if that kind of thing makes you giddy, and it doesn't cause you to hyperventilate like it does me, by all means, go right ahead!
When it comes to homeschool art, simplicity wins the day.
Let's jump in to the ideas!
1. Create and stock an art station or area.
We are so very fortunate to finally have a dedicated homeschool room of sorts, meaning that while we don't do all of our homeschooling in that one room, it's a space for creative work like art, music and sewing to stay contained.
All of our art supplies have a dedicated shelf that is easily accessible, with like items grouped together. We have an old table that can get messy anytime.
It's amazing.
But for a lot time, we fit our big family into less than 1200 square feet. A dedicated art space wasn't my reality, and I distinctly remember the stress that was our one kitchen table constantly covered in books and art projects.
To work with our small space at that time, I bought an adorable little cart at Michael's (this cart on Amazon is nearly identical) and created one of the ever popular art carts you see all over Pinterest.
Cute little bins housed markers, colored pencils, paint brushes, glue sticks, scissors, and charcoal pencils.
Lower shelves held a basket for pretty paper and stickers and dot art, plus any extras I had on hand at the time.
However, I would advise against overstocking with extras – pipe cleaners, wigglly eyes or feathers. I noticed that whenever I've added things like that without being asked, the kids never did much with them.
They would dump them out and maybe use one or two. It was one more unappreciated mess for them or me to clean up.
Honestly, I've found that my kids are just as happy with plain white paper and their favorite drawing instrument (often sharpies) than all the fancy stuff.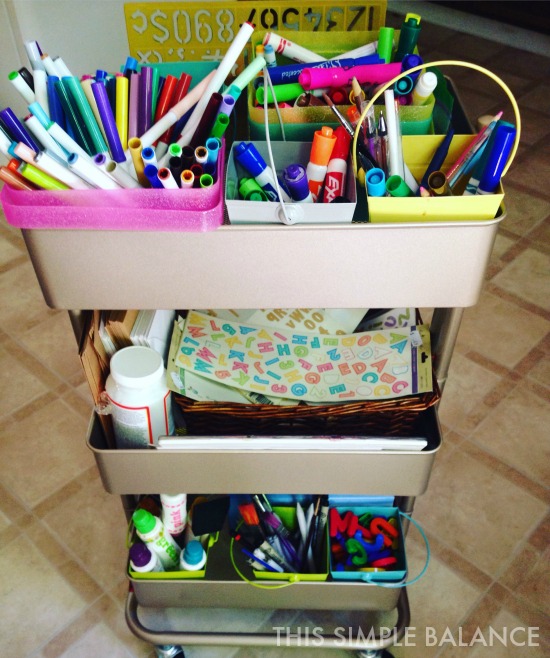 I used to get free paper from Staples all the time, but alas, it seems their penny paper is a thing of the past. So now we have Amazon Basics crates of paper on our subscribe and save list, delivered every few months.
A Basic Art Supply List:
White Paper
Paint Brushes
Smocks
Sharpies
Acrylics
2. Keep a few How-to-Draw type books on hand.
I am far from the creative type, so I love art books that teach drawing step by step. Being able to copy exactly what the book says to do and have my drawing look exactly like it should, makes me happy.
Now some kids are perfectionists by nature and never draw spontaneously because they get frustrated at their inability to put what's in their heads on paper. That type of child will probably love how-to-draw books.
Others may never dip into the books because they like to draw on their own.
The following books are still favorites and actually get used: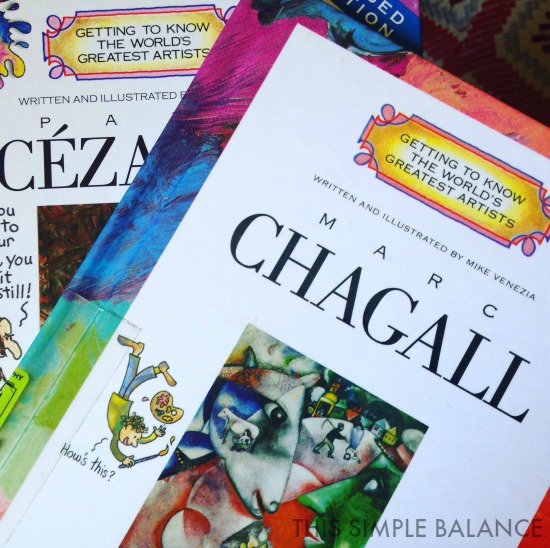 3. Read about famous artists and see their paintings.
A few years ago, I purchased an Usborne book from a friend that is sadly now out of stock. We love looking at the colorful pages together (be warned: photos of nude statues are included).
A fantastic second choice option are these Usborne famous paintings cards, which we also own and love. These are a great way to familiarize your kids with 30 of the world's most recognizable paintings – highly recommend!
You could add these to a morning basket, poetry teatime rotation or any other dedicated read-aloud time in your homeschool day.
We also love reading aloud this excellent series on famous artists.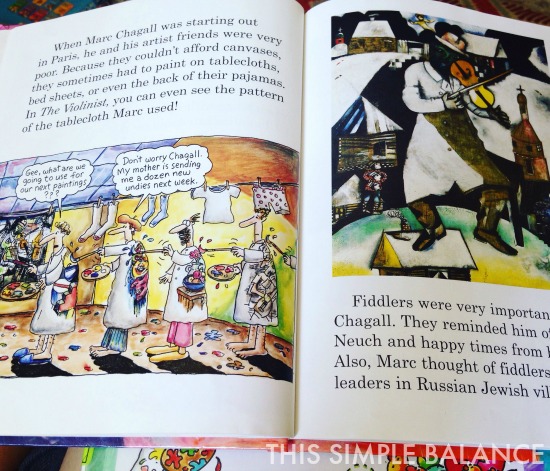 What makes this series special is the author's uncanny ability to combine art history with hilarious comics.
My daughter laughs out loud at every book (still does) and loves doing the quizzes at the end to learn new and random facts about the artists.
The author went on to create series on The U.S. Presidents and Famous Scientists and Inventors, too. It's truly an amazing series, and you can often find them at your local library.
4. Visit art museums OR children's museums with dedicated art spaces.
When we lived in Boston, you could easily get free passes to the Museum of Fine Arts.
We didn't use it as much as I wish we would have, but my kids were young then. In Raleigh, the art museum was free all the time. Again, I SO wish we would have taken advantage of this more!
The children's museums in every city we've lived in had dedicated spaces for art, where the mess stays there. What's not to love?
Be sure to check with your local art museum about free days and opportunities for homeschool field trips at a discount.
We often invest in at least one museum membership a year, rotating through things like children's museums, science museums and zoos.
5. Take advantage of Youtube channels dedicated to teaching art for kids.
Youtube can seem scary, but I promise, with some guardrails in place, it is the biggest source of free homeschool materials EVER.
I cannot even quantify how much my kids have learned from Youtube in multiple subject areas, and art is no exception.
I couldn't homeschool without Youtube. I can't even imagine that! How did people do it – really?
Our favorite Youtube channel for homeschool art, and probably the most well-known is Art for Kids Hub.
My oldest two adore this channel, and it's when I see them working/playing together at their happiest, side by side, drawing.
For more ideas, check out this list of top 10 Art Youtube Channels for Kids.
6. Purchase online art lessons – a la carte, or a yearly membership.
I only provide art lessons because my oldest shows an artistic bent. Otherwise, I would probably stick with the how-to-draw books, Youtube, and free drawing, at least during the elementary years.
We currently have annual subscription to Masterpiece Society Studio, a membership site that gives you access to so.many.amazing art courses. It was created specifically by a homeschool mom artist, and every class we've done, we've loved.
There is everything from basic how-to-draw lessons for younger kids to mixed media projects for older ones. Many of the courses are appropriate for ages 9 and up, unless you have a very eager young artist with a great attention span.
If you want formal art lessons and to outsource homeschool art completely, I highly recommend this membership!
The cost looks high, but divided over twelve months is pretty affordable, especially if you have multiple kids using the membership.
You do cover the costs of the art supplies yourself, however. Just keep that in mind if you decide to try it.
If you aren't sure about the membership, you can always purchase the art courses individually. Simply click HERE, then head to "Store" in pink in the top menu to browse the course offerings.
On a personal note, our favorite course to date was Watercolor Whimsies, Spring Edition, but we didn't love the mixed media art as much with younger kids – middle school aged students would probably appreciate it more.
We plan on diving into Art School: Acrylics & Oils 101 or Art School: Pastels 101 this year.
Side Note: I know there are SO many other memberships out there for art. If this one is too expensive, ask around in your favorite homeschool mom Facebook group. I'm sure you'll get tons of ideas!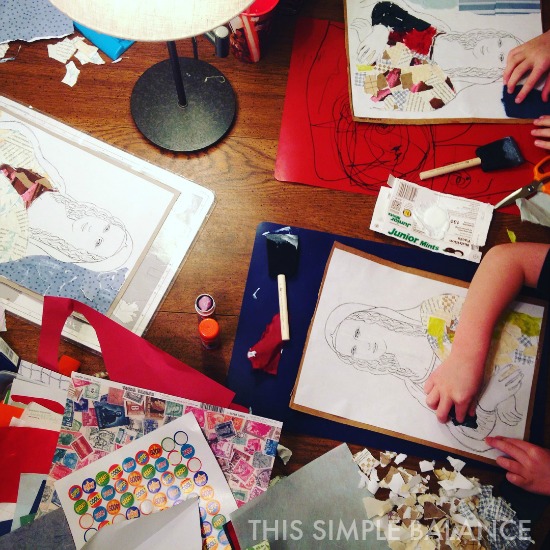 7. If your kids aren't interested in art, sit down and do art yourself.
Sometimes, you have art-reluctant kiddos. You're at a loss at how to get them to do homeschool art projects without bribery or tears.
This might sound like tough love (for myself included), but how can you ask them to learn or be interested in something you aren't?
If you really want them to value art, you need to value it.
This isn't for every day, or even every month. But every so often, sit down where they can see you, open a book and gather some art supplies, and DO art.
You better believe they'll be curious. I'm 99% sure they'll join you.
You don't need to be an amazing artist. You just need to be a life-long learner, exactly what you want them to be.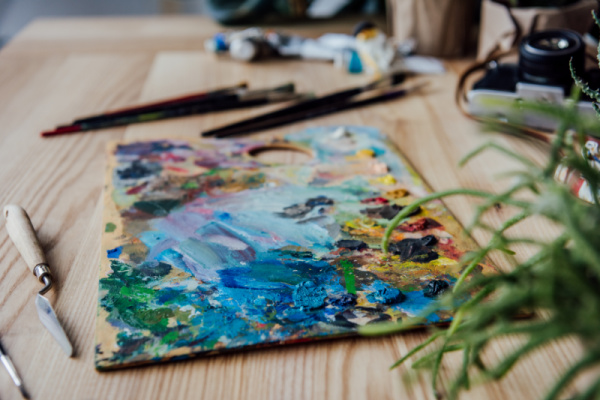 When You're Homeschooling Art, Play to Your Strenghts
My biggest piece of advice when it comes to homeschooling art (and pretty much anything homeschool) is this: know your strengths and work from them.
Do you love reading aloud? Get the Greatest Artists series from your library or buy it on Amazon. Read them aloud with your kids.
Do you like to hand-letter? Teach your kids how to do it, and explain that hand-lettering is art.
Do you love to quilt or knit? That's art, too. Invite your kids into your artistic hobby (unless that
Do you like to be out and about, exploring your city? Visit the art museum and find other ways to observe art in your city.
Plus, kids make it easy. Didn't Picasso say, "Every child is an artist?"
I'm pretty convinced that every homeschool mom can easily homeschool art.
Stop trying so hard, and follow these easy ideas, and this year, you'll check off the "homeschool art" box with confidence.
Read Next: 14 Ridiculously Easy Ways to Homeschool Geography