Inside: More awesome books for boys coming your way! These funny and/or engaging picture books captivated my boys last month. I hope your boys love them as much as we did.
As I continue to write these book lists for boys every month or so, it's started to become an exciting treasure hunt. As opposed to relying on classic book lists (that have failed me in the past), I love combing through the library shelves, digging for books that will make my boys either laugh hard or think deeply.
What makes it so fun is that every book we choose is a mystery: it could either be a winner or a total flop. Sometimes, the book covers fool us. My boys or I will pick out a book just from its cover. The illustrations or the colors will grab us instantly, only to disappoint when the content is mediocre at best.
More and more, I'm finding that it's the books with unassuming covers and titles that delight us the most.
Many of these books are only awesome and funny when you, the narrator, really get into the read-aloud production. Using funny accents and voices are a MUST for many of these books.
So if you ever grab a book from these book lists and wonder why it fell flat as a pancake, the way you are reading it aloud could be the problem. I've totally been there! It's taken lots of practice and willingness to sound ridiculous (to myself, at least).
Also, as always, I know girls would love these books as well (as you can tell from Very Little Cinderella, my daughter helps pick some of these out).
I call them books for boys simply because I find boys harder to please with picture books, whereas my daughter loves the majority of what we bring home from the library.
Related: 18 More Awesome Picture Books for Boys
Books for Boys Spotlight: A Bike for Sergio
THIS POST PROBABLY CONTAINS AFFILIATE LINKS. AS AN AMAZON ASSOCIATE, I EARN FROM QUALIFYING PURCHASES. YOU CAN READ OUR FULL DISCLOSURE POLICY HERE.
This time around, I decided to try highlighting one book per list – the one that stood out the most. Let me know in the comments if you like this or find it helpful!
For this particular list, A Bike for Sergio was by far the best book we've read in a while. I in no one way expected this book to fascinate my boys the way it did. The book tackles some pretty meaty subjects: low income families, class differences, honesty, and right from wrong.
A Bike for Sergio tells the tale of Ruben, a young boy whose family doesn't have a lot of money. He wants a bike like his friend Sergio's, and it's clear his friend doesn't understand why his parents won't buy one for him. Ruben's family can barely afford groceries, let alone a fancy new bike.
One day, Ruben sees a woman in the grocery store drop a dollar bill. He takes it home, thinking it's just a dollar – no big deal. Turns out that dollar bill is not one dollar, but one hundred dollars. He knows exactly who dropped it, and now he has a choice to make: return the money or be able to buy the new bike he has admired for so long.
After thinking he lost the money for an entire day, Ruben realizes how much the owner must feel. He decides to return the lost hundred dollar bill.
And he never does get that bike.
I guarantee that this book will be the starting point for many big, juicy conversations (see this post for an explanation of that phrase). My boys literally asked to read this book every night for two or three weeks straight.
A Bike for Sergio is a must-read for all ages and genders. I hope you and your boy(s) enjoy this book, as well as the rest on this list!
Related: 17 Unexpectedly Awesome Picture Books for Young Boys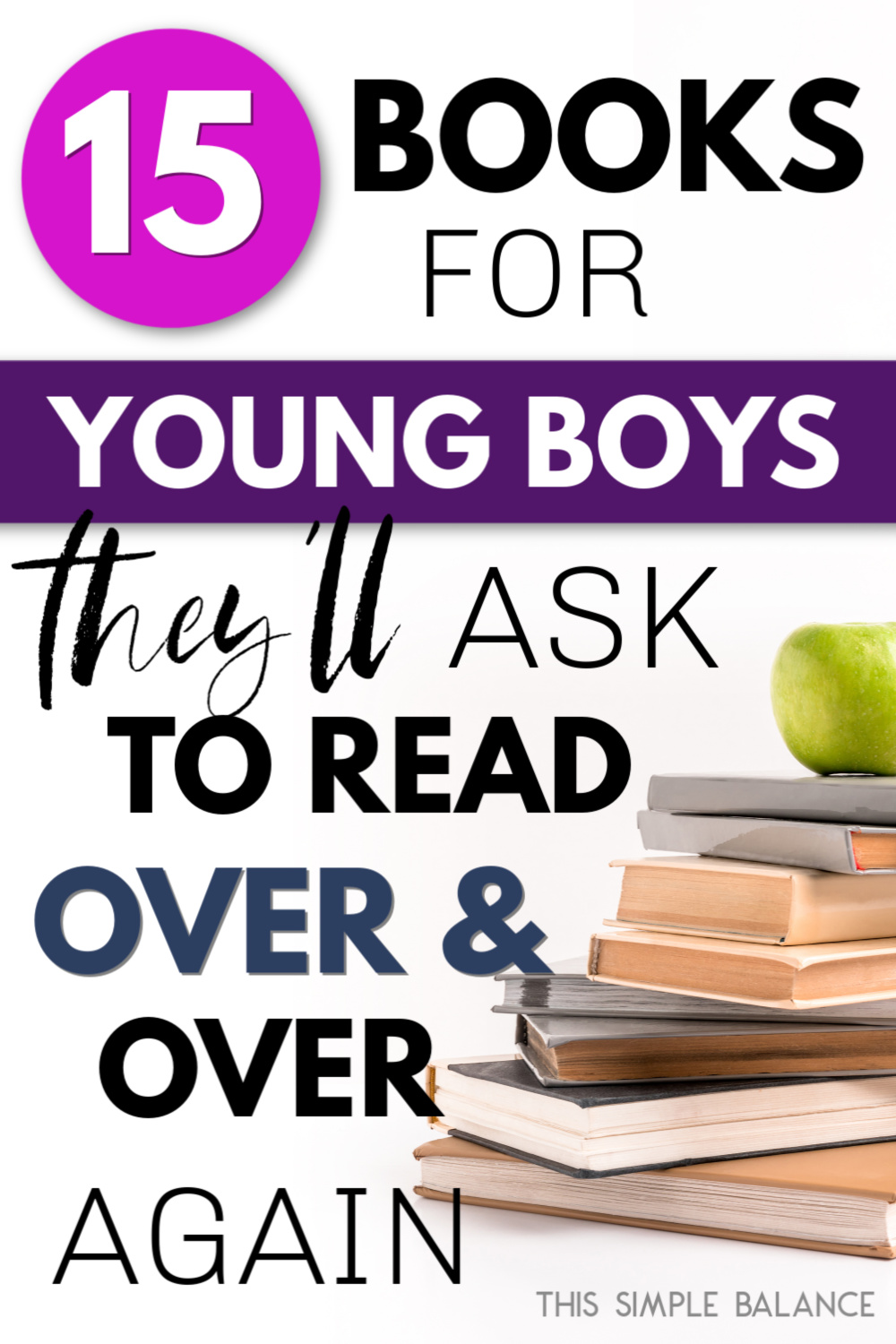 15 More Awesome Books for Boys
What books are your boys loving lately? Share in the comments!
Read Next: 21 More Awesome Picture Books for Boys