Inside: Get encouragement, tips and ideas from this small blogger income and traffic report. You CAN earn money blogging, even if it takes you longer than others.
Like so many other mom bloggers, I started blogging after reading income reports from crazy successful bloggers – the kind that make over $10,000 a month blogging.
I love to teach other moms, and I could make money doing it?! It seemed like a no brainer.
I took the bait.
I learned very quickly that there is much more to starting a blog than just, well, "starting a blog." That is by far the easiest part.
Despite being so very over the "Just Start a Blog" type of posts and e-mails, I am not sorry I started a blog.
In fact, I consider it one of my best decisions of 2016.
But I didn't always feel that way. In fact, I almost quit right around the six-month mark.
Related Post: Should I Start a Blog? The Honest Truth About Blogging
THIS POST PROBABLY CONTAINS AFFILIATE LINKS. AS AN AMAZON ASSOCIATE, I EARN FROM QUALIFYING PURCHASES. YOU CAN READ OUR FULL DISCLOSURE POLICY HERE.
An Income Report from a Tiny Blogger
What kept me going when I hit that low point – the point when I had not a penny in my bank account to show for my hundreds of hours of effort – was not the $10,000 a month income report from anonymous big name blogger.
What kept me going were these seemingly small income reports from a blogger whom I am now privileged to call a friend.
I have developed a passion for helping other new bloggers find their way because I remember VERY WELL what it was like to be a new blogger. I love answering technical questions and giving feedback.
Sometimes, I feel foolish offering assistance when I'm not even earning $500 a month yet.
But perhaps it's because I haven't "arrived" yet that I love helping new bloggers so much.
I plan on publishing monthly income reports for one year, to record my progress to my year-end goal of $1,000 a month. I hope they are as encouraging to you as my friend's were to me.
Full Disclosure: This report does contain affiliate links to courses I've taken over the past year. I invested ALL of the income I earned last year (around $1,000) back into my blog. I only recommend courses that helped me grow as a blogger (there are several NOT mentioned here that did not).
Related: Affordable Blogging Courses for Beginners on a Tight Budget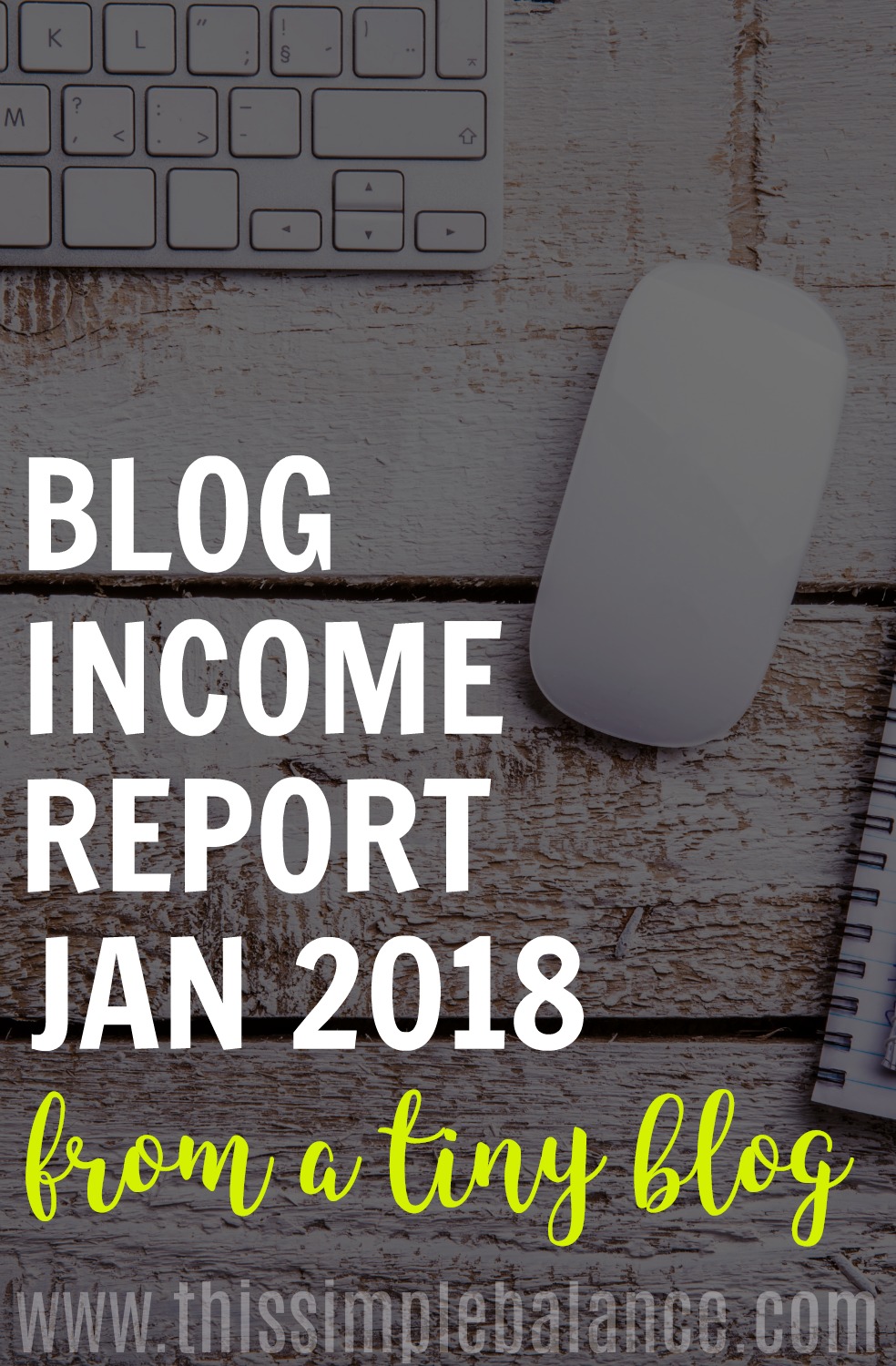 Blog Traffic and Income Report
Blog Traffic
When you see these numbers, keep in mind that they haven't always been this high. From August to December, I was stuck, hovering between 12,000 and 15,000 pageviews a month.
Pageviews: 36,564
Users: 27,560
Sessions: 30,786
My Most Popular Posts
Top Referrers
Pinterest (by a landslide)
Facebook
Direct
What Worked This Month
Taking a Break From Google Analytics
In early December, I was completely burned out. I was doing so much, but my traffic left very little to show for it.
In November, my traffic totaled just over 15,000 pageviews, which might seem like a lot if you hadn't hit 43,000 pageviews in June. I fell fast and hard in August, and I'm not gonna lie: it was discouraging.
Related Post: How I went from 3K to 43K Pageviews in Just One Month
I decided to take a full month off from looking at Google Analytics. I'm not sure I would recommend it, but it did wonders for my soul. I wrote with fresh motivation and took time off from social media.
My traffic showed it (12,500 pageviews for all of December), but I believe it played a role in my success this month.
Writing What People Want to Read (From Me)
Why did my traffic fall so far after those viral posts? While a Pinterest algorithm update may have played a small role, the main reason my traffic fell was that I failed to create posts that I already knew would do well.
Those popular posts you see listed above didn't just do well: they were responsible for more than 50% of my pageviews the entire month.
I'm not saying to write only what other people want to read, but a year in, you should have some idea from your analytics of what people like to read that you actually enjoy writing about.
I struggled for four months because I ignored the biggest clues: people like to read about my struggles with minimalism on a low income and minimalism with kids.
Before this month, my frugal living posts didn't do very well on Pinterest at all. I believe that it is only because of the "minimalism on a low income" posts that my frugal living posts do well, too. I connect and interlink the posts to feed each other.
Experimenting with Pin Design
I took a course on Pin Design called "The Perfect Pin" (which is really about both graphic design and marketing) in early November that gave me the tools and guidance I needed to experiment with designing better pins.
The course helped me think through not only pin design, but also the wording on my pins and what I was using to encourage people to click through.
It's taken me two full months since taking the course to land on a pin design that I truly like. I do create "off-brand" pins at times to see which one does better.
I still create pins that I can't believe I actually send out there into social media land, but I chalk this up to exhaustion, perfectionism and the knowledge that graphic design will never be my strength.
I do feel much more confident in pin design than I did two months ago, and I can tell when I've created a pin that will generate traffic versus one that will flop.
Diversifying My Pinterest Traffic
I still focus the majority of my social media promotion efforts on Pinterest, which has paid off as Pinterest drives 87% of my traffic. I took two Pinterest courses last year that shaped my current Pinterest strategy: Pinteresting Strategies and Pinning Perfect.
I currently use Tailwind for scheduling and Tribes (how I schedule is based on Pinning Perfect's suggestions), manual pinning (based on Pinteresting Strategies), and Pinterest share threads via Facebook.
I took a long break from attempting to join more Pinterest group boards, but I decided to get back to joining new ones as I come across them. I never want to put "all my eggs in one basket" with Pinterest.
Since algorithm updates seem to come every few months, I do not want my Pinterest traffic to be too dependent on any one source (my own boards, group boards, Tribes, manual pinning, etc.).
I am also continuing to work on increasing my Pinterest followers. I currently use the MiloTree plugin/widget, which gives me steady growth (an average of 4 new followers a day just from the pop-up). Their analytics tell you how many clicks the widget receives, so you can determine whether or not it's worth keeping.
Blog Income: $326.73
I count income when it hits my bank account. Keep in mind that some of this income was earned two months ago and based on traffic from two or three months ago (traffic ranged 12K-15K during those months).
Mediavine Ads: $170.77
Affiliate Income: $122.28
Freelance Writing: $33.68
Blogging Expenses: $113.99
Convertkit: $29.99
Beta Test for a New Affiliate Marketing Course: $37
Creative Market Graphics (for printables): $47
What I'm Changing
Facebook Traffic
The majority of my Facebook traffic so far has come from other bloggers with much bigger pages sharing my posts or readers organically sharing my posts on Facebook.
How do they find those posts? I am part of multiple Facebook groups that have share threads once a week. I have also invested a lot of time in networking and building relationships with bigger bloggers.
Do not underestimate the power of networking! You need it to succeed as a blogger, and most bloggers are extremely encouraging and supportive.
Despite all the doomsday posts about Facebook reach diminishing and it not being worth your time, I am still attempting to build up my Facebook page this year.
I plan on scheduling one question a day to generate interaction and comments and sharing one of my own posts every day with a story or question behind it.
Focusing on SEO
I took Sticky Blogging SEO last summer (it only opens 2-3 times a year for 5 days at a time), and I plan on focusing a lot more on SEO this year. Social media traffic is fickle, and you are constantly at the mercy of algorithm changes. I would love to see Google become my second highest traffic source by the end of the year.
Goals for February
In February I want to increase affiliate marketing income substantially within the minimalism and homeschool niches. I have several posts I need to write in order to make that happen, BUT I've started to be more strategic in my post writing.
Obviously, I want every post I write to help people. I started this blog to earn money by helping people – it's what I love to do.
However, I only have so much time to create content, since I homeschool and care for four little ones. Therefore, I want to write every post with one of three specific purposes: drive traffic to increase ad revenue, highlight a specific affiliate product, or answer a specific question from my subscribers (the Paperless Kitchen Series, for example).
I need to create a higher converting opt-in this month as well to grow my e-mail list. I also want to work on coming up with a more consistent and focused e-mail schedule.
I am passionate about a LOT of things, but this year I need to focus on growth. I would love to get to a place where I can write about whatever I want.
Who knows? Maybe I'll start another blog next year in order to write more about other topics.
That's all for this blog income report. I hope you found something useful here and leave encouraged to persevere.
Blogging isn't easy, but if you keep going, you CAN earn an income from it. I'm cheering for you!
Read Next: Blog Income and Traffic Report {February 2018}