Inside: Want to take a peek into a day in the life of a relaxed homeschool family? Here's your chance! I'm sharing our day in life of our relaxed homeschool (with a 7, 5, 3, and 1 year old).
Inspired by the Day in the Life series over at Simple Homeschool, I'm sharing what a typical day looks like around here.
For all you moms out there considering homeschooling, I hope this encourages you that homeschooling is a lifestyle, and learning happens from the moment kids wake up until the minute their heads hit the pillow (literally).
Related: Our 2017-2018 Relaxed Homeschooling Curriculum Choices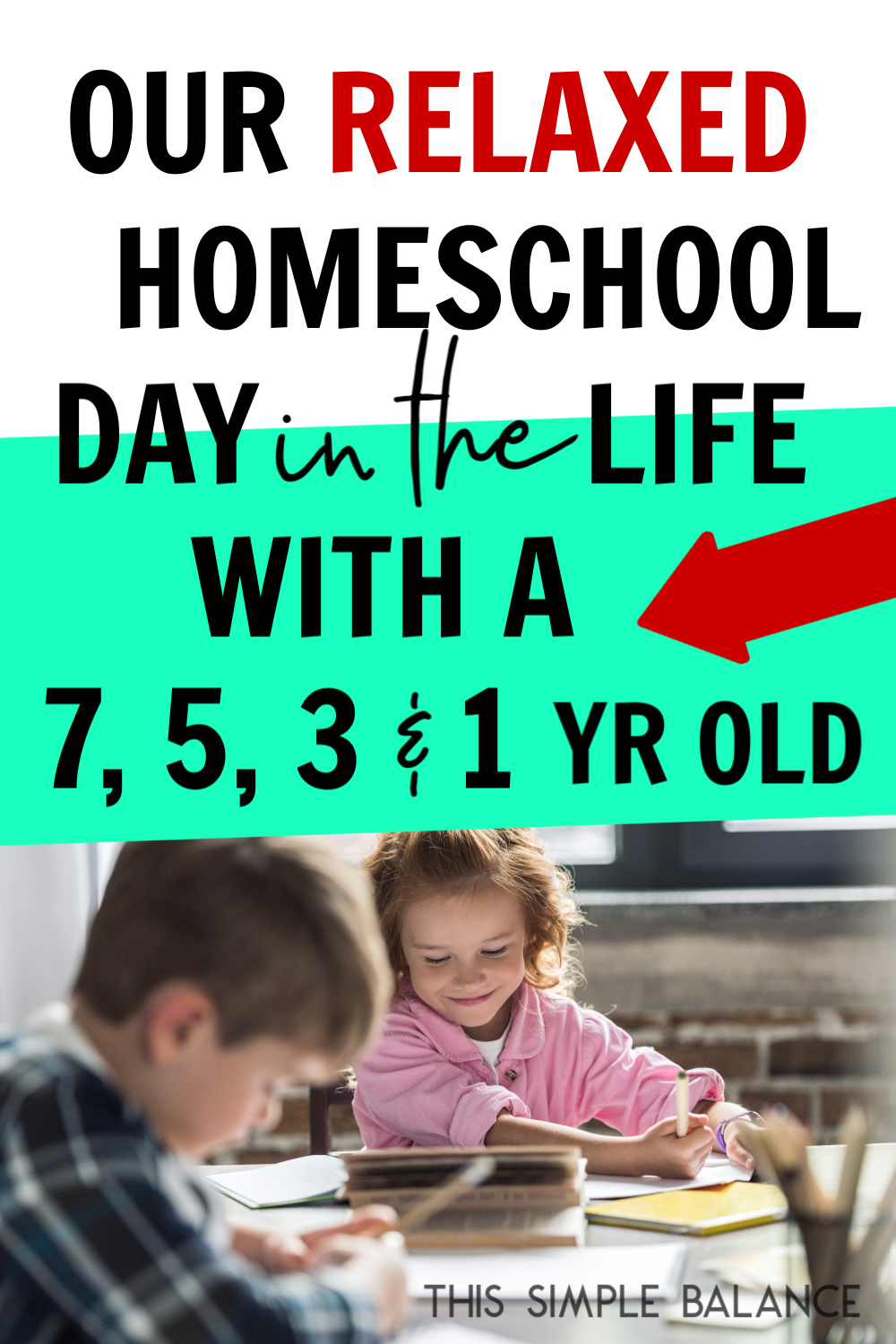 Morning
THIS POST PROBABLY CONTAINS AFFILIATE LINKS. AS AN AMAZON ASSOCIATE, I EARN FROM QUALIFYING PURCHASES. YOU CAN READ OUR FULL DISCLOSURE POLICY HERE.
I wake up when the baby does, sometime between 7:30 a.m. and 8:00 a.m.. He still wakes up frequently at night, and how he sleeps can dramatically affect my day.
I'm learning to give myself grace for interrupted sleep, though four kids later I have mostly adjusted and feel like a zombie hardly ever.
I gave up years ago attempting to get up earlier than my kids. Riding the waves of pregnancy, nursing, pregnancy means any early morning routine I try to implement is short-lived, and since we plan on having more kids, the end isn't in sight.
Maybe another season of life?
I take the baby to the bathroom first thing. I'm currently rocking early potty training (the lazy way); the baby pees, I give him a fresh diaper and go downstairs to see who else is awake.
Reading Lesson
Rarely, I catch my husband on his way out the door, but I try not to talk to him too much (an introvert's quiet morning is sacred).
Micah, my 5 year-old, is usually awake before everyone else. I turn on the Keurig and wait for it to heat up. A few days a week, Micah and I will do a short reading lesson together using the I Can Read It! Book Series from Sonlight. I received all four books without meaning to in a used Sonlight first grade curriculum package, and I am so thankful for this happy accident!
The program is ridiculously simple. You simply practice a word list using this book, then read the corresponding story in Book 1, 2, or 3. Micah reads a page, maybe two, and then announces he is done for the day. I don't push it.
I want my kids to love reading. I'm confident that as long as I am consistently reading aloud and exposing them to great books, each one will learn at his own pace.
Read More About Why We Love I Can Read It! HERE
Science
Lily, my 7 year-old, wanders down just as I'm setting up "science" class for the morning. We choose Wild Kratts (either on Amazon Prime or YouTube), Magic School Bus, or Planet Earth (both on Netflix). Screen time first thing gives me time as an introvert to wake up and to think, to read my Bible or pray. Sometimes, depending on how bad baby slept the night before, I just stare blankly, while I drink my coffee.
Time with Jesus
After Science, the kids eat breakfast and do their family service. Then we worship for a song or two and practice listening to God.
I'm learning about priorities.
No one can possibly do it all, even something that we value as highly as transferring our faith to our kids. When I try to do everything (Bible study, worship, hearing God, journaling, memorization), I either fail miserably, or I create a stressed atmosphere focused on tasks, not relationships.
As I thought about what I want my kids to know most when it comes to having a relationship with God, I determined that most of all, I want them to be passionate worshipers and to encounter the presence of God in worship. I also want them to learn to hear God's voice, to intentionally practice that on a daily basis.
If they leave our home with nothing else, I want them to know these two things. Once I determined those two priorities, I consider it a win when we accomplish both in a day.
I have decided to follow our church's curriculum called HomeFront. It is the same Bible text and memory verse across all ages, with obviously differing depth of teaching. There is only ONE memory verse a month (praise!), and the kids all encourage each other to learn it.
Spontaneous Handwriting Practice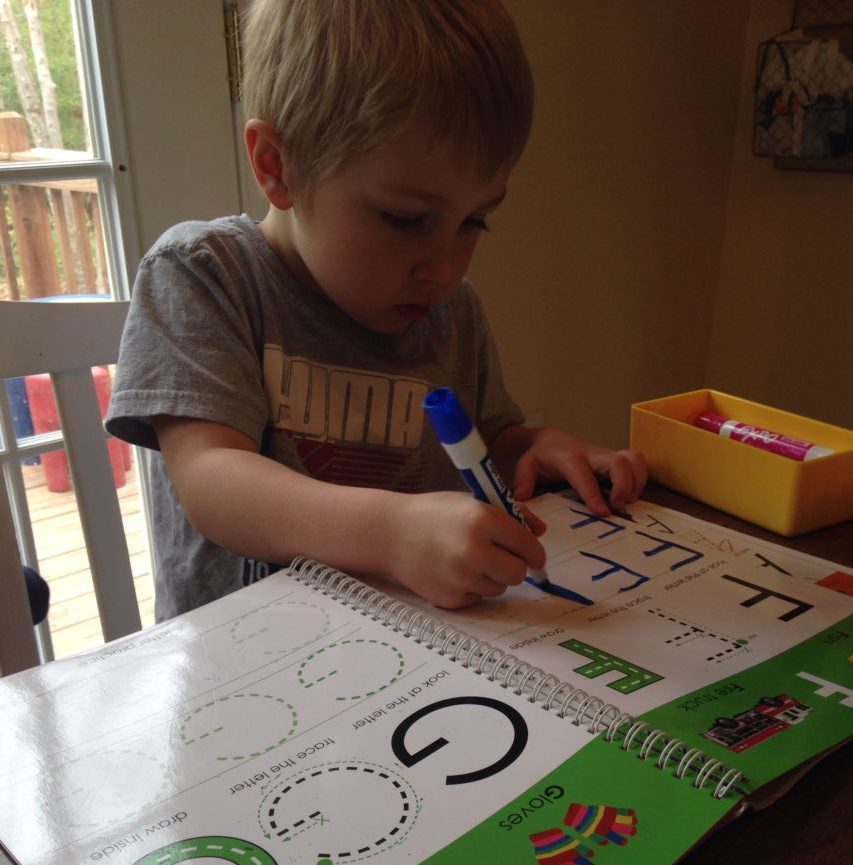 Next, I pick up our latest historical autobiography (picture book). Before I start reading, Lily notices our Wipe Clean handwriting books on the shelf. She picks up the lowercase letter book with enthusiasm, announcing that she needs to practice her lowercase letters!
Micah follows suit, agreeing to take the uppercase book. They find the expo markers and get to work, listening to the book at the same time.
History & Math Integration
The Tree Lady tells the story of Kate Sessions (1857-1940), a female scientist who changed the landscape of San Francisco by finding trees that would grow in its arid climate.
I love inspiring Lily with tales of women who broke invisible barriers; in this case, Sessions was the first woman to obtain a natural science degree from the University of California. We find California on our world map in the dining room.
When we finish, we work on estimating how old she was when she died by doing practicing mental math with the dates given in the book.
Leadership Education balances my unschooling approach. In this philosophy, parents dedicate some morning time to sharing their own interests with their kids. What excites you as a parent? Share that with your kids!
For me, that's history, and I love learning about such fascinating people and their achievements alongside my kids in an engaging way.
Weekly Chick-fil-a Outing
I work on some laundry while the kids entertain themselves for a while. Sometimes during this time, Lily will jump on my computer to work on her creative writing, one she began when I started blogging.
Literally, I started a blog, and she asked to write a book. She works on it from time to time and has plans for sequels.
I take a shower (the baby plays with bath toys on the bathroom floor), and we all get ready to walk to Chick-fil-a (the older two have razor scooters, while my 3 year-old rides this strider bike), which is about a mile away and has a decent play place. Without access to the car on a regular basis, I find we all do better when we have an outing planned two days a week. Tuesdays is Chick-fil-a day.
Math is everywhere!
On the way to Chick-fil-a, we talk about how many miles we have left. At one point, we only have 8/10 of a mile left, so Lily and I discuss whether 8/10 is more or less than 1/2. We practice mentally dividing a circle into ten slices, and I reinforce the concept that 1/2 is the same as 5/10, when you reduce the fraction to its lowest terms. We do some basic division in order to make 5/10 equal 1/2.
Related: How to Homeschool Math without Curriculum
We order one meal with a drink and large fry in addition to a 12-piece nugget and three ice waters. I take the wrap and the coke, and the kids divide the nuggets and fries. Lily practices her math skills as she divvies up the nuggets.
The kids ask for ice cream, and I tell them it's not in the budget today. Miraculously, an employee shows up that very moment with three ice creams to give away, unable to find the customer who originally ordered them!
My jaw drops, and we celebrate. I make a mental note to record this event on my Gratitude List in my bullet journal.
Afternoon
Foreign Language Learning
We get back from Chick-fil-a around 2:30 p.m., and I just barely manage to keep the baby awake so he will take a good nap at home. After putting on a French cartoon for the older three, I put the baby to nap in our room.
Lily works on learning French using Duolingo, a free online language learning tool that is fantastic (saves us a ton of money at this early age, though if her interest persists we may invest in Rosetta Stone later on).
We reinforce French lessons with a French cartoon we discovered in this article. All three kids love it, even though they don't fully understand it.
I take advantage of 30 quiet minutes to do some writing.
Rest Time
The kids transition to rest time after 30-40 minutes. As much as I've learned to love going with the flow, I've found that when we are not consistent with rest time, the kids revolt when I try to enforce it. I now make rest time a priority every day, if only for 30 minutes.
Lily works on a puzzle she got for Christmas while listening to this audiobook version of Little House on the Prairie. I am thrilled that she is finally loving this series, as an earlier attempt at reading them aloud was a total flop.
If something doesn't work at one age, try again later.
Related: An Honest Big Life Journal Review – What We Loved & What We Didn't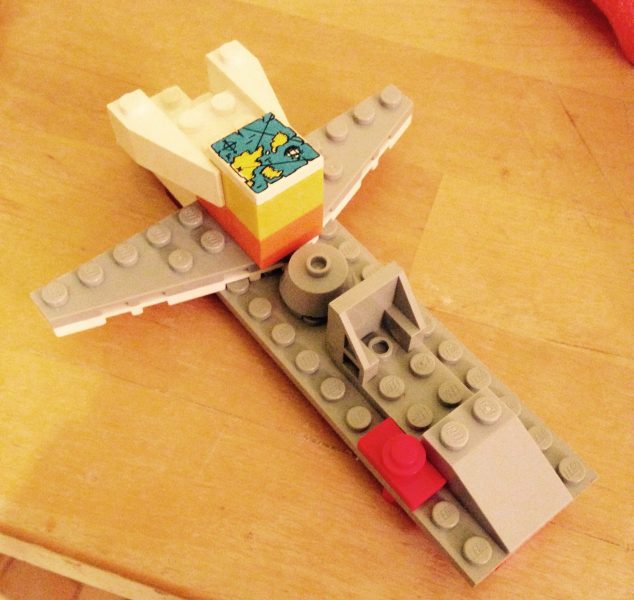 Micah plays with cars and Magna-tiles in the playroom downstairs. Blaise builds ships with LEGO© in the boys' room upstairs.
They usually negotiate (with or without fighting) who gets to be in their room versus the playroom. Only during rest time do I wish I had a bigger house with a room for each kid!
Geography
Towards the end, I let them hop on the ipad to play Stack the States, our new favorite app to learn United States geography. Lily learned most of the state capitols, recognizes states by their shape, and knows which states border which ones, all after only a week and a half.
Related: 14 Easy Ways Any Parent Can Teach Geography
Cul-de-sac Time
We have neighbors in our cul-de-sac with two kids, 5 and 3. When the oldest gets home from school around 4:00 p.m., we head outside to their backyard to play or to ride their scooters and bike together in the cul-de-sac.
This is often their favorite time of the day, and we all get to socialize for a bit.
Evening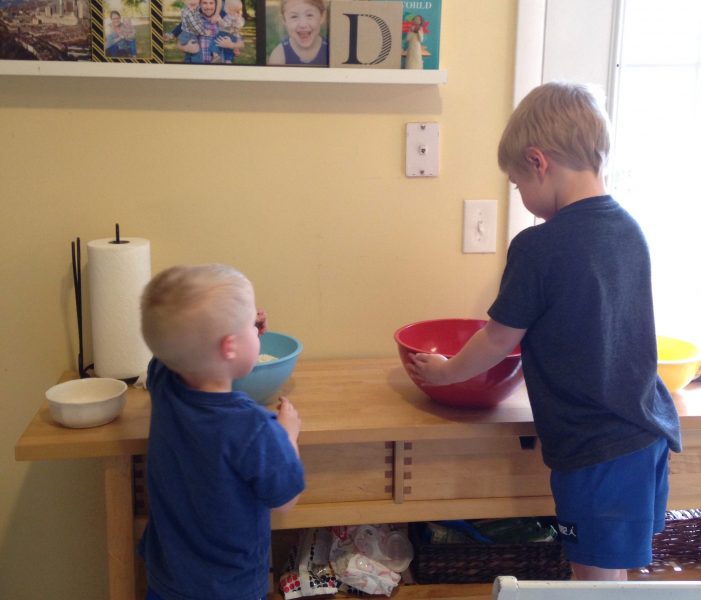 We head back inside around 5:00 p.m. in order to get dinner started. Micah asks to help cook, and he helps me make his favorite dish – homemade mac and cheese with bread crumbs. He pulls out the ingredients and the tools we need. I teach him how to use the whisk for each step, showing him how to hold it so he doesn't burn himself.
My husband calls to say he'll be home late (major bummer).
HSP/Introvert Overload
While I ride the introvert/extrovert line, my true introvert colors show by dinner time. Any perfectly normal combination of noises (read: three kids talking at once plus a baby screaming) that did not bother me earlier now makes me feel like I'm going to explode!
The kids finish up their dinner. By this time, the noise has escalated to a point where I can no longer handle it. I hurriedly send them to the living room for fun show time (one show each=about an hour), and I take a very deep breath.
I spend about a minute beating myself up for not making them help clean up, but then I stop. I spend all day with my kids, teaching them, working with them, and I just need a break. I need to put in my headphones, listen to a podcast and clean up in peace.
Bedtime Routines
After shows, everyone eats a snack (I feel like I have hobbits: elevensies, lunch, afternoon tea…). I read the boys a book or two and say goodnight around 9 p.m..
Next, I read a chapter or two from our latest read aloud to Lily. We just finished Harry Potter & the Chamber of Secrets (we love the new illustrated version, one of a few series we will actually purchase instead of get at the library) are on to the Phantom Tollbooth.
Having started the year with Sonlight books, I've felt guilty deviating from the schedule and from designated "classics". But I now believe that by sharing my infectious enthusiasm for a book or a series, my kids will be inspired to find their own favorites. Again, at the end of the day, my goal is that they love reading.
Related: How to Choose the Perfect Chapter Book for Read-Alouds
If they love reading, they will never stop learning.
Last Drops of Learning
I go to put the baby to bed, and Lily wanders downstairs where Dad is resting on the couch listening to an audio book. He stops when she shows him her new brain quest cards.
I picked these up a thrift store for $1, and she likes to flip through them. They start working on a problem, and he ends up teaching her basic algebra and some long division. She loves it.
I stay up working on my writing for an hour or so, going to bed finally when I hear the baby crying.
Read Next: A Day in the Life in our Relaxed Homeschool (with an 8, 6, 4, & 2 year old)