Inside: These free printable homeschool planner pages will help you capture not just the "school" things, but all the learning in between! Reverse planner pages technically, they allow you to record what you actually did today (not what you plan to do).
Starting in August, you probably sat down with your amazing, beautiful (read: anything BUT free) homeschool planner and dreamed of all the amazing things you were going to do with your kids this year.
Or maybe you pulled out that curriculum guide – laid out SO nicely without you having to lift a finger – and thought, "They make it so easy! This is going to be a piece of cake!"
You just transfer it all to your planner, nice and neat: done. Ready to go!
And maybe it started out that way. September can tend to make you feel like a Homeschool Mom Rockstar.
I can practically hear you ticking the boxes in your planner every single day.
Check! Check! Check! It's a beautiful sound.
Related: Get The Entire Flexible Homeschool Planner Today
When Your Homeschool Planner Hates You
THIS POST PROBABLY CONTAINS AFFILIATE LINKS. AS AN AMAZON ASSOCIATE, I EARN FROM QUALIFYING PURCHASES. YOU CAN READ OUR FULL DISCLOSURE POLICY HERE.
Then November hits. The holidays start piling up, and you start to fall behind.
You never actually planned on taking a break in December. But it's kind of, sort of looking that way. (No judgement here – we are a minimalist/relaxed homeschool family through and through.)
Your homeschool planner is filled with a long list of "school" things to do. All those pretty boxes sit there, waiting to be checked.
But every day, there are SO many boxes left blank. Because life happens.
You know – life.
I mean, it's smack dab in the middle of October, and NOW the toddler decides it's time to potty train.
Or maybe you have one child that just can't get through a certain math concept, and it's dragging you both down.
Or you're having a heck of a time engaging your preschooler in independent play so you can homeschool your other kids. For a straight week, without fail, he has distracted both older siblings and you're just not able to get it all done.
And that beautiful homeschool planner?
Well, when life happens, that planner pretty much becomes your enemy. You dread looking at it more and more because its pages practically scream "homeschool mom failure" audibly with every single glance.
Related: Relaxed Homeschooling v. Unschooling – What's The Difference?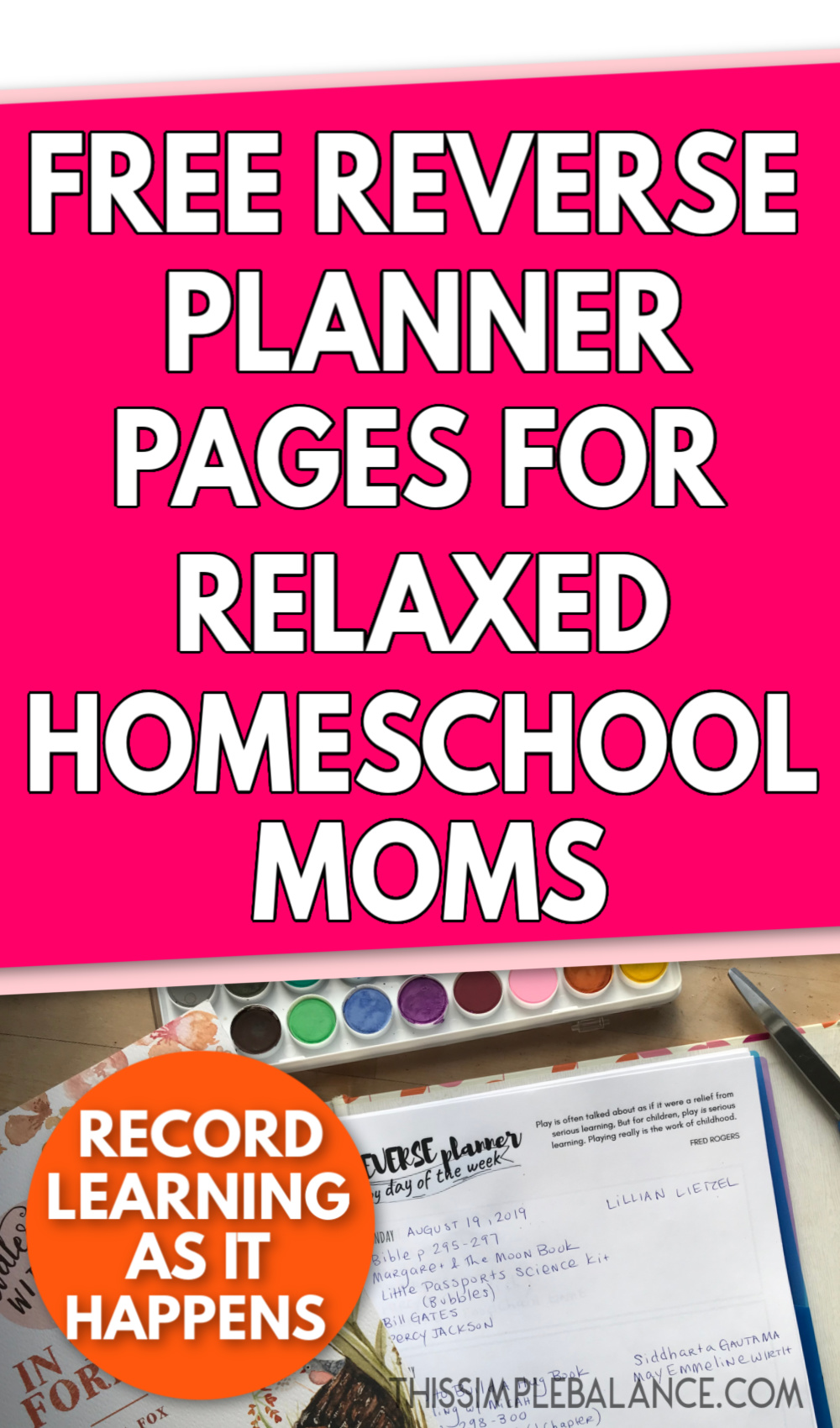 Free Printable Homeschool Planner Pages
But what about all that other learning, you think desperately? Doesn't that count for something?
The conversations about bones before bed.
That nature walk when curious kids asked why the leaves changed colors – a whole Science lesson happened on the go that day!
The skills your child is learning while developing a little business of her very own: marketing, sales, production, delivery.
Where is the space to record those things? The things that never showed up on your homeschool planner, but are very real learning experiences that DO count as school.
I am so happy to tell you that they do count, and it makes you (and anyone who needs to check your homeschool records) feel so much better when you capture those moments on paper.
I have the perfect solution to capture all the other learning so that you, homeschool mom, can be calm and confident that your children are learning a very great deal, even when the boxes you planned on aren't getting checked.
Stressed out Homeschool Mom: Meet the Reverse Homeschool Planner – your new best friend and confidence builder.
Best part? You can get these homeschool planner pages for free when you subscribe to my get my regular e-mails.
The Reverse Homeschool Planner
Whether or not you identify as a relaxed homeschooler in the grand scheme of things, every homeschool mom goes through a month or even a year when relaxed homeschooling is what's happening (or maybe, like us, you just planned things that way).
For real.
Birthdays, holidays, sicknesses, travel. All those things can throw off your homeschool groove, and those boxes are NOT gonna get checked any time soon.
When that happens, the last thing you need is a homeschool planner telling you everything you aren't doing.
What you DO need is a way to capture what you ARE doing so you can be confident that your kids are learning even when you aren't doing all the things you thought you would.
Because guess what? Your kids don't need you to learn.
I know – shocking, isn't it? At least, I was shocked when I first realized it.
After reading this book, I realized that play really is the best form of learning for kids, the kind of learning that prepares them to be adults one day. And isn't that one of the things we're going for in this whole homeschool gig?
Another thing. Kids? They're curious – sometimes, to a fault.
All those questions are kids begging for learning. And all you have to do to teach them is to answer them.
Related: The Best Homeschool Book I've Ever Read (so far)
That is the stuff that goes in your reverse homeschool planner.
The books you read at breakfast.
The math problem you did while you read.
The questions you answered before bed about why the moon is only half there.
The writing they did without any prompting at all.
The math game they played three times on Tuesday.
All of that goes on these pages.
Along with all the "official stuff" you actually get done.
There's even a box for Saturday/Sunday because [gasp] learning can happen any time, any day, any place. Curious kids don't care if it's Monday or Saturday (except perhaps for the fact that Monday is new show day and Saturday is "Daddy Staying Home" day).
They will ask their questions and get their answers any old day of the week.
No discrimination there.
Related: The Top 12 Unschooling Books for Rethinking Education
What's Included in the Reverse Homeschool Planner?
So, what do you get? Two homeschool planner pages to choose from. Both include:
Blank space for your child's name
Blank space to fill in dates for the week of
An inspirational quote
One planner page offers you the option to record the books you read and things you did for the entire week. The second planner page offers you the option to record everything you did – books, field trips, topics you covered, whatever you want to record, really – on a given day.
There are three blank boxes, one per day. Simply write the name of the day of the week at the top and record away!
The inspirational quote is my favorite part: "Play is really the work of childhood." (Fred Rogers)
Because homeschool moms? We need a good healthy dose of inspiration and truth every single day. We also need to rest easy that our kids are learning a ton and this whole homeschool thing is not a big mistake.
This Homeschool Planner Will Give You Both
So what are you waiting for? Grab those planner pages and start writing.
You just might be shocked at how much your kids are actually learning that you didn't even plan.
But there it is, evidence all laid out before you: days FULL of learning.
Read Next: For the Homeschool Mom Who Wants to Quit Homeschooling