Inside: By Design Science Curriculum for grades 1-8 provides a thorough and complete, faith-based science education for homeschool students, fully preparing them for upper level sciences.
My second child loves everything science. His eyes light up when our monthly science experiment package arrives, and he is always asking scientific questions about the world around him.
My self-declared scientist jumped up and down with excitement when our By Design Science Curriculum arrived in the mail. He couldn't wait to get started!
This post was sponsored by Kendall Hunt Religious Publishers. I was not required to give a positive review, and all thoughts and opinions are 100% my own. Please see my full disclosure for details.

THIS POST PROBABLY CONTAINS AFFILIATE LINKS. AS AN AMAZON ASSOCIATE, I EARN FROM QUALIFYING PURCHASES. YOU CAN READ OUR FULL DISCLOSURE POLICY HERE.
How Relaxed Homeschoolers Can Benefit from By Design Science
The first thing I noticed when I cracked open the textbook for By Design Science was how colorful it was. All my kids were instantly drawn to it, excited to examine its contents.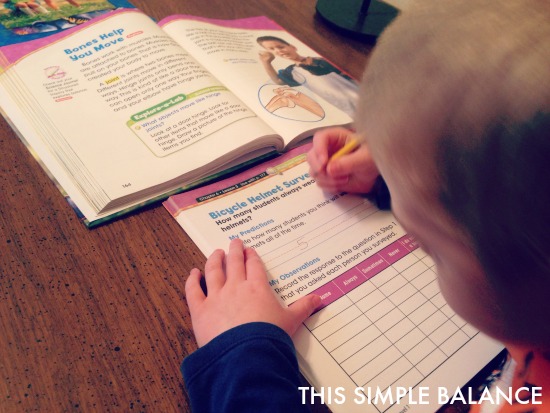 After reading a few pages, I was impressed by how thorough this science curriculum is, especially for the first grade level we received. I confirmed with other homeschool moms reviewing By Design Science that it is above grade level, so keep that in mind when choosing which grade level to order.
As relaxed homeschoolers, most of our science studies up to this point have been interest-led and experiment based. Although I was initially unsure of By Design Science fit into our relaxed homeschooling, the more I read through the textbook and accompanying student journals, the more thankful I was to have this asset on our homeschool bookshelf.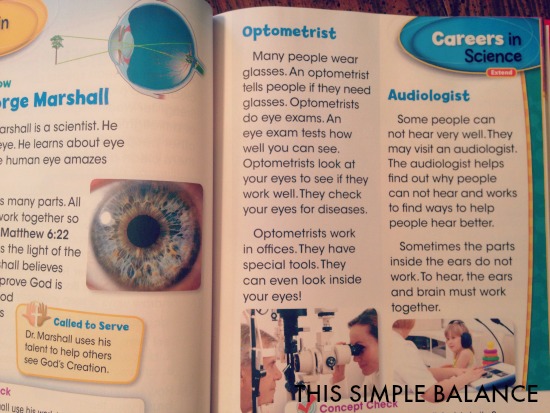 Because we are relaxed homeschoolers, we are not using this curriculum in its entirety, cover to cover, page by page.
Instead, we are using it as a science reference book – a top resource to find the answers to our science questions. As much as I love Google for answering homeschool questions, it's nice to have a well-indexed physical textbook to turn to for once.
When a question comes up, we find the appropriate section to read aloud. Then, we do the corresponding exercises.
Related: Relaxed Homeschooling: It's Not What You Think
Related: Our Relaxed Homeschool Day In The Life (ages 7, 5, 3, & 1)
Related: Our Relaxed Homeschool: Second Grade and Kindergarten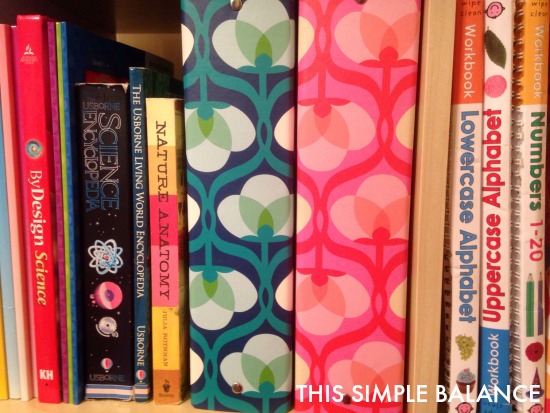 Faith-Based Science Curriculum for Christian Families
I am extremely thankful to have a faith-based science resource on our shelves. As a Christian mom wanting to instill a Christian world-view in my kids, explaining the differences in scientific opinion that are faith dependent gets a little exhausting after a while.
While we love Wild Kratts and Scishow Kids, their scientific perspective comes from a secular worldview. It's not always a problem, but when it is, I get a little unsure in the midst of long, tiring explanations.
As I read aloud from the text, I realized just how refreshing it was to not need to explain how old the earth is or that we don't believe man came from monkeys.
We could just study science: no side explanations required.
While we are not Seventh-Day Adventist, the text read like any other general Christian science curriculum I've come across.
There were no noticeable conflicts for me as a Christian mom. The only difference was a reference to the Sabbath, which happens to be Saturday instead of Sunday for Seventh-Day Adventists.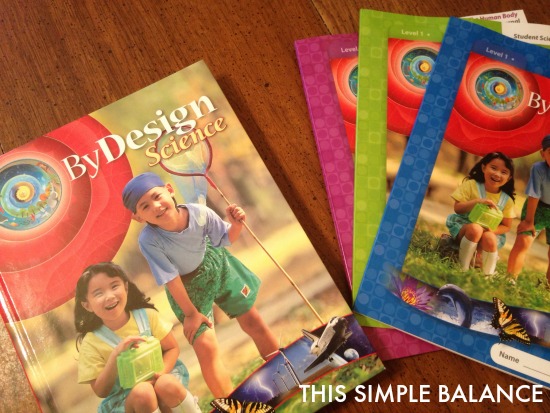 What's Included in By Design Science
The first grade textbook is broken down into four sections: life science, the human body, earth and space sciences, and physical science. Each section is packed with science, including subject integrations, featured science careers, and structured inquiries (i.e. science experiments).
The textbook is accompanied by four Student Science Journals that correspond with each section. The journals contain both guided and structured inquiries with handwriting lines to answer each question – perfect for early writers.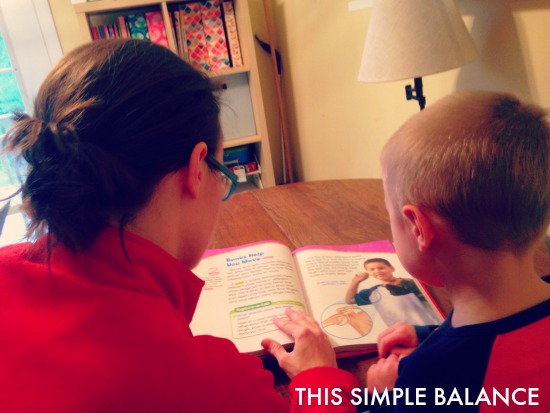 Closing Thoughts on By Design Science
Homeschool parents looking for a thorough, faith-based science curriculum that will prepare their kids for a rigorous high school science program will love By Design Science. If you use the curriculum as written and work through it lesson by lesson, your child will definitely be prepared for whatever upper level science can throw at them.
You can find additional resources from Kendall Hunt Religious Publishers:
Kendall Hunt also provides Talented and Gifted programs in mathematics (M2 and M3) in addition to products developed in collaboration with the CFGE (Center for Gifted Education) College of William and Mary in subject areas such as language arts, social studies, and science.
You can follow Kendall Hunt Publishing at @kendallhuntprek12 on Facebook and @KendallHuntRPD on Twittter.
Read Next: An Honest Review of Little Passports