Inside: Skip the identical, boxed card sets this Valentine's Day! Handmade cards are the perfect way to help kids make Valentine's Day more meaningful. Try these easy Valentine's Day cards your kids can make themselves
I walked into Target a few days after Christmas, and guess what?
Yep, the Valentine's Day stuff already decked the aisles!
Earlier and earlier they roll these things out. Pretty soon the Christmas stuff will be up before Halloween. We've all thought it, and I'm just waiting for the first retailer who dares to cross that invisible October 31 boundary.
But I digress.
As I glanced through the Valentine's Day card offerings, my eyes fell on box after box of pre-made, cheesy, identical Valentine's cards. If I sent my children to school, I'd probably be shopping for those, too.
"You need to send your child with enough Valentine's Day cards for the whole class, please," I'm sure the letter sent home would read.
Name, plus pre-made card, plus taped on piece of candy. Check!
They provide the speed and convenience that busy parents crave.
If you're one of those busy moms who needs to send in Valentine's Day cards for an entire class, I salute you! That you get those cards bought and taped and addressed at all is amazing, truly.
You Might Also Like: 7 Easy Minimalist Halloween Costumes for Kids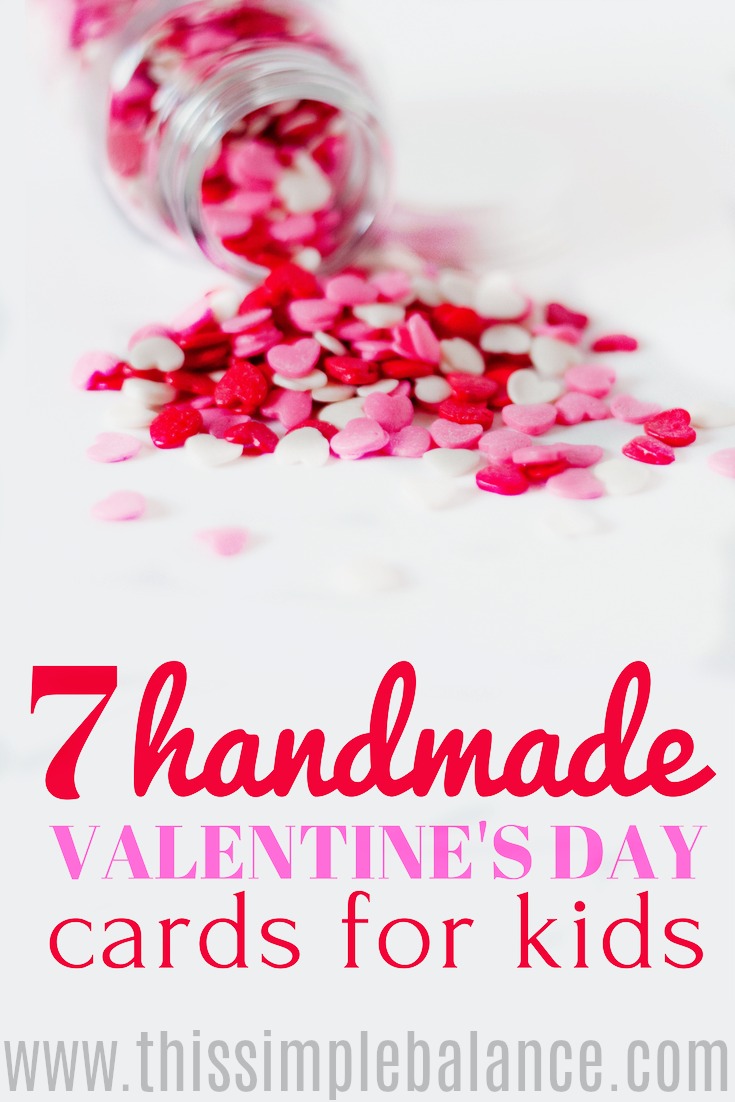 Handmade Valentine's Day Cards: Make It Meaningful
THIS POST PROBABLY CONTAINS AFFILIATE LINKS. AS AN AMAZON ASSOCIATE, I EARN FROM QUALIFYING PURCHASES. YOU CAN READ OUR FULL DISCLOSURE POLICY HERE.
While I absolutely understand the pressures parents face preparing cards and gifts for classes and teachers for multiple holidays (and multiple kids!), I hate when our holidays are reduced to a to-do list.
It's things to buy, boxes to check. And in our Western, consumer-driven culture, companies make it so easy to check those boxes.
You might also like: How to Have a Simple, but Meaningful, Christmas with Kids
But is this what Valentine's Day is supposed to be about? Telling mere acquaintances that we "love them", "think they're great", and are "super sweet"?
I've known dating and married friends to boycott Valentine's Day just because they hate giving in to the consumer-driven holiday that pushes everyone to express their love to each other by buying more stuff.
Funny, I think we just celebrated a holiday that sounds remarkably similar…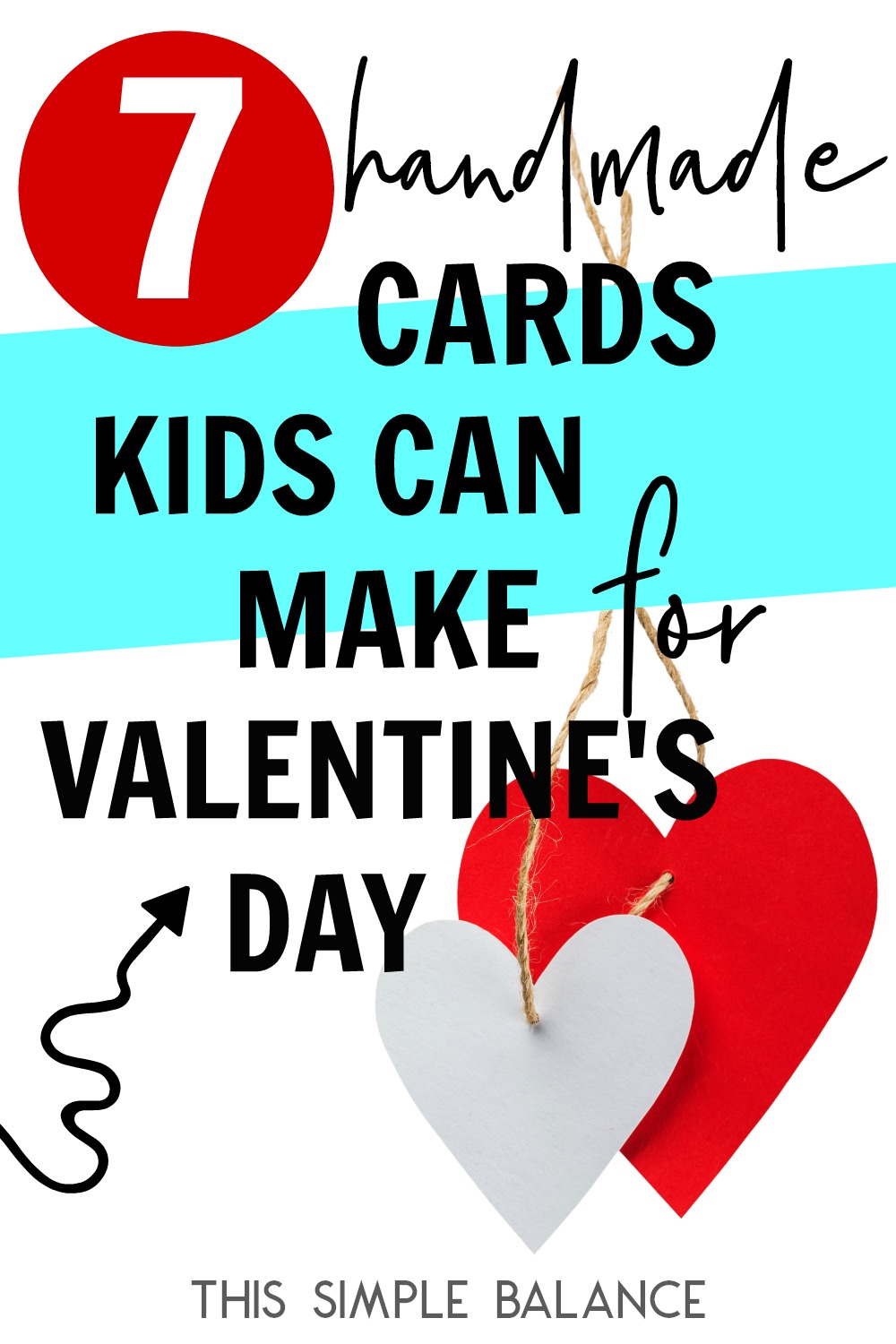 So what can we teach our kids about Valentine's Day?
Helping your kids create handmade cards for Valentine's Day could teach SO much, and it doesn't need to take a lot of time.
Addresses.
Spelling.
Handwriting.
Cutting.
Thoughtfulness.
Kindness.
Encouragement.
I don't know what your life is like, mamas. I don't know the pressures your life holds right now. If you're going through a rough season, if you can't see beyond the toys and the laundry and the dishes right now, I've been there.
This challenge isn't for you.
But if we're going to do Valentine's Day, let's slow down a bit, shall we? If we're going to do it, let's do it with more purpose and meaning than just slapping candy on a card to bring to a party that really, is just about the candy.
What if we actually took the time for a more meaningful Valentine's Day? Handmade cards are an easy place to start, even if they only get delivered to family and grandparents.
Use these tutorials for easy DIY Valentine's Day cards for inspiration, but really, kids just need blank cards, construction paper, kid-sized scissors, markers and scissors. Stickers are fun, too!
Enjoy slowing down this Valentine's Day.
Every holiday doesn't need to be complicated to be special. If the only Valentine's Day activity you do with your kids is make these cards, it's enough. Really.
And if you don't have time for handmade cards? If crafts and DIY kid stuff is really not your thing?
That is perfectly o.k., too!
But if you do want your kids to make cards, and you're like me and not a Pinteresty, crafty mom, check out these 7 easy Valentine's Day cards from mom bloggers who ARE Pinteresty and crafty.
7 Easy Valentine's Day Handmade Cards for Kids
1. Bouquet of Hearts Card
Create a beautiful bouquet of decorated, heart shaped flowers for a friend with detailed instructions and pictures from Make and Takes.
2. Polka Dot Heart Card
Paint with a pencil eraser and heart stencil to make your loved ones a polka dotted heart card with easy, diy instructions from A Thrifty Mom.
3. DIY Emoji Valentines
Make your valentine laugh with these creative and fun heart-shaped emojis from Housing a Forest.
4. Heart Fingerprint Tree Craft
Give your valentines a special touch with a sweet fingerprint craft from Easy Peasy and Fun.
5. ASL I Love You Craft
Send your love with American Sign Language with this construction paper craft from Busy Mommy Media.
6. Straw Blown Hearts
Try this fun and creative painting technique to create your valentines with detailed instructions from The Imagination Tree.
7. Bee Mine
Give your valentine a handmade construction paper card with this easy and funny bee craft from Crafty Morning.
I hope your kid's enjoy making these easy Valentine's Day cards this week!
Related: How to Transition to a Minimalist Christmas with Kids