Inside: Trying to figure out how to track your child's learning when you unschool? Here are five easy ways to keep an unschooling portfolio, all of which use reverse planning in some way. Even if you live in a state/country with little to no homeschooling oversight, keeping records is usually a good idea.
It was the end of another long homeschool day. I was exhausted, but somehow I managed to scrape up enough energy for my favorite part of the day: reading aloud with my oldest.
We were reading Ramona and Beezus, and we couldn't stop laughing at crazy little Ramona taking one bite out of every single apple in the cellar.
I tucked her into bed, laying with her until she fell asleep.
I came downstairs to jot down notes in my daily tracker before I forgot. I pulled out my reverse planner pages and started to divide our day into school subjects…
That nature walk with the Wild & Free group? Science and Physical Education.
Odd Squad? Making Cookies to Sell? Reading Life of Fred? Math.
Handwriting practice while they played "school"? Reading aloud? Language Arts.
Oh, and they watched a few Wild Kratts episodes this afternoon! More Science.
Writing it all down was an absolute pain. I just wanted to go to bed.
But despite my annoyance, it was helping me see the truth on paper, day after day after day: my kids were learning all the time without doing "school-at-home".
Reverse planning is a huge part of what gave me the confidence to eventually transition from relaxed homeschooling to fully unschooling.
Related: Unschooling vs. Homeschooling – What's the Difference?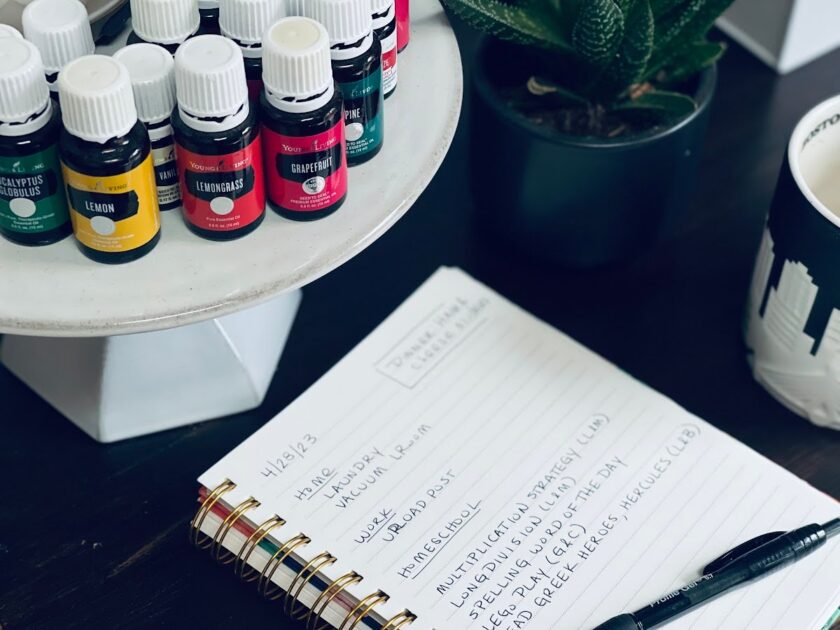 Reverse Planning: An Unschooling Parent's Best Friend
This post probably contains affiliate links, which means I may earn a commission if you make a purchase through those links. As an Amazon Associate, I earn from qualifying purchases. You can find our full disclosure HERE.
If you've never heard the term before, reverse planning is simply writing down what you did in your homeschool that day after the fact.
Instead of planning out your homeschool days in advance, you write down the learning as it happens.
Unschooling doesn't always mean a complete lack of planning. Perhaps you plan to read aloud a few days a week, or initiate a board game if the kids are up for it or plan a museum trip.
Back when we were still relaxed homeschooling (not fully unschooling), I would keep a super simple list of things I hoped to accomplish each day in my bullet journal.
What we actually did that day was recorded in my reverse planner pages. I would jot down the activity in a few words, along with the subject, just like I described in the beginning of this post.
If we read Story of the World or watched a documentary on CuriosityStream, I wrote it down, with "history" or "science" next to it.
If we happened to break out the handwriting books that day (and the kids actually took me up on using them), I wrote it down, with "language arts" next to it.
Especially for self-directed, non-traditional learners, reverse planning can be a real game-changer for record-keeping and tracking learning for your own purposes.
You Might Also Like: Unschooling Resources and Plans for 2022-2023 (7th, 5th, 3rd, and K)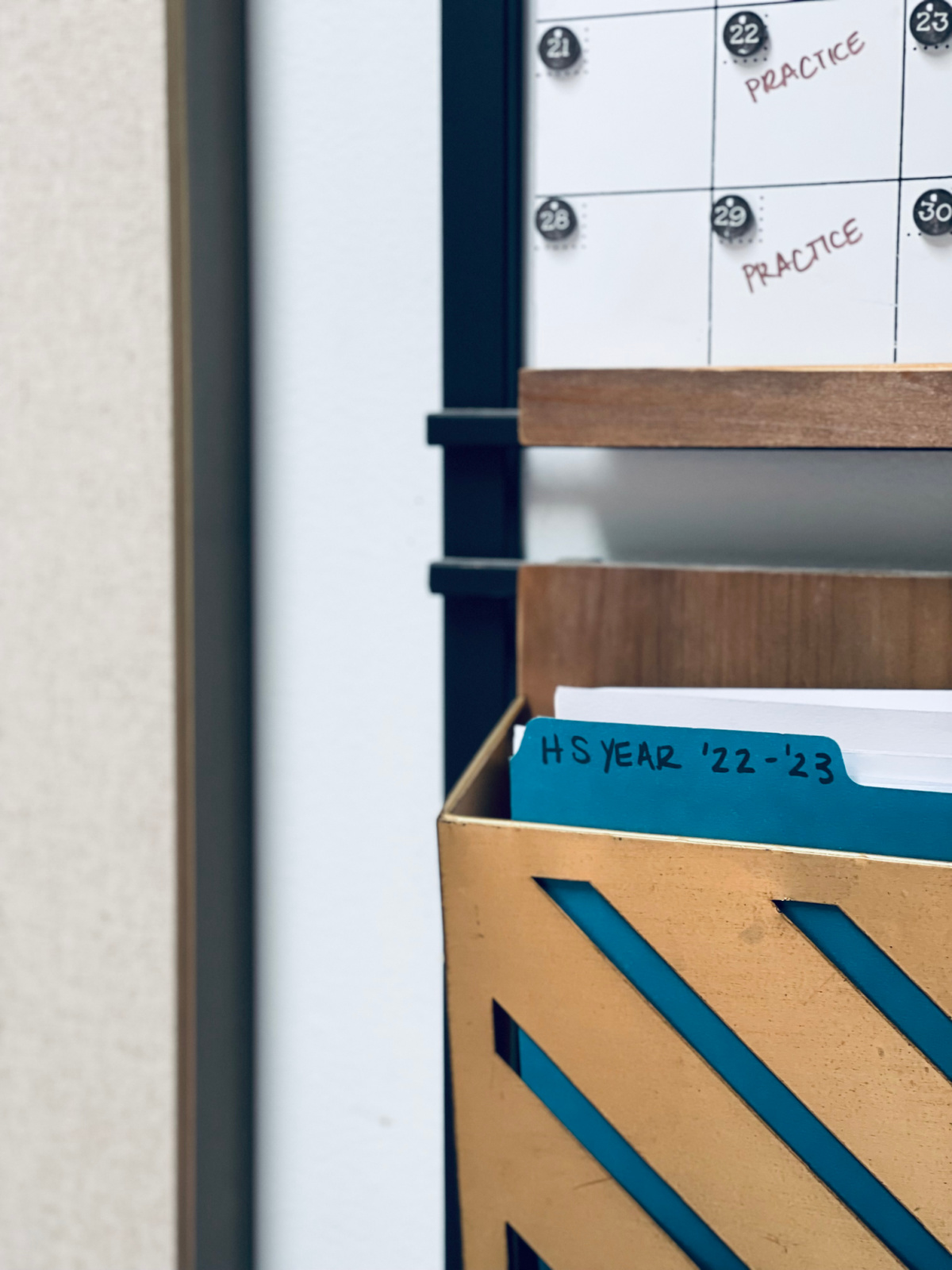 Do You Really Need to Track Learning When You Unschool? It's Probably a Good Idea
For better or for worse, we live in a world of compulsory schooling, where people believe that learning a small subset of knowledge is worth over twelve thousand hours of our children's time.
We are fortunate to live in a country where homeschooling – and unschooling as a style of homeschooling – is legal. With that legality comes laws and expectations.
In our state, Pennsylvania, for example, we are required to meet with a homeschool evaluator at the end of each school year, submitting paperwork, including a list of resources used and a portfolio of some kind.
PA law states that you must show progress.
Essentially: are your kids learning? Show me some kind of proof. The kind of proof needed varies by state and/or evaluator.
(If you're in a state that requires a year-end evaluation, finding an unschooling-friendly evaluator is essential! Join your local unschooling FB group and ask for recommendations.)
Even if you live in a state with absolutely no homeschool oversight, keeping unschooling records, no matter how laid back, can be an important safeguard for you and your family.
Whether or not you feel the same way is up to you.
Personally, having decent records helps me sleep better at night. If we ever experienced challenges from our school district or our state, I feel confident we could prove learning is happening in our home every day.
In an ideal world, we wouldn't need to track their learning at all.
But institutionalized education is still the norm, so keeping some kind of documentation on hand for at least two years back is probably a good idea. Most homeschool organizations recommend the same.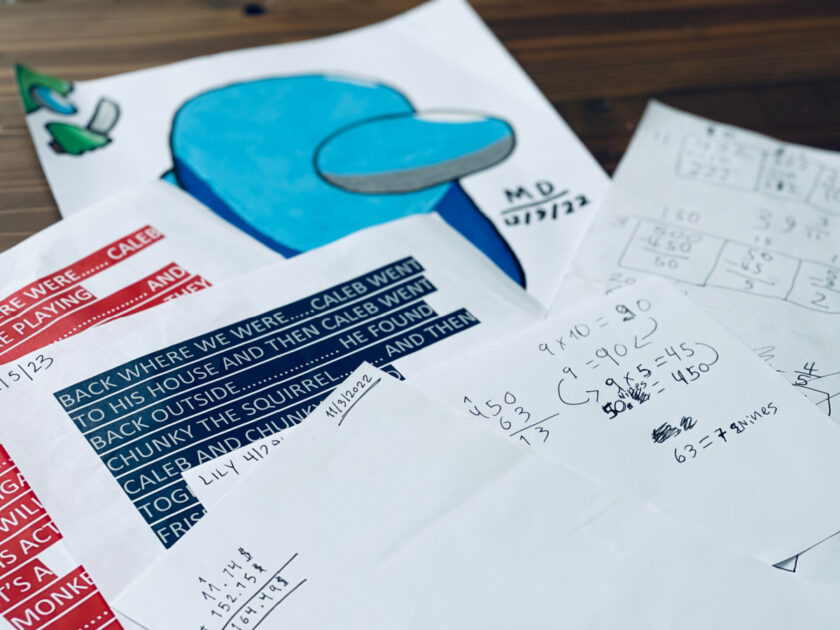 5 Options for Unschool Tracking & Record-Keeping
I've seen unschooling families use a wide variety of methods to track self-directed learning.
Most choose to combine two or more of the options below, doing what works best for their children's unique personalities (and that of the primary unschooling parent).
All of these options are variations of reverse planning.
If you are required to submit objectives in the beginning of the school year, make sure to keep them very open-ended.
All of our objectives – most taken directly from Ask Pauline – use language like, "Student will grow in the knowledge of XYZ subject area."
As long as your records demonstrate learning, you should be just fine.
Note: I didn't mention attendance in this list, but many states require that you "track" attendance. Unschoolers usually chuckle at this requirement because they know that every day is learning. But hey, if checking attendance boxes makes you happy, we'll do it. You can use any basic printable calendar for this purpose (I include one in my unschool planner!).
1. Daily Reverse Planning
If you're just starting to unschool and need to build your unschooling confidence, daily reverse planning can be incredibly helpful.
You will start to recognize the overlapping school subjects woven throughout your child's play and activities You will see on paper that learning is happening all the time.
Especially if you live in a state where you are required to record subject hours (C'MON, Missouri!), daily reverse planning can be a great option.
The only downside? It can get super tedious keeping daily records. Over time, as I've gained more unschooling confidence, we've transitioned to other record-keeping methods.
2. Resource Lists
Our state requires us to keep a "book log". Technically, this only needs to include books and curriculum, if any.
But I choose to expand this singular resource list to include things like:
Youtube channels
Educational board games
Films or documentaries
Classes, clubs and sports
These lists don't need to be exhaustive, but they should include a decent sampling from throughout the school year.
You Might Also Like: Unschooling Ideas for 2023-2024 (8th, 6th, 4th, 1st and Pre-K)
3. Photography with Descriptions
As I've moved away from daily reverse planning, photographs have become my preferred method for tracking unschool learning and keeping an unschooling portfolio.
I take photographs throughout the year of learning activities as they happen.
Later that day or week, I upload them to Instagram, along with a description of what that child was working on or learning at the time.
Other families I know create a private Facebook group for them and their evaluator where they do the same thing.
The one caveat: any time you use a social media account for record-keeping, realize that you can lose that data at any time. If your account is hacked or there is some kind of glitch that wipes out your records, you will end up with nothing.
For that reason, I try to keep all photos on my phone until after we meet with our evaluator.
You could also download everything at the end of the year or find another way to curate the photographs and descriptions that aren't tied to a third-party platform.
See My Unschooling Portfolio on Instagram HERE. Follow along if you like!
4. Monthly or Semi-Annual Narratives
You could jot down notes on your phone over a month or two, or use a voice to text transcription app of some kind. Then sit down to type out a narrative of your child's learning.
You could include interests, problems solved, growth you've noticed in various subject areas, benchmarks accomplished (e.g.: can count to 100).
You can do this with or without photographs, although photographs definitely round it out and give more concrete physical evidence of learning.
Especially if you have very little physical work, I'd highly recommend having at least some photographs to accompany the narrative.
5. Storing Physical Work
Some of my kids produce physical work: short stories, lists, math problems done by hand or artwork.
When I come across anything like that, I keep the paperwork in a folder labeled with that homeschool year.
I store the past two years, along with the current year.
Bigger creations and crafts they don't want to keep long-term, I document with photographs.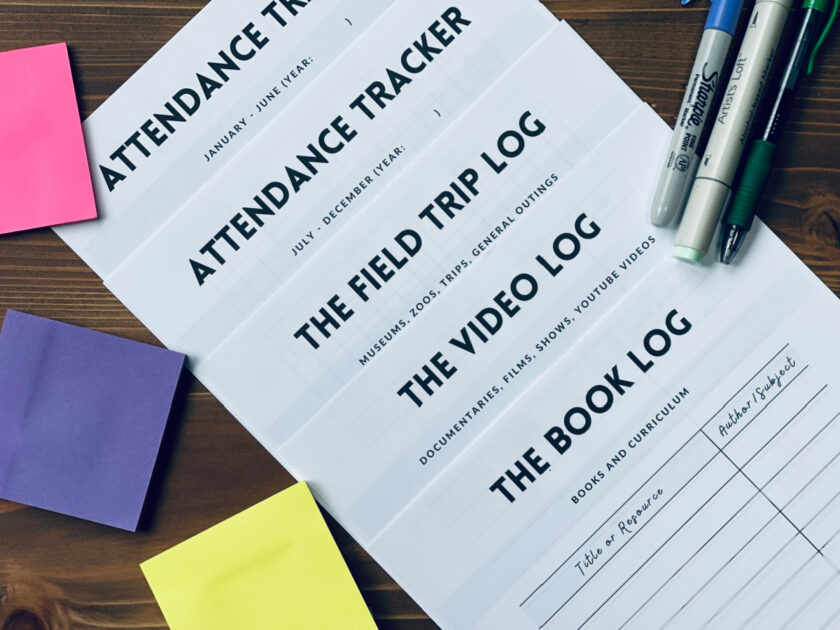 An Unschool Tracker for Resource List Style Record-Keeping
Are you looking for a printable unschool tracker? I created the flexible homeschool planner just for relaxed, unschoolish and unschooling homeschoolers.
You can see THIS page for everything that's included.
You can get just the daily reverse planning record pages as a free gift when you subscribe to my e-mail list in the form below.
Or you can get the whole thing with over 45 pages of record-keeping delightfulness HERE, which you can use over and over again, year after year.
This "planner" was designed with relaxed homeschooling, unschoolish and unschooling parents in mind, so it includes basic daily planner pages that you can use to plan or reverse plan, along with the record-keeping printables.
I personally use several of the resource list pages every single year to keep everything organized for my homeschool evaluator and to prep my kids for our annual meeting.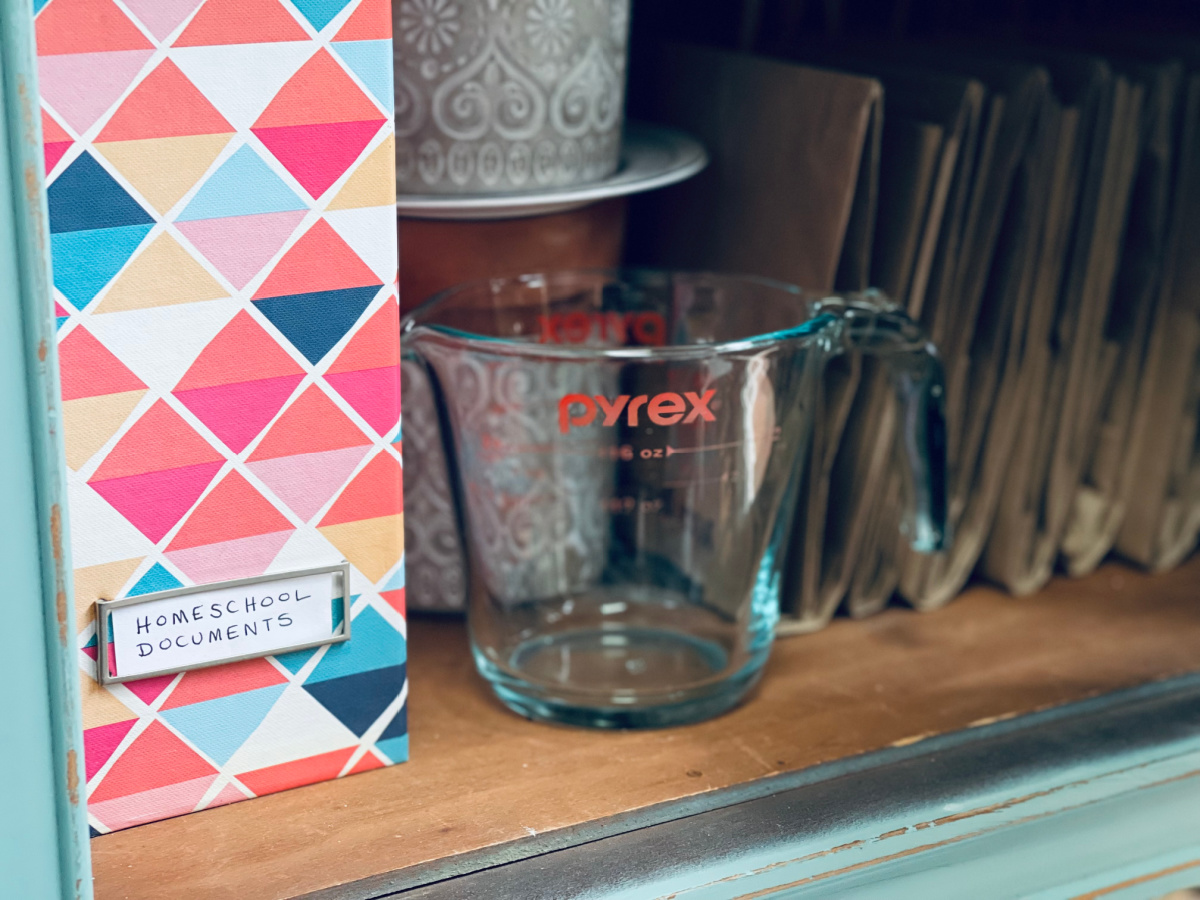 Remember: Your Tracking Doesn't Need to Be Perfect
I used to stress SO so much about record-keeping. If I forgot to record a week, I freaked out and desperately tried to catch up.
Thankfully, I've chilled out since then (not much, but some), which allowed me to transition to different styles of record-keeping that worked best for me, my kids and what our particular state requires.
If you miss a few days, you'll be ok. You probably don't even need to catch up.
If you choose not to track daily, but to track via resources lists or narratives every few months, you'll be o.k., too.
Need some reassurance? THIS post about the amount of learning that actually happens in school breaks it all down for you.
Schools only get about a couple hours of actual instruction/learning every school day.
They have recess and lunch and transitioning between subjects and behavior management and pep rallies and so much more.
But you have 365 days, not 180.
So if you spread out all the school learning hours over that time period, you get…
Just 51 minutes of learning per day, would achieve the same length of time spent learning, as a schooled child.

from "Time Is Precious", Monkey Mum
Related: You Don't Need to Turn Everything Into a Learning Experience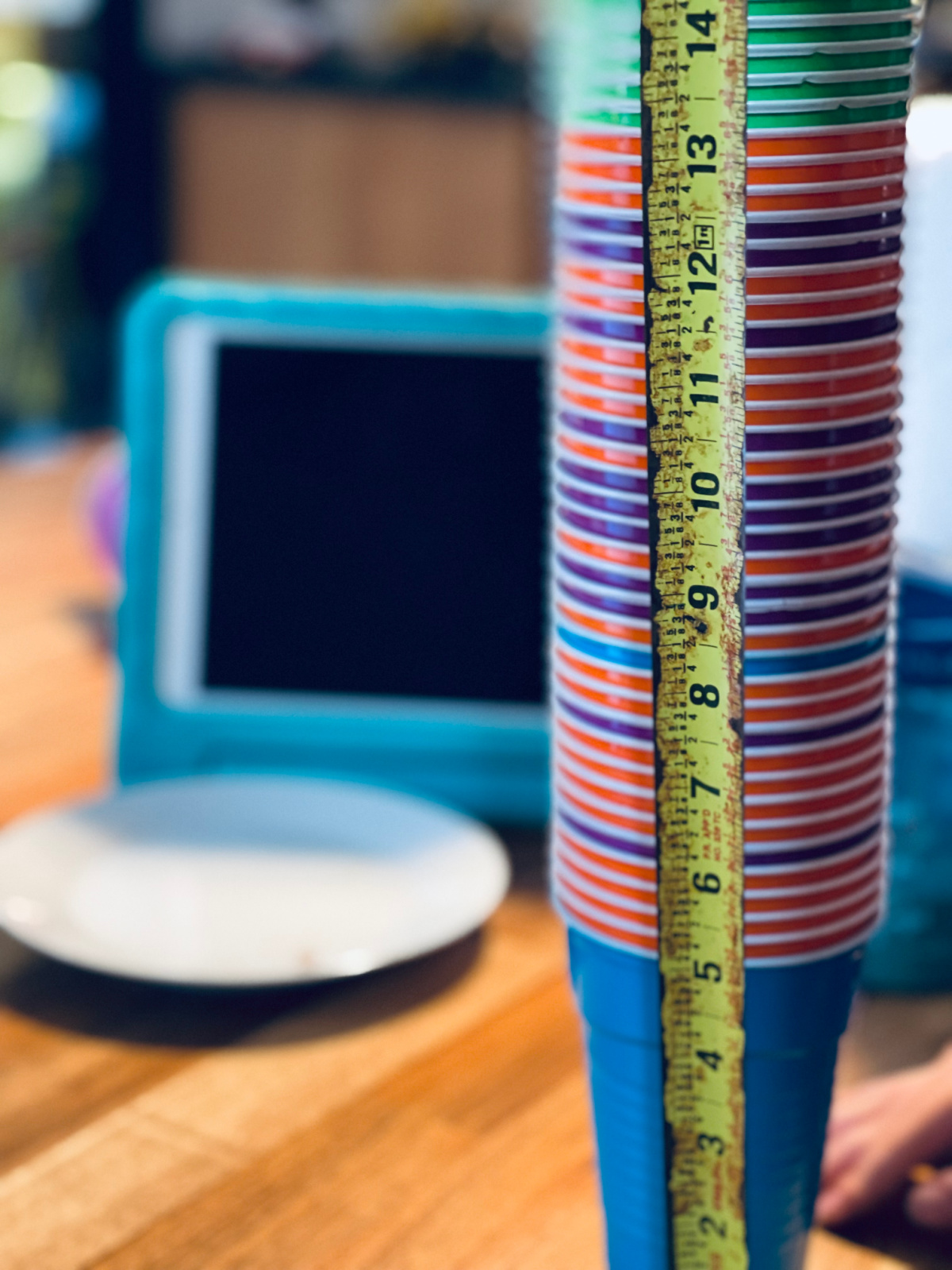 Whatever Learning We Record? It Only Scratches The Surface
Whatever ends up making it into your portfolio of photographs and narratives and daily summaries, it only scratches the surface.
Our children are often learning in ways we – the homeschool parents – can't even see!
Because as much as schools want to make learning measurable and trackable and easily evaluated, the best learning usually isn't.
Just remember that even though we do need to track learning in some form or fashion, unschooling parents know the truth: our children are learning all day, every day, in ways we can't even begin to capture on paper.
Their learning might not look very much like school at all, and isn't that kind of the point?
Do you have a method for tracking unschooling learning that isn't listed here? Share in the comments!
Read Next: The Pros and Cons of Unschooling – Some Brutal Honesty