Inside: Looking for a comfortable minimalist winter wardrobe, but coming up empty? Get ideas from a minimalist homebody's winter daily uniform, plus tips for simplifying your own winter wardrobe.
I poured my third hot drink of the day and asked myself for the umpteenth why I love winter so much.
This love, it's irrational really.
Between paying for propane, shoveling our gigantic driveway and my fingers turning into icicles on the regular no matter how many hot mugs I hold, I really shouldn't love winter.
So why do I?
Maybe it's the cozy fires, glowing candles and hot beverages. The fluffy blankets play a part for sure.
Not dripping buckets of sweat is a serious perk.
But when it comes down to it, I think it's the clothes: winter clothing offers so many layers of warm, comfy, flaw-covering goodness!
Give me sweatshirts, vests and comfy pants over shorts and tank tops any day of the week.
Over the past two years, I've paired down my winter clothing to a warm, cozy daily uniform that suits my homebody lifestyle, along with a couple dressier outfit options for dates (what are those?) or any outing beyond the library, park or grocery store.
So if you're tired of seeing winter capsule wardrobe posts full of dry-clean-only sweaters, welcome to my low-maintenance minimalist winter wardrobe.
(P.S. I hate selfies. They're the absolute worst, and I avoid them whenever possible.)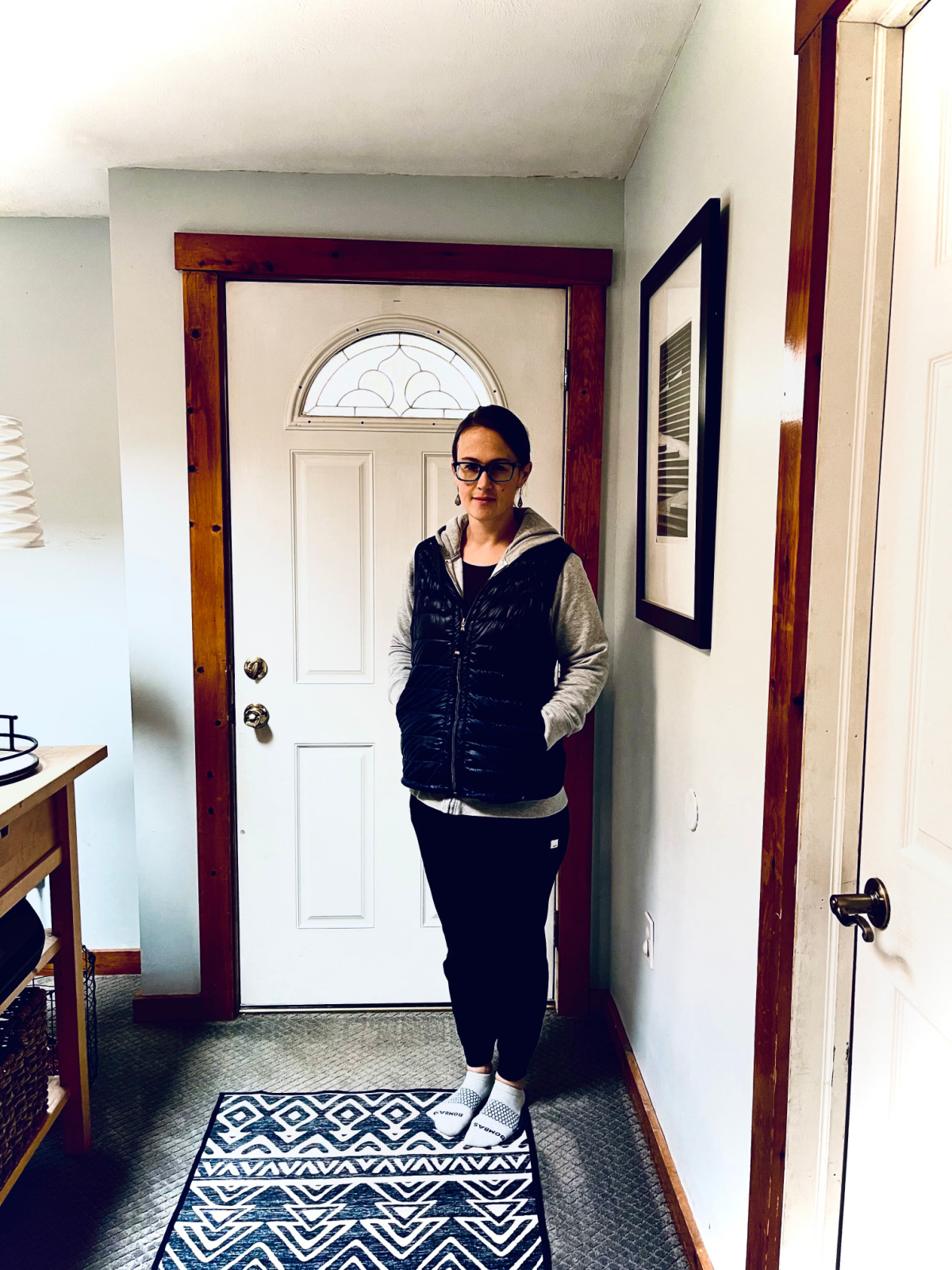 My Comfy Minimalist Winter Wardrobe
This post probably contains affiliate links, which means I may earn a commission if you make a purchase through those links. As an Amazon Associate, I earn from qualifying purchases. You can find our full disclosure HERE.
Now that I've found a few winter clothing staples, I spend even less time thinking about clothes than I did with a capsule wardrobe. Getting dressed in the morning doesn't require much decision-making energy at all.
I also spend less than half what the average American woman spends on clothes and shoes, even with a few pricier items in my wardrobe.
I do still get some of my clothes for free through credit card rewards and referral credits, which helps offset the cost of the more expensive items.
Let's dive into my winter daily uniform first…
Related: The Daily Uniform – The Ultimate Way to Simplify Your Mornings
1. Long-Sleeve Shirts (4)
Long-sleeve shirts are my go-to base layer.
I've acquired a variety of long-sleeve shirts over the years, from random Costco purchases to free GAP tops and hand-me downs from forever ago. They've worked for a long time.
But my new obsession is THIS Wool-X scoop neck long-sleeve top.
I bought one in the color "Deep Plum" for my birthday this year while they were on sale, and I'm in love. I plan on slowly replacing my remaining three shirts with these over the next few years.
They're super warm, slightly fitted and comfy. Because they're made from merino wool, which is odor-resistant, they can be worn multiple times before washing.
Best of all, unlike some merino wool clothes, you can wash them in cold on gentle and tumble dry on low (no remembering not to put them in the drier). 🙌
These shirts are ideal if you want to own fewer articles of clothing that will last a long time.
2. Joggers (3)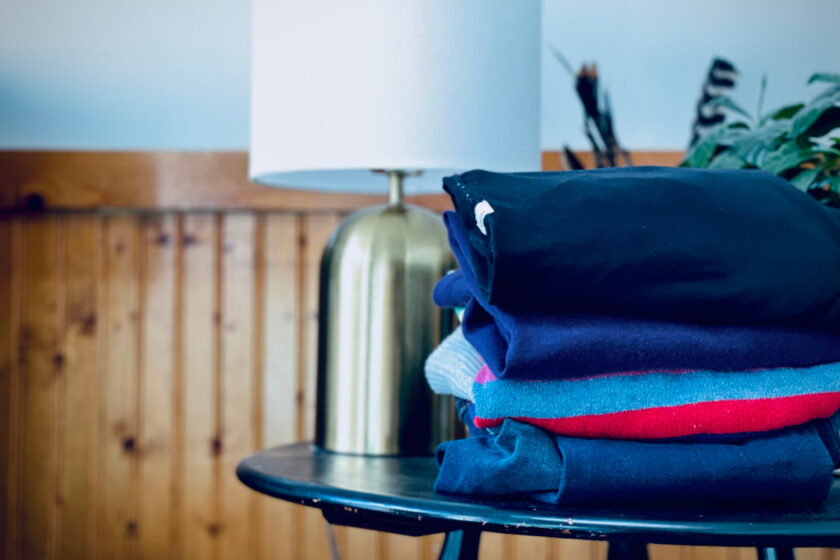 I used to wear jeans almost every day. But when the pandemic and a long-distance move shifted everything so that now I'm home the majority of the time, I started to question my jeans choice.
But I hated waist-slimming leggings: they all feel pretty uncomfortable to me, no matter what brand or style. I needed something different.
Enter: Vuori performance joggers.
I stumbled upon these now favorite joggers in a moment of desperation while searching for sensitivity-friendly clothing for my oldest, who had outgrown the safe brand of her childhood.
I came across a Facebook ad for these leggings and decided to give them a try. I invested in a pair myself first, so that she could feel the fabric before I ordered hers.
Now I'm hooked for life.
I have two pairs in black, and when they're both dirty, I know it's time to do laundry – ASAP. My only complaint is that lint sticks to the seams more easily than I would like, even if you wash them inside out as directed.
I also have one pair of THESE Athleta joggers that I got for free to see if they were comparable (because: free is better than $$$).
Sadly, I don't love them nearly as much as the Vuori ones, mostly because they are too fitted at the waist, like leggings.
3. Zip-Front Sweatshirts (2)
The next layer in my winter daily uniform is the zip-up sweatshirt.
I started out with four total: two in light gray and two in navy blue.
But over the course of the winter, I've realized that I always reach for the light gray sweatshirts first, so the navy blue ones are being shifted to workout wear.
I was able to get all of these for free from GAP using credit card rewards.
4. Vest
A navy GAP vest is my final layer. I have a back-up Costco vest that I rarely wear and will probably be donated at the end of the season.
The gray vest is noticeably cheaper and not nearly as warm.
(For outwear, I have a black GAP puffer coat, a blue plaid scarf I've had for forever, a light blue hat I've also had for forever, and warm black gloves. Nothing fancy.)
5. Earrings
Besides my wedding rings, earrings are the only jewelry I own. Am I gravitating towards extreme minimalism? Maybe.
I have a few different options, including:
15-year-old earrings from my honeymoon
"Joanna Gaines" leather earrings in gold and gray
stained glass earrings from a local creator
bottle-cap earrings made in Haiti
6. Slippers or Winter Boots (with Bombas)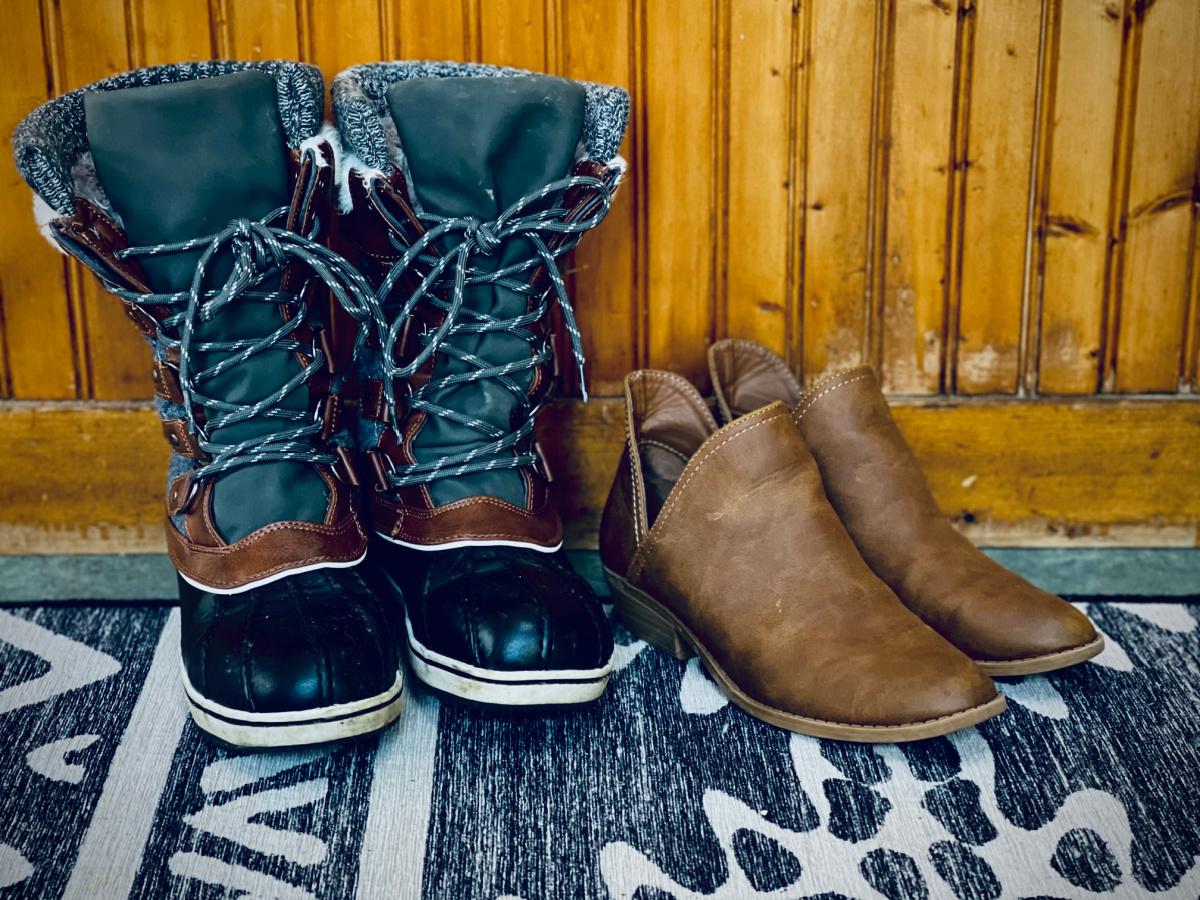 For minimalist winter footwear, regular go-to's are Kyrgies slippers for in the house or THESE winter boots for going out.
Plus, Bombas socks.
I can't speak for Bombas socks as a whole beyond the kind I have, but to me, THESE socks are absolutely worth every penny.
Back to the minimalist winter shoe discussion…
I used to have a pair of knock-off Uggs from Target that I enjoyed for a couple years, but they weren't suitable for everything winter.
Plus stains show up easily, so I gave them away last month (I didn't miss them at all this season).
I considered investing in a pair of Ugg's. But I decided against it and bought a pair of sturdy and warm winter boots, instead.
If I want something fancier than winter boots, I opt for ankle boots, which brings me to my nice outfit options…
7. Dressier Outfit Options
My nice outfit options are comprised of:
I don't dress up often, so I'm hoping these last for years. I honestly hate shopping.
I heard about these dressy sweatpants on a podcast, and I'm intrigued.
But at this point, I don't have any reason to invest in them, as I dress up so rarely. They also can't be put in the drier, a huge con to me.
Thoughts on Stitch Fix: I tried Stitch Fix a few years ago when I was in the middle of postpartum depression. I loved trying things on that someone else picked out for me, and I fell in love with their jeans and tops (but I don't need a lot because I dress up so infrequently).

Now, I only buy items individually via their Freestyle option.

Ordering a fix – they send you five items – can be a great way to give their clothes a try! Plus, the $20 fee honestly covers gas + time to drive to stores, at least in my area.

But if you do try it, make sure to be super clear about your likes and dislikes (like no dry clean only items).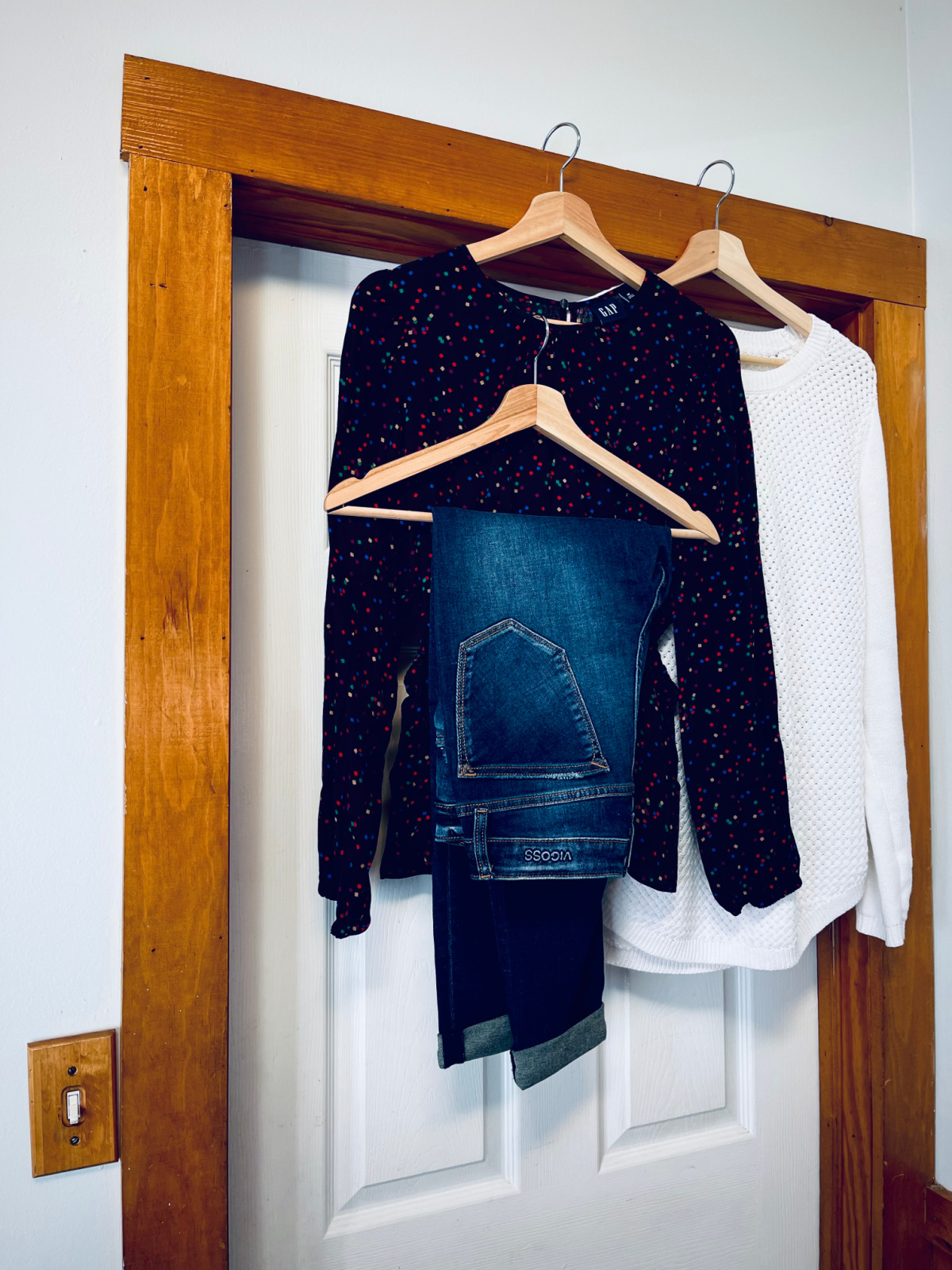 5 Tips to Help Your Simplify Your Winter Wardrobe
If you're a regular reader, I know you're not here for the fashion advice.
If you're new…I mean, I hope showing you my minimalist winter wardrobe clued you into the fact that I care very little about fashion.
I do care about being comfortable and shopping less and reducing decision fatigue.
So if those are things you care about, read on for tips on creating your own winter capsule wardrobe or daily uniform.
1. Take your lifestyle into account.
Be honest with yourself about your lifestyle right now.
If you spend most of your time at home with toddlers, why do dressy tops make up half your capsule wardrobe?
On the other hand, if you do spend a good amount of time out of the house for work or other venues where dressier options might be appreciated, incorporate that into your wardrobe.
Your winter daily uniform might look like jeans, a button down shirt and a cardigan. And if you love dressing up, your special occasion clothes might include dresses and heels.
Just make sure your capsule wardrobe takes your personality and your lifestyle into account.
2. Invest in quality pieces if possible.
A few years ago, I would have choked at dropping $100 on a shirt. A SHIRT.
We honestly didn't have that money to spend a few years ago, between student loan payments, five kids and one income.
Back then, I made do mostly with free clothes. Stitch Fix was a splurge.
I tell you all this to say: I get it. Sometimes, higher quality pieces aren't in the cards.
But if they are in your budget, definitely consider investing in items that will last for several years, instead of only 1-2.
3. Be honest about which clothes make you feel your best.
I might not look amazing in my winter daily uniform…but I love it, and I really don't care that it's not fashionable! It's comfortable and warm, and I reach for it over and over again.
The two biggest clues for creating your capsule wardrobe? What you automatically reach for in the mornings and the things you get sad about when they're in the laundry (o.k. maybe it's that ratty sweatshirt you've had since high school, but probably not).
Don't settle for clothes that make you feel like crap if you can help it. Give those things away!
Even on a budget, you can usually find clothes you love.
Set aside time to shop at your local thrift store. Figure out how to leverage credit card rewards for your favorite clothing store, like I did.
The clothes in your capsule wardrobe should make you feel your best, whatever that is for you.
4. Get help choosing clothes if you need it.
If you have very little fashion sense like me, and it bothers you, there's no shame in getting help!
My friend Mary swears by Get Your Pretty On seasonal outfit formulas. She says it makes her feel more confident choosing outfit, using items she already has in her closet as a base (she'll buy a few additional items to supplement).
Creator Alison Lumbatis recently released The Ultimate Book of Outfit Formulas, for a less expensive option.
Or consider reading Project 333: The Minimalist Fashion Challenge That Proves Less Is Really So Much More by Courtney Carver.
Just remember: your winter wardrobe doesn't need to follow any fashion rules if fashion doesn't matter to you! I'm a huge fan of comfort over fashion.
5. Take notes at the end of the season about what you wore (and what you didn't).
At the end of the season, take note of what you didn't wear at all.
What clothes were back-ups for when your favorites were in the wash? Which items did you avoid wearing at all costs, even if you were running out of options?
The best time to assess is when you're switching seasons.
Before you put everything away for the season, decide whether each piece really deserves to be stored for six months.
Especially if you have limited storage space, why use limited space on what you didn't use? Unless your excuse is maternity-related, that probably won't change six months from now.
Donate the items you never or rarely wore, and use what you declutter to guide your future clothing decisions. For example, if you find that you rarely wear bulky sweaters, stop buying them (I used to be guilty of this one).
You Might Also Like: A Realistic, Step by Step Guide to Decluttering Clothes
Capsule Wardrobes Should Make Your Life Better (Not Sadder)
If the thought of limiting your wardrobe makes you cry…
If you love spending time choosing outfits in the morning….
If keeping your options open make you feel better…
Then a capsule wardrobe (or daily uniform) might not be for you.
Limiting your clothing choices should make your life lighter and easier, not harder and sadder. So if the thought of having less than twenty items of clothing per season makes you cringe, skip it!
On the other hand, if you feel like your brain is going to explode if you have to make one more choice and you're longing for more simplicity in your life, I highly recommend decluttering your wardrobe.
Simplifying everything from clothes to meals can offer much-needed peace in our crazy modern world.
What are your favorite minimalist winter wardrobe pieces? Share in the comments!
Read Next: 21 Minimalist Habits That Will Keep Your Home Clutter-Free for Good