Inside: Are you wondering, "Is Amazon Prime worth it?" Will I actually save money with Amazon Prime, even after spending $99 paying for it? Get one mom's opinion on the value of Amazon Prime.
I pondered these questions from time to time, especially as our family grew and shopping became exponentially harder. The more kids we had, the more items we needed every week.
And have you tried grocery shopping with four kids? My motto is "Get in and get out: as fast as possible." The less time spent in the store, the fewer catastrophes can occur (and they still happen, like the time a case of Campbell's cream of chicken soup busted my son's lip – true story).
Better yet, don't take any kids grocery shopping at all.
THIS POST PROBABLY CONTAINS AFFILIATE LINKS. AS AN AMAZON ASSOCIATE, I EARN FROM QUALIFYING PURCHASES. YOU CAN READ OUR FULL DISCLOSURE POLICY HERE.
Is Amazon Prime Worth It?
Having items delivered to your door in bulk is extremely appealing, and if you can save time, money, and energy all at the same time, why hadn't I signed up yet?! Amazon Prime seemed like the answer.
But wouldn't an item being delivered to my door be more expensive than going to the store myself? I searched for some of our regular products, knowing both their regular and sale in-store prices. I was happily surprised!
Many of the items we regularly buy are CHEAPER (some significantly so) when purchased using Amazon's Subscribe & Save feature.
So in January, I decided to go for it. We purchased a one year membership of Amazon Prime, but first I had to figure out how to get the $99 I'd heard about and seen advertised. It was tricky, so let me fill you in.
How to Get the $99 Prime Price
Update: This doesn't seem to be an option anymore. However, you can get $10 back on a gifted Amazon Prime membership when you gift it through BeFrugal (a cash-back site, much like Ebates, but with more Amazon cash back options). Sign up HERE to get a $10 bonus!
I knew that people were still able to get the $99 Prime price, but when I personally went to sign up, I could only find the monthly price, which ends up being over $115 for the year.
What's the work-around? Gift yourself a yearly membership.

When you gift it, you can get the $99 price. (Search "Gift Prime" on Amazon's website.) I've also heard that if you have any delays in the 2-day shipping, you can call customer service, and they will give you an additional month free Prime. I had some items recently that fit this bill, but I haven't made time to call yet. I'll update you when I do.
Next, I started building my Subscribe & Save list.
What is Amazon Subscribe & Save?
Amazon Subscribe & Save is a subscription service where you are rewarded with discounts on items you schedule to be delivered on a set day every month. Subscribe & Save answers my "is Amazon Prime worth it" question with a resounding "YES!".
Five or more items each month gets you deeper discounts.
Adding any item to your Subscribe & Save list automatically gets you 5% off the current list price of the item (this fluctuates day to day). But if you add five or more items per month, your discount increases to 15% off the list price for EACH item on your list.
Amazon Family
Another big reason for my interest in Amazon Prime (besides keeping me out of the store) was the addition of Amazon Family. Once you purchase your Amazon Prime membership, you can easily join Amazon Family, which automatically provides a 20% discount on diaper subscriptions.
When purchasing diapers, I consistently refer to this post from Southern Savers for stock up prices. Now, for the size I'm purchasing monthly (size 4 right now), Southern Savers lists the stock up price at .19 – .22 cents a diaper. In order to get this price in the past, I was clipping and printing coupons and stalking CVS and Target sales like a madwoman only to purchase a few packs and have to do it ALL OVER AGAIN in a couple weeks.
Now I get diapers shipped to my door every month for (drum roll)…. less than .16 cents a PAMPERS diaper!
Not Luvs, not Up & Up Brand (not bad, by the way), but PAMPERS. And I don't even have to worry about it. Even if you were to tack on the $8 per month cost of Amazon Prime, it would still hit the recommended stock-up price of $0.20 per diaper.
And that, my fellow parents with the end of diapers not even in sight, is genius.
If that didn't convince you to sign up for Amazon Prime, I don't know what will.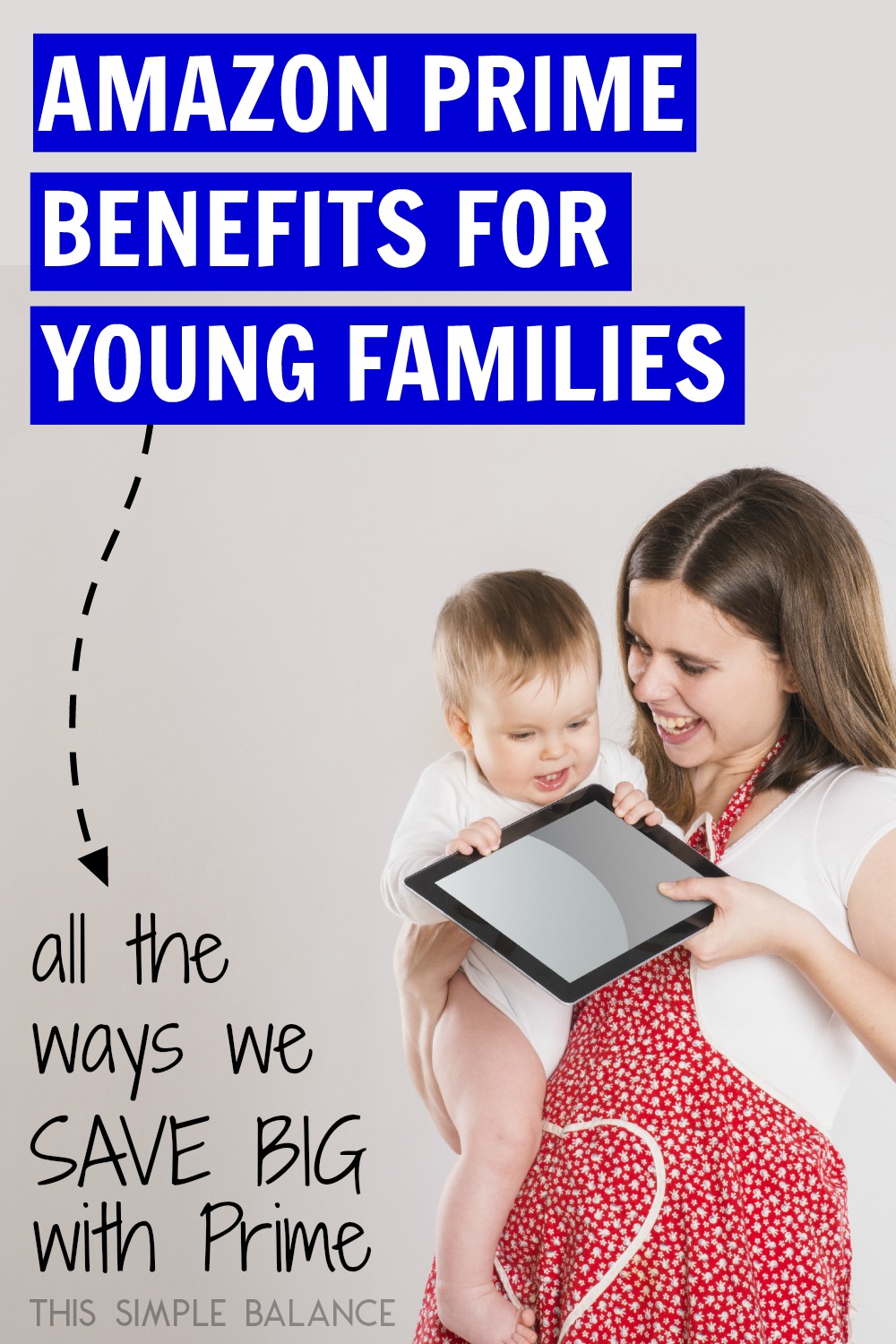 Our Amazon Subscribe & Save Items
NOTE: Keep in mind that the prices listed are the prices as of today. Amazon prices fluctuate on a daily basis, but as long as the change month to month is never greater by a dollar or two, I stick with it (that $1 can be more or less than the price I signed up for.) I keep an eye on it for bigger changes.
These prices reflect my 15% discount on regular items and 20% discount on diapers.
1) Pampers Baby Dry Diapers Size 4, Box of 180 count
Cost: Less Than $30
2) Huggies Simply Clean Wipes, Pack of 9, 72 count per pack
Cost: $1.20 per pack
3) San Francisco Bay One Cup K-Cups, French Roast, 80 Count

Shout out to another blogger for finding and sharing these cheap k-cups! I'm loving my new Keurig and was going to settle for an only o.k. price on Dunkin Donuts k-cups until I found these. Granted, the price is right, but we'll see how decent the coffee is when I get it next week (review to come).
Frequency: Monthly
Cost: $0.25 per k-cup!!
4) Kashi Ripe Strawberry Bars, Pack of 6 boxes, 6 bars each
Cost: Less than $2.50 a box
5) Pepperidge Farm Goldfish Crackers, Pack of 6 30 oz. boxes (Colors)
Cost: $5.70 per box, far better than any sale price I've seen
6) Blueberry Vanilla KIND Healthy Grains Bars, 3 Boxes, 5 bars each
Cost: $2.88 a box – consistent in store price is $3 a box at the lowest
7) Quilted Northern Ultra Soft & Strong Toilet Paper, 24 Supreme Rolls
Cost: $0.78 per roll, and can I just say, trying to compare toilet paper prices is impossible?
8) GoodNites Bedtime Pants for Boys, Size S/M, 44 Count
Cost: $0.44 each
That's it for now! We will continue to add as needed and as we find other products we're interested in.
Other Amazon Prime Benefits that Make It Worth It
We are a homeschooling family and a one car family. My husband's job fluctuates in his ability to work from home. Some weeks he will work from home two days and week or more. The next he needs to go to the office every day.
Having Amazon Prime allows me to order homeschool supplies or pretty much anything else we need without needing access to the car.
We also just canceled out Netflix subscription in order to save money. We found that the Amazon Prime selection was more than sufficient for our needs. We already pay $100-$120 a year for Amazon Prime (depending on whether we get free months for delayed shipping). Paying for Netflix, too, just didn't make sense.
Amazon Prime is worth it for us in so many ways.
One Caveat: USPS & Amazon Prime Issues
In all my research, the only red flag regarding Prime was Amazon's new deal with the US Postal Service (USPS). Apparently, in certain locations, the USPS is not the best, and they will not leave packages if they do not receive a response to knocks or doorbells. The package then ends up at the local post office, and you have to go get it.
This was a major concern as the whole point of doing this is to simplify my life, not make it harder (we are a one car family, and I do not want to spend my one afternoon with the car at the post office).
I am happy to report that as far as Raleigh is concerned, my fears were unfounded. I have received every package, even when I haven't heard the doorbell. This is one happy mama! But I would encourage you to research in your area – ask friends or family who have Prime if they have had any problems.
So, Is Amazon Prime Worth It?
Amazon Prime has been SO worth it for us because of Subscribe & Save. I have ordered multiple other items at better prices than my local grocery or big box store with 2-day free shipping.
It's hard to beat, though I still do use my Target REDCard for select other items because it offers similar benefits. I have yet to try Target's Subscription service.
I realize that the $119 initial cost for Prime is tough to swallow when you're on a budget, which is why I delayed so long. You can sign up for their FREE 30-day trial to try it out. I plan on setting up a fund for it, so I have the money ready to go at renewal time.
For me, the savings – in both money and time – far outweighs the yearly fee. I'm thankful for Prime.
Don't want to commit to Prime just yet? Sign up for their FREE 30-day trial. Give them a try and let me know what you think.